architecture - engineering - construction
About Optical Turnstiles
Optical Turnstiles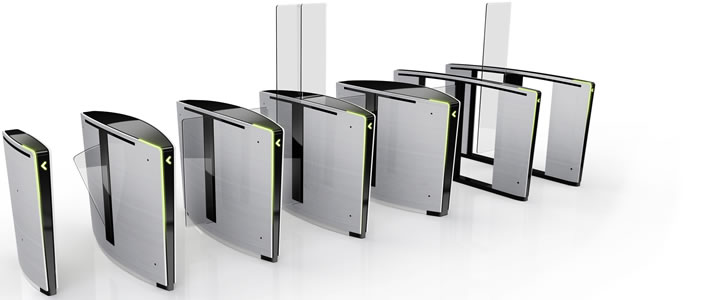 To manage the movement of people in lobbies and building interiors with varying degrees of security clearance, corporations around the globe are implementing optical turnstiles coupled with an access control or visitor management system. Optical turnstiles effectively detect tailgating with minimal inconvenience to users and without forming an obtrusive barrier.
Speedlane Compact
The newest edition to the Boon Edam premium range of swing barrier gates solves the issue of introducing security and safety into small and valuable areas of real estate spaces. The Speedlane Compact delivers all you fundamentally need in a security lane; while confidently delivering all that is required to make your visitors feel welcome and secure – every day.
Lifeline Speedlane Slide
The customizable, intuitive speed gate featuring a unique pulsing light strip, combining high design with security.
Lifeline Speedlane Swing
The slimmest speed gate, combining customizability with high design and security for accurate tailgating and piggybacking protection.
Lifeline Speedlane Open
The barrier free speed gate with the smallest footprint, featuring a unique pulsing light strip to guide the user to their destination.
Lifeline Boost
Intelligent, intuitive and completely uniform in design is the Lifeline Boost, specifically designed as an access control system mount.
Speedlane 300
This optical turnstile with elegantly lit angel wings offers security with beautiful design.

News:
Boon Edam Optical Turnstiles (Jun 09, 2023)
Boon Edam Speedlane Compact Swing Optical Turnstile (Nov 21, 2022)
Brochures | 3-Part CSI specifications | CAD details
News archive:
The Shortest Swing Barrier Optical Turnstile - Speedlane Compact (Jan 24, 2022)
The River Building Secures Lobby with Boon Edam Optical Turnstiles (Feb 13, 2021)
Sydney's Dexus Gateway Building Combines Boon Edam Turnstiles with Three Technologies (Dec 07, 2020)
Park House at London's Finsbury Circus Upgrades Security with Boon Edam Optical Turnstiles (May 22, 2020)
Boon Edam Inc. to Display Optical Turnstile Integrated with Biometric Technology at ISC East 2019 (Nov 16, 2019)
33 Congress Street in Boston Preserves History with Custom Boon Edam Revolving Door and Turnstiles (Aug 28, 2019)
London's Riverscape Office Building Again Selects Boon Edam Entrance Solutions for Renovation (Jun 24, 2019)
Renovated Office Building in Glasgow Tightens Security with Boon Edam Optical Turnstiles (Mar 13, 2019)
Boon Edam Turnstiles Certified for New iRox-T Readers by Essex Electronics (Feb 01, 2019)
NC State University Relies on Boon Edam to Upgrade Security at Recreational Facilities (Oct 27, 2014)
Boon Edam Inc. Announces UL 325 and CSA Certification for Popular Optical Turnstile (Jul 10, 2014)
Airport Swinglane, the new self-boarding optical turnstile by Boon Edam (Apr 28, 2011)
Boon Edam, Inc. Adds LCD User Screen to Speedlane Optical Turnstiles (Oct 27, 2009)
02820 - Fences and Gate
08400 - Entrances and Storefront
08410 - Metal-Framed Storefront
08450 - All-Glass Entrances and Storefront
08460 - Automatic Entrance Door
08470 - Revolving Entrance Door
10450 - Pedestrian Control Device
13700 - Security Access and Surveillance
08 41 00 - Entrances and Storefronts
08 41 13 - Aluminum-Framed Entrances and Storefronts
08 41 26 - All-Glass Entrances and Storefronts
08 42 29 - Automatic Entrances
08 42 33 - Revolving Door Entrances
08 42 33.13 - Security Revolving Door Entrances
11 14 00 - Pedestrian Control Equipment
11 14 13 - Pedestrian Gates
11 14 43 - Pedestrian Detection Equipment
11 14 53 - Pedestrian Security Equipment
28 10 00 - Electronic Access Control and Intrusion Detection
28 13 00 - Access Control
28 13 53 - Security Access Detection
28 16 00 - Intrusion Detection
32 31 00 - Fences and Gates