architecture - engineering - construction
About Access Gates
Access Gates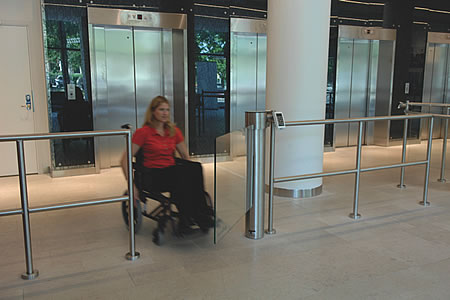 Buildings cater to a wide variety of visitors: regular visitors, one-time visitors, visitors in wheelchairs, visitors with baggage or delivery carts, and many more. Access gates use swinging barriers made of glass or metal to accommodate all types of visitors and are designed to complement our turnstile models.
Winglock Swing
We are proud to announce the introduction of our slimmest, single wing access gate in our range. The Winglock Swing had been designed to coordinate with our Speedlane Lifeline series, but can also stand alone as a single installation.
Twinglock 900
Two swinging glass barriers offer comfortable and elegant secured access for carts and wheelchairs.
Winglock 900
This elegant access gate combines perfectly with our tripod turnstiles and optical turnstiles to offer secure disabled access.
Trilock Side Gate
This access gate provides controlled access alongside your turnstile.
Turnlock Side Gate
A full height access gate to accompany full height security turnstiles.

Brochures | 3-Part CSI specifications | CAD details
News archive:
Royal Boon Edam Launches Top-level Entry Solutions into Australia (Aug 05, 2015)
02820 - Fences and Gate
08400 - Entrances and Storefront
08410 - Metal-Framed Storefront
08450 - All-Glass Entrances and Storefront
08460 - Automatic Entrance Door
08470 - Revolving Entrance Door
10450 - Pedestrian Control Device
13700 - Security Access and Surveillance
08 41 00 - Entrances and Storefronts
08 41 13 - Aluminum-Framed Entrances and Storefronts
08 41 26 - All-Glass Entrances and Storefronts
08 42 29 - Automatic Entrances
08 42 33 - Revolving Door Entrances
08 42 33.13 - Security Revolving Door Entrances
11 14 00 - Pedestrian Control Equipment
11 14 13 - Pedestrian Gates
11 14 43 - Pedestrian Detection Equipment
11 14 53 - Pedestrian Security Equipment
28 10 00 - Electronic Access Control and Intrusion Detection
28 13 00 - Access Control
28 13 53 - Security Access Detection
28 16 00 - Intrusion Detection
32 31 00 - Fences and Gates