architecture - engineering - construction
About Chemical Resistant Brick
Chemical Resistant Brick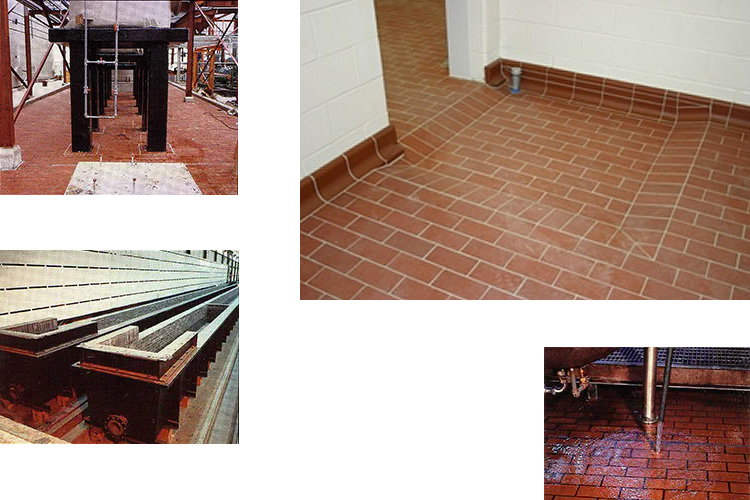 Red shale and fireclay brick
Belden shale and fireclay chemical resistant brick offer a wide range of utility in environments that involve aggressive corrosive conditions and elevated temperatures.
These brick are currently in use in such industries as chemicals, steel and metalworking, pharmaceuticals, pulp and paper, food and beverage, public utilities, aircraft, automotive and electronics. Typical applications in these industries are represented by process vessels, plating tanks, storage tanks, reaction vessels, fume ducts, scrubbers, bleach towers, waste treatment pits, rinse lines, and pickling tanks.
Chemical resistant masonry construction is designed to protect containment tanks and vessels made of steel, concrete, ordinary masonry, fiber-reinforced polyesters and the like. Chemical resistant brick provides thermal, mechanical, and chemical protection for these kinds of structures.
Belden chemical resistant brick is a particularly versatile construction material for sulfuric acid plants when installed as linings for carbon steel shells. These linings can be used regardless of the size of the vessels or equipment when prescribed construction techniques are followed. They can lower the temperature of the surface of the shell and eliminate erosion of the protective sulfate film. No other system of corrosion resistance can provide the same level of cost effective protection in wet areas where acid concentrations vary from 2% to 98% and at high temperatures, as the three component system using chemical resistant brick and mortar with a membrane backing.
Historically, Belden corrosion resistant brick linings have won wide acceptance because of these features:
Usage: flexibility without sensitivity to minor changes in chemical processes, and applicability for many different processes.
Cost savings: where alloys and special metals become uneconomical because of accelerated chemical attack at high temperatures, chemical resistant brick liners inside the vessel can lower temperatures and concentration levels, making it feasible to use less expensive alloys.
Repairability compared to the finite durability of alloys.
Insulation inside a vessel is less susceptible to damage than is external insulation.
Cooler operation reduces degree of external protection necessary for worker safety.
Quality from the ground up
Belden chemical resistant brick, backed by more than 137 years of brick making experience, are manufactured of specialty selected American shales and fireclays. These are fine-ground and specifically formulated for density and strength and fired at over 2000°F. This process results in brick that resists virtually all corrosive liquids and gases, except for acid fluorides and strong hot caustics.
Floor Brick
No other kind of flooring offers such a wide range of protection from aggressive corrosives and solvents even at elevated temperatures as a chemical resistant brick/multiple component flooring system.
Monolithic floors can lose bond with the substrate, or split apart, when a crack develops in the substrate, resulting in extensive damage to the floor's chemical resistance. On the other hand, the three-way protection of chemical resistant brick, chemical resistant mortar, and a chemical resistant membrane provides the kind of protective redundancy important in sheltering an operation from work interruptions.
Chemical resistant Belden Brick floors successfully combine the qualities of low maintenance cost, long service life, resistance to impact and abrasion, cleanliness, and efficient appearance, all while providing exceptional chemical and abrasion resistance.
The importance of these characteristics is pointed up by the many destructive physical and chemical forces to which industrial floors are subjected on a continuing basis. Within a single area of operations the floor may be expected to withstand thermal shock, water, wheeled traffic, oils, acids and alkalis. Abrasion and impact from heavy materials represent additional destructive forces.
Floors requiring chemical resistant characteristics are divided into two broad classifications: General Industrial Floors - those found in plating processes, papermills, pickling tank operations, chemical processing production areas, and Laboratory/Food Plant floors - usually required in dairies, meat processing plants, bakeries, industrial laboratories and similar environments where an attractive appearance is desirable, along with ease of sanitary maintenance.
Quality - from the very beginning
Belden chemical resistant floor brick are carefully manufactured of the highest quality American shales and fireclays. These materials are specifically formulated and blended for density and strength before being fired at over 2000F. The resultant floor brick is resistant not only to virtually all corrosive liquids with the exception of acid fluorides and strong hot caustics but to the heavy physical abuse of industrial applications.
For Extra Impact Resistance: Vertical Fibre Brick
Belden Vertical Fibre Floor Brick are the logical choice for installations requiring surer footing and exceptional impact resistance. Typically, areas of oil or grease spillage or caustic soap exposure call for vertical fibre brick.
Belden vertical fibre chemical resistant brick offers slip resistance equal to that of abrasive-style flooring. Moreover, they retain their non-skid surface for a lifetime under all operating conditions.
For particularly critical applications, or those involving hard-to-remove resin-based mortars, Belden vertical fibre floor brick are available prewaxed for an additional charge.
Mortar manufacturers should be consulted for their recommendations in connection with chemical resistant brick construction. For names and addresses of mortar manufacturers, please Contact Us.
Learn more about Floor Brick Types & Sizes.
Ready to start your Floor Brick Project? Complete our Brick Flooring Short Form Specification.

Brochures | 3-Part CSI specifications | CAD details
02780 - Unit Paver
03450 - Plant-Precast Architectural Concrete
04200 - Masonry Unit
04210 - Clay Masonry Unit
04220 - Concrete Masonry Unit
04400 - Stone
04410 - Stone Materials
04420 - Collected Stone
04430 - Quarried Stone
04610 - Chemical-Resistant Brick
04800 - Masonry Assemblies
04810 - Unit Masonry Assemblies
04820 - Reinforced Unit Masonry Assemblies
04830 - Non-Reinforced Unit Masonry Assemblies
04850 - Stone Assemblies
03 45 13 - Faced Architectural Precast Concrete
04 20 00 - Unit Masonry
04 21 00 - Clay Unit Masonry
04 21 13 - Brick Masonry
04 21 13.13 - Brick Veneer Masonry
04 21 13.23 - Surface-Bonded Brick Masonry
04 21 16 - Ceramic Glazed Clay Masonry
04 21 19 - Clay Tile Masonry
04 21 23 - Structural Clay Tile Masonry
04 21 26 - Glazed Structural Clay Tile Masonry
04 21 29 - Terra Cotta Masonry
04 22 00 - Concrete Unit Masonry
04 22 00.13 - Concrete Unit Veneer Masonry
04 22 00.16 - Surface-Bonded Concrete Unit Masonry
04 22 19 - Insulated Concrete Unit Masonry
04 22 23 - Architectural Concrete Unit Masonry
04 22 33 - Interlocking Concrete Unit Masonry
04 27 00 - Multiple-Wythe Unit Masonry
04 27 13 - Composite Unit Masonry
04 27 23 - Cavity Wall Unit Masonry
04 40 00 - Stone Assemblies
04 41 00 - Dry-Placed Stone
04 42 16 - Steel-Stud-Supported Stone Cladding
04 42 19 - Strongback-Frame-Supported Stone Cladding
04 42 23 - Truss-Supported Stone Cladding
04 42 43 - Stone Panels for Curtain Walls
04 43 00 - Stone Masonry
04 61 00 - Chemical-Resistant Brick Masonry
32 14 00 - Unit Paving
32 14 13 - Precast Concrete Unit Paving
32 14 13.13 - Interlocking Precast Concrete Unit Paving
32 14 13.16 - Precast Concrete Unit Paving Slabs
32 14 16 - Brick Unit Paving
32 14 23 - Asphalt Unit Paving
32 14 40 - Stone Paving