architecture - engineering - construction
About GuardDog – Self-Closing Industrial Safety Gate
GuardDog – Self-Closing Industrial Safety Gate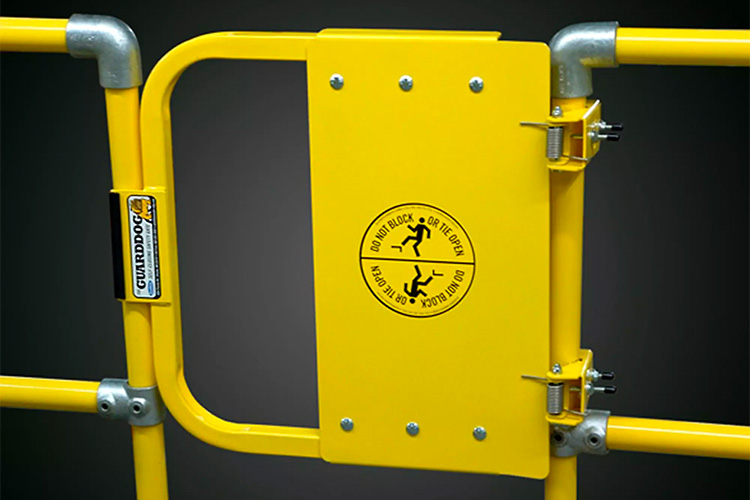 The GuardDog Self-Closing Gate is tough, durable and easy to install. Featuring a unique self-closing design with two stainless steel torsion springs, the GuardDog industrial safety gate can open in any direction. To meet diverse application requirements, the safety gate is available in 5 nominal sizes and is adjustable laterally to 6" (-3 to +3 of the nominal size).
The GuardDog Self-Closing Gate arm is dimensioned to match top- and mid-rail heights of an OSHA-compliant guardrail. When the safety gate is installed and its top is at OSHA's recommended nominal height of 42", the bottom of the gate is positioned at a height of 21".
Gate comes fully assembled and includes securing hardware for standard installation on pipe
Requires only one 1/2'' wrench and a few minutes to install
Available in powder coat safety yellow, hot-dip galvanized or 316 stainless steel; Special colors available upon request
Our standard Hinge Assembly fits round pipe or square tubing measuring up to 2'' O.D, or it can also mount on angle iron or flat surfaces. For railings which are larger than 2" O.D, contact BlueWater Manufacturing and we will have an adapter kit available to use or provide a solution to mount the gate safely.
Applications range from ladder ways, mezzanines, pedestrian traffic, machine guarding, universal mount is designed to fit any hand post angle and direction. BlueWater's industrial safety gate is available in food grade stainless steel, carbon steel powder coated and galvanized.

Brochures | 3-Part CSI specifications | CAD details
News archive:
GuardDog – Self-Closing Industrial Safety Gate (Dec 06, 2021)
BlueWater Self-Closing Safety Gate (Aug 03, 2020)
The Guard Dog Self Closing Gate from BlueWater (Dec 14, 2010)
New product: Self-Closing Safety Gate (Apr 03, 2008)
02820 - Fences and Gate
10450 - Pedestrian Control Device
08 34 56 - Security Gates
11 14 13 - Pedestrian Gates
32 31 00 - Fences and Gates