architecture - engineering - construction
About Lifts and Mounts
3-Part CSI specifications
Lifts and Mounts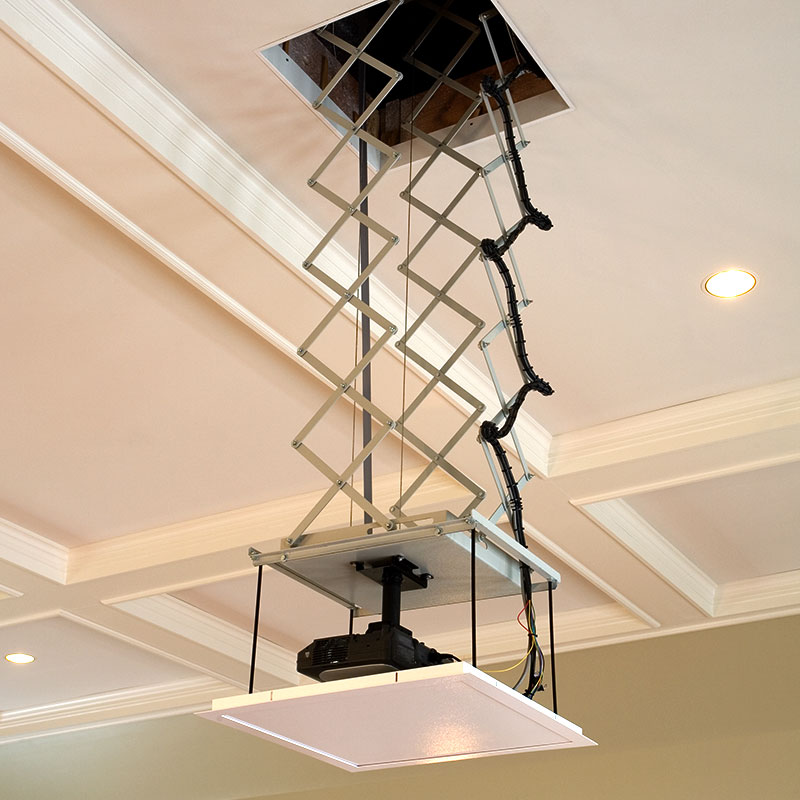 Lifts and Mounts for Projection
Cramped spaces, high or angled ceilings, big projectors, obstructions—every installation challenge you face requires a certain type of solution. Draper boasts the widest range of projector lifts in the industry. We also provide lifts for other types of AV equipment, including displays, projection screens, and cameras.
Innovative solutions
When you see the UL logo on a product, then you know it's as safe and trustworthy as possible. Draper has an industry-leading six projector lifts that are UL-certified, including five that are certified to the latest UL standards—UL 2442 and Canada UL Listed to CSA C22.2 No. 60065-03. A patented third scissor makes our Micro Projector Lift and Scissor Lift the most stable projector lifts available. Our patented Revelation is the first unit the keeps the projector above the ceiling even when in use.
Hometown values
Many AV lift products are made in other countries. We've been manufacturing our products in Spiceland, Indiana since 1902, and our commitment to and investment in our local community remains strong. Our domestic production ensures high quality and shorter lead times.
Control and automation
How do you control your AV equipment? Draper® provides a wide range of control solutions for our motorized lifts. We offer options including simple wall switches and remote controls. Our lifts can also be used with many third-party control systems.

11130 - Audio-Visual Equipment
11457 - Television Units & Accessories
16850 - Television Equipment
16880 - Multimedia Equipment
27 41 13 - Architecturally Integrated Audio-Video Equipment