architecture - engineering - construction
About Insulated Crawl Space Vents!
Brochures
Insulated Crawl Space Vents!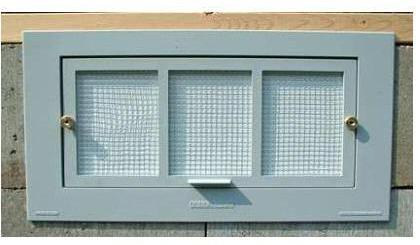 Seal your crawlspace in the winter to prevent freezing cold floors!
Industry experts love this new patented product.
Benefits:
Energy Savings, Easy Installation!
Stops drafts from coming in through the crawl space vents.
Easily retrofitted into existing homes or installed into new homes.
High quality affordable product.
Insulate your crawlspace from outside your home.
Helps prevent pipes from freezing.
Maintenance free.
Easy to use: open and close from the exterior.
Keeps rodents and mice out.



07200 - Thermal Protection
07210 - Building Insulation
10230 - Vent
15850 - Air Outlets and Inlet
07 20 00 - Thermal Protection
07 21 00 - Thermal Insulation
08 95 00 - Vents
08 95 16 - Wall Vents
23 37 00 - Air Outlets and Inlets
23 37 23.16 - HVAC Gravity Louvered-Penthouse Ventilators