Interior applications for finished architectural aluminum
While many are aware of the wide selection of finishing choices available for architectural aluminum products installed on buildings' exteriors, some may not know that they have the same creative freedom and performance reliability for interior finishing options. With Linetec as your single-source solution for finishing, not only is the color selection practically unlimited, so are the combinations of shades, textures and patterns for distinctive exterior and interior applications. Interior applications for finished architectural aluminum products go beyond the inside surfaces of curtainwall, storefront, window, entrance and skylight systems. Aluminum also is a top material of choice for interior wall cladding, framing systems, doors, column covers, handrails and light shelves.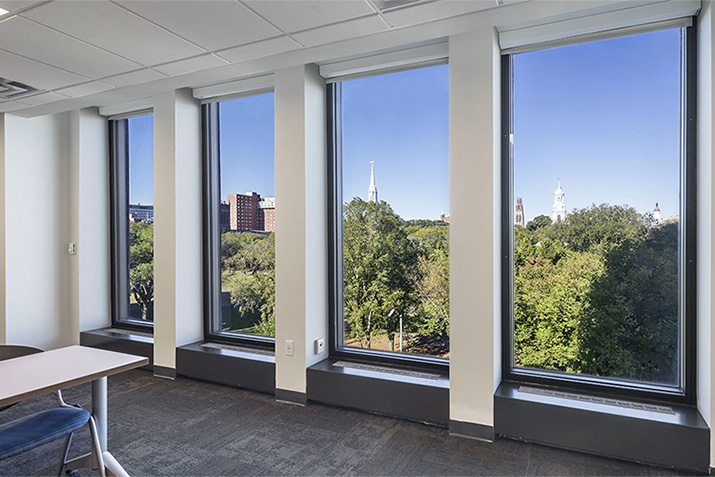 Package volume increase means greater need for automated lockers
| | | |
| --- | --- | --- |
| | | Whether you are a retailer who ships orders to customers, or a multi-family property receiving those packages for your residents, you can attest to the continued increase in the amount of packages being sent. Both retailers and multi-family property owners are meeting this challenge head on by utilizing automated locker systems as part of their solution. With a secure location for packages that can be accessed 24/7, automated locker users appreciate the convenience of retrieving their packages on their own schedule. But how do you determine how many automated lockers are needed per delivery? |
Daylighting Systems Project Spotlight: Carver Public School
| | | |
| --- | --- | --- |
| When Carver Public Schools in Massachusetts looked to replace two older school buildings with one new facility to house students pre-K through 5th grade, they sought the help of HMFH Architects to assist them in designing an energy-efficient and vibrant learning space. What resulted is the new Carver Elementary School, a more than 110,000 square foot learning space that was 1 of 5 schools nationwide to receive a "Citation of Excellence" from Learning by Design Magazine. | | |
What to Look for to Find the Best Poolside Planters and Plants
| | | |
| --- | --- | --- |
| | | There are a lot of considerations to make when finding the best poolside planters – from plants that don't make a mess out of your pool to planters that can withstand the wear and tear of permanently residing beside a splash zone. Ideally, you want to avoid plants that clutter the outskirts of your pool with weeds and leaves that'll clog your filters, because the last thing you want is additional maintenance. But before we get into the best poolside plants, we are going to take a look at the best poolside planters. After all, where you house your plants is just as important as the plant itself. |
Floor access doors for finished flooring
| | | |
| --- | --- | --- |
| BILCO offers a complete line of floor doors that are designed to accept flooring and paving materials, making them virtually hidden in finished flooring areas. Products are available to receive composition tile, carpeting, or architectural flooring materials up to 1" (25 mm) in thickness. | | |
Decorative Wall Paneling
| | | |
| --- | --- | --- |
| | | If you are looking to give your work area or home more glamour, then you can turn the walls into focal points by using panels to decorate them. These decorative wall panels come in different sizes, styles, shapes, and materials. They can transform simple decorations into outstanding spaces with a lot of artistic flairs. These decorative wall panels don't always cover the wall fully, but that is the case most of the time. Not only do the panels stand out because of their small nature, but they have the ability to absorb sound. |
Masonry Stain
| | | |
| --- | --- | --- |
| Stains specifically engineered to enhance the textures of brick and stone. Wide range of solutions from translucent stains allowing surface textures to show, to opaque stains covering flaws beautifully. Ideal for blending new additions, covering graffiti, even restoring historic buildings. | | |
8 Reasons why cities are installing bollards in high traffic areas - it's not just counter-terrorism
Bollards are not just for counter terrorism. Check out eight reasons why cities are using bollards in high traffic areas.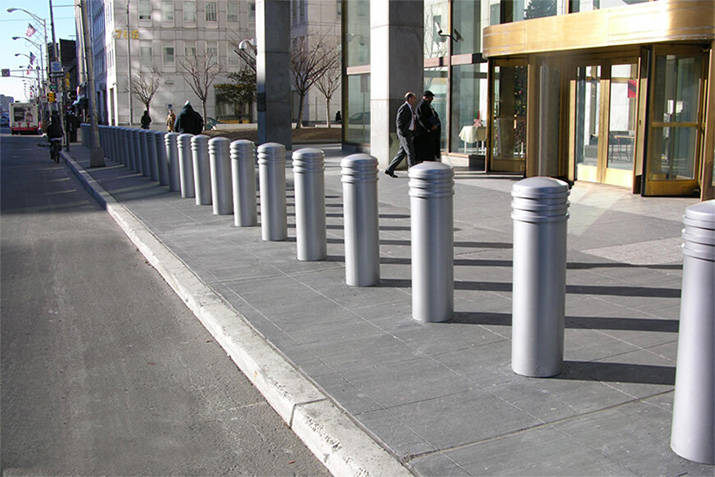 AECinfo.com - Your Source of Building Products Information