architecture - engineering - construction
About Decoustics
Brochures
Decoustics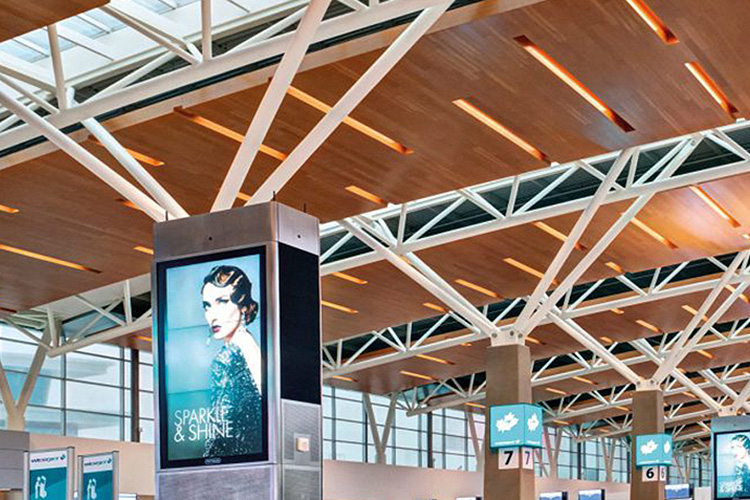 DECOUSTICS®: CUSTOM ACOUSTICAL ARTISTRY FOR HIGH-IMPACT SPACES
The CertainTeed Ceilings portfolio includes Decoustics custom engineered ceilings and walls. Like architecture itself, Decoustics products are the result of science and art working together. Engineering harnessed to meet the demands of creativity. Ceiling solutions designed to transcend the predictable, ignore the ordinary and assume the shape of imagination. All with full technical support throughout the entire process: design, specification, estimating and installation.
EXPLORE DECOUSTICS CUSTOM ENGINEERED ACOUSTIC SOLUTIONS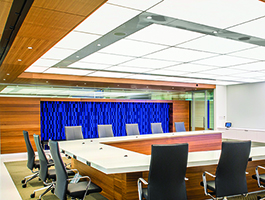 Create awe-inspiring interiors from a palette of natural wood, translucent backlit fabric, custom colors and even VOC-absorbing fabric.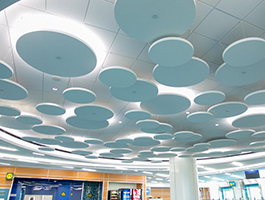 Add design drama with lightweight architectural forms, dynamic floating clouds and vertical baffles in wood, fabric or custom color-matched stipple-textured surfaces.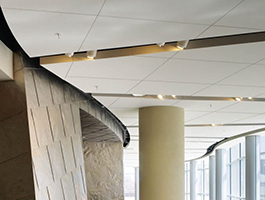 Maximize access and minimize visibility while ensuring a secure installation with the ingenious systems behind our ceilings, wall panels, clouds and baffles.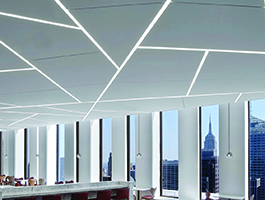 Accent any custom acoustic ceiling design with LED lighting integrated into our fully accessible suspension system.

09 01 50 - Maintenance of Ceilings
09 01 50.91 - Ceiling Restoration
09 06 50 - Schedules for Ceilings
09 50 00 - Ceilings
09 51 00 - Acoustical Ceilings
09 51 13 - Acoustical Panel Ceilings
09 51 14 - Acoustical Fabric-Faced Panel Ceilings
09 51 23 - Acoustical Tile Ceilings
09 51 26 - Acoustical Wood Ceilings
09 51 33 - Acoustical Metal Pan Ceilings
09 51 33.13 - Acoustical Snap-in Metal Pan Ceilings
09 51 53 - Direct-Applied Acoustical Ceilings
09 53 00 - Acoustical Ceiling Suspension Assemblies
09 53 13 - Curved Profile Ceiling Suspension Assemblies
09 53 23 - Metal Acoustical Ceiling Suspension Assemblies
09 53 33 - Plastic Acoustical Ceiling Suspension Assemblies
09 54 00 - Specialty Ceilings
09 54 13 - Open Metal Mesh Ceilings
09 54 16 - Luminous Ceilings
09 54 19 - Mirror Panel Ceilings
09 54 23 - Linear Metal Ceilings
09 54 26 - Linear Wood Ceilings
09 54 33 - Decorative Panel Ceilings
09 54 43 - Stretched-Fabric Ceiling Systems
09 54 46 - Fabric-Wrapped Ceiling Panels
09 54 53 - Fiberglass Reinforced Panel Ceilings
09 56 00 - Textured Ceilings
09 56 13 - Gypsum-Panel Textured Ceilings
09 56 16 - Metal-Panel Textured Ceilings
09 57 00 - Special Function Ceilings
09 57 53 - Security Ceiling Assemblies
09 58 00 - Integrated Ceiling Assemblies
09 83 16 - Acoustic Ceiling Coating
09 84 36 - Sound-Absorbing Ceiling Units
11 34 00 - Residential Ceiling Fans
23 32 33 - Air-Distribution Ceiling Plenums
23 82 39.19 - Wall and Ceiling Unit Heaters