architecture - engineering - construction
About Hunter Douglas Metal Ceilings
3-Part CSI specifications
Hunter Douglas Metal Ceilings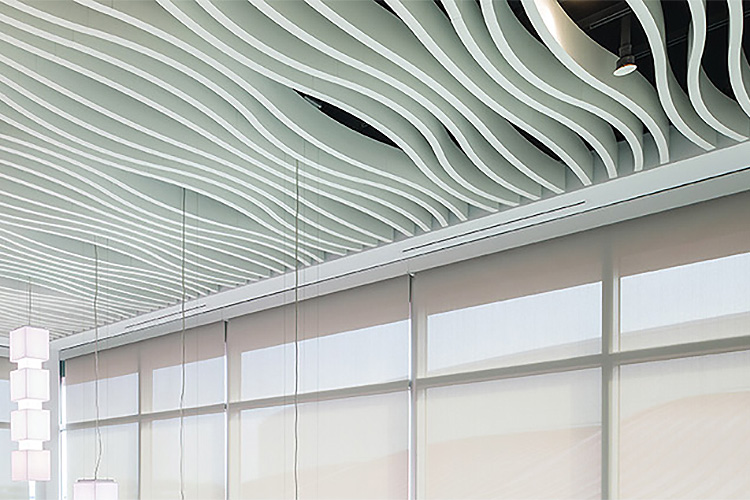 METAL CEILINGS: FROM HUNTER DOUGLAS CEILINGS & WALLS
Yes, we have oversized metal panels, and planks to 20 feet. Not to mention a variety of customizable ceiling and wall systems for both interiors and exteriors. But it's our in-depth technical consulting and practical problem solving on applications of any type and scale that makes the difference. We provide industry-leading solutions for a wide range of commercial and industry metal ceiling systems.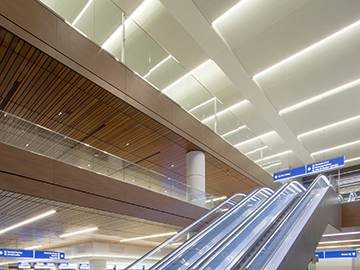 Plank & Tile ceiling systems provide a clean, subtle look that communicates a sense of permanence and durability. Our panels contain high-recycled aluminum content and our manufacturing processes ensures flatness.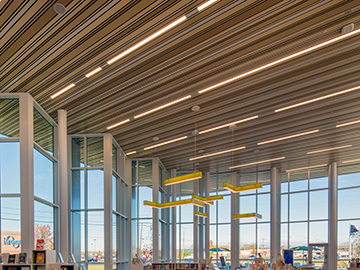 Linear Ceiling Systems allow a variety of innovative interior and exterior visual effects, from the softly rounded edges of 84R to the clean, square corners and multiple width and depth options of Box Series.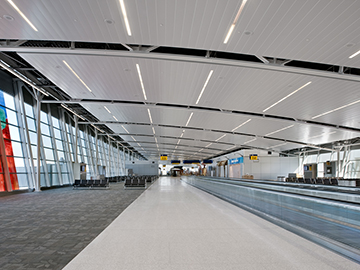 Linear Plank Ceilings create a distinct, smooth look. We offer a selection of cost-effective options for all interior and exterior applications.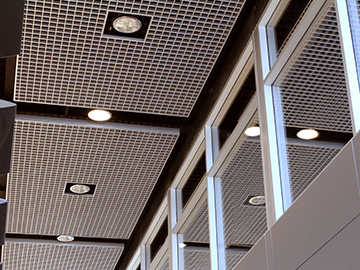 Cell Ceiling systems enable open plane constructions, offering a wide variety of cells and patterns for maximum freedom of design. Our panels contain up to 95% recyled content.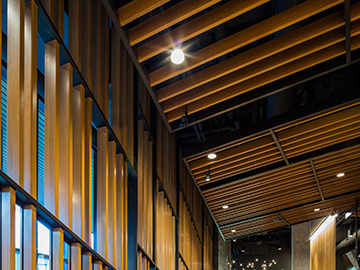 Our Baffle ceilings offer best-in-class vane and carrier options that make them ideal for large spaces requiring a one-way plenum mask or specific lighting effects.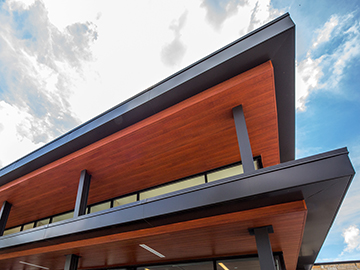 Exterior Ceiling Systems create a variety of looks and are engineered to withstand severe weather conditions.

09 01 50 - Maintenance of Ceilings
09 01 50.91 - Ceiling Restoration
09 06 50 - Schedules for Ceilings
09 50 00 - Ceilings
09 51 00 - Acoustical Ceilings
09 51 13 - Acoustical Panel Ceilings
09 51 14 - Acoustical Fabric-Faced Panel Ceilings
09 51 23 - Acoustical Tile Ceilings
09 51 26 - Acoustical Wood Ceilings
09 51 33 - Acoustical Metal Pan Ceilings
09 51 33.13 - Acoustical Snap-in Metal Pan Ceilings
09 51 53 - Direct-Applied Acoustical Ceilings
09 53 00 - Acoustical Ceiling Suspension Assemblies
09 53 13 - Curved Profile Ceiling Suspension Assemblies
09 53 23 - Metal Acoustical Ceiling Suspension Assemblies
09 53 33 - Plastic Acoustical Ceiling Suspension Assemblies
09 54 00 - Specialty Ceilings
09 54 13 - Open Metal Mesh Ceilings
09 54 16 - Luminous Ceilings
09 54 19 - Mirror Panel Ceilings
09 54 23 - Linear Metal Ceilings
09 54 26 - Linear Wood Ceilings
09 54 33 - Decorative Panel Ceilings
09 54 43 - Stretched-Fabric Ceiling Systems
09 54 46 - Fabric-Wrapped Ceiling Panels
09 54 53 - Fiberglass Reinforced Panel Ceilings
09 56 00 - Textured Ceilings
09 56 13 - Gypsum-Panel Textured Ceilings
09 56 16 - Metal-Panel Textured Ceilings
09 57 00 - Special Function Ceilings
09 57 53 - Security Ceiling Assemblies
09 58 00 - Integrated Ceiling Assemblies
09 83 16 - Acoustic Ceiling Coating
09 84 36 - Sound-Absorbing Ceiling Units
11 34 00 - Residential Ceiling Fans
23 32 33 - Air-Distribution Ceiling Plenums
23 82 39.19 - Wall and Ceiling Unit Heaters