architecture - engineering - construction
News
Chicago Metallic® Seismic Products Help Marian Regional Medical Center with Performance and Aesthetics
Opened in May 2012, Marian Regional Medical Center is one of the first California hospitals to use Chicago Metallic's 1496 Seismic Perimeter Clip, as approved by California's Office of Statewide Health Planning & Development (OSHPD).
Following the 1994 Northridge earthquake, California passed a law requiring higher seismic standards established by the OSHPD and the California Building Code. Meeting the most stringent of these criteria, Dignity Health built Marian Regional Medical Center, a new $210 million, four-story acute care facility.
Designed by Moon Mayoras Architects, Inc. and constructed by Kitchell, Marian Regional Medical Center's exterior matches the California Mission-style of the neighborhood. "The appearance was very important to the local community," emphasizes Tim Simons, project manager with Moon Mayoras. "The building is located within a residential community and was essential that it blended with the surrounding architecture."
As part of Santa Barbara County's healthy future, Simons reports that the local area residents already have welcomed the building as a landmark representing their community. The area's agricultural landscape inspires the interior, designed Brandt Design Group Inc. The finishes, furnishings and artwork highlight cinnamon, pinot noir and sage green colors. Throughout the building, the new hospital focuses on cultivating patient care and creating comfort within a healing environment.
Doubling the size of the previous hospital, the new 191-bed, spans nearly 240,000 square feet. During an 18-month period, Martin Integrated installed Chicago Metallic's 1200 Seismic Suspension System and innovative 1496 Seismic Perimeter Clip throughout the facility.
"Our 15/16-inch 1200 Seismic ceiling suspension systems are the industry standard for suspended ceilings, and the 1496 Seismic Perimeter Clip is the essential component that works behind the scenes to meet the International Code Council (ICC) seismic performance requirements," says Chicago Metallic's district manager Tom Prukop.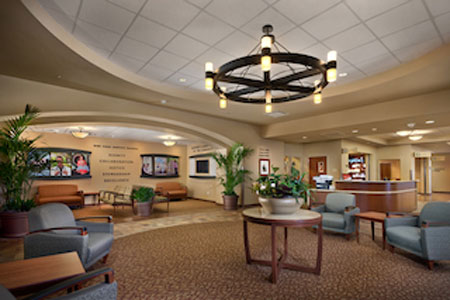 As an approved alternative construction method for all Seismic Design Categories (SDCs), Chicago Metallic's 1496 Seismic Perimeter Clip attaches to a wall angle, main runner and cross-tees that support ceiling tiles. For the SDC D associated with Marian Regional Medical Center, the use of the International Code Council Evaluation Service (ICC-ES) recognized, seismic perimeter clip may replace the 2-inch wall angle with a 15/16-inch wall angle and eliminate the need for spacer bars.
To gain OSHPD's approval, Chicago Metallic provided detailed documentation including engineering analysis by Miyamoto International, Inc., an independent, internationally renowned structural and earthquake engineering firm.
Tyler Hovivian, project manager with Martin Integrated, explains, "Installing 2-inch wall angles is a nightmare, not just from the time and materials, but also from an aesthetic point-of-view. When an architect or designer looks at it, they see a large obtrusive angle [and an] unevenness in the drywall. The drywall has a stringent tolerance of no more than 1/8-inch variance. With the 2-inch wall angles, the drywall looks like it undulates. Chicago Metallic's system is much more flexible and you don't have to rework the drywall. They've cut out several steps for us."
He continues, "Chicago Metallic's 1496 Clip and 15/16-inch [1200] suspension system presented an extreme cost savings to both the owner and to us as the installing contractor. It's a methodical, simple system that offers an opportunity for highly efficient labor and meets the criteria required by OSHPD. I estimate it's three times more expensive to use the system prescribed by OSHPD and that Chicago Metallic's approved alternate system is three to four times more efficient labor-wise. It's so much faster and cost effective."
Marian Regional Medical Center; Santa Maria, Calif.; http://www.marianmedicalcenter.org
Owner: Dignity Health; San Francisco; http://www.dignityhealth.org
Architect of Record: Moon Mayoras Architects, Inc.; San Diego; http://www.moonmayoras.com/
Interior Designer: Brandt Design Group Inc., Valley Center, Calif.; http://www.brandtdesigngroup.com/
Contractors: Construction manager: Kitchell, San Diego; http://www.kitchell.com
Structural and earthquake engineering firm: Miyamoto International, Inc.; Sacramento, Calif.; http://www.miyamotointernational.com
Installing contractor: Martin Integrated, Orange, Calif.; http://www.martinintegrated.com
Ceiling system manufacturer: Chicago Metallic Products; Chicago; 1200 Seismic Suspension 15/16-inch Grid System with 1496 Seismic Perimeter Clip; www.chicagometallic.com
About Chicago Metallic Corporation
Chicago Metallic Corporation is a global provider of architectural building products and services, including ceiling suspension systems, metal ceilings, acoustical and sustainable ceiling panels. Its manufacturing facilities and distribution channels are located throughout North America, Europe, and Asia. Building on a legacy that began in 1893, the people at Chicago Metallic Corporation create enduring relationships and quality products that stand the test of time. With pride in craftsmanship, commitment to customers, and an eye on the future, the company continues to benefit from a culture where people are valued above all else. Learn more by visiting www.chicagometallic.com.
For other relevant searches, you might want to try: