architecture - engineering - construction

Painting a Bedroom to Look Like Polished Silver
May 2, 2019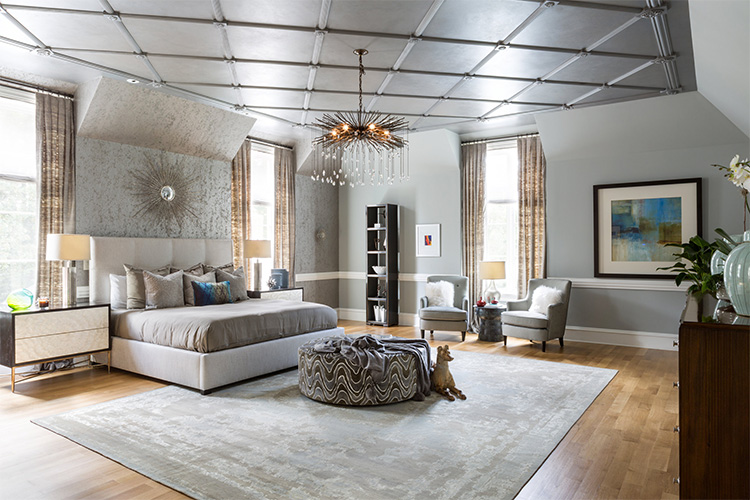 Burnished metallics wrap a cavernous master bedroom into a warm, cozy embrace
Dennese Guadeloupe Rojas doesn't consider herself a big glitz and glamour designer, save for one client who always wants to do something Beyoncé-like. Assigned the 10th Annual D.C. Design House's largest bedroom last fall — 1,000 square feet that included a sleeping space, sitting area, breakfast bar, dressing room, dual closets and master bath — she knew she had to scale down the space and scale up the drama. But she refrained from taking it over the top.
"Designers look at showcase houses from two perspectives," says Rojas, whose Interiors by Design firm is located in Silver Spring, Maryland. "To hit the media, you have to go all out and come up with a chicken on the counter laying eggs: a showstopper. I wanted to come from the other place, the one where an average person can walk into the room and imagine themselves living there."
Her biggest challenge: the room's 10-foot ceilings. Rojas concluded, "We needed color to give it that cozy feeling."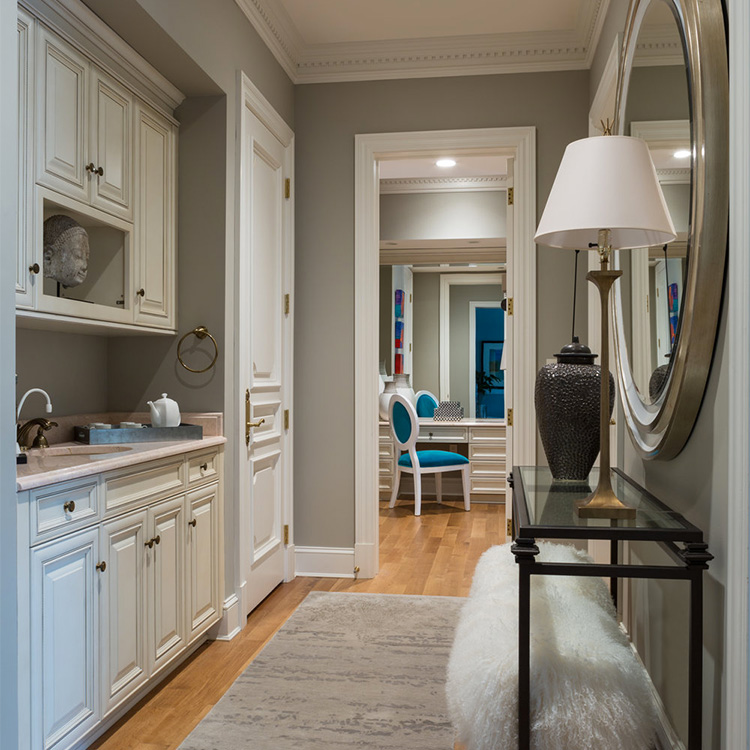 Having worked with Chelsea Gray SW 2850 before, she knew it and liked it, but "didn't want it to be too cold," warmth being synonymous with "cozy." Seeking a complement that would both introduce a note of darkness and anchor the space, she drew from the zinc tones swirling through the centerpiece ottoman's print fabric.
Rojas also gravitated toward dark hues when it came to visually lowering the ceiling to give the room a more intimate feeling. "The original ceiling was a hot mess, with the molding treatment all white, peach and mint green. Everybody was like, 'You've got to take that down!' I decided to take a shot at doing it in metallic," Rojas says.
Metallics aren't always an easy ask: They overlap like fish scales. "If you roll the brush one way, the scales lie one way and you have to stay in that same direction," Rojas has learned over the years. "The silver looks totally different in the sitting room where we rolled it out than in the sprayed master bedroom."
The outcome expresses a welcoming ease glinting with glamour. It's neither feminine nor masculine, itself a tricky dance. If the applause of her Beyoncé-leaning client is to be trusted, Rojas owned the stage. "She came to see the space and was so in love."
Coating
Walls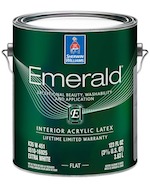 Emerald® Interior Acrylic Latex in Flat
Palette
Walls


Chelsea Gray SW 2850
Ceiling


Pewter Cast SW 7673 (282-C4)
Originally published in STIR®
@SWDesignPros #SWDesignPros #color
Company:
The Sherwin-Williams Company
Product: Interior Paints
Of: Kitty Shea
Source: https://www.sherwin-williams.com/architects-specifiers-designers/inspiration/styles-and-techniques/sw-art-polished-silver-bedroom
---
Tags:
Exploring color in architecture (April 19, 2019), Color Secrets Revealed: Author Kassia St. Clair dishes on the historical twists and turns that continue to shape our charged relationship to color (April 1, 2019), Material Highlight: High-Density Polyethylene (February 11, 2019), REFLECTOR™ Enhancer Flooring Systems (January 16, 2019), Head of Its Class: An Award-Winning School Design (January 9, 2019), Whistler's Cultural Connector (December 19, 2018), Working Inside Out (November 14, 2018), Color Strategies for a Successful Coworking Space (November 12, 2018), Sherwin-Williams Colormix® Color Forecast 2019 (September 7, 2018), Metallic black is a dazzling new face brick (September 3, 2018)
The History and Innovation of Weather-Resistant Substrates (April 24, 2019), Exploring color in architecture (April 19, 2019), Color Secrets Revealed: Author Kassia St. Clair dishes on the historical twists and turns that continue to shape our charged relationship to color (April 1, 2019), Product spotlight: aluminum finishes for harsh environments (March 6, 2019), How to - Pro Polished Concrete Floor Systems (February 15, 2019), Color Strategies for a Successful Coworking Space (November 12, 2018), Facades+ features UW NanoES building with finishing by Linetec (October 15, 2018), Sherwin-Williams Colormix® Color Forecast 2019 (September 7, 2018), Is Polyaspartic Coating better than Epoxy or Polyurethane Coating? (April 26, 2018), Paint vs. Stain: know the difference (April 6, 2018)
Extend wood ceiling designs outdoors with new WoodWorks® linear exterior solid wood panels from Armstrong Ceilings (April 8, 2019), Color Secrets Revealed: Author Kassia St. Clair dishes on the historical twists and turns that continue to shape our charged relationship to color (April 1, 2019), Custom Laser-Cut Decorative Metal Panels (January 28, 2019), REFLECTOR™ Enhancer Flooring Systems (January 16, 2019), What Is Fixed Theater Style Seating? How to Calculate Fixed Theatre Seating (December 24, 2018), Accuride slides a safe partner for Kaso Oy (October 24, 2018), Waterproof Laminated DIY Shower & Bathroom Wall Panels & Kits (October 22, 2018), How to Choose the Right Perforated Grille for Your Project (August 9, 2018), Black Aluminum Cable Railing (June 15, 2018), Elevare™ Mullion High Wall System (May 16, 2018)