architecture - engineering - construction
Avanti Systems Completed UFC Headquarters - Las Vegas Nevada
Avanti Systems USA completes another high profile project, by way of the Ultimate Fighting Championship (UFC), Headquarters in Las Vegas, Nevada. The Ultimate Fighting Championship is a leader in providing Mixed Martial Art Entertainment. Avanti Systems USA successfully installed full glass office partitions throughout the facility utilizing, two of its most high end European Style Systems at this location.
Eclipse and Solare systems were installed at the Entertainment Leader's Headquarters, located in Las Vegas Nevada. The area in which the systems were installed will be utilized as offices and central corporate location. This project adds to the array of other High Profile Projects included in our Clientele. We hope that this new entertainment entity will flourish and also fully utilize their state of the art facility.
Avanti Systems USA is a leading provider of Luxury European Style Glass Wall and Office Wall Partitions. This high profile project is another addition to our full-span clientel. Avanti Systems USA successfully integrates and utilizes the highest quality hardware, glass panels, and installation practices.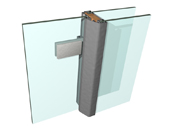 For other relevant searches, you might want to try: