architecture - engineering - construction

Unlike most other aluminum posts on the market, which are too small and thin-walled to withstand the tension of cable infill, Stainless Cable & Railing™ products are uniquely engineered specifically for cable railing applications. Available in five powder-coat colors with three cap rail options, there's sure to be the right color and style combination for any given project.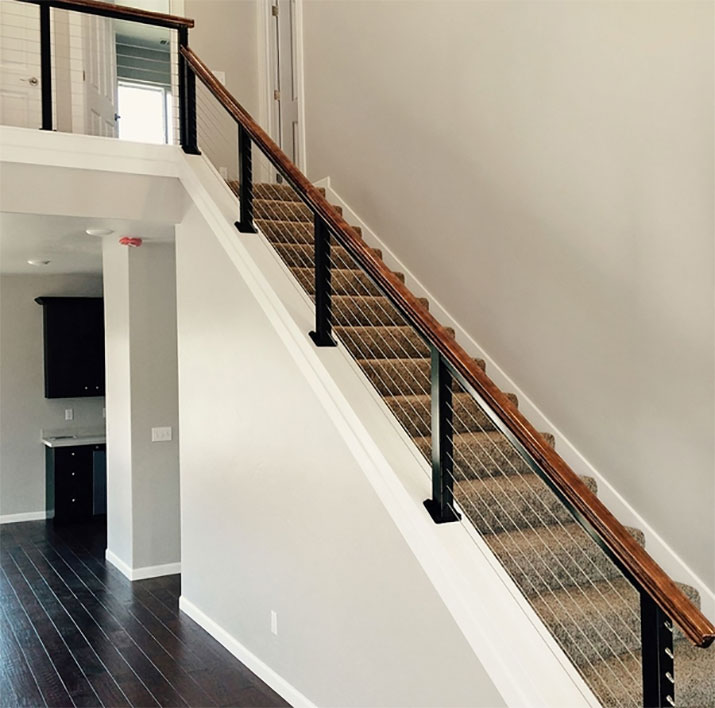 This customer from Fortuna, CA used the black aluminum cable railing.
Features & Benefits:
Reinforced aluminum system withstands the tension of cable infill without bending.
Black powder-coat provides a dramatic and high-contrast look while protecting the aluminum from the elements.
Post-to-Post Handrail supports customer's wood top rail.
Deck mount posts are easy to install.
Field assemblies have a low-profile look with no bulky turnbuckle.
Angled Stair Washers allow the field assemblies to properly handle the stair sections of this railing.
Company: Stainless Cable & Railing Inc.
Product: CableView® Aluminum Cable Railing System
Source: https://stainlesscablerailing.com/cable-railing-fortuna-california1.html
Tags: Aluminum | Color | Interior Design | Railing System | Safety
---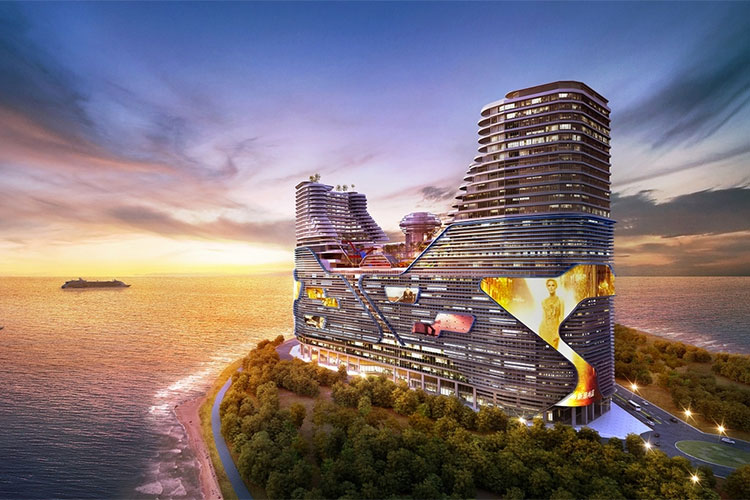 Located on Pulau Malacca, a tropical man-made island at the gates of Malacca, Malaysia, Harbour City brings together a Theme Park, shopping mall and hotel, making it a unique holiday destination for the entire family. Developed by Hatten Group, this RM 800 million (USD 206 million) is expected to open its doors to guests and visitors in 2019.
Built on a total area of 2.2 million square feet (204,000m²), Harbour City will be home to an extensive shopping mall spanning over six floors and more than 800 retail stores. A cruise-themed hotel, with 780 rooms and 14 suites, will be located adjacent to a giant 500,000 sq ft. (46,000m²), world-class indoor and outdoor water theme park that features a man-made sky beach. The two towers (18-30 floors each) will be occupied by a Hatten Chain Hotel and an international 5-star hotel brand.
In order to protect the substructure from the ingress of seawater, CHY Architects specified PENETRON ADMIX to treat approx. 4,500m² of concrete for the basement slab, water tanks and swimming pools.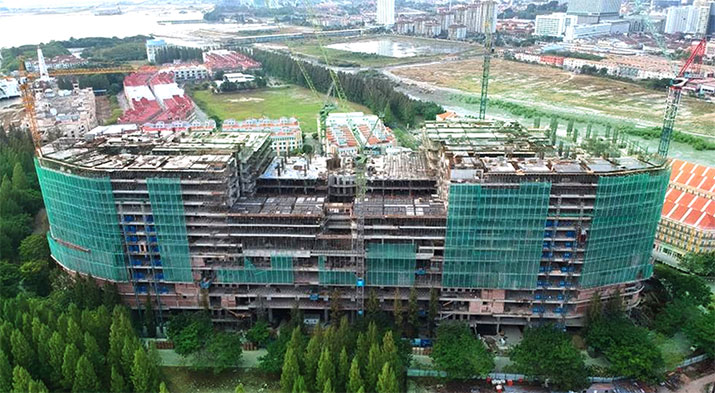 Developer: Hatten Group
Consultant: SNA Consultant Sdn Bhd
Architect: CHY Architects Sdn Bhd
Contractor: China Construction Third Engineering (M) Sdn Bhd
Concrete supplier: Buildcon Concrete Sdn Bhd
Company: Penetron International
Product: Penetron Admix
Source: https://www.penetron.com/projects/view/Melaka-Harbour-City
Tags: Concrete | Waterproofing
---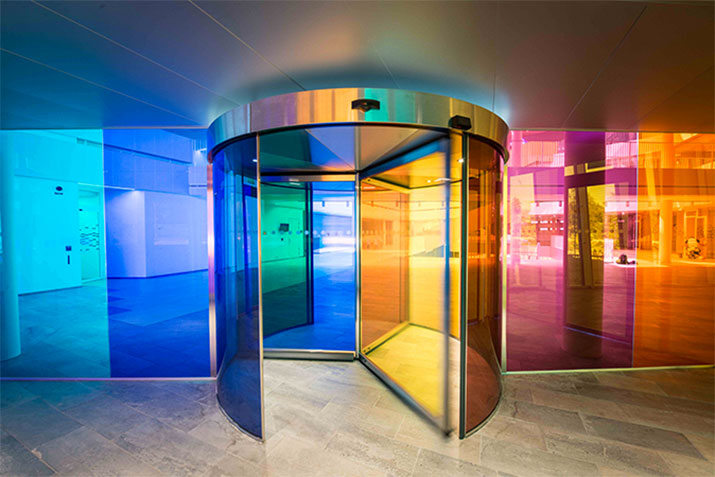 Uppsala University - The Segerstedthuset Building
When entering the new Segerstedthuset building at the Uppsala University in Sweden – guests, students and employees alike are cheerfully greeted by a colourful revolving door. This unique door is an art installation by renowned American artist Spencer Finch (http://www.spencerfinch.com) and is aptly named 'The Colour Wheel'. The artist is best known for installations that visualise his experience of the nature of light, colour, memory.
Turning Entrances and Turning Heads
The Uppsala University is the oldest university research university in the Nordic area and this large facility is located in Uppsala, Sweden - educating 45000 students. The new Segerstedthuset building, designed by 3XN is a multi-purpose extension to the university and was conceptualised and constructed as a modern workplace for researchers, university administration and management. Watch this show-stopping door in action below:
Color Wheel - Spencer Finch
Silver Level Swedish Green Building
The doors measure a diameter of 3000 mm and a total height of 2400 mm and the 6 glass door panels provide the canvas for the light installation artist to work his magic on. Colour film is fitted between the glass which creates a truly remarkable and memorable entry experience into this urban, communal space. The Segerstedthuset building was built as a sustainable building and proved to meet high environmental standards such as efficient energy use, sound material choices and a silent indoor environment. The building is environmentally certified according to the Sweden Green Building Council at the silver level.
A Strong Collaboration
Projects like these involve many collaborators, and for this one we are working with the below in our quest to secure the space:
Location: Uppsala, Sweden
Products: TQA Automatic Revolving Door
Segment: Education
Architect: 3XN
Company: Boon Edam Inc.
Product: Revolving Doors
Source: https://www.boonedam.us/uppsala-university-segerstedthuset-building
Tags: Architecture | Color | Design | Doors | Entrances | Security
---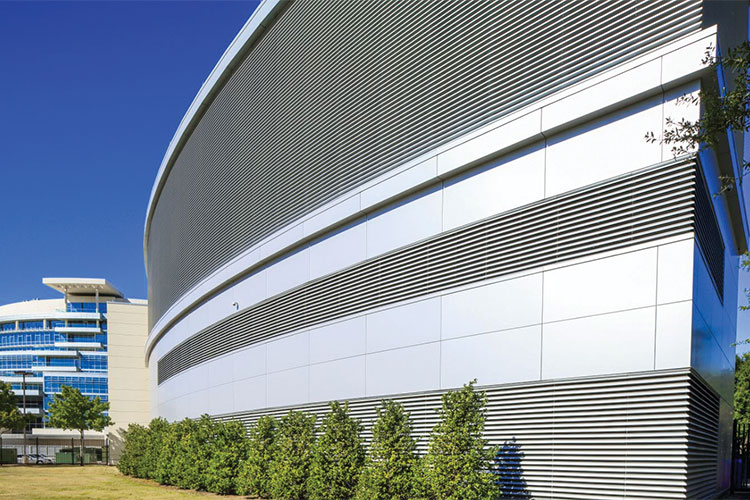 Peter Blaha is a product marketing manager for the architectural department at Ruskin®. He will be giving a webinar presentation on louver selection and application on June 13th at 2:30pm CST
During this presentation, Peter will discuss the codes, the various agencies that approve and govern these requirements, and the testing that goes into these louvers.
Those that attend this webinar will come away from it with a better understanding of the Ruskin louver product range and their application. This is a great webinar for people that are new to the industry and want to learn more about louvers.
Based on our survey to previous webinar attendees and representatives, we have put together the following webinar agenda for 2018. These Webinars take place on the 2nd Wednesday of every month at 2:30 pm CST:
June 13th - Louver Selection and application
July 11th - Commercial Control Dampers
August 8th - TDP05K Thermal Dispersion Airflow & Temperature Probes
September 12th - Automatic Balancing Damper Solution
October 10th - Critical Environment Dampers
November 14th - Benefits of Sunshades
December 12th - Ruskin® Industrial Damper Capabilities
Company: Ruskin
Source: http://www.ruskin.com/News-Articles/entryid/800/webinar-presentation-on-louver-selection-and-application
Tags: Louvers
---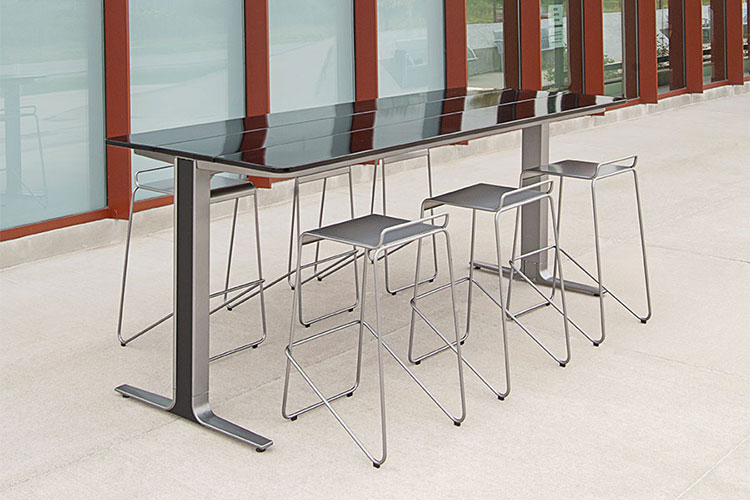 Connect with Ancora
Bring people together where ideas, insight and inspiration can be shared with the new Ancora table by Maglin. This bar height table is available in 6 FT and 8 FT lengths and pairs well with Bar Height Foro and Kontur Stools. Available in steel and recycled plastic, this modern table leaves a lasting impression.
Ancora
Bar Height Table
6 FT and 8 FT Lengths
Free Standing or Surface Mount Installation
Metal or HDPE (orange peel appearance) Table Top
Company: Maglin Site Furniture
Source: http://www.maglin.com/products/ancora/ancora.html
Tags: Design | Furniture | Landscape Design
---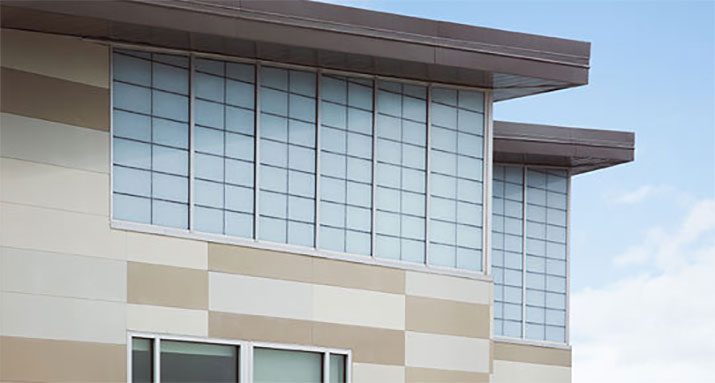 There are a variety of daylighting and glazing options in the market today, but one of the stand-out features of translucent panel systems is their grid pattern. Translucent panels, like the Guardian 275® system shown in the image above, feature an aluminum grid that supports the interior and exterior fiberglass face sheets. This gives the panels their strength and allows for panel sizes up to 5 feet wide by 20 feet long in some instances.
But while the classic grid pattern is a necessity, it also has a distinct look that has its supporters and detractors. In the project above - Barkley Elementary School in Kentucky - the U.S. Army Corp of Engineers and Woolpert were able to take the strong geometric shapes in the grid pattern and smartly echo them in the exterior wall design, adding emphasis to their look and making them a more integrated part of the exterior. (To learn more about the award-winning project, you can also visit the Woolpert site where you'll find a short video about the school's open-plan design.)
Also keep in mind that the grid pattern shown above isn't the only option for translucent panels. Whether you prefer staggered lines, a vertical-only grid to simulate a channel glass look, or a completely custom geometric pattern, we will work with you to find the right solution. Call us at 888-759-2678, email sales@majorskylights.com, or check out our Architectural Consulting page for more on how we can help with your next project.
Company: Major Industries Inc.
Product: Guardian 275® - Translucent Panel Skylights & Curtainwall
Source: http://majorskylights.com/architectural-consulting/
Tags: Architecture | Glass | Glass Walls | Skylights | Wall Panels
---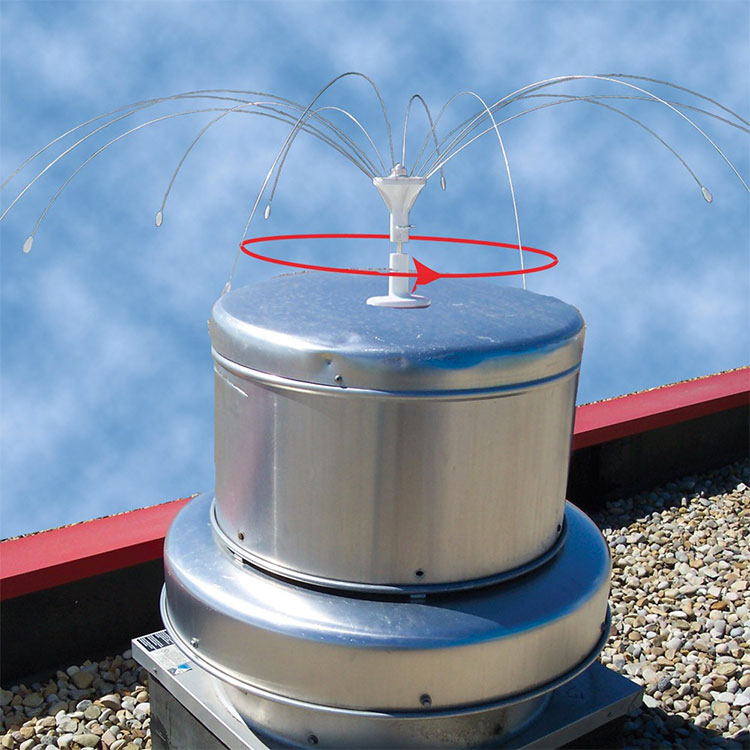 Birds like pigeons and gulls love to land on your roof, A.C. units, boat and other areas and make them their home. A great way to keep bird away from your property is to install bird spiders. The Bird Spider 360 manufactured by Bird-B-Gone, Inc. in the USA is a physical bird deterrent that keeps birds from landing and roosting. It is ideal to use to keep birds away from roofs, A.C. units, patio furniture, patio covers and other areas birds are a nuisance.
The Bird Spider 360 is made of stainless steel arms to a UV protected polycarbonate base. Each arm of the bird spider is fitted with polycarbonate tip to assist in movement and prevent scuffing. A locking mechanism keeps Bird Spider 360 attached to the base while spinning in the breeze.
How the Bird Spider 360 Works
The Bird Spider 360s come in four sizes, 2-foot, 4-foot, 6-foot and 8-foot diameters. They have 8 legs that wiggle and bounce in the breeze alerting the birds to danger in the area. The birds will not land near the area covered by the bird spiders and will move on to a more suitable area. The bird spiders are ideal to use on wide-open areas like boat canvases and A.C. units. They will cover up to an 8-foot radius, making the bird spider one of the most economical bird deterrent devices by area.
When the bird spiders are no longer needed, like when using your boat, patio furniture or during winter months, the spiders can be folded up and stored away. Next season or during docking times for your boat, just take the spiders out of storage and set them up again.
In this movie from Bird B Gone, Julie highlights the Bird Spider 360° and offers a quick fix to optimize its effectiveness. Tune in now to learn the simple push or pull technique to have your Bird Spider spinning today!
Company: Bird-B-Gone, Inc.
Product: Bird Deterrents
Source: https://www.birdbgone.com/blog/how-to-keep-birds-away-with-the-bird-spider-360/
Tags: Bird Control
---
Wind-driven rain louvers provide the maximum amount of protection in keeping wind-driven rain from egressing past an opening. Wind-driven rain louver models have both horizontal and vertical orientations and utilize a chevron style rain resistant blade that rejects horizontal rain as it comes in contact with the louver. These louvers are tested per AMCA 500-L at wind velocities of 29 and 50 miles per hour. Based on the results of the testing, the louvers are then graded from A to D, with A being the best performance at 99% effective or better at repelling wind-driven rain, B being 98.9% to 95% effective, C being 94.9% to 80% effective, and D being below 80% effective. Additionally, some wind-driven rain models have also been tested for impact and qualify as louvers that can be installed in states like Florida where hurricane conditions exist.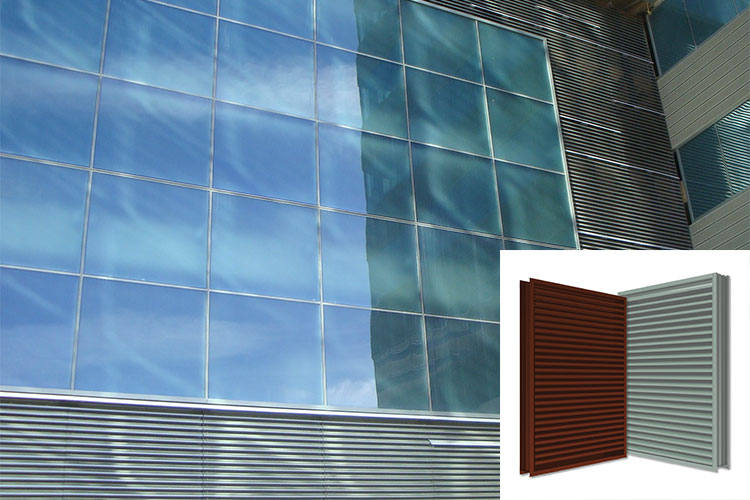 New AMCA 540 (Enhanced) Wind-Driven Rain Louver Models
Ruskin® proudly introduces the new (4") EME420DDE and (5") EME520DDE louver models, both listed for AMCA 540 (enhanced) protection. With both these new models you now have two new louver options for jobs that require Missile Level E protection. You also have the same AMCA certified performance as their respective 'DD' models.
Features:
Horizontal architectural blades minimize the penetration of wind-driven rain, reducing damage and additional operating expenses
AMCA certified wind-driven rain results
Published performance ratings based on testing in accordance with AMCA
Publication 511
40% Free Area.
AMCA 540 Listed (Enhanced Protection)
EME520DDE : Wind-Driven Rain Resistant Stationary Louver
Features:
Closely spaced horizontal blades minimize the penetration of wind-driven rain, reducing damage and additional operating expenses
Tested in the AMCA 500-L Wind-Driven Rain Penetration Test
Published performance ratings based on testing in accordance with AMCA Publication 511
47% Free Area
Excellent pressure drop performance
AMCA 540 Listed (Enhanced Protection)
Company: Ruskin
Product: Louvers
Source: http://www.ruskin.com/News-Articles/entryid/798/new-amca-540-enhanced-wind-driven-rain-louver-models
Tags: Architecture | Design | Louvers
---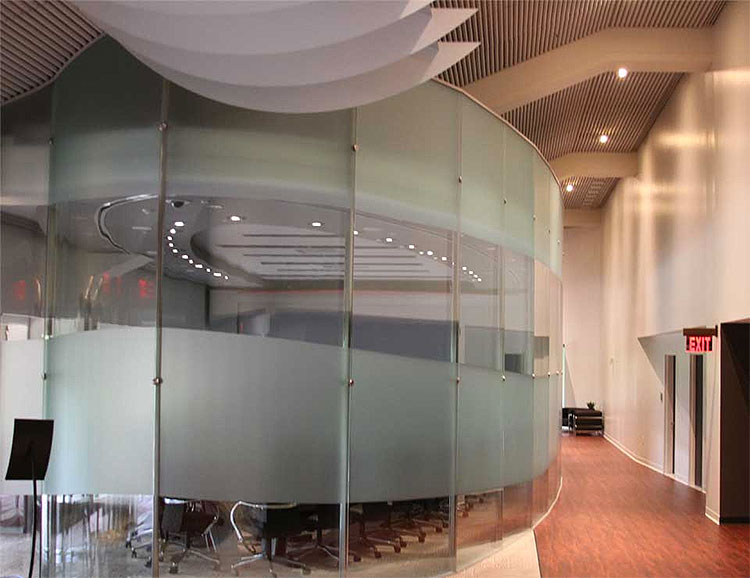 The Elevare™ Mullion High Wall System offers a flexible and modular separation of spaces with a contemporary look. It's design allows for the movement/reconfiguration/relocation the connection elements without making holes in the main support structure.
The Elevare™ Mullion High Wall System is an innovative, contemporary looking, complete supporting interior partition system based on the concept of structural facades with the use of vertical aluminum mullions. The system is a completely versatile and suitable for different needs and environments through the widest spectrum of possible combinations. Glass, poly-carbonate and wood are all compatible with the support components. All perimeters are fastened to solid walls. The Elevare™ Mullion High Wall System is especially suited for offices, retail spaces and trade fairs.
The maximum panel height is 30'-0", maximum panel width is 48" (panels may be larger with engineering). Configurations may be straight, angled or curved. LCD, pivot, sliding and hinged doors may be installed. The standard frame finish is Silver Anodized.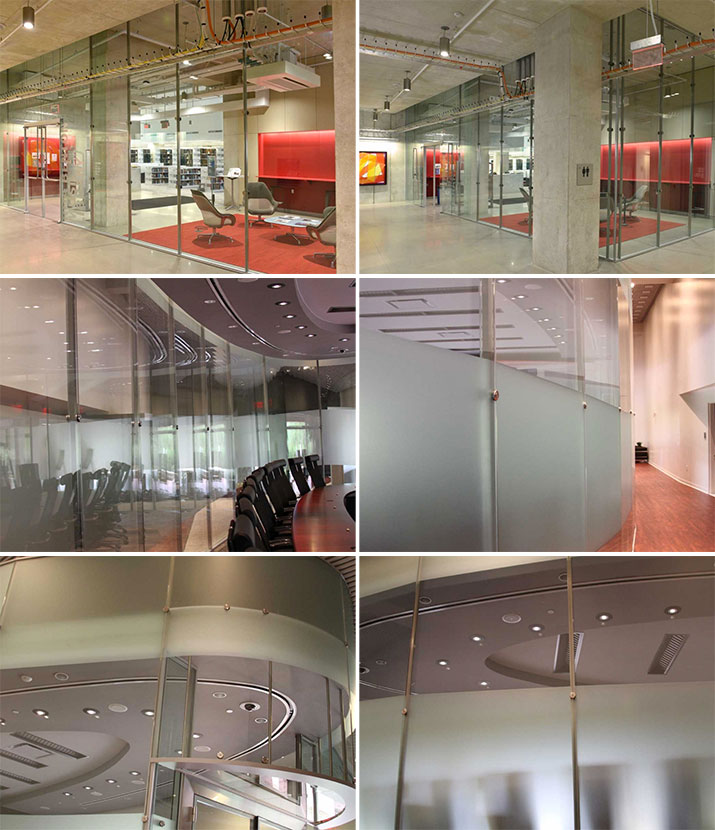 Maximum Glazing Panel Height: 30′-0″
Maximum Glazing Panel Width: 48″
Max Weight Supported per Arm: 110 lbs
Glazing Available: 3/8″, 1/2″, & 9/16″
Available Glazing Types: Clear Tempered, Low Iron, Laminated & LCD Privacy Glass
Standard Frame Finishes Available: Silver Anodized
Company: Avanti Systems USA
Source: https://www.avantisystemsusa.com/glass-products/partition-systems/high-wall/mullion/
Tags: Glass | Interior Design | Office | Wall Panels
---
There are two fundamental reasons TerraCast Products is known for making one of the most durable custom outdoor planters on the market: 1) Materials, and 2) Process.
Stone, concrete, metal—there are many different materials used to create planters. Most of these materials are prone to cracking, staining, or rusting in a matter of one to several years. There's one material that rules supreme in terms of long-term durability, and that's our unique Resin-blend.
Custom Outdoor Planters Made From LLDPE
We use a type of resin known as Linear Low Density Polyethylene (LLDPE). It's a form of plastic that is lightweight, durable, and recyclable. Additionally, it offers a more eco-friendly and cost-effective alternative to other materials. Resin is pretty much a superhero—it doesn't rust, corrode, or stain, and it's not prone to cracks caused by freeze/thaw cycles.
What is a Freeze/Thaw Cycle?
Freeze and thaw cycles can impact everything from brick walls to stone planters—in fact, it can impact any solid porous material. Porous materials absorb water through the first layer, which means water can get trapped beneath the surface. When the temperature dips below 32 degrees F (the freeze point), moisture freezes into a solid—expanding and pushing on surrounding materials, say for instance the inner walls of a planter. When the weather heats back up again, the ice thaws back into a liquid, reducing its mass and subsequent pressure. This happens repeatedly each winter and over the course of years, and ultimately leads to the development of cracks and breaks.
How to prevent the freeze/thaw cycle from ruining your custom planters
You need a planter made from a non-porous material that does not readily absorb moisture. By keeping moisture out from the get-go, our planters proactively prevent freeze-thaw cycles from happening in the first place.
Not only are TerraCast's resin-based planters non-porous and non-hydroscopic, but they can withstand temperatures ranging between -40 degrees and 140 degrees F.
The issue with dense non-porous materials
Many non-porous (and porous) materials used to create planters are dense—and dense things break easily upon impact. The great thing about our resin-based planters is that they are flexible enough to withstand a surprising impact load without breaking.
Other benefits of our non-porous and non-hydroscopic planters:
More resistant to stains from dirt and debris and graffiti, just about anything can be cleaned off using at home cleaning products. In the most extreme cases, a pressure washer will remove the stain.
Less prone to leaks
Helps keep moisture and nutrients necessary for plants to thrive inside of the planter
Boosted by the addition of UV-12 inhibitors to maintain longer lasting colors
Our Process Matters Too
Our roto-molding process is proven to offer procession from rims to corners, and all around. Planters start off as two mirror-image metal molds that are fit together with a hollow center. Before being turned into a powder, resin begins in pellet form of Linear Low Density Polyethylene.
Once in powder form, it gets its coloring in a blend machine. Pick from a range of solid colors, from white to black, or custom order any shade. During this process, we add UV inhibitors into the resin to maintain long lasting color for many years to come. We also offer six unique faux stone blends so you can enjoy the look of stone planters without the drawbacks. Want a planter that looks like granite? We know just how to mix and match the right colors.
Next, it's time to pour the resin into a clamshell mold and bake it. The closed and locked mold is placed in one of our natural-gas powered ovens. It rotates 360-degrees the entire time it cooks to give it an even coat. The resin melts and solidifies into the shape of the mold.
When the mold is done, it is rinsed with reclaimed water for 15 minutes so that it cools at the right rate for long term durability.
It's Not Just About High Quality Products, We Care About America Too
From reclaimed water to natural gas, we do whatever it takes to produce materials with as little impact to the planet as possible. We also care about supporting local Americans, which is why we produce our products right here in the USA using locally and sustainably sourced materials whenever possible. Depending on color choice, some colors, such as black, can be made using up to 100% post-consumer recycled material.
Company: TerraCast Products LLC
Product: Planters
Source: http://www.terracastproducts.com/custom-outdoor-planters-durable-market-find/
Tags: Landscape Design | Planters
---
Glass flooring provides an exciting combination of style and function, making a dramatic impression in both residential and commercial spaces. Structural glass floors, bridges, landings and stair treads can add light to lower level spaces and provide a unique design element to any interior. Every glass floor system we sell ships as a kit and will include everything you need for proper installation.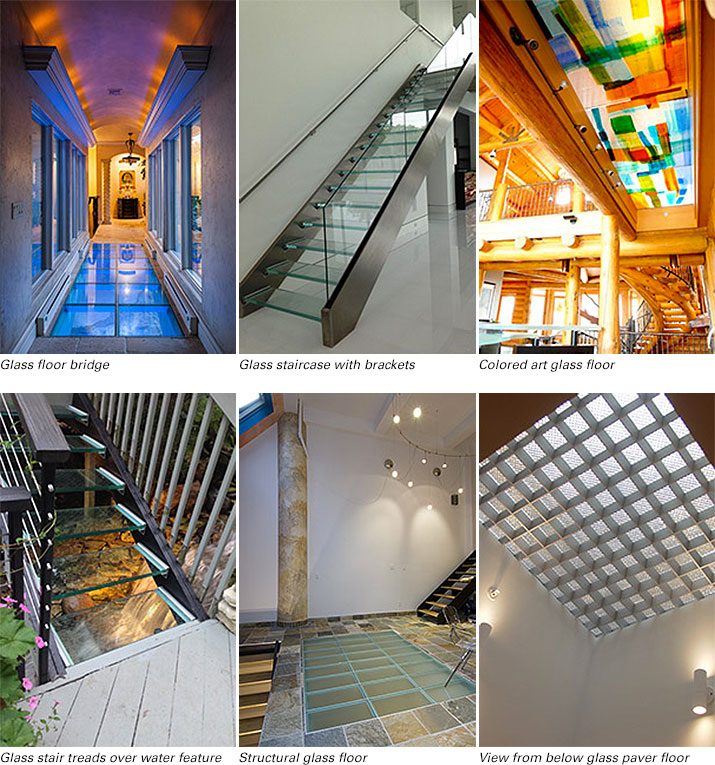 Structural glass flooring and glass block flooring systems will provide a functional and structurally sound surface for foot traffic while providing your commercial, retail, or residential building with a multitude of additional benefits including:
Light transmission from upper to lower levels
Glass walkways, bridges, and staircases allow light to pass from upper to lower levels.
Saving on your energy bill
The use of glass floor planks or pavers enhances day lighting, which in turn can cut energy costs.
A wide range of privacy levels
Our glass units come with a range of different transperancy options. From obscure(acid etched), which will provide complete privacy to those on upper floors, to clear glass which offers direct line of sight, you can set your filter.
The floors just don't look amazing; our complete glass floor systems are engineered to safely support high levels of weight. Additionally, our glass floors and pavers are set inside a lightweight, structural aluminum grid system. This makes them both easy to install and replace if damage were to occur. Let Innovate Building Solutions assist you in designing a structurally sound system that will stand the test of time in any commercial, retail, or residential structure.
In addition to looking amazing, our glass floor systems can be incorporated in wood, tile, stone, or concrete floors to create a one of kind design. Contact us today for a consultation to determine which materials and design will best compliment your space.
Company: Innovate Building Solutions
Product: Glass floors and walkways
Source: http://innovatebuildingsolutions.com/products/glass-block/glass-block-floors-bridge-walkway
Tags: Design | Floor | Glass | Glass Walls
---
Sheet lead for Radiation Protection in laboratories, clinics, dental and medical application can be a challenge. Many contractors and architects face challenges due to space criteria and the weight of the shielding requirements. We provide Sheet lead in 12 different sizes and thicknesses from 1/32nd to 1/4" for all shielding requirements.
In addition, any size sheet lead up to 1/8 "can be supplied pre-attached, adhesive bonded to Drywall (sheetrock), Fire Rated Plywood and other supporting materials to assist in the ease of installation. For areas that require minimum panels to partition we have created our own prefinished lead lined panels called 'Easy Shield Panels'. These panels save time and achieve a finished look for already constructed areas without the chaos of construction. It is important to install to all regulation requirements with approved products. Sheet Lead must be manufactured from Pure Lead and meets ASTM B-29, B749 and Federal QQ L-201F, QQ-L171E standards. MarShield can assist with our in-house engineering services and physics shielding analysis where a solution is required.
Sheet Lead Installation Guidelines
MarsMetal recommends the use of Sheet Lead that is factory bonded to drywall/gypsum board, lath, or plywood for wall covering. This allows the lead to remain rigid and flat during the installation and ensures a continuous meeting edge if installed correctly. Where Sheet Lead must be used on its own then the following guidelines may be used. Read More
Lead Lined Drywall/Gypsum Board or Plywood Installation Guidelines
We start out by using only fire code gypsum materials for all lead-lined drywall/gypsum products. The drywall should conform to ASTM C36. Lead lining from 1/32" – 1/16" and if necessary 1/8" although not recommended due to the heavyweight and handing. A recommended thickness of a simple unpierced sheet of lead in any chosen length is applied and bonded to the appropriate length of drywall/gypsum board. The drywall/gypsum boards are available in a minimum size of 4' x 8' to a maximum 4' x 10' x 5/8" minimum thickness. ½" thick drywall is available but not recommended. Read More
Installation Guidelines for Lead Lining in Floors
In certain situations, the floor and/or ceiling of your room may require radiation shielding. Mars Metal recommends whenever possible laying the Sheet Lead in the floor before the finished floor is poured. All joints should have a minimum of one inch overlap if multiple pieces are to be used. Overlap at each joints between piece or apply 2" wide lead strip batten at each joint and glue in place. If multiple layers are to be used, stagger all joint between layers. Ensure your sheet lead selection allows for safe & easy handling at the site and be sure to verify floor-loading limits are adequate with the architect. Read More
More Information:
Sheet Lead Thickness
Easy Panels page
Certified Consultation Services
Established in 1979, Mars Metal Company manufactures specialized lead products for customers in a variety of industries worldwide.To discover more about our products contact the MarMetal team at sales@marsmetal.com or (800) 381-5335.
Company: MarShield - a division of The MarsMetal Company
Product: Lead Sheets
Source: https://marsmetal.com/
Tags: Lead | Radiation | Shielding
---
For proper roof top safety, there are 3 general areas that require fall protection planning: Leading Edge, Entry/Exit Access points, and skylights.


Garlock Safety System Products - The Solution for your Safety Needs
Roof Top Safety Summary
Safety Guardrails
This type of safety rail fall protection is the preferred method and requires the least amount of employee training and required inspection.

Perimeter Systems
Clamp on perimeter systems are very popular and allow edge to edge protection without fall restraint by using lumber as a safety rail. A medium amount of training and inspection is required for this type of protection.

Skylights & Hatch
All skylights & roof access points are required to be protected.

Visual Warning
Typically a warning line system must be a minimum of 15 ft. from a hazard (consult your local OSHA requirements). For Work outside the safe zone, workers must use an approved PFAS restraint system. A medium amount of training and inspection is required for this type of protection if workers stay inside safe zone.

Fall Restraint
Fall Restraint simply stops the worker from getting near the fall hazard. A fall restraint system consists of an anchor point (either stationary or mobile cart), a personal harness or body belt and a lanyard or restraint line. The length of the restraint must not allow the worker to reach any fall hazard such as unprotected leading edge, stairwell, skylight, or open access hazard, etc. A medium amount of training and daily inspection is necessary for this type of system.

Fall Arrest
If a worker can reach a fall hazard then a PFAS system must be used to stop or arrest the fall in an emergency. A Fall Arrest system consists of an anchor point (stationary or mobile cart), a PFA approved full body harness and lifeline. The length of the lifeline must be sized to each job. Thorough employee training and daily inspection of equipment is required for Fall Arrest systems.

Company: Garlock Safety Systems
Product: Leading Edge: Safety Guardrail Systems
Source: http://garlocksafety.com/products#roof-top-safety
Tags: Railing System | Roof | Safety
---
LuxCore FRP Panels are the newest part of the Fusion line and it offers many unique features. The translucent panels pass sanitary codes and are easy to clean. Therefore it is suitable for wet environments such as commercial kitchens and baths. LuxCore resists scratching and is highly durable, making it perfect Wall protection in high traffic areas. The panels can be used as wainscot or to cover an accent wall. When left as a translucent panel it makes beautiful room dividers and modesty panels and can be back-lit. If a backing is added the colors become even more vibrant and LuxCore makes an excellent wainscoting or wall covering.
DCT's Fusion program allows you to create any custom design by submitting your own art work or choosing from our stock line. Design options for these translucent laminates are only limited by your imagination.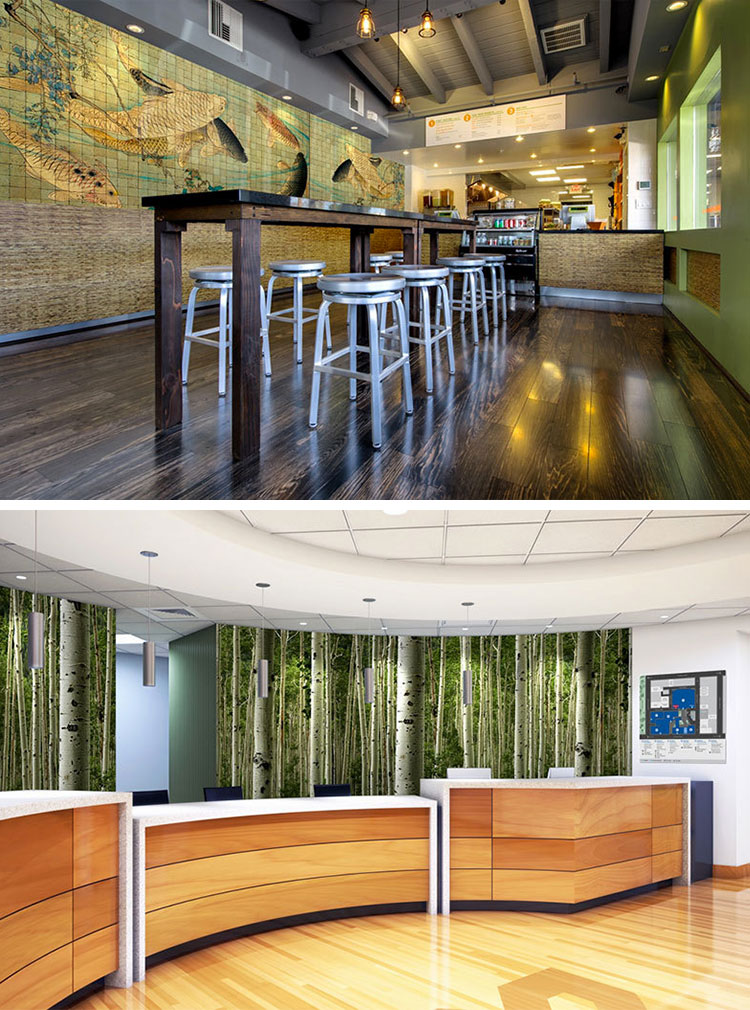 LuxCore are translucent panels that pass sanitary codes and are easy to clean. Therefore, it is suitable for wet environments such as commercial kitchens and baths. LuxCore resists scratching and is highly durable, making it perfect Wall protection in high traffic areas.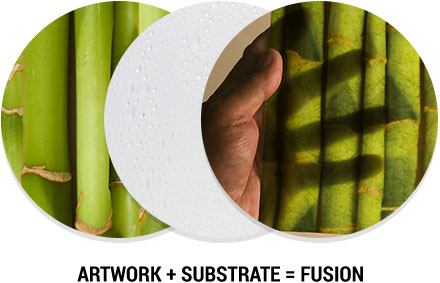 Why Choose Fusion?
Easy-to-Install Directly Over Most Surfaces
No Counterbalancing Required for Unbacked Metals
High Impact, Abrasion, & Chemical Resistant Properties
Over a Dozen Substrate Options Available
Hundreds of Stock Images Available
Custom Capabilities
Low Minimum Order Quantities
Short Lead Times
What is your formula for success?
Fusion offers solutions for the commercial interior design industry and provides architectural elements for use in healthcare, institutional, hospitality, educational, and retail installations. With over a dozen substrate options, we can help create a custom decorative surfacing solution for your application that can be used as wall art, decorative wall protection, large-scale murals, wall dividers, custom millwork, or point of purchase displays. Fusion works for all projects big or small with our low minimum order quantities and short lead times. With Fusion, your imagination is the limit.
Fulfilling your vision
To make sure you are satisfied, DCT's in-house services will seamlessly assist you through design development to fabrication to installation. One of the most unique advantages of Fusion is the ability to use your own artwork. Simply upload your art for technical review and our Fusion Specialists will guide you through the process. Large format digital printing is also available.
Company: Decorative Ceiling Tiles, Inc.
Source: https://www.decorativeceilingtiles.net/translucent-frp-120-thickness-48x120-luxcoreplus-fusion/
Tags: Design | Interior Design | Lighting | Wall Panels | Walls
---
The Roger A. and Helen B. Krone Engineered Biosystems Building (EBB Krone) opened in 2015. It was built with the intention of creating a space where Georgia Tech engineers and scientists can work together on new medical technologies and curing diseases. Much like bees - or Yellow Jackets - the mascot of Georgia Tech, work together in a hive.
It is possible that design architect, Lake Flato, and local architect Cooper Carry considered this when creating the building design. The EBB is a brick building with glass windows shaded by a perforated metal sunscreen surrounded by trees, walking paths, and a garden. The sunscreen, with perforated zinc panels, has a honeycomb effect close up. From a distance, the 5- story building appears to be a giant beehive of Georgia Tech Yellow Jackets busily working together to make sweet scientific discoveries.
The building is LEED Certified and has won multiple awards. (Shown below). The customer was Peachtree Protective Covers and the project manager was John DuConge from Mccarthy Building Companies Inc. Morin Corporation provided the metal panels for the sunscreen.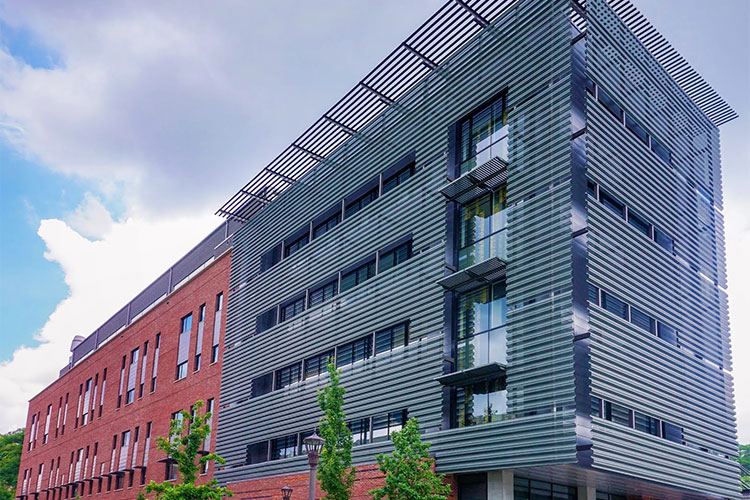 The EBB 'hive'
The sunscreen is a passive sun shading system made of perforated zinc panels. Zinc is a natural metal, it is recyclable, and has a lifespan longer than most metals at 80+ years. The zinc panels are 1.2 mm and coated with a Graphite Gray color coat. They are roll formed in Morin's O-12 panel profile.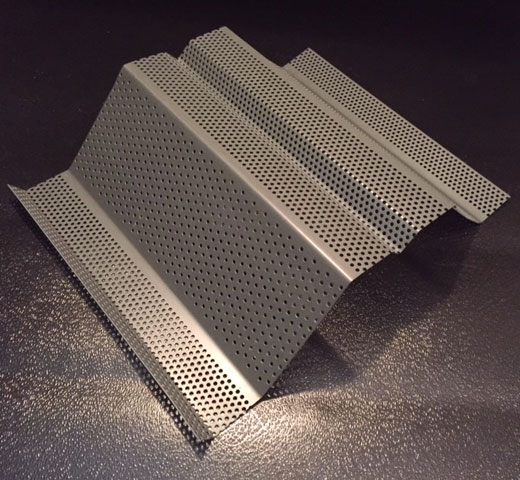 A sample of the O-12 panels with two different perforation patterns visibleUp close, the panels have a unique feature, indiscernible from a distance. Each panel has two different perforation patterns. The O-12 panels were installed horizontally. The nature of this panel shape makes it have an edge that is parallel to the building walls and windows (the face), and a sloped edge that faces either to the sky or the ground. On the panel face, the perforation pattern is ⅛" holes with 7/32" spacing, leaving a 30% open area. The other edge has ⅛" holes with ⅜" spacing, leaving only a 10% open area. This design was achieved by strip perforating each panel. By doing it this way, the bends of the panel remain solid so that there is no distortion. Sample panels were made to make sure that the perforation holes would line up on the lapping panels. Originally, there was going to be three different perforation patterns, but two was enough to satisfy the function of having varying perforation patterns per panel. Said function of this design is to effectively shade the building from Atlanta's harsh summer sun while allowing visibility from inside the building and eliminating glare off the glass windows. The façade has some spaces between the panels, breaking up the screenwall and creating some interesting horizontal lines.
In addition to the screenwall, the project also had four other Morin panel profiles on various parts of the building including solid panels on the top floor covering the penthouse, soffit areas, and wall areas. The other profiles used were VB-34, F-16, F-24, and O-24.
See the Whole GALLERY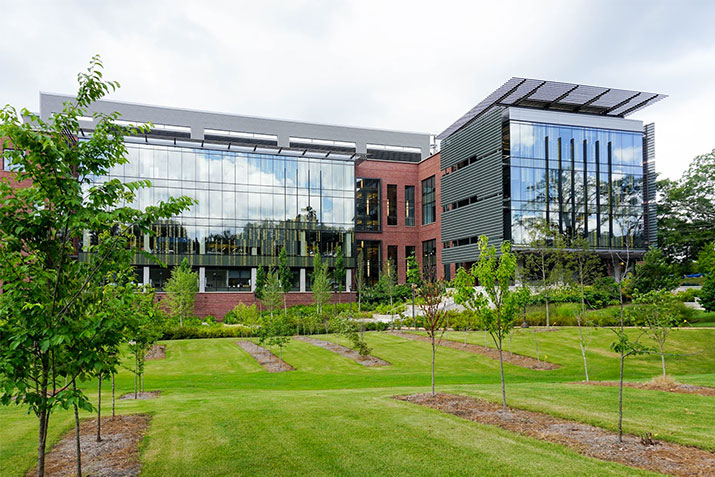 Awards
CMAA South Atlantic Chapter, Project of the Year, 2016
CMAA South Atlantic Chapter, Project Achievement Award >$100M Construction, 2016
AIA Georgia, Design Merit Award, 2016
ENR Southeast Award of Merit for Best Sustainable Building Practices, 2016
Company: Morin® - A Kingspan Group Company
Product: Screen Wall Panels
Source: http://morintranet.blogspot.nl/2018/04/varying-perforation-pattern-technique.html
Tags: Architecture | Award | LEED Certification | Wall Panels
---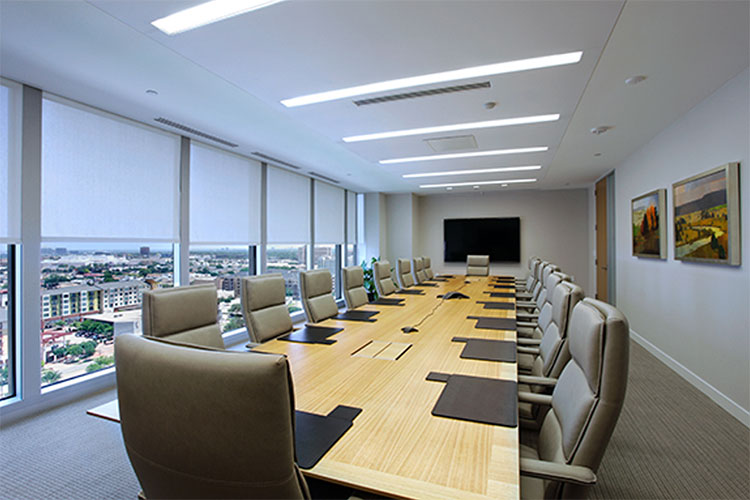 Window shades have been the preferred daylighting control system of choice for several reasons. Shades allow natural light to enter the room while controlling unwanted, uncomfortable glare. They can provide a view to the outside world – even when the shades are down. Heating and cooling cost savings can be substantial and employee productivity improved with the right daylighting control strategy. And to get the most out of solar control shading, motorization and automation are key.
Below are just a few of the benefits of motorized window shades:
Maximized energy savings
If shades are operated manually and left up to individual discretion they may be up or down when it is least beneficial, allowing heat and brightness into the room. This leads to increased air conditioner use and creates unwanted, uncomfortable glare on computers, televisions, and other work surfaces.
Motorized shades controlled by automation systems maximize energy savings and glare control. When the sun is burning brightly, and moving across the sky, shades can move automatically to uniform, preset degrees of closure. These intermediate, preset stopping locations provide the owner with control over heat build-up during the day. They can be controlled locally by a wall switch or from a central location, such as the building manager's office. Shade operation can also be programmed to occur automatically at predetermined times based on the angle of the sun. This type of system controls heat gain while permitting a degree of natural light that doesn't create glare on desks, computer screens, and other work surfaces.
More shading solutions
Motorized shades are available in much larger sizes than manual units, and allow you to provide shading solutions in places where it would be impossible to control them through manual operation. Covering large windows with a single shade, rather than multiple smaller shades, is more efficient, more attractive, and provides substantially better control over heat and glare. Openings as large as 28' wide or 40' tall can be covered by one motorized shade.
Better durability and easier maintenance
Another factor in motorization's favor is durability. Even though all shades are durable and easy to maintain, motorized shades will have even greater longevity because they are hands free.
Maximizing efficiency while providing long-lasting practical shading and glare control contributes to a healthy, productive work environment. The up-front investment for motorized shades should include serious consideration of this important factor.
For more information on Draper's various motorized options, click here.
Company: Draper, Inc.
Product: Window Shades
Of: Terry Coffey
Source: http://blog.draperinc.com/2018/04/the-benefits-of-motorized-window-shades/
Tags: Interior Design | Solar control | Window Shades
---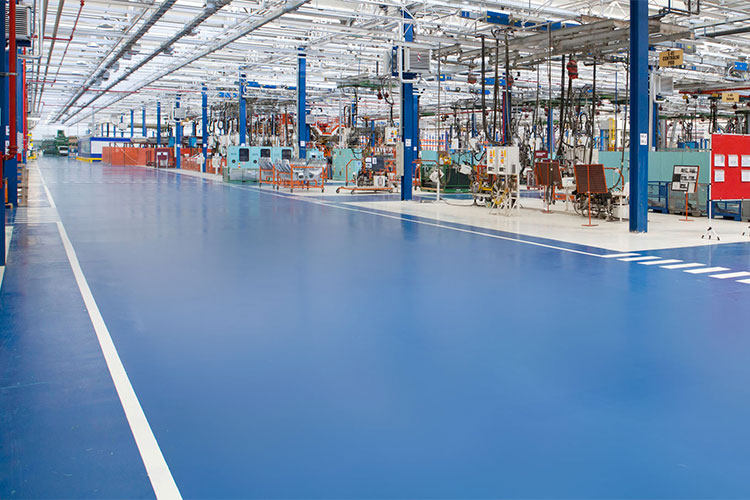 Unless you are a resinous flooring professional or a chemist, it can be hard to differentiate between Polyaspartic, Epoxy or Polyurethane coatings. In many resinous flooring projects they are combined in a flooring system. Each one of these resins serves a purpose.
Nowadays, machine manufacturers, owners of commercial and industrial premises, car refinishing shops and other relevant decision-makers want coatings that can speed up the painting operation while at the same time deliver the high performance known from polyurethane coatings.
Is a Polyaspartic floor better than an Epoxy or Polyurethane floor?
Consider these comparisons:
Typically Epoxy or Polyurethane floors can take 4 or 5 days to install.
Polyaspartics can cure in three to four hours.
Because Polyaspartics cure so fast, they can save you a bundle on labor costs.
Epoxy resins have a tendency to yellow over time and may not be color-fast.
Polyaspartics are UV stable and do not yellow.
For proper curing without any curing defects, epoxy coatings must be installed at temperatures around 55 degrees F.
Polyaspartics can be applied around freezing temperatures, making them perfect for walk-in freezers and the like.
Epoxy resins less flexible and less abrasion resistant.
Polyurethane coatings perform very similar to Polyaspartics but they take longer time to cure (at least 24 hours) and need to be applied very thin (4 to 6 mils per coat)
Polyurethane coatings are used mostly top coats over Epoxy coatings. They cannot be used as a complete system in itself.
Polyaspartic coatings can be used as top coats over Epoxy coatings (to save costs) or they can be used a complete flooring system.
The two main benefits of Polyaspartic based flooring systems are increased productivity and long-term cost efficiency. The gain in productivity over conventional coating technologies can be achieved thanks to two properties of polyaspartic coatings:
Significantly faster drying times at ambient temperature than conventional Epoxy or Polyurethane technologies, which allows a faster return to service.
For high film build applications, a much greater film thickness in a single cooperation is possible, which in practice means one layer can be saved.
Duraamen Industrial and Polished Concrete Flooring Products are designed to provide labor saving and long lasting flooring solutions. Talk to an expert about your flooring challenges...Please Call + 1 973 230 1301 / eMail Us
Company: Duraamen Engineered Products Inc.
Product: Resinous Flooring: Endüra Resin Chip System
Source: https://www.duraamen.com/blog/is-polyaspartic-coating-better-than-epoxy-or-polyurethane-coating
Tags: Coating | Finishes | Floor
---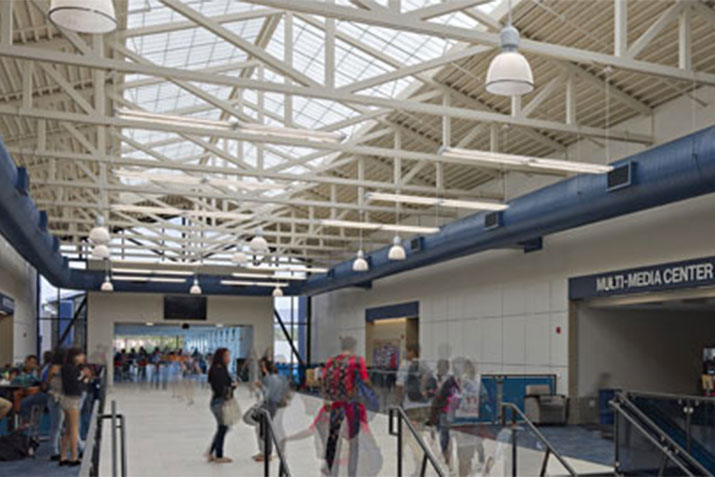 When Las Cruces High School, the oldest high school in Las Cruces, New Mexico, needed an update and expansion, emphasis was placed on carving out new classroom space, more administrative space, a new library, a performing arts center, and a pedestrian bridge connecting the old and new sides of the facility.
Daylight and natural light also play a crucial role in the design, and along with wide expanses of glass is a large Guardian 275® translucent skylight. The image above shows how this main corridor and gathering area gets a substantial amount of soft, diffuse natural light courtesy of the ridge skylight, and how it makes the entire space feel open and welcoming. The natural light also limits the need for artificial lighting during peak sun hours (when students are most often using the facility), which can bring a fair amount of energy savings.
Translucent panel skylights are a great solution for education facilities, especially since schools often feature interior areas that don't have access to exterior walls and traditional windows. A properly designed and implemented skylight can transform a space from dull and dark to eye-catching and bright – and ultimately give students a place where they want to gather and learn. Translucent panel skylights are also cost-effective, and effectively block hot-spots from wreaking havoc on students and staff as well as keeping glare from making it hard to read both printed pages and computer screens.
Designing daylighting solutions for a school but aren't sure where to start? We'd love to help you solve your design challenges! Call us at 888-759-2678, email sales@majorskylights.com, or check out our Architectural Consulting page and let us know how we can work with you to add beneficial daylight to your next education facility project.
Company: Major Industries Inc.
Product: Guardian 275® - Translucent Panel Skylights & Curtainwall
Source: https://majorskylights.com/2018/04/daylight-learning/
Tags: Architecture | Roof | Skylights | Windows
---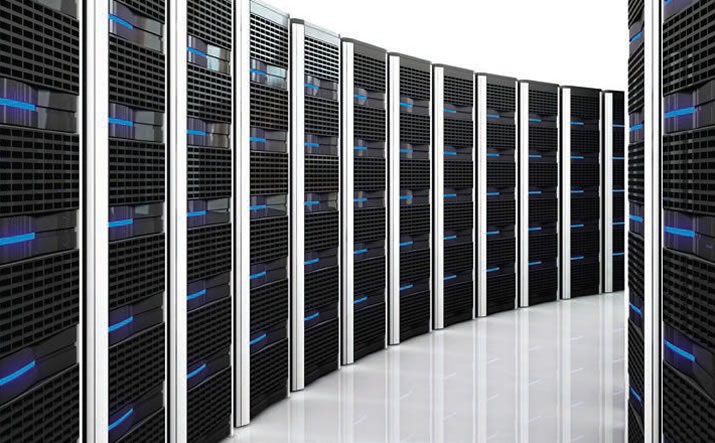 The Natural Resources Defense Council states that Data centers can be regarded as the back bone of a modern economy serving businesses and communications. Defending data means not only protecting it from Mother Nature but also giving back to her with sustainable designs. A question that must be considered during the design of a data center, is 'How likely could the facility be compromised in extreme weather conditions such as tornadoes and hurricanes?'
When evaluating potential HVAC equipment it is advisable to use FEMA rated louvers and grilles. FEMA rated grilles and hurricane-resistant louvers have been tested against high windloads and large missile impacts. Outside air control dampers can seal up the center when necessary to reduce humidity and heat.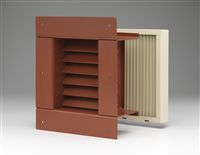 Ruskin's XP500S Extreme Weather Grille protects wall penetrations from flying debris caused by tornadoes, hurricanes, and severe storms. This type of protection is critical in the design of Community Shelters (ICC-500) and Safe Rooms (FEMA 361). It offers designers a ventilation solution for their near-absolute life safety requirements. The heavy duty grille can be mounted internally, externally, or in conjunction with other louvers providing protection and certified performance. Rated for an industry leading 266 psf windload, the XP500S Grille meets or exceeds the building envelope protection requirements while complementing the construction of data centers.
Relevant Certification
FEMA P-361
Safe Rooms for Tornadoes and Hurricanes
http://www.fema.gov/fema-p-361-safe-rooms-tornadoes-and-hurricanes-guidance-community-and-residential-safe-rooms
ICC-500
ICC/NSSA Standard for the Design and Construction of Storm Shelters
http://www.iccsafe.org/cs/standards/IS-STM/Documents/2013Dev/ICC500-2013_PC1.pdf
Company: Ruskin
Product: Louvers
Source: http://www.ruskin.com/News-Articles/entryid/705/Data-Center-Protection
Tags: Grilles | Hurricane | HVAC | Louvers | Safety
---
Many organizations spend a great deal of time and financial resources in making the entrances to their buildings artistic and beautiful, with designs and materials that inspire awe. They may work with an architect, engineer, or building contractor and ensure compliance to NFPA safety and fire guidelines regarding egress, along with the desire for user convenience and an overall aesthetic design. Often, they select standard swinging doors to make it more convenient for employees, visitors and vendors to enter. For security, they employ security officers to stand guard.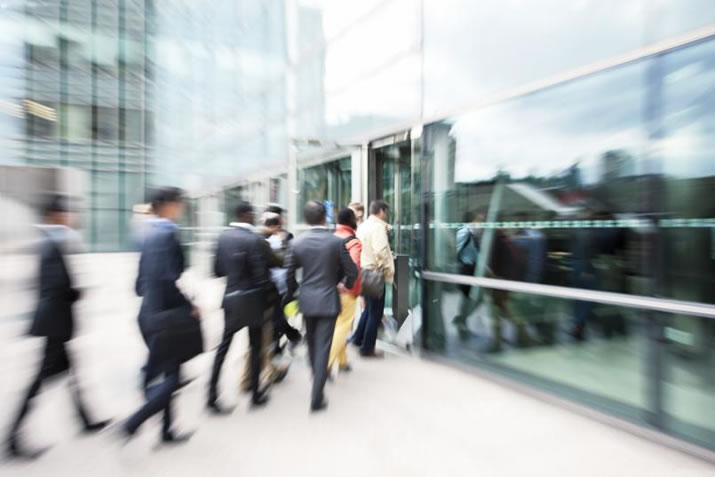 Standard Swinging Doors Introduce Risk
Unfortunately, there are a number of troubling issues surrounding the strategy mentioned above. Security officers are human and subject to distractions, absenteeism, fatigue, being spread too thin or overwhelmed during busy periods. No security officer can reliably "prevent" an intrusion incident at all times and in all locations – in fact, the term "social engineering" was coined to refer to commonly used techniques for getting around security officers. That introduces risk to the enterprise.
And a standard swinging door is often the choice when organizational management is under-informed of the security implications of that selection. The decision makers may also not have any security background. Swinging doors do not, and cannot, prevent unauthorized intrusions, and thus they place an organization squarely in the chain of liability should an intruder cause harm or physical or data loss.
Failure to Meet Physical Security Regulations Results in Fines and Penalties
The lack of clarity around how an entrance is designed and secured not only increases physical and cybersecurity risks, it also places a company at risk of liability that can lead to crippling fines and penalties. Laws and regulations such as HIPAA, HITRUST, PCI Data Security Standard, NERC CIP, FERC, FISMA, ISO, FDA, TAPPA and others have maintained a cyber-heavy emphasis. However, today virtually all regulations mandate some form of physical controls that address unauthorized entry and the control of access into a facility. Non-compliant firms may be subject to significant fines and other actions. Below are a few examples:
NERC Violation
As an example, electric utilities are subject to NERC CIP 14 5-6, which works to ensure the reliability of the North American power system. One utility was recently fined $1.7 million when NERC found a number of violations, including three perimeter doors that had been altered so they didn't lock "so people could enter without the burden of security," among other issues.
HIPAA Violation
Healthcare businesses must comply with HIPAA regulations regarding the protection of patient health information, including limiting physical access to the data. Individuals that knowingly obtain or disclose such information face criminal penalties including jail time. Even if a firm violates HIPAA rules unknowingly, they are still subject to fines up to $50,000 per violation, up to an annual maximum of $1.5 million. Firms that are negligent in protecting their physical points of entry could be found responsible for disclosures perpetrated by intruders.
GLBA Violation
Any firm that involves financial services, from banks to mortgage lenders to car dealers, has to comply with the Gramm-Leach-Bliley Act, or GLBA, which requires firms to take steps to protect the privacy of customers' financial data, including the development of a written security plan and "a thorough risk analysis" to protect the data. Non-compliance carries a fine of $100,000 per violation and includes potential jail time of 5 years. As is the case for HIPAA, firms that are negligent in their physical security could be found non-compliant.
Security Entrances Mitigate Risks and Liabilities
Security entrances are designed to prevent unauthorized intrusion and meet regulatory compliance. They provide for a range of assurance levels, from models designed to support guarded entrances all the way up to unstaffed entrances with very high security levels. High security entrances actually eliminate tailgating while ensuring, through biometric authorization, that the individual entering the facility is the one who is authorized – and not another person carrying their credentials. In every case, security entrances mitigate unauthorized entry while allowing for two-way traffic and emergency exit. When unauthorized entry is addressed, several risks are mitigated at once – including both the physical and cyber security threats. From a liability standpoint, blocking intruders reduces the risks to the personal safety and security of staff, visitors, and anyone else in the facility.
The entrances of your facility must be considered as part of your whole security solution, in the planning phase and then in an ongoing way. This is the best way to address and mitigate risk and avoid any potential liabilities, compliance violations, and expensive fines.
Written by Pierre Bourgeix
Pierre has over 20 years of solutions selling and consulting experience in the security industry, most recently as the owner of his own consulting company, ESICONVERGENT LLC. Pierre has an MBA in Business Administration from UCLA Anderson School of Management and resides in Cleveland, Ohio.
Company: Boon Edam Inc.
Of: Pierre Bourgeix
Source: http://blog.boonedam.us/regulatory-compliance-how-the-lack-of-clarity-around-the-entry-leads-to-fines
Tags: Access Control | Doors | Entrances | Safety | Security