architecture - engineering - construction

According to a study completed by the FBI, in 2014 and 2015 alone, there were 231 casualties as a result of mass shootings. Let's examine 4 enhancements you can make to security revolving doors or mantrap portals to thwart an active shooter's attempt at gaining access to your building, or worse, doing physical harm to people.
1) Anti-Piggybacking Technology
An active shooter with an agenda will be determined to infiltrate your building. He sees an innocent employee approaching the security revolving door or portal. His first thought? Hold them at gunpoint and force them, and himself, through the entrance.
This scenario describes a "piggybacking" event. When it comes to security revolving doors, the term "piggybacking" refers to an attempt to gain access to a secured area by jumping into the same compartment as an authorized user. For portals, piggybacking involves two users attempting to enter the door at the same time.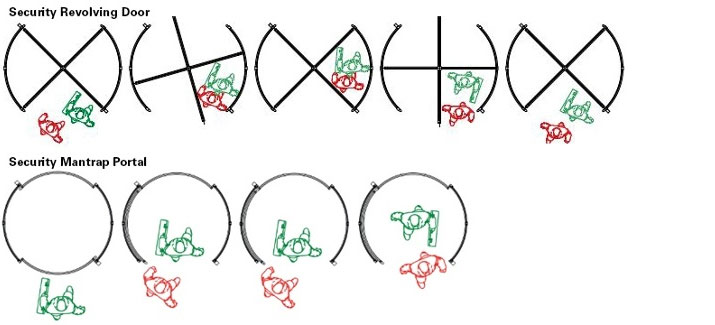 StereoVision 2 is a sophisticated technology from Boon Edam that puts a stop to piggybacking attempts. Using a combination of an optical camera and active, near-infrared sensors, StereoVision 2 technology can recognize shapes, sizes and volume in three dimensions. Simply put, the system is looking into the door's compartment and searching for a set of head and shoulders, as well as body shape. Based on a sampling algorithm, unusual shapes are rejected and the culprit(s) are required to exit the door.
2) Biometric Devices
But what if the active shooter doesn't stop there? If the shooter were to steal an employee's access card and attempt to proceed through the door - alone - he could gain access UNLESS you utilize one or more biometric devices.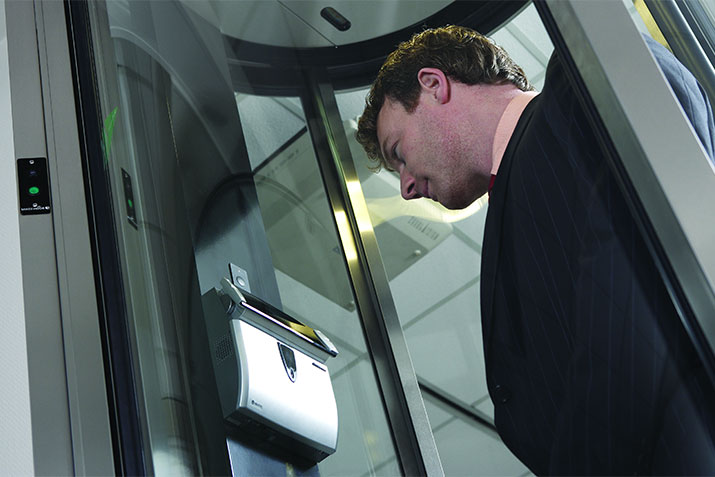 Biometric devices identify unique physiological characteristics, such as fingerprints, hand geometry, facial features, and iris patterns. They also comply with two-factor authentication (2FA) regulations. These devices alone will not stop an active shooter from gaining access to a building, though (think about a swinging door opened by a registered user, and then held open for numerous people to pass through). But, when coupled with an anti-piggybacking technology, biometric devices provide a solid defense against unauthorized entry.
Security revolving doors can be equipped with an external biometric post placed immediately outside of the door, or as one of many leading up to the door. Security mantrap portals are available with an interior post, ideal for mounting the latest biometric technology directly inside the door. Both options provide a layered method of access and meet 2FA compliance. Keep in mind, though, that your throughput will be impacted by the type of biometric device you choose to incorporate.
3) Bullet-Resistant Glass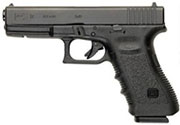 The common denominator between all mass shootings is a weapon. And it comes as no surprise that most active shooters choose the light, inexpensive and easy to conceal 9mm semiautomatic handgun to carry out their schemes, according to data compiled by The Washington Post. Bullet-resistant glass can safeguard the integrity of your door up to a certain point, and possibly save lives.
Bullet-resistant (BR) glass is the layer of armor your security door needs for protection against an active shooter attack. BR glass is made from layers of polycarbonate (tough plastic) sandwiched between pieces of toughened glass. And not all BR glass is created equal; there are different BR-rated protection levels.
Security revolving doors and mantrap portals can be outfitted in BR glass with protection Level 3. As mentioned, the weapon most commonly used by an active shooter is a 9mm handgun. According to Total Security Solutions, BR glass with a Level 3 rating is capable of stopping three .44 magnum bullets, or a bullet that is twice as heavy and moves significantly faster than the bullet of a 9mm handgun.
Level 3 BR glass is 1.04" thick, over 4 times the thickness of standard security door glass. The glass can be used on the outer drum glass and also, the moving door wings or panels. It's important to note that using thicker glass on moving door wings or panels will slow the movement significantly due to the extra weight and impact throughput levels.
4) Bullet-Resistant Curtain Wall or Storefront
Active shooter safety extends beyond your security door to include the adjacent walls or storefront area. To be prepared for a direct attack, and especially if people are constantly present on the inside of the storefront, you should consider replacing your curtain wall or storefront with BR glass.
Because they are flat and stationary, curtain walls and storefronts can accommodate a much higher level of BR glass than a security door (which has curved glass or moving glass in the door wings). BR glass for the curtain wall or storefront is available in up to a Level 8 rating which, according to Total Security Solutions, is capable of stopping 5 shots from a .308 caliber 7.62mm rifle.
Unfortunately, active shooter incidents are occurring at company locations across the nation, and the globe. The impact of such an event can be catastrophic to an organization if lives are lost. If you believe your organization could be at risk, these 4 enhancements for your security revolving door or mantrap portal can thwart an active shooter's attempt at infiltrating your building and wreaking havoc.
Company: Boon Edam Inc.
Product: Security Doors & Portals
Of: Amy Coulter
Source: http://blog.boonedam.us/active-shooter-safety-4-things-your-high-security-entrances-must-have
---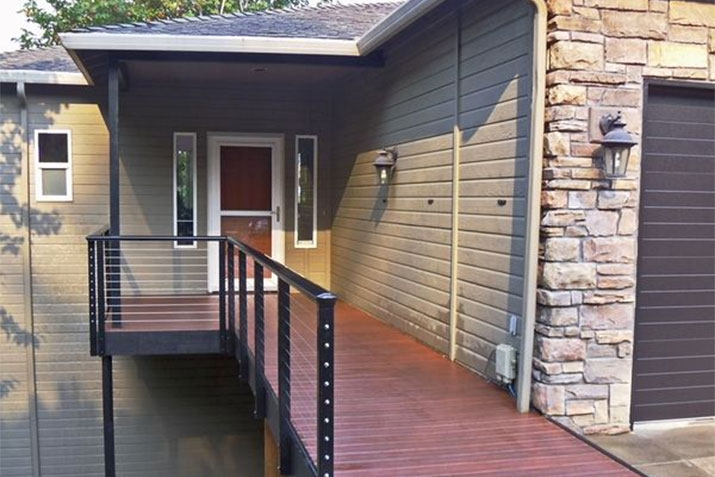 The shaped Aluminum Top Rail used in this photo captures the perfect look for this home in Happy Valley, OR.
Signature line of uniquely reinforced aluminum posts, matching top rails, and inline handrails. All aluminum products are available in five color options: black, bronze, white, natural, and clay.
These uniquely designed aluminum posts and top rails offer an economical alternative to our stainless steel and premium wood frame options, without compromising architectural resilience. Designed specifically for cable railing applications, these products are reinforced to have greater strength and durability than standard aluminum posts. With two top rail options, a handrail that can double as support for a wood top rail, and five color options, this line offers the greatest number of options.
Five powder-coat color options: black, bronze, natural, clay, and white
Two top rail design options: rectangular or shaped
Posts are available for 36", 42", and custom height systems and can be deck, fascia, or core mounted
Posts are compatible with any of our assemblies and can be ordered pre-drilled. Grommets are recommended to keep the stainless steel cables from reacting with the aluminum.
The aluminum handrail runs between posts for use in any system regardless of shape or slope. Can be used as a standalone, inline, or stair handrail.
Handrail can also be used as inline support for a wood top rail.
Company: Stainless Cable & Railing Inc.
Product: CableView® Aluminum Cable Railing System
Source: http://stainlesscablerailing.com/cable-railing-happy-valley-oregon.html
Tags: Aluminum | Exterior Design | Landscape Design | Railing System
---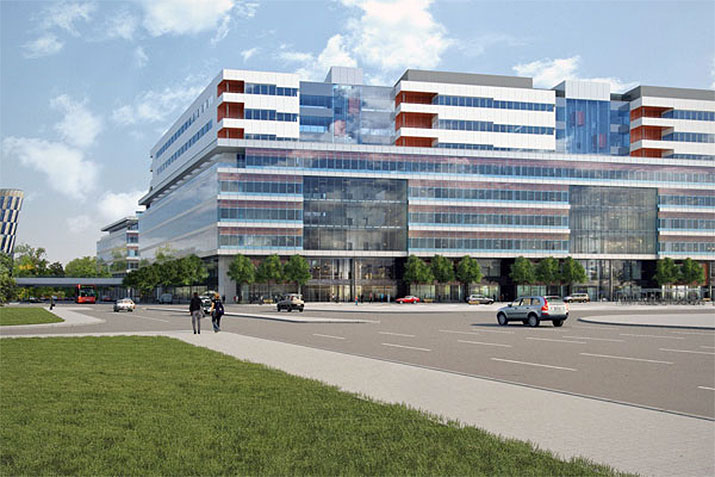 The New Karolinska Solna University Hospital (NKS) in Stockholm has been hitting the headlines for over a decade. The original Karolinska University Hospital was founded in 1930. Since the 1930's the hospital campus has expanded to cover a vast area with an estate of over 40 separate buildings.
In 2005 Stockholm County Council, who are responsible for delivering healthcare in the city, ran a design competition inviting "visionary thinking, modern design and unconventional ideas to form the basis of the creation of the new hospital". The competition was won by White Architects from Sweden with their 'Forum Karolinska'.
In 2008 Stockholm County Council took the decision to go ahead with the new hospital. They were the first Swedish healthcare project to adopt the Public Private Partnership (PPP) framework to finance, build and manage a hospital. In 2010 the PPP agreement was made between the County Council and the project company - Swedish Hospital Partner AB, a consortium of Skanska and their investment partner UK based Innisfree.
Skanska employed White Architects and Tengbom Architects to execute the design and coordinate the construction of the £1.5 billion facility.
A significant aim of the project was to create a purpose built environment with a strong focus on energy efficiency and sustainability. Phase One of the building has attained LEED Gold and the Swedish system "Miljöbyggnad" Gold certification
The ethos is to put the patient first and the list of facilities is impressive. It has 730 in-patient beds, 100 rooms for day care, 36 operating theatres, 168 out-patient clinic rooms and 8 radiation treatment rooms.
Howe Green Ltd supplied a number of HSE75 Hinged Aluminium Floor Access Covers for the hospital through their Swedish distributor, Elkington AB. From their base in Stockholm, Elkington have been distributing Howe Green access covers for projects across Sweden since 1999.
The gas assisted hinged HSE75 hatches provide easy and safe access to the underground power stations and escape routes located underneath the hospital. They have been installed in the various areas of the hospital and infilled with both concrete and tiled flooring to provide a seamless, flush floor finish.
The hinged access hatches are ideal for environments where regular access to concealed services is required for maintenance purposes and in public places where health and safety is crucial.
The HSE75 can be infilled with ceramic tiles, marble, terrazzo, concrete, resin, wood or parquet floors and is suitable for pedestrian and vehicle traffic up to a 5 tonne pneumatic tyre wheel load. Supplied as a single cover or a configuration of duct covers in standard sizes from stock or precision made to order.
Options include a top and underside release latch, for added security and safety, a double seal and fire rating up to 3 hours BS 476: Part 20: 1987.
The Howe Green range of access covers are tried and tested in a healthcare setting. They have been specified in hospitals around the world including Southmead Hospital in Bristol, Queen's Hospital in Romford, Great Ormond Street Hospital and the Lennox Addington Hospital in Ontario, Canada.
Company: Howe Green US
Product: Hinged Access Cover
Source: https://www.howegreen.com/access-covers/projects/nks-hospital-stockholm.php
Tags: Access Covers | Building | Design | Floor
---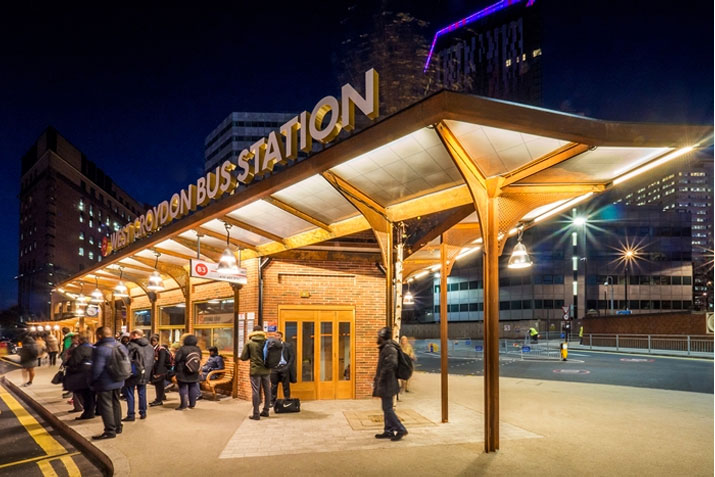 The architects of London's remodeled West Croydon Bus Station were looking for a way to give the busy transport station a brighter and more aesthetically appealing look when it began its remodeling project two years ago. The introduction of Kalwall translucent sandwich panels for the station's canopy helped achieve that goal. And, in the process, earned the project one of England's highest honors in architectural design.
Transport for London (TfL)'s in-house design team was recently presented a 2017 RIBA Regional Award by the Royal Institute of British Architects and TfL architect Martin Eriksson won a 2017 RIBA London Project Architect of the Year Award.
RIBA Awards aim to "celebrate the best architecture in the UK and around the world." London has over 12,000 RIBA members and 1,000 chartered practices. Regional winners are eligible for the RIBA National Award for architectural excellence.
In jury comments, the station is described as a "charming and creative building." Kalwall panels not only provided an aesthetic beauty, but their lightweight properties factored into the design of the building. The ability to eliminate shadows, hotspots and glare made Kalwall preferable to traditional glazing. Additionally, the translucent panels create an ethereal glow at night, making it a beacon for travelers.
The ability to reduce maintenance expenditures also made Kalwall a great choice. Soil and detritus are less obvious on Kalwall panels than on glass, and cleaning is much simpler because access scaffolding is not required and maintenance staff can safely walk across its surface.
Company: Kalwall Corporation
Product: Wall Systems
Source: https://www.kalwall.com/2017/05/30/winning-2017-riba-london-award-project/
Tags: Award | Landscape Design | Wall Panels
---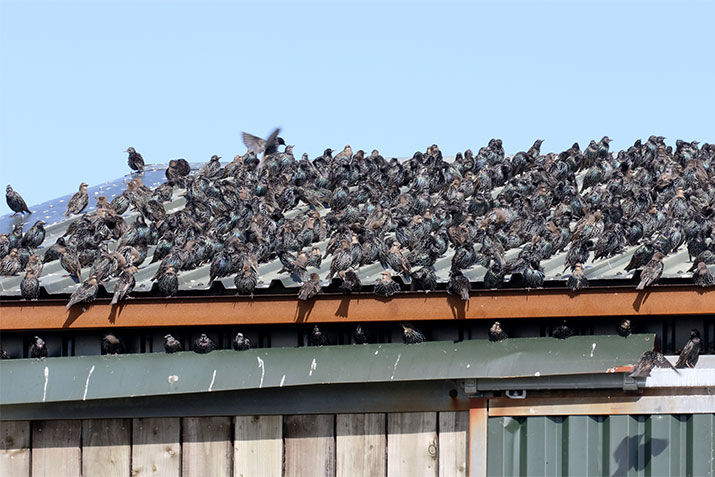 European starlings cost growers as much as $800 million in the US annually. The loud, obnoxious, destructive birds steal grain, ravage crops and crowd out native bird species. The problem is that starlings move in vast numbers, which often descend on a field, orchard or grain area. A migrating flock of starlings can number 100,000 birds. Another problematic factor is that starlings now have fewer natural predators to keep their numbers in check.
Attacking Grain Fields
As highly aggressive omnivores, European starlings compete with native fauna for food. Open bill probing is most commonly used to feed on ground invertebrates, which is their preferred food. In new grain fields, starlings will pull up young plants and eat the seeds.
Extensive Fruit Damage
Starlings will typically assault a wide range of crops, including strawberries, blueberries, grapes, tomatoes, peaches, figs, apples and cherries. Fruit damage is often caused by younger birds, which have underdeveloped probing skills. It is not uncommon for a flock of 4,000 starlings to cause major loss of revenue in a large vineyard in a week's time.
Problems Around Livestock & Poultry
Starlings create formidable problems for livestock and poultry facilities, congregating at feed troughs and diminishing supplies of livestock feed—1,000 birds can consume 100 pounds of grain a day. Starlings can contaminate food and water sources with their droppings, carrying parasites and diseases, including E coli, from farm to farm. These diseases are transmissible to livestock and people, including TGE (transmissible gastroenteritis—a swine disease), blastomycosis and salmonella. Starling droppings can also contain the fungus histoplasma capsulatum, the cause of histoplasmosis in humans.
Nesting Problems
Starling nests built into building cavities can pose a fire hazard. New nests are typically added to old, compounding this combustible materials hazard. When starlings enter buildings to roost and nest, they create sanitation problems; when they nest in farm equipment, they create fire hazards. Their droppings carry ticks and mites, and they are highly acidic, eating into paint and degrading the strength and structural integrity of many materials, including infrastructures and roof linings. The sheer amount of droppings together with their chemical action can damage and kill trees and any vegetation underneath.
Humane, Effective Starling Deterrents
Getting rid of flocking birds can pose a challenge, since many birds are protected by law and cannot be killed or injured. Growers and farmers have found that the only viable solution is to use humane, proven effective bird repellents. This is where the bird control pros at Bird B Gone can help.
Agrilaser® Lite for Farms, Fields, Warehouses
Employing advanced, patented optical laser-beam technology, the Agrilaser® Lite harmlessly repels flocking birds over great distances—up to 2,500 meters. Developed with the help of farmers and ornithologists, the Agrilaser® Lite is animal friendly and ideal for repelling a variety of birds. It is most effective during sunrise and sunset, and in overcast, rainy or foggy weather conditions. The Agrilaser® Lite comes with two rechargeable batteries and a power charger.
Heavy Duty Bird Netting
Ideal for sealing out birds from specific areas around a warehouse or storage facility, Bird B Gone's Bird Net 2000 Heavy Duty Bird Netting is made of a tough UV-stabilized polyethylene mesh. This durable netting is rot proof, water proof and flame resistant. It's also ISO 1806 and 9001 Protocol mesh tested, temperature stable (-250F to 270F), and non-conductive. It comes in stock sizes and custom cuts up to 200 ft. The ¾" mesh is ideal for blocking out small birds like starlings. The netting is backed by a 10-year guarantee and comes in black, stone or white to blend in with its background.
Solar Bird Chase Super Sonic
This weatherproof sound deterrent is recommended for deterring birds from large open spaces. It broadcasts pre-recorded distress and predator calls that intimidate as many as 22 species of birds. Ideal for deterring birds from lofty or hard to reach areas—like rooftops, trees and open fields, the device is programmable and comes with a built-in speaker that will cover up to an acre (additional speakers can be added to boost range). Because it's solar powered, no AC access is needed, so it can be placed wherever pest birds gather most often.
Ask the Experts
If you're unsure about which product would work best for your specific situation, Bird B Gone has over 100 years of combined experience in the field of bird control. We can help you with product selection, installation and cleanup. Just call us at (888) 570-0360 for a catalog, pricing, or product samples or email us at nobirds@birdbgone.com. We also work with a network of authorized installers, call today for a trained bird control professional in your area.
Company: Bird-B-Gone, Inc.
Product: Bird Netting
Of: Alex Kecskes
Source: https://www.birdbgone.com/blog/starlings-grainagriculture-industry/
Tags: Exterior Design | Landscape Design | Roof | Safety
---

Regardless of its durability, no architectural finish is completely maintenance-free. Periodic cleaning is needed and, in such cases, on-site repair and restoration may be necessary. Here are five things to keep in mind when looking into on-site finishing services:
Start at the source
Whether it is graffiti removal, premature paint chalking and fading, or an anodized surface needing to be refinished, begin by talking to the original finisher to see if they can correct the issue with their on-site team. If this isn't a practical option or they don't offer field repairs, please contact us to discuss a plan for restoring your finish to its intended appearance
Go with the pros
For any large refinishing project, consult a professional service. On-site restoration and repair of sizeable architectural projects require specialized equipment and knowledgeable professionals. As projects like these typically are performed on occupied buildings, an experienced partner also can help minimize disruptions with appropriate scheduling and communication.
Performance counts
Ask if the coatings being applied during restoration and repair meet the American Architectural Manufacturers Association (AAMA) specifications of the original finish application. One solution may be a PVDF resin-based air-dry coating that is field-applied by a qualified, professional finisher. Developed to meet green building criteria, these tough properties of these coatings resist marring and abrasion, and require little maintenance.
Take care with touch-up
For minor scratches and blemishes, some applicators may supply a limited amount of touch-up paint. These are fairly easy to apply, but remember that they are only intended to cover a small area. It does not have the adhesion or durability of factory-applied coating, and will deteriorate at a faster rate. For best results, follow all instructions that come with touch-up paint and use it very sparingly. Also, when applying touch-up, use extreme caution as excessive use may void the original finisher's warranty.
Know your warranty
On-site project warranties vary greatly depending on the project and situation. If the issue being repaired is an applicator or manufacturer issue, the warranty most often will parallel the manufacturer's factory warranty. For field repair and restoration work unrelated to a factory-applied issue, warranty options may be applicable depending on the base metal condition, base finish condition, site location or type of damage. Read carefully to understand the terms and timeline.
Learn more about Linetec's on-site repair and restoration services by clicking here. For personalized assistance or to request a site visit, please contact Linetec's field service manager, Dale Robinson, by emailing fieldservice@linetec.com or calling 888-717-1472.
Company: Linetec
Product: On-Site Field Repair and Restoration
Source: https://linetec-blog.com/2017/06/14/5-things-to-know-about-on-site-finishing-repair-and-restoration/
Tags: Architecture | Exterior Design | Finishes
---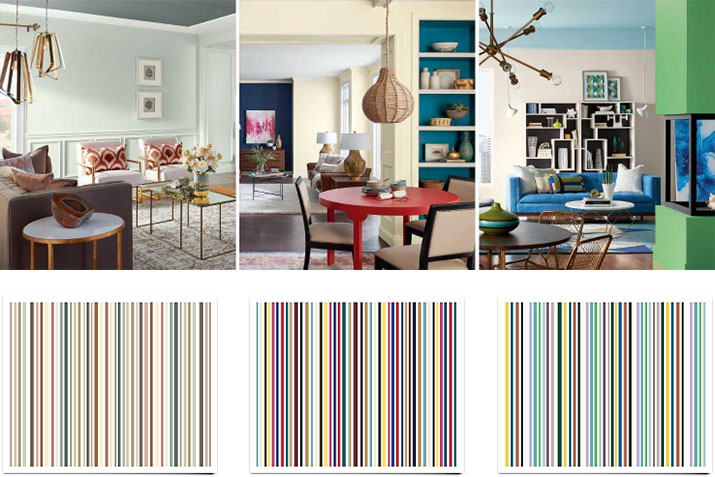 Like blue meeting yellow to make green, every color is a collision of influences - every palette a fresh chance at community.

Less is more as we're de-cluttering, moving more possessions into the cloud. Silence is no longer empty, but instead rare and rich with possibility. Our notions of what's authentic are being complicated. We're celebrating the unfiltered, yet captivated by the artfully processed. Blending in is the new standing out. Flaws are treasured. The hushed tones of this score play out in sand, complex grays and hazy botanicals.

Nationalism and globalism are in flux, challenging terrestrial boundaries. We're remapping our sense of community. Optimism persists in the form of boundary-breaking skyscrapers and commercial space travel. Even landlocked cities are becoming global hubs of crafts and gastronomy. We crave security and adventure in equal measure. Airbnb, car sharing and e-learning have created a culture of everyday nomadism. The bright folklore of this story is told in memorable pops of peacock color.

We're each moving to the beat of our own algorithm. From choosing a dry cleaner to choosing a college, data powers nearly every decision we make. In Silicon Valley, Austin, Berlin and Beijing, techies are the new hippies, full of breakthrough ideas and utopian ideals. A generation is waving the flag of color freedom, and Instagramming every moment. This high-tech palette is pixelated in orange, violets, digital greens and high-def yellow.
Company: The Sherwin-Williams Company
Product: Interior Paints
Source: https://www.sherwin-williams.com/architects-specifiers-designers/inspiration/color-forecast/2018-color-forecast
Tags: Coating | Color | Finishes | Interior Design
---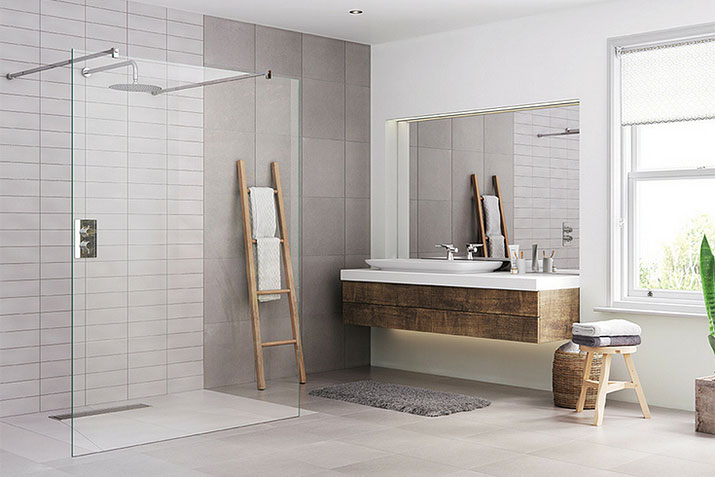 Do you have the June Cleaver throwback bathroom from the 1950's, or maybe a "modern" 1970's bathroom straight out of the Brady Bunch which are practically begging you for an update? You know you NEED a bathroom makeover so bad. It doesn't take a rocket scientist to see the partially rusted tub, pealed wood on the window sills, tired old particle board vanity with a dated laminate top and nasty looking grout in the shower. The challenge is what are you going to do about it? How can you update for a fresh, clean look? How can you create an updated design which takes advantage of the latest trends and keeps maintenance to a minimum? The question is – where do you start?
One excellent place to begin is to take a sneak peek at the products which are hot today and include these elements in your remodeled "bathroom of tomorrow." In this article, we'll look at what's hot now. At the end, I'd love to hear your "Siskel and Ebert" – two thumbs up or thumbs down on these products.
Hot bathroom trend #1 – A stylish one level "life-cycle" bathroom
Are you staring down the challenge of having to put Mom or Dad into an assisted living facility because their step-filled single family home has become too dangerous? The reality is most homes are not designed to work for family members as they age.
One important trend is the use of one level bathrooms which eliminate the curb to get into the shower. Not only are shower systems which eliminate the curb hot, they are also sleek and minimalist (more on this trend later) and will save you money, big-time.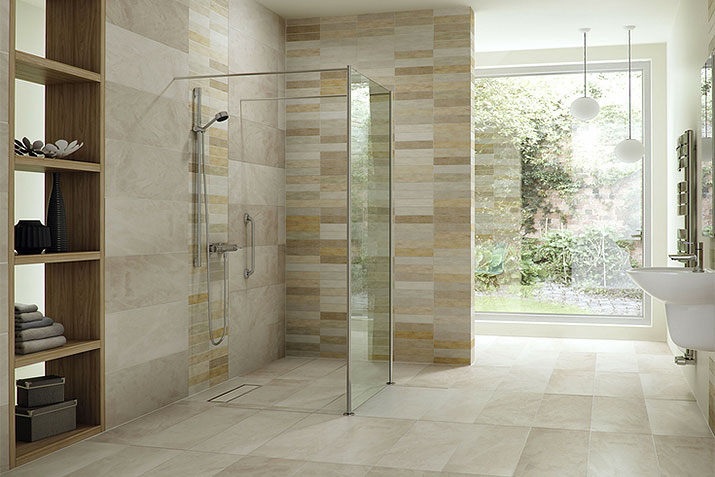 If you've priced assisted living facilities for Mom you know they can cost easily $3,000 to $4,000 per month. Using an "aging in place" (I hate this term – but many people use it anyway) solution like a one level shower can be sleek, stylish and eliminate the high cost of assisted living facilities.
Hot bathroom trend #2 – Geometry is in …at least for tile showers and bathrooms!
Although I'm sick guy and actually love math – I still didn't "get" geometry. I don't know, maybe it's because I'm more of a linear guy than a rhombus dude? Putting mathematics aside, one hot bathroom look for 2017 are geometric tiles. These tile designs not only add a feeling of shape and style – they also add drama to the bathroom. Fun and functional – that's cool.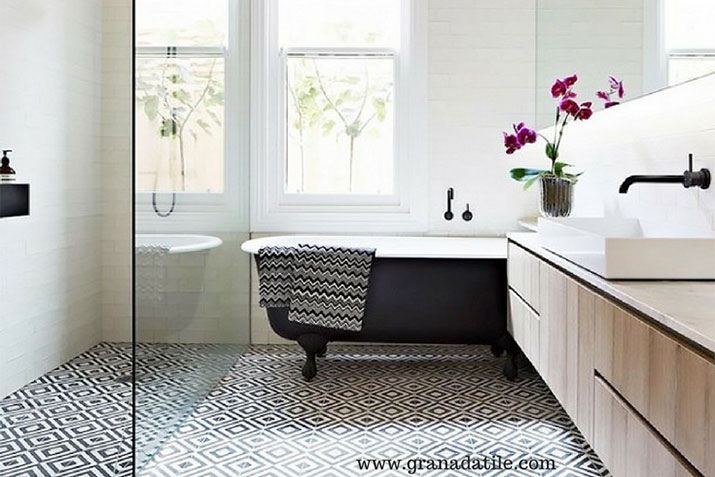 Hot bathroom trend #3 – Drop in tubs are way out – larger showers are in
Nothing says, "big hair and 1980's shoulder-pad-like" look in a bathroom quite like a gigantic soaking or jacuzzi tub in the corner flanked by two massive windows. I know this look was hot – but today you need to stay away from it like the plague. Our schedules are too crazy for bathing. Today's it's all about expansive showers. We are seeing people blow up their big tub and small 3' x 3' stand up shower next to them and convert to large open walk in showers. Sleek frameless glass walk in showers are all the rage – and why not – they get rid of the cost of the door and take less time to clean (a double benefit to you).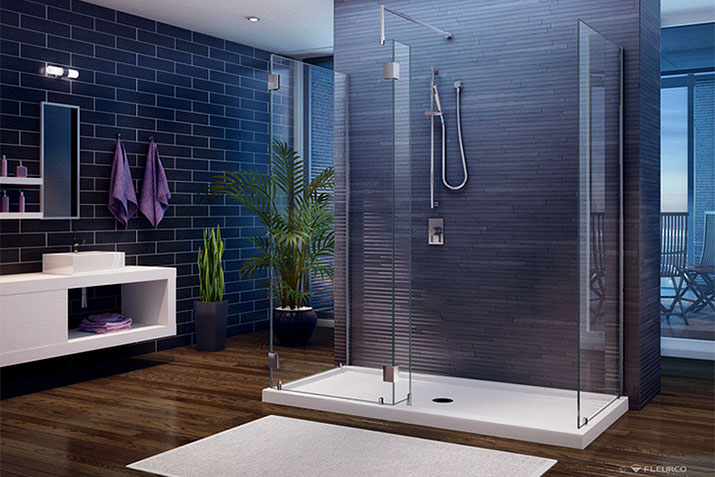 Hot bathroom trend #4 – Let's heat things up a bit
If you live in the Midwest (I live in Cleveland, but also spend a lot of time in Columbus) you know stepping on a cold bathroom floor in January can make a man out of you – even if you're a woman! It used to be in-floor heating systems where difficult to install and un-godly expensive. Not so today.
Electric and hydronic (liquid) in floor heating systems are no longer super pricey. You can even extend the heating systems inside the shower space – but I'll warn you may never want to get out if you do this! Another fun idea is to add a towel warming rack to pamper yourself when you get out. This bathroom will be so relaxing it may make you late for work!
Hot bathroom trend #5 – Sleek and minimalist is the thing
In the late 90's and early 2000's it seemed the fancier the woodwork in your bathroom the more style points you got. Today – bathroom trends are the opposite of our lives. The goal is to create a sense of calm, serenity, a place which flows with minimalist lines and flair. Think about using wall mounted cabinetry and the one level floors mentioned in trend #1 above. Take complexity out of your bathroom. You already have enough complexity in your life to go around. This will make your space stylish and simple to clean.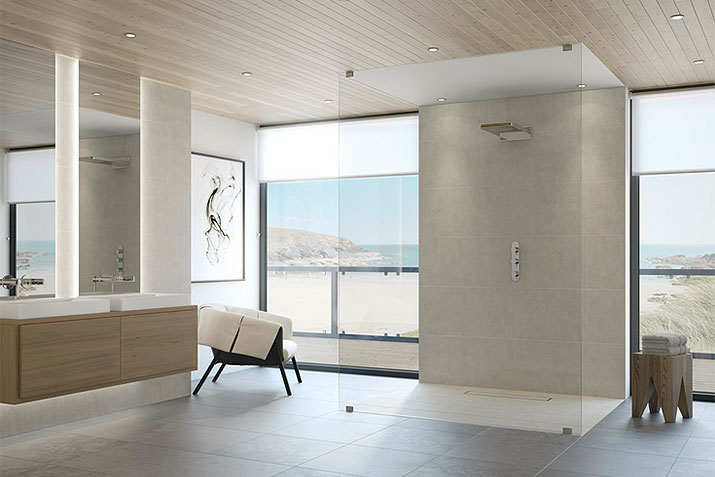 Hot bathroom trend #6 – Think like "Mrs. Thomas and her English muffins" and use your nooks and crannies
Home sizes historically kept getting bigger until the bottom fell out of the housing market in the late 2000's. Now people are stepping back and evaluating how big a house they really need. Groundbreaking books like The Not So Big House by Susan Susanka and formerly weird concepts like tiny homes, container homes and houseboats are becoming a larger part of the housing market. So, what does this have to do with Mrs. Thomas her filling the nooks and crannies of her English Muffins?
As homes have begun to scale down we now need to be more thoughtful per square foot and every room including the bathroom. This trend has certainly "washed over" (bad pun intended here) into the bathroom remodeling projects. In 2017, you'll continue to see inventive soap and shampoo niches (like this one illuminated with LED lighting below) which use the "inside of walls" to create space in a bathroom.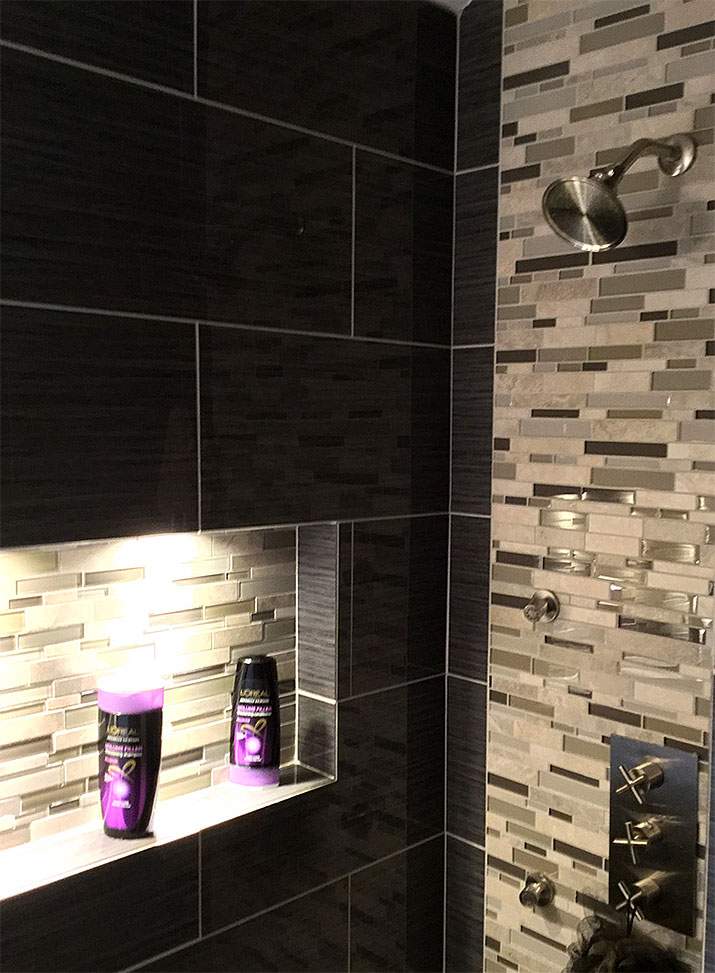 The movement to level floor showers (see trend #1) has helped because our bathrooms are now – more than ever – thought of as one continuous space. Fun ideas including vanity mirrors built into the wall are another example of superior space planning which in the years of the McMansion would have had no place – but are hot today.
Hot bathroom trend #7 – Maintenance is way out – luxury grout free shower wall panels are in
Tile looks great the day it's installed. The problem is those doggone grout joints end up sucking up your time cleaning them or needing to schedule a "Grout Dr." to come out to maintain your shower. What's hot in 2017 are cool lines of grout free shower wall products to blow up the grout cleaning challenge once and for all.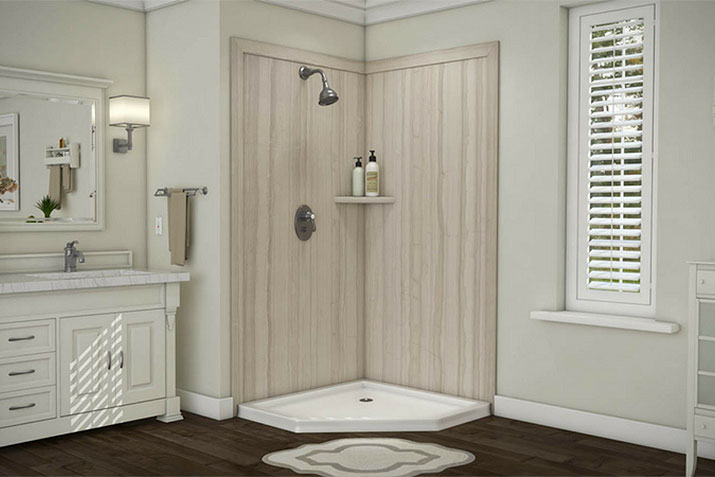 Stylish lines like these high gloss contemporary wall panel system provide the sleek, Euro contemporary (low maintenance) look. 3D wall panels are also getting hot because they add a sense of drama and texture.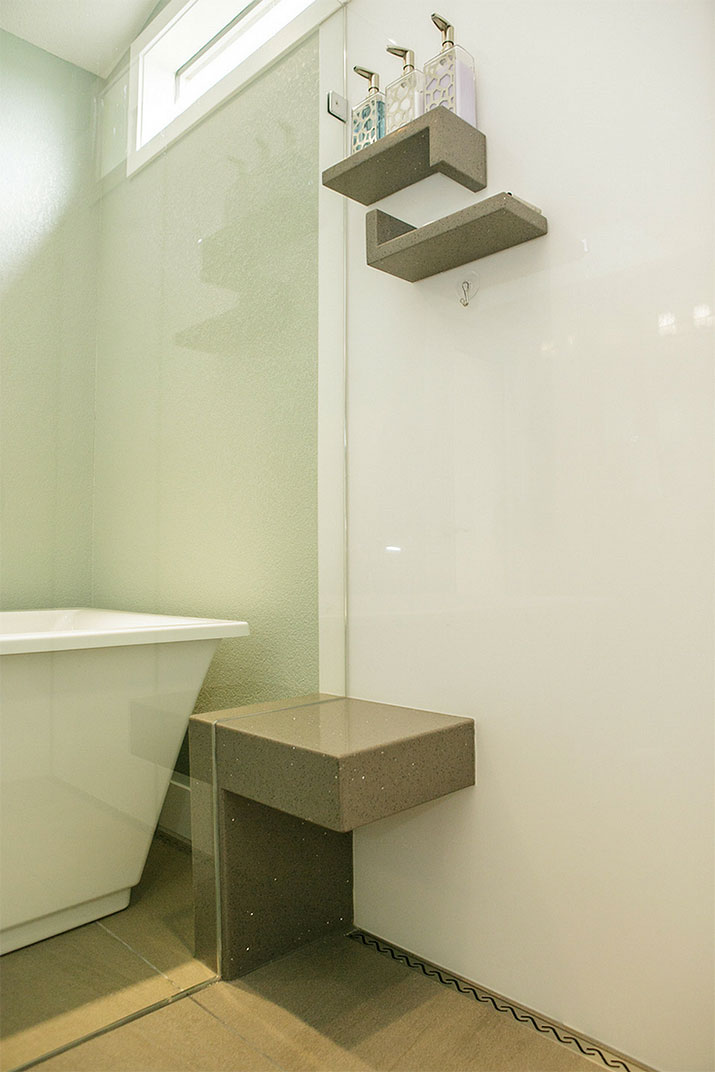 Conclusion
If you're living with your Brady Bunch or June Cleaver bathrooms of yesteryear isn't it time to blow them up for a fresh, clean, low-maintenance contemporary bathroom of today? What do you think about these 2017 hot bathroom design trends? Which do you like? Do you find any to be butt-ugly? Are there other trends you'd like to add? I'd love to see your comments, ideas and thoughts below.
How can I (or a member of my team) help you with these bathroom trends?
I know it can be challenge to put a fun and functional bathroom design together by yourself. That's why I (and the members of my team) would be delighted to assist you through your bathroom remodeling project. Whether you need nationwide factory-direct materials to save some money on doing the project yourself or professional design our Innovate Building Solutions (877-668-5888), Cleveland Design and Remodeling (216-658-1270) and Bath Doctor division in Columbus (614-252-3242) would love to help. Give us a call or click here for a Free Design Consultation.
Follow the Author on Twitter @Mike_Foti or his company @InnovateBuild.
Company: Innovate Building Solutions
Product: High Gloss Acrylic Wall Panels
Of: Mike Foti
Source: http://blog.innovatebuildingsolutions.com/2017/05/20/7-hot-2017-bathroom-design-trends-cleveland-ohio/
Tags: Floor | Glass | Interior Design | Wall Panels
---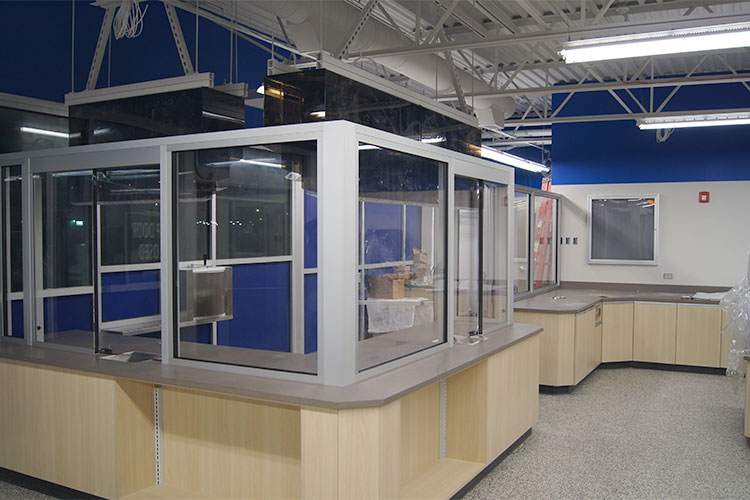 Glaziers are often a little reluctant to pick up that first bullet proof security job. The stakes are high, the materials are expensive, and the challenges are unknown. Total Security Solutions has helped many glaziers work with bulletproof glass. Let's start with three basic concepts that are important to know:
It's Not Glass and It's Not Bullet Proof:
Given enough bullets and enough time, a determined attacker can chew through anything. "Bullet proof glass" is technically "bullet resistant" and either made from monolithic acrylic or laminated layers of polycarbonate and tempered glass.
It's Not a Window—It's a System:
A bullet resistant window that can stop an AR-15 is useless if it's mounted in a wall that can't stop a .22 pistol. Take five minutes to check out our crash course in bullet resistant barrier systems.
Help is Out There:
We are ready to support you through the installation—but these three tips will prevent common problems.
Total Security Solutions Helps Glaziers Work With Bulletproof Glass
Most glaziers are reasonably hesitant to bring in a big, full-service national bullet proofing company. "A client who needs a barrier is good business for a local glazier," Total Security Solutions CEO Jim Richards explains. "Bullet resistant materials are a cut above the norm. Naturally, that glazier is worried that we want to take their customers. I totally understand where they're coming from. But this is where we started: Supplying contractors and glaziers. We're very comfortable pulling way back into the shadows so that glaziers can really shine."
Once you gather all of the information from your client (primarily measurements, but also some insights into how the facility is used, peak business hours, known or suspected threats, etc.) Total Security Solutions will design and engineer a barrier system customized for your client. TSS can help you with approval drawings for permits, managing client expectations, and so on, so you can get this job moving.
Once approved, Total Security Solutions will supply you all the materials, fully fabricated, as assembled as possible. "We design it and fabricate it, you install it, you reinforce that good relationship with your client. We'll supply you exactly what you need, and help you behind the scenes to get that install perfect. If anything comes up, any uncertainty, you give us a call."
How to Score a Big Win with your First Bullet Resistant Barrier
The important thing to remember is that regardless of how much experience you have, it is almost always the first time the client has considered adding a bullet resistant barrier to their business. They're on uncertain ground, and this is a big investment.
"This is a great time to prove to them how valuable your expertise is," Jim adds. He has found that most clients come in asking for much more bullet proof security than they need. They also may make very specific requests for very specific components. Do they really need that style door or window, or is it just what they've seen elsewhere? "Start the conversation with questions," Jim suggests. "Why do they want a BP barrier now? Has there been a local incident? What type of incident are they concerned about?What types of firearms? Why?"
These questions will give you a sense of how extensive the barrier needs to be and what UL level they should consider.
"Then follow up with some questions about their business: What needs to pass through the barrier? Will it be paperwork or cash or packages? How often do staff need to come and go? Finally, ask 'What do you want to accomplish?' Because sometimes I find that folks are limited by what they already know," Jim notes. "For example, they may have a 12-foot long hole in the wall, with the idea they'll install three transaction windows in there and fill between. In that conversation, I'd say 'Well, what about making it a single system?'And they ask 'What's a system?' Because most end users aren't familiar with custom systems, and the fact that a system can be more cost effective than cobbling together a bunch of generic drop-in pieces—not to mention more secure and look a lot nicer."
Company: Total Security Solutions Inc
Product: Ballistic Security Glass
Source: http://www.tssbulletproof.com/glaziers-working-bullet-proof-glass-client/
Tags: Glass | Safety | Security | Windows
---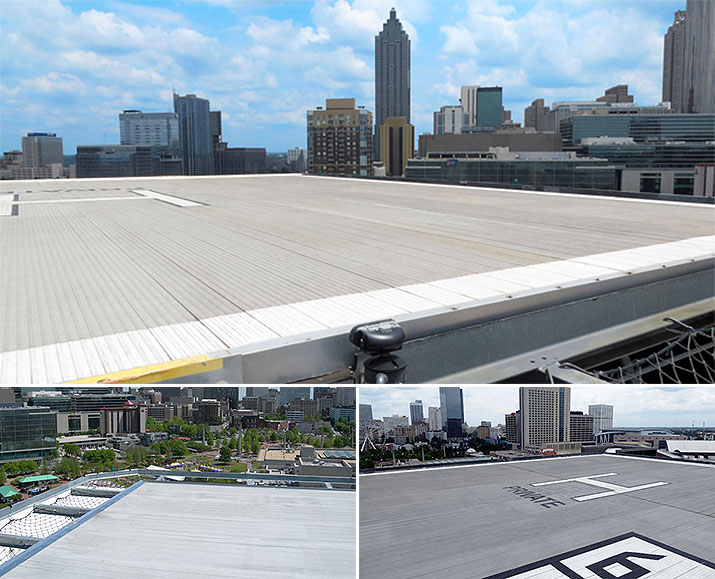 THE SITUATION:
The Luckie Marietta District in downtown Atlanta, Georgia is a premier city center that creates a chain of 25 local restaurants, 18 attractions and retail stores and 7 hotels. One of the many hotels on this strip includes the Hilton Garden Inn Atlanta. The Hilton houses the first functioning helipad that operates from the rooftop of this exclusive hotel. Providing a convenient mode of transportation and a unique experience, the helipad provides shuttle services to area airports and VIP flights. The hotel has 28 floors and over 9,500 square feet, causing safety on this rooftop to be a top concern. A slip resistant flooring was required.
THE SOLUTION:
A grating manufacturer was hired to provide 2-1/2" snap lock aluminum plank for this project with an aluminum SlipNOT® surface. Heavy duty aluminum planking includes snap lock interlocking end banded to form standard panel widths. Aluminum plank is structurally sound and aesthetically pleasing while also providing corrosion resistance.
THE IMPACT:
Safety is critical for this helicopter pad and SlipNOT® provides traction that will not fail. SlipNOT® aluminum plankwas manufactured to specific dimensions and installed flawlessly. The customer was pleased with the results and low maintenance the aluminum planking provides.
Company: SlipNOT® Metal Safety Flooring Div.
Product: Aluminum Plank
Source: http://www.slipnot.com/case-studies/aluminum-plank-hilton-rooftop/
---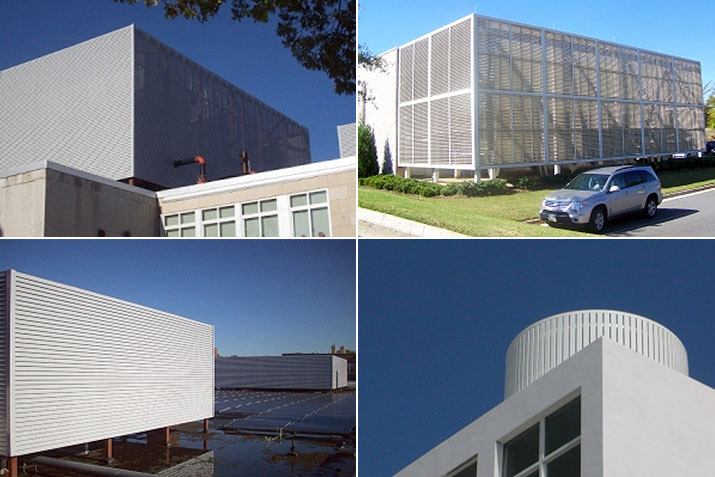 The EconoSpan® louver and screen system is a continuous, "free-standing" louver product comprised mainly of roll formed louvers that snap firmly onto "double-gripped" stringers or posts installed on pre-determined intervals. This system is ideal for roof top equipment screening or other applications with large areas requiring concealment and ventilation. It is available in two major styles: Pitched Louver (both 45° and 22-1/2° pitches) and Flat Picket (both horizontal and vertical orientations).
Along with being very attractive, it is also one of the industry's most affordable systems. Using standard production components, the EconoSpan® system is designed and manufactured as required to be installed on a supporting structure. This allows the supporting structure to be provided locally, based on local code requirements*, yielding further cost savings. This simple "knock-down" product design allows it to be shipped as a kit in relatively small crates with step by step installation drawings making it convenient, simple and relatively quick for general contractors to install.
EconoSpan® 45° Pitched Louver
Reinforced, 45° pitched stringer
60% free air flow
Slat pitch direction may be inverted
EconoSpan® 22.5° Pitched Louver
Reinforced, 22-1/2° pitched stringer
30% free air flow
Slat pitch direction can be inverted
EconoSpan® Flat Picket
Vertical or horizontal picket (slat) configurations
15% free air flow
Low profile and easily contoured
Company: Willard Shutter Co., Inc.
Product: Grilles & Screens
Source: http://www.willardshutterco.com/products/grilles-screens.aspx
Tags: Exterior Design | Louvers
---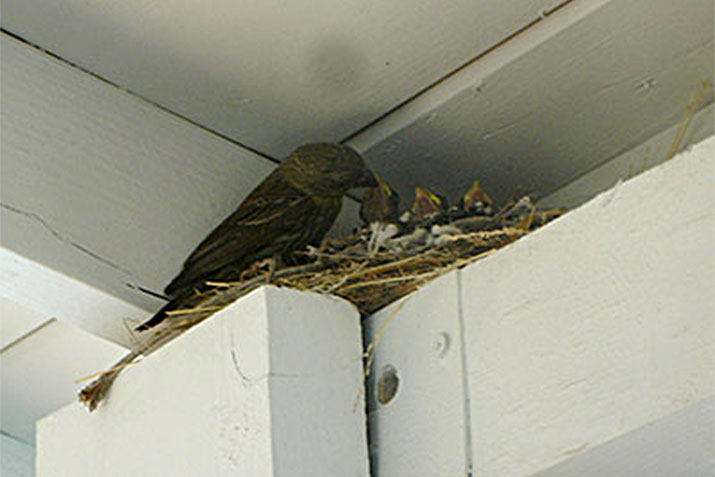 Pest birds are always looking for a place to roost and nest on buildings and commercial property. They need a place that's high enough from ground predators and close enough to food and water sources. Most buildings provide these things. Signage offers warmth, security and shelter for nests. Rooftop AC units do the same, offering the warmth of electrical motors/compressors and shelter from the elements. Rooftop water towers provide all sorts of nooks and crannies for birds to build nests. Many buildings essentially invite pest birds through their open attics.
The most effective way to prevent birds from nesting around your property is to be proactive. And that means making your property less of a bird magnet. Remove any standing water or food scraps, and close all trash containers. Seal up any attics and other lofty holes and cracks where birds can enter. Once you've done that, it's best to install some effective and humane bird deterrents to keep birds away.
Need help choosing the right product for your bird control problems? Contact the experts in bird control.
Company: Bird-B-Gone, Inc.
Source: https://www.birdbgone.com/
Tags: Building | Design | Safety
---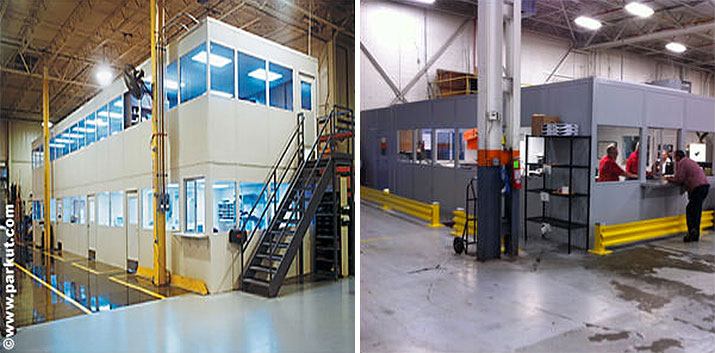 In Plant Office MODO-001, In Plant Office X11-166/ STR3020
Par-Kut supplies cost-effective in plant offices such as modular inplant offices with pre-engineered modular office systems that provide solutions for efficient space utilization. From a simple wall dividing system to a single office, multiple office or even a two-story multiple office system, no job is too small or too large.
We always seek better, faster and more economical ways to design, engineer and manufacturemodular in plant offices.
Assembly of units can be completed by the customer or Par-Kut can coordinate the assembly of the structure of the modular inplant office by an experienced crew. The panelized, site erected offices can include modular electrical systems, too.
There is also a tax advantage with an investment in in plant offices. Par-Kut's modular in plant offices can be fully dismantled, relocated, and reassembled. This mobility, under the Modified Accelerated Cost Recovery System (MACRS), allows the modular inplant office to be classified as "tangible property" with a shorter 7-year depreciable life.
The in plant office sold by Par-Kut are also available in noncombustible panel construction. The DL type panels have been tested in accordance to ASTM-E-84 (copies of the laboratory tests are available upon request). The other components of our Pre-Engineered office, i.e. suspended ceiling, dust cover, steel door and windows, are noncombustible, as well. Incorporating the DL type panels into the modular in plant office design will create a system in which all the components are noncombustible.
Go to GALLERIES to view additional Modular In Plant Offices.
Company: Par-Kut International, Inc.
Product: Custom Solutions
Source: http://www.parkut.com/products/offices/modular-in-plant-offices/
Tags: Interior Design | Office
---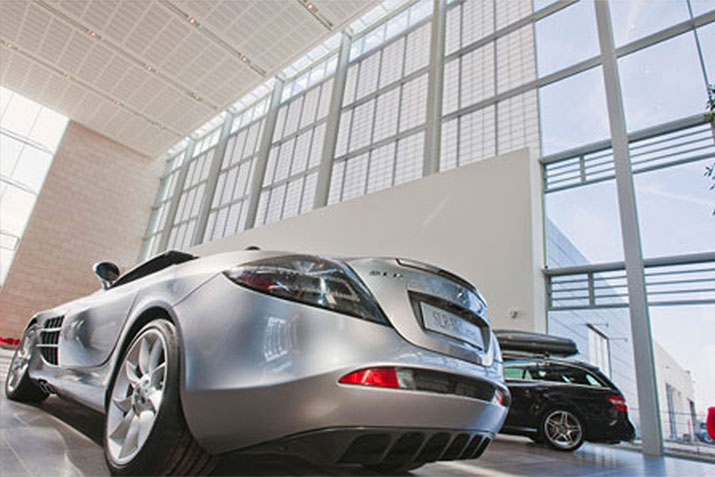 Big and bold. Curvaceous and intelligent.
If you are looking for the latest industry insights and trends in building design for 2017, getting together with architects and builders throughout the world is a sure way to fill up your notebook and keep you current.
During the conferences we have recently attended – BAU, the world's leading trade fair for architectural materials and systems in Munich, Germany; Facades+ in New York City and the AIA Conference on Architecture in Orlando, Fla. – common themes have emerged.
For instance, there are new trends in glazing technologies, including larger formats and smaller sight lines. Elegance will always be in, but people really want big units for aesthetics and performance.
Here are four takeaways from the 2017 conference circuit:
Architects are looking for a more monolithic feel and they are finding it by incorporating glazing and products such as Kalwall® that can push the envelope by delivering large panel formats (up to 5' x 20' | 1.5m x 6m) set within more attenuated framing.
It used to be about curb appeal. Now it's about curve appeal. We found significant interest in our Kalcurve® System as curved glazing, even double curve glazing, is becoming more and more popular.
Smart technology continues to be in demand, but the ways technologies are making buildings more intelligent is expanding. We can imagine sensors someday being incorporated into our panels to help regulate light levels and communicate information to the HVAC systems to regulate heating and cooling.
Energy efficiency is still a first order priority for architects, contractors and owners alike. Exhibiting at BAU for the first time was a great way to see how Kalwall's superior thermal properties drew global interest and admiration.
Getting the opportunity to attend multiple conferences, listening to the different points of view on how to make buildings more beautiful, safer and efficient, helps bring a truly global perspective to what we do.
Sam Keller is the Creative Director for Kalwall. You can reach him at skeller@kalwall.com.
Company: Kalwall Corporation
Of: Sam Keller
Source: https://www.kalwall.com/2017/05/09/glazing-over-global-trends-larger-formats-and-smaller-sight-lines/
---
Draper has announced EchoControl, an innovative acoustical treatment that improves the acoustics within rooms by utilizing sound-absorptive materials. Draper's EchoControl will "officially" debut at InfoComm 2017, June 14 – 16 in Orlando.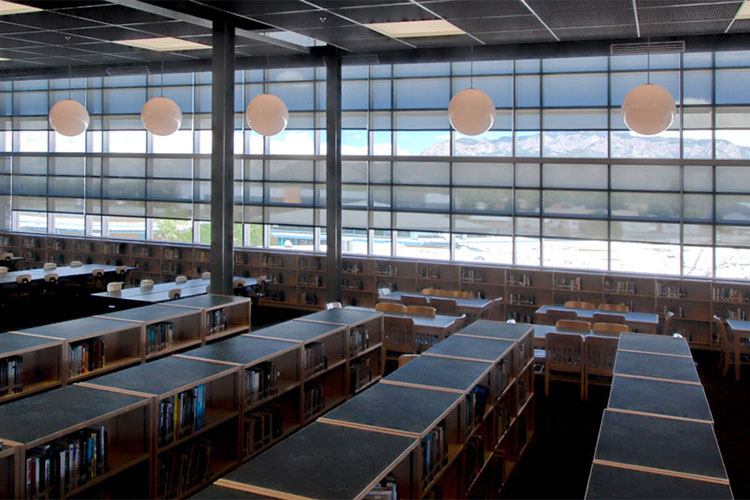 Draper is proud to introduce a new line of acoustical shading products
Draper's new line of acoustical shading, EchoControl, is designed to address one of the most pervasive pollutants we battle today – noise.
According to the Noise Pollution Clearinghouse, a national non-profit organization with extensive online noise-related resources, (www.nonoise.org), "Noise is among the most pervasive pollutants today…Noise negatively affects human health and well-being. Problems related to noise include hearing loss, stress, high blood pressure, sleep loss, distraction and lost productivity, and a general reduction in the quality of life and opportunities for tranquility."
As commercial design trends continue to lean toward the contemporary – open spaces and sleek surfaces with the use of more glass and exposed ceilings – and with LEED objectives in mind, architects have been met with new acoustical challenges. Draper's EchoControl addresses acoustical needs within the commercial and office environment. It has been shown to display increased absorption among human speech frequencies, making it even more effective at controlling sound in environments, such as office settings, in which privacy and noise reduction are key.
Why should we use sound absorbents?
To reduce reverberation inside a room (echo)
To reduce the overall level of sound
Acoustic treatments are used to improve the acoustics within a room by using sound-absorptive materials, like our EchoControl, to reduce echoing caused by sound reflecting off hard surfaces (like windows).
Walls, especially those with windows, offer good surfaces to install acoustic absorbers. This fabric offers a unique combination of acoustic and lighting control and comfort! Available on both motorized and manual shades.
Echocontrol fabric features:
Light-filtering – diffuses light, reduces glare
Controls solar heat gain
Reduces fading of interior furnishings
Certified to GREENGUARD GOLD standards
Infused with Micorban® antimicrobial product protection
NRC*: 0.60
*The noise reduction coefficient astm c423-90a (NRC) rates the effectiveness of a material to absorb sound. The NRC scale ranges between 0 and 1 (0 being completely reflective and 1 being completely absorptive). This is calculated by averaging the frequencies of 250, 500, 1000, 2000, and 4000 hz (rounded to the nearest multiple of 0.05).
Company: Draper, Inc.
Source: http://residentialtechnology.draperinc.com/acoustical-shading/
Tags: Acoustics | Interior Design | Window Shades
---
Contemporary architectural styles are on the rise, but for those that don't want to lose that traditional feel, consider a rustic design complemented by modern touches. In the design world, this style is called transitional. The experts at Fresh Home define transitional design as the blending of modern and traditional elements; the result is a cohesive design.
Transitional design can be applied in many different ways in most every room in the house as well as outdoors. Case and point below.
This kitchen embodies all the charm of a rustic space with its large, weathered beams grounded by wide wooden plank flooring. However, the sleek stainless steel appliances, industrial lighting, and brightly colored bar stools and give this room a more modern touch. The addition of the CableRail stair and loft railing opens up the space, making the interior more dramatic.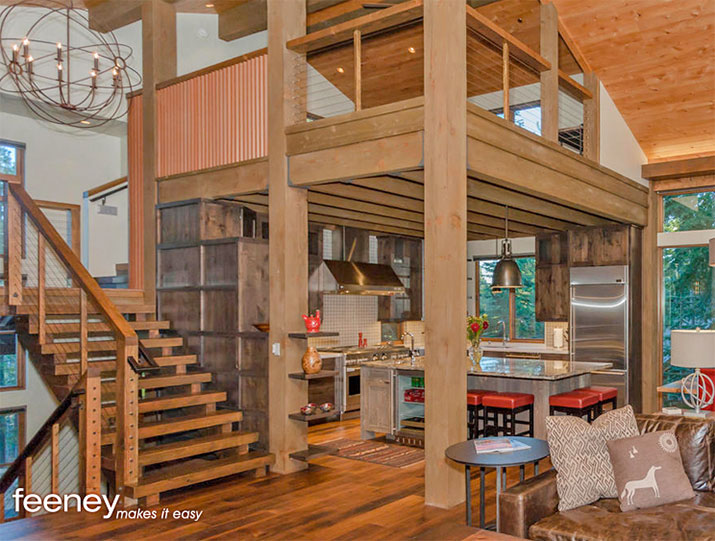 Here's another great example of a transitional design that incorporates a more natural, rustic feel but is balanced with contemporary components. This home was featured on the FOX television show HOME FREE. Feeney's CableRail was utilized as an alternative to traditional wood railing to create a sleek look complemented by the nature-inspired color palette. In addition, the patterned plywood accent wall with cylindrical concrete sconces adds depth to the space, resulting in a bucolic, simple design.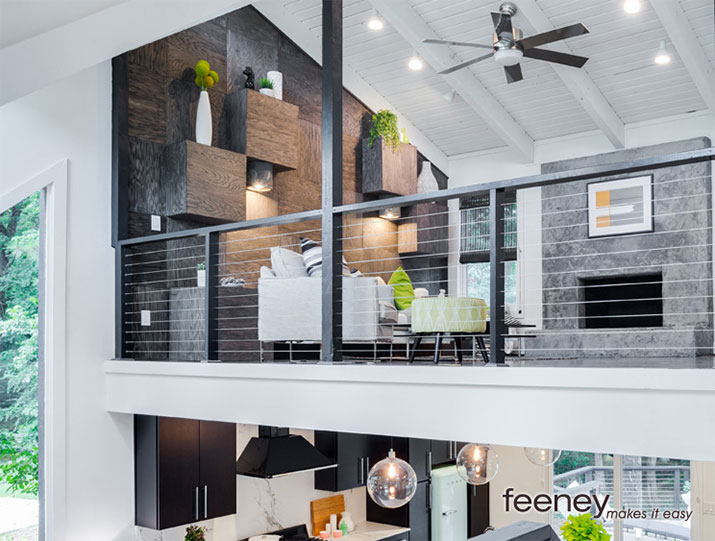 When it comes to exterior spaces, Feeney's CableRail and DesignRail® systems are just one of the many ways to transform a rustic-style design into a more contemporary one. A cable rail infill paired with a wooden railing offers a warm yet sleek look. The railing allows the homeowners enjoy what is certainly a lush wooded view from their Adirondack chairs. The outdoor area also incorporates a beautiful natural stone accent wall giving it a cabin-like appearance, and the additional exterior walls have a dark tone to them providing a more modern feel. While each of the design elements has a distinct style, the "mix and match" approach and blends cohesively and beautifully with the environment.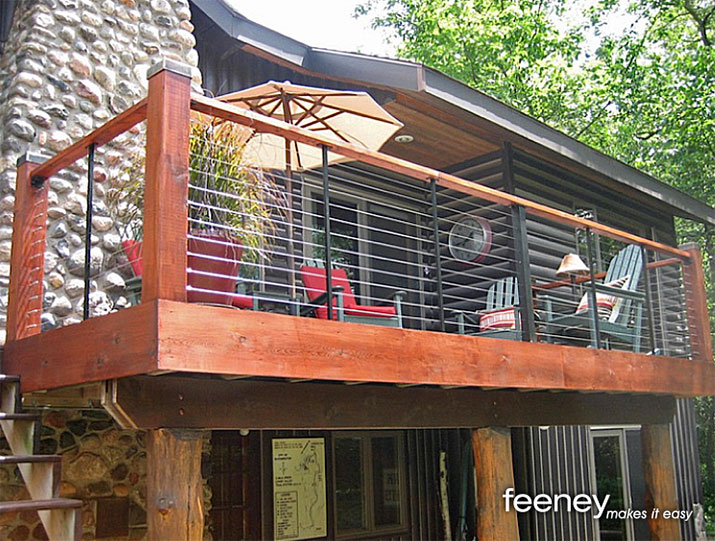 Company: Feeney, Inc
Source: http://media.feeneyinc.com/blog/rustic-meets-modern-transitional-design-style
Tags: Exterior Design | Interior Design | Railing System
---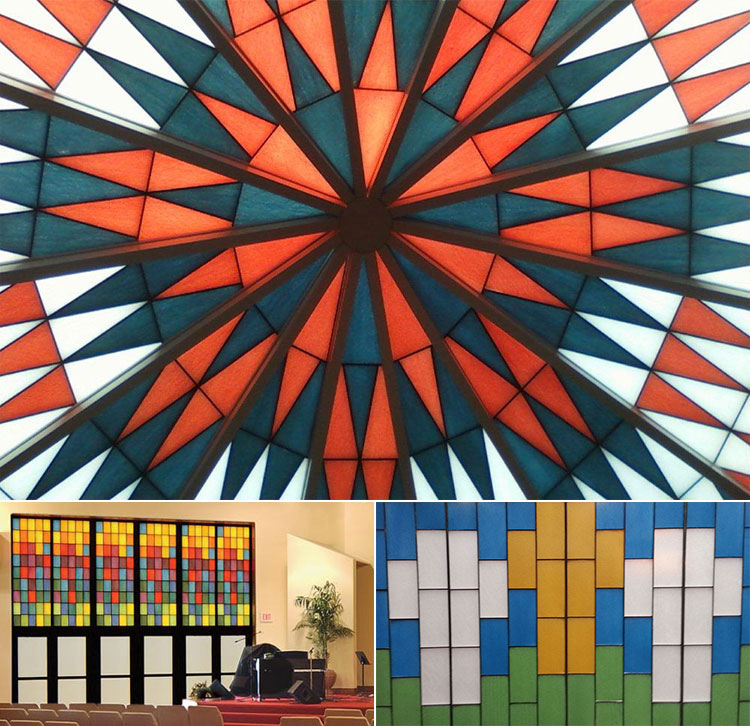 Looking for a unique way to incorporate school colors into an education facility, or perhaps you're in need of high thermal performance but want the look of stained glass? Energize your next daylighting design with Spectra-Grid™.
Spectra-Grid™ is an eye-catching color option for our translucent panel systems. Colored insulation allows for bright, vibrant hues to illuminate when light shines through. You can even light the panel from behind during nighttime hours to announce a building's entryway, or mix in company logo colors in a lobby skylight – the options are nearly endless. If you are looking to create a certain mood or colorful visual effect for your building, Spectra-Grid™, with its limitless color options, offers a cost-effective solution.
No matter what the function – from retail space to athletic facilities – let Spectra-Grid™ bring the power of color to your next design. Call 888-759-2678 or email sales@majorskylights.com for more details.
Company: Major Industries Inc.
---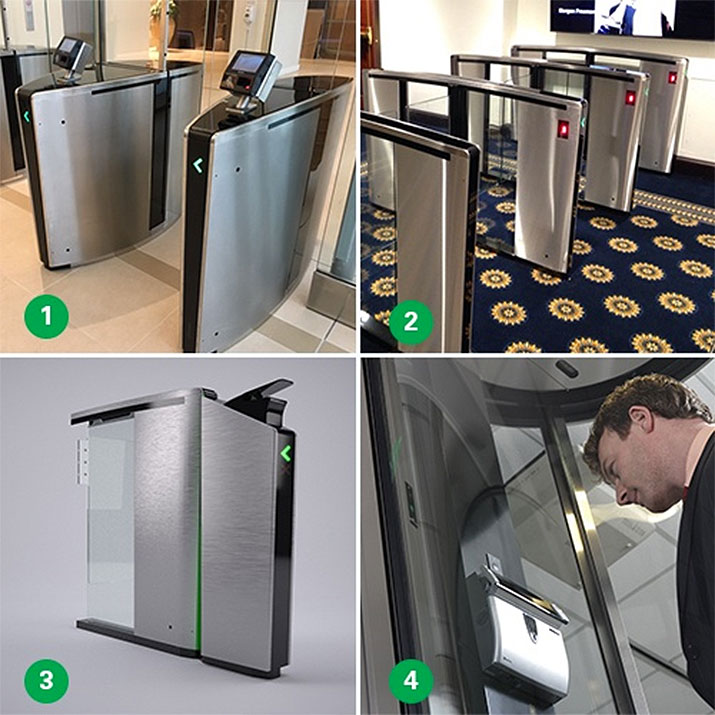 You are likely convinced that a physical security entrance is absolutely necessary in order to get the most out of your access control system and truly keep unwanted people out of your facility. Integration between door access control systems and security entrances can be a fine art; the perfect balance of functionality, space and aesthetics.
There are various types of access control systems available today, everything from bar code and QR code readers, to fingerprint and iris scanners, to traditional card readers and key pads. The size and shape of each individual device varies greatly based on both type and manufacturer. Let's discuss some ways you can integrate your access control system with your security entrances.
Four Integration Techniques
All physical security entrances have a designated place for your access control device – optical turnstiles: under the cabinet top; full height turnstiles, security revolving doors and portals: mounted on the side post. Yet, based primarily on space and what you are trying to achieve, these designated mounting places may not fit your needs. Here are some alternative options:
Top-mounted: For optical turnstiles, mounting an access control device on top of the cabinet is an integration method that is most intuitive for the user because the reader is visible when approaching the lane. Organizations that utilize lift or elevator notification devices (destination dispatch) have also found that top mounting is a viable option. They tend to place the access control device in the designated area (under the top), and the elevator notification device either on the turnstile top, or on a custom pedestal (read on to learn more about this option).

Panel Cut-outs: Another option for optical turnstiles, panel cut-outs are typically used due to space limitations on or under the top. This type of mounting can be used as the sole means of accessing the secure area, or in addition to the traditional, under-the-top mounting option (two-factor authentication). Some companies have even used the panel cut-out to mount a device that is used solely for visitor entry. While this option of mounting is aesthetically pleasing, (no big device on top of your turnstile), it does require user training because the reader is not always easily visible.

Custom Pedestal: For entrances of all types, pedestals are a common way to mount an access control device. We've seen some basic, standard pedestal designs, but some manufacturers are working with the end user to develop a sleek pedestal that imitates the curves and design of the entrance itself – true integration at its finest.

Interior-mounted: Security mantrap portals are a unique, high security entrance designed to protect the most sensitive of areas. This sophisticated portal can be equipped with a biometric post for an interior-mounted access control device. Often used in conjunction with an external, side post-mounted device, the interior biometric device allows organizations to achieve two-factor authentication.
Two-Factor and Multifactor Authentication
Large companies are implementing two-factor and multifactor authentication techniques at their facilities to decrease the possibility of an intruder infiltrating the building. According to LoginTC, two-factor authentication means, "an attacker needs to solve two fundamentally different problems, each in different dimensions, in order to compromise your identity."
Utilization of two-factor or multifactor authentication typically involves the integration of two different access control devices for access through a single security entrance. This level of integration requires proper preparation and planning. There are, however, some all-in-one devices that can accept two or three authentications, e.g., a single Morpho Sigma device can accept any combination of a card reader, unique pin and/or fingerprint.
The fusion of your access control device and your security entrances shouldn't be an afterthought, but an integral part of your building design from the very beginning. Speak to your security entrance manufacturer about the solution that will work the best for your organization.
Company: Boon Edam Inc.
Of: Amy Coulter
Source: http://blog.boonedam.us/door-access-control-security-entrance-integration-techniques
Tags: Design | Entrances | Security
---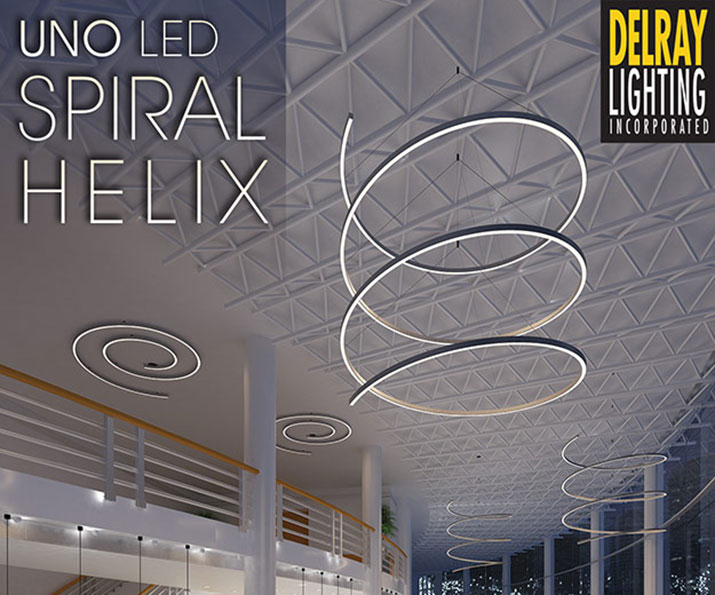 New from Delray Lighting: UNO Helix / Spiral large scale LED fixtures
HELIX is a 3, 4, and 5-foot vertical corkscrew of light suspended in cylindrical space. SPIRAL is a flat, wall/ceiling surface mount, gradually widening 5-foot diameter coil of light. Both feature efficient Nichia 90 CRI, 3000, 3500, and 4000K white LED chips, and are designed for spacious interiors with high ceilings.
Company: Delray Lighting
Source: http://www.delraylighting.com/uno_dos_linear_circular_led_delray.html
---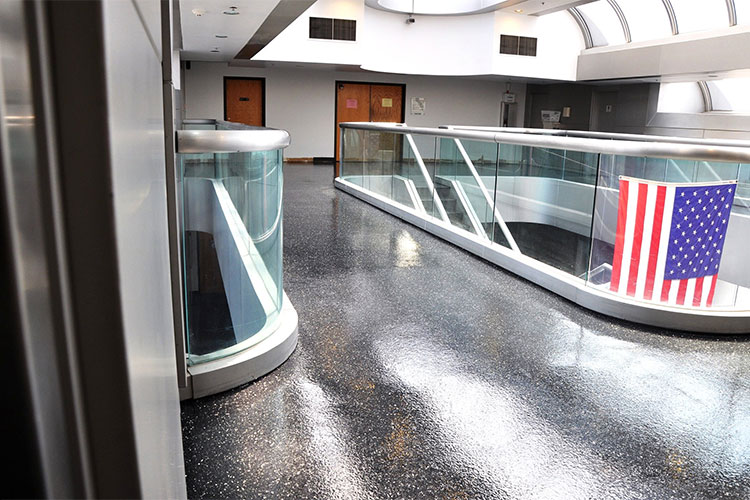 Architect specified a HERMETIC™ Flake Floor instead of terrazzo in this airport terminal. The cost savings was substantial.
HERMETIC™ Industrial Floor Coatings offer a variety of high performance flooring options for facility managers, property owners and specifiers looking for a ultra durable, easy to maintain, seamless flooring system. In fact, the choices are often so many that it becomes difficult to choose. In many cases, the right choice will be dependent upon the unique situation of the facility and what performance characteristics are required in a floor.
Industrial floor coatings are often chosen for aesthetic or financial reasons. They are a great value for medium to high impact areas where heavy traffic is expected. HERMETIC™ (epoxy resin based) Industrial Floor Coatings are available in almost any color and can be applied in thicknesses between 1/16″ to 1/2″ or more. They can easily improve the aesthetics and harden the surface of existing concrete substrate. Epoxies create a seamless, waterproof barrier, which provides a well-protected surface but demands a low-moisture substrate on which to be applied. Because an expertly installed epoxy floor provides this wall-to-wall seamless surface, it is very popular in the pharmaceutical and chemical processing industries. When chemicals cannot contaminate the concrete substrate, you are assured uncontaminated products down the line and easy clean-ups in the meantime.
HERMETIC™ (urethane based) Industrial Floor Coatings are similar to epoxies in terms of installation and function; they are installed over a concrete substrate, filling in the cracks and achieving a smooth, seamless surface. Urethane, however, is a better choice for areas that are likely to receive thermal shock, high-impact, increased abrasion or chemical exposure. Urethane is an extremely durable product that is likely to meet or exceed the physical needs of any facility. Urethanes also have aesthetic appeal similar to epoxies. The material can reflect light to a degree that influences your utility costs and improves worker productivity. For all of these reasons, urethane is a popular choice for commercial kitchens and food processing facilities.
Company: Elite Crete Systems, Inc. (Headquarters)
Product: HERMETIC™ Industrial Flooring
Source: http://elitecrete.com
Tags: Coating | Concrete | Finishes | Floor | Interior Design