architecture - engineering - construction

Cable railings have become a popular choice in recent years for completing decks, stairways and other projects in homes, commercial buildings and public spaces. They are easy to install and designed to withstand weather extremes, providing a low-maintenance railing with many benefits. In fact, many buildings that incorporate cable railings through remodeling or retrofitting see an increase in resale value.
If you're looking for an opportunity to install a cable railing, here are the more popular places where they are used.
DECKS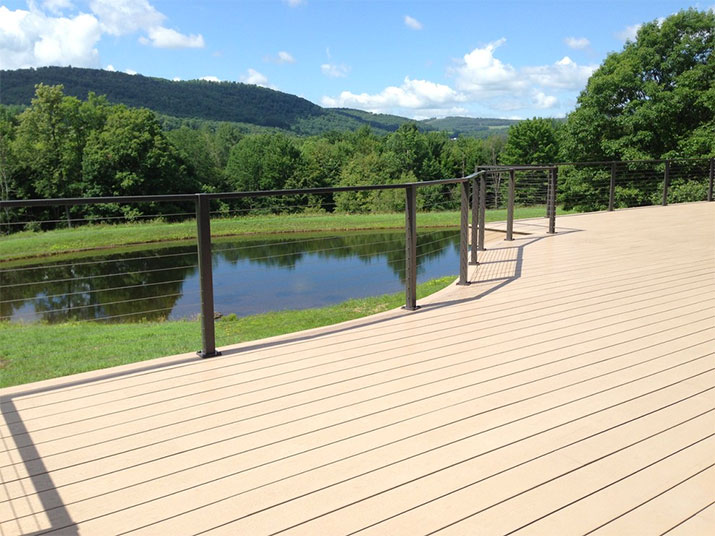 Undoubtedly the most common place to install a cable railing is on a backyard deck. Builders and homeowners know that a deck can be a prized possession, especially in the warm summer months when we all love to barbecue and relax with family and friends outside.
In every municipality, building codes require certain precautions to keep occupants safe. This almost always includes a railing. The one thing about adding a railing to a deck, however, is that they tend to block the scenic views — the reason many decks are built in the first place. Cable railings allow for the clearest view, and the least amount of work to maintain it.
BALCONIES OR TERRACES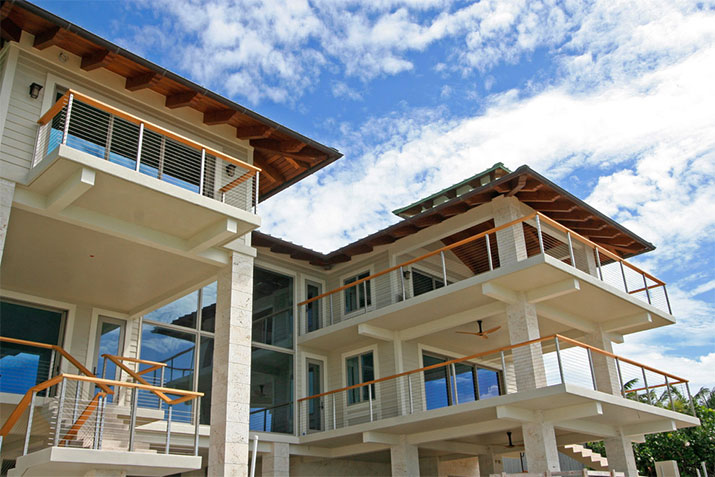 A balcony is a lot like a deck, but in this case the platform is supported by the structure of the building rather than standing alone as an attachment. Balconies and terraces are usually smaller than a deck, but still deserve a strong, stylish railing. Used for smaller outdoor spaces, a cable railing's transparent quality can provide a feeling of spaciousness and an optimal view.
STAIRS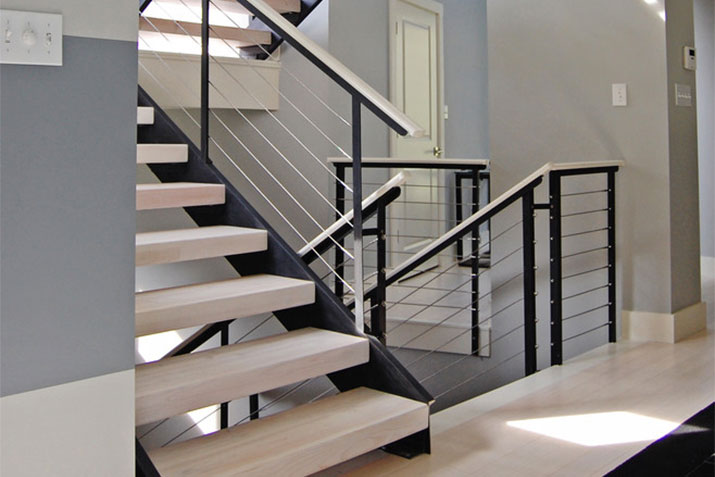 Stairs are another common place for cable railing. There is almost no instance where a railing isn't required where there are stairs. A cable railing is an affordable, easy-to-install railing option for staircases and other interior applications. With an inconspicuous yet complementary look, cable railings provide the open feeling so many homeowners desire.
OUTDOOR PATHWAY/GARDEN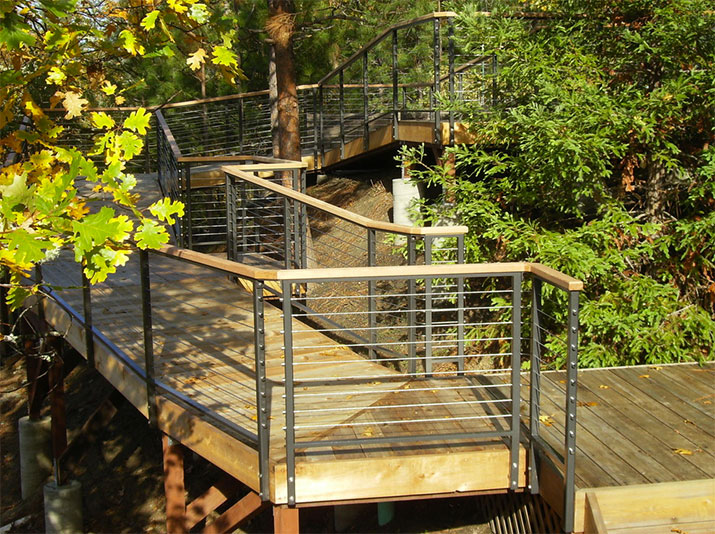 Cable railings can easily be incorporated in outdoor spaces to mark pathways and add interest to landscaping. By using a cable railing rather than a wooden fence, you can appreciate the entire outdoor space without obstruction. Also, installing cables in a garden setting will allow climbing plants and other vines to show off and make the railing a part of the landscape.
POOLSIDE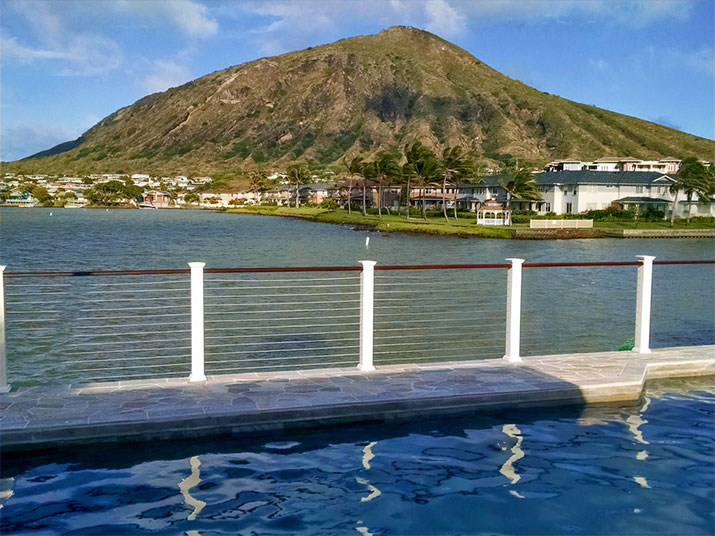 If you have a pool or spa on your property, you're already aware of the municipal codes requiring you to have a protective fence or railing. Chain-link fences can ruin the aesthetic of your property, and wood fences usually require a great deal of upkeep. Installing a cable railing around your pool will keep your property looking nice, cut down on chores, and keep children safe. This type or guard rail is approved by many building codes as a pool perimeter, although you should always check with your city or county before ordering or installing one.
Company: Stainless Cable & Railing Inc.
Product: CableView® Stainless Steel Cable & End Fittings
Source: http://site.stainlesscablerailing.com/blog/best-places-to-use-cable-railing/
Tags: Design | Railing System | Safety
---
Complete landscape lighting should include a variety of fixtures with unique intended purposes, including path lighting, up lighting, shadow lighting, and so forth. We offer every type of landscape lighting you could think of—plus, our fixtures are durable, long lasting, and made right here in the USA!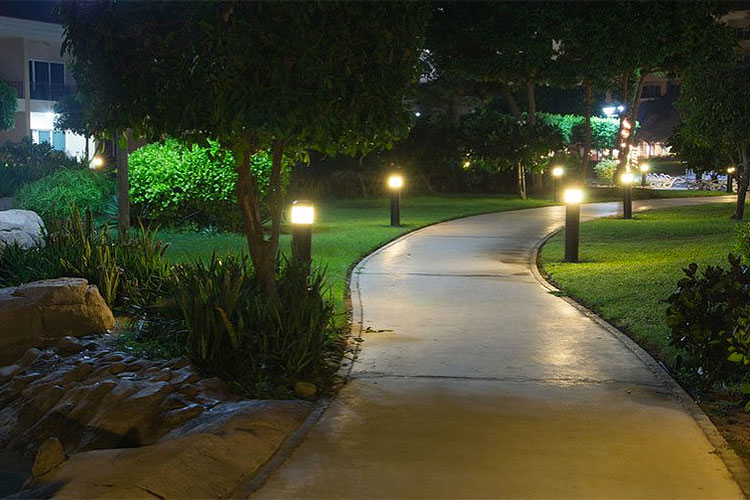 Landscape Lighting Your Property Could Benefit From
1. Path Lighting
Some lighting fixtures are meant to be somewhat discreet, with the light showing but not the fixture. That's not the case with path lighting. Lighting fixtures used to highlight pathways can offer stand-out style and an aesthetically appealing display.
Path lighting is the most common type of landscape lighting. Hey, you can't get around any property without pathways! Path lights can be used for more than just lighting up a walkway; they can also be used to frame certain features or spaces. Picture this: a collection of scattered lighting fixtures that pour light over a brightly-colored fish pond, water fountain, seating area, or other feature.
2. Up Lighting
Next up on the list is up lighting; another important type of landscape lighting. As its name suggests, up lights are pointed up at a tree or taller structure to create a dramatic effect. Play around with fixtures to get just the right angle of light.
3. Silhouette Lighting
This type of landscape lighting involves placing a light behind an object to create a glowing outline. With silhouetted lighting, the goal is for the lighting fixture to go unseen; the light itself does all the talking.
4. Shadow Lighting
The opposite of silhouetting is shadowing, which brings us to yet another common type of landscape lighting. Shadow lighting involves placing a light in between the ideal vantage point and the feature a light is focused on. To create a shadow effect, the light needs to be focused on a wall or other object that will catch light and cast a shadow.
5. Natural Moon Lighting
If you have large trees with sprawling canopies or other tall elements dotting landscaping, you have an opportunity to create an awesome effect with natural moon lighting. Simply place our Tree Ring Lights in the tip-tops of trees, and aim the lights to face downwards. This creates an effect in which the tree, its branches, and the ground below become flooded in a bath of lights.
6. Wall Wash Lighting
There are two ways to illuminate a wall or other solid object—wash lighting (wallwashing) or wall grazing. The main distinction between these two methods is the distance between the lighting fixture and the object being illuminated. Wash lighting fixtures are typically located at least 12 inches from the wall. This offers a flat and even layer of light with some texturing as well.
Wash lighting provides additional ambient lighting. It is often used to add extra pizazz to entertainment spaces, it looks great on living walls and hedges.
Tip: Employ a wide-beamed light situated in between the ideal vantage point and the surface you're lighting up. This creates a nice gentle light with a more natural look.
7. Wall Grazing Lighting
The other option to illuminate a wall is to use grazing lights, which are placed in closer proximity to the wall, typically around 12-inches or less from the wall. Lights virtually sit right up against a flat surface. As opposed to smooth lighting, this creates a more dramatic shadow, while also highlighting texture, color, and design after dark. Wall grazing lights create an upscale look, hence why this tactic is often employed at nice restaurants, office buildings, and so forth.
When lighting up a wall, keep in mind:
The human eye can naturally process vertical surfaces easier than it can horizontal surfaces.
Illuminated walls are considered "indirect" light sources, and work best when the surface illuminated has a light-color and/or matte finish.
It's more difficult to successfully illuminate darker walls or surfaces.
Beware that without proper execution, wall lighting can lead to glare.
Quality Landscape Lighting Fixtures
Investing in quality landscape lighting fixtures is important to the long-term success of any project. Lighting fixtures made from materials prone to rusting, corroding, or cracking are sure to cause problems down the road. After all, exterior lighting fixtures are constantly exposed to the elements—sun, water, weed whackers; occasional dog urine.
Lampposts, tree-ring lights, bullet lights, rock lights, and bollards too; you name the fixture and chances are, we have it! Our lighting fixtures are specially formulated to resist rust, graffiti, water damage, and even corrosive environments, such as coastal landscaping. Did we mention all our products are made right here in the USA, using sustainable manufacturing processes with superior oversight and quality control?
Check out our huge selection of unbeatable Landscape Lighting Fixtures
Company: TerraCast Products LLC
Product: Bollards
Source: http://www.terracastproducts.com/7-types-landscape-lighting-property-benefit/
Tags: Landscape Design | Lighting
---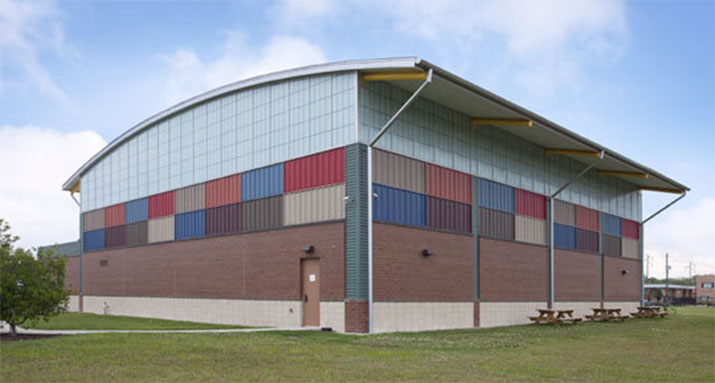 Designing natural daylighting in a building can be difficult if the building is an existing structure or if the property has a difficult orientation. There are a few things to consider when working with difficult building layouts.
Windows facing north offer the best building orientation for reducing heat gain and glare. This orientation should be the key location for using clear vision glazing. True north glazing, at or above the Tropic of Cancer (23.4 degrees north of the Equator), will receive no direct sun. Therefore, northern light into a building is considered indirect. While you still need to consider building adjacencies and reflections, northern windows can be clear glass with minimal overhang, and blinds or shades may not be needed.
Southern glazing can often be an equally good orientation for proper daylighting, though in many cases it should be protected by building overhangs (computerized daylighting analysis can evaluate how low the sun's angle will be in the winter months). That said, direct sunlight into a building from south facing glazing isn't necessarily a bad element. Sunlight is often psychologically lifting to the spirit, and with southern exposure, sunlight angles will travel across an interior space, creating drama and adding intrigue to design elements. There are, however, particular spots like circulation areas, stairwells, and intersections where direct sunlight can create glare and hot spots and can make life uncomfortable for people maneuvering within the building. In these spaces, diffuse daylighting materials are recommended.
Sometimes a building's orientation cannot avoid or reduce eastern and western exposures. East and west facing spaces will receive the most direct sun glare of any direction, and even building overhangs and horizontal sunshades cannot reduce glare into windows. Evergreen trees are often the easiest natural solution to reduce direct sun glare. Rooms facing east and west should be daylit using diffuse daylighting materials, instead of clear glass, as much as possible. Diffuse daylighting materials will not only reduce light, but most importantly bend the light, spreading out the quantity of light to a larger space. This can certainly be a benefit when designed properly! Breakfast rooms with diffuse daylighting are best oriented to the eastern side of a building, while evening sitting rooms work well with diffuse daylighting on the western side of a building.
Company: Major Industries Inc.
Of: Courtesy of Amy Stalbosky, National Corporate Architect, Major Industries, Inc.
Source: https://majorskylights.com/
Tags: Canopy | Glass Walls | Skylights | Wall Panels | Windows
---
Greening A Building from Top to Bottom
Advances in sustainable building have made it easier than ever to create green buildings and office spaces that take a minimal toll on the environment. From the highest point of your building to the lowest subterranean basement, there are steps you can take to make your building greener and more sustainable. Here are some of the ways buildings can become more environmentally friendly.
The Roof
A roof garden or green space on the roof of a building provides a number of benefits to the building itself as well as the workers inside it. Green roofs reflect heat so you can run interior cooling systems less. They can also collect rainwater that can be reused for landscaping.
In addition to the environmental benefits, green roofs also have health benefits. Workers can access roof gardens to soak up some natural light and relieve stress on their breaks or lunches.
The Exterior
Buildings that receive plenty of sun have lots of space for solar panels. While installing enough panels to power a full-sized office building is an expensive proposal, solar power is an investment that will pay for itself in the long run.
For new buildings, consider using recycled or sustainable materials for the exterior. Locally-sourced materials that don't require a lot of fuel to transport to the building site also help reduce the carbon footprint of new construction projects.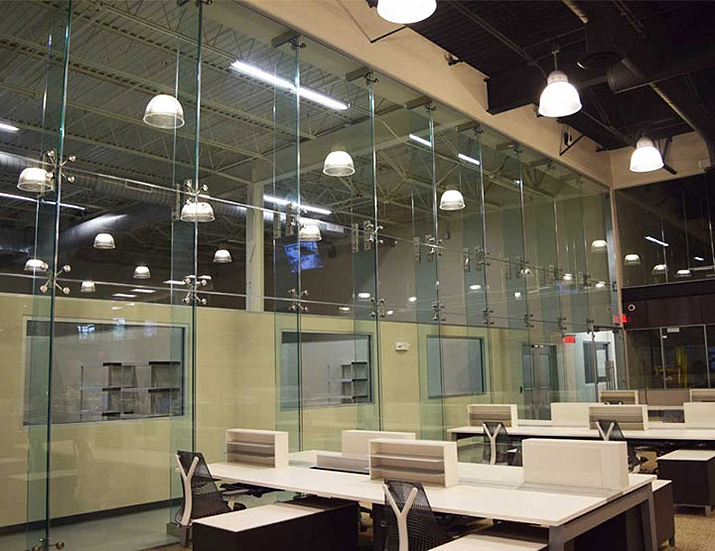 The Interior
There are many changes that can be made to the interior of an office building to make it more environmentally friendly. Most of these are the same as the suggestions given to homeowners on how to make their residential properties greener. Install LED light bulbs for all fixtures, low-flow toilets in the restrooms, and make it easy for employees to recycle to greatly reduce a building's impact on the environment. Incorporating glass into interior spaces can also help to reduce the building's reliance on electricity for lighting, allowing natural light to enter interior spaces.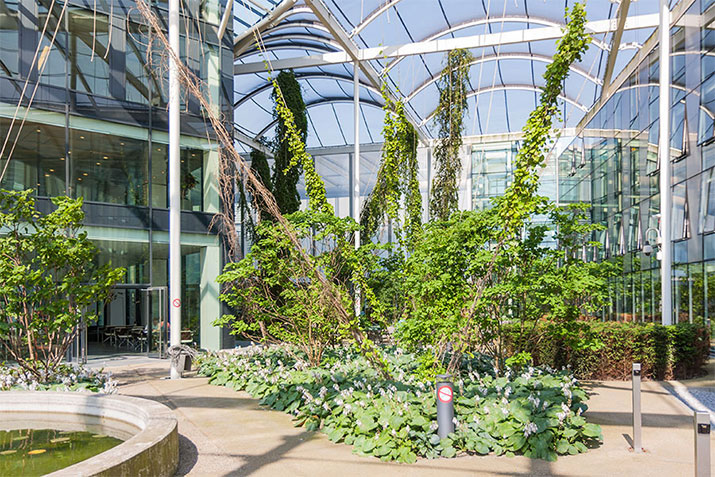 Outside
Greening your building can start before you even walk in the front door. Make the building easily accessible to public transportation, and provide plenty of bike racks for workers to use so they don't have to drive.
When landscaping, use native plants that don't require a lot of additional watering. This reduces the need for irrigation and also creates a relaxing and inviting green space for employees. It is also a good idea to get educated regarding landscaping methods that can reduce water runoff. Allowing rainwater the chance to penetrate into the soil replenishes groundwater and keeps plants looking greener with less watering.
Underground
Greening doesn't stop once you descend below street level. This is where cisterns that collect rainwater for reuse are located. These large tanks store water for use in building toilets, sinks, and other sources of water that are not used for drinking.
Geothermal pipes can also be installed underground. These provide a natural and green energy alternative to solar that makes use of the natural temperature of the earth to heat and cool buildings year-round.
Few buildings have taken advantage of all these sustainable building practices. However, instituting one or two is a relatively simple and inexpensive way to invest in the future of your building and the future of the planet.
Avanti Systems USA are the experts in manufacturing and distributing of interior glazed solutions. For more information, visit www.avantisystemsusa.com.
Company: Avanti Systems USA
Source: http://www.avantisystemsusa.com
Tags: Acoustics | Glass Walls | Interior Design
---
If you've visited the U.S. Capitol recently, you may have overlooked an understated, yet significant, architectural feature – the 150-acre Capitol Hill campus is ringed by about 7,000 waist-high steel posts, or security bollards. The bollards blend well with their surroundings, but their real purpose is security. Installed shortly after 9/11, they can stop an eight-ton truck from plowing into them at 50 mph.
Bollards have been around for centuries. What started as a way to moor boats evolved into an effective means to control traffic and protect property and pedestrians from vehicle-ramming incidents, whether intentional (vandalism, robbery, terrorism) or accidental.
Following 9/11, many U.S. cities quickly installed security bollards and other physical barriers at major landmarks and capitol buildings. Some barriers, deemed excessive, were later removed. But recent vehicle-related attacks across Europe and in the U.S., notably New York City, have prompted a resurgence.
Traditionally, military, government and other high-security facilities have made widespread use of bollards. More and more, however, you'll find these and other security barriers protecting popular tourist destinations, parks, pedestrian plazas, bike lanes, educational and business campuses, hospitals and more.
Do security barriers make sense for your facilities? As you examine your risk profile, take a look at the different types available, their cost and installation considerations, as well as how to balance safety with aesthetics.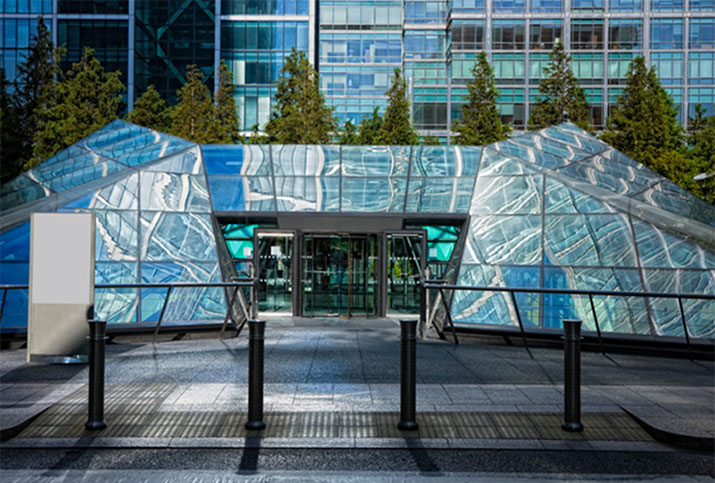 Types of Security Barriers and Tips for Bollard Placement
To find the right fit, consider the areas you're protecting – one building, multiple facilities, pedestrian spaces, parking lots? Then, consider how often they need protection.
Do you host a variety of outdoor special events? Portable, temporary barriers can be towed within minutes to barricade parking lots or streets for sporting events, street fairs and other short-term events. Mobile deployable vehicle crash barriers, which run on their own power systems, can stop 7.5-ton vehicles traveling 40 mph. Lighter units can be towed by a golf cart and set up easily to decelerate and stop a ramming vehicle over a short distance.
Are you looking for a more long-term solution? Fixed bollards, embedded in concrete footings, serve as permanent fixtures. But manual versions offer more flexibility since they can be raised and lowered, or even removed from their footings, to protect pedestrian areas, but allow authorized vehicles to gain access as needed (grounds maintenance, for example). Either way, keep the following in mind as you weigh your options
Costs for security bollards
Costs for bollards can vary widely, depending on the materials and crash ratings. Bollards made of solid plastic used to define spaces and deter vehicle access can cost less than $100 per barrier. Concrete or concrete-filled steel bollards can run hundreds to thousands of dollars a piece, depending on their performance specifications and decorative accents. That doesn't include bollard installation costs.
Bollard Installation & Bollard Placement Standards
Each bollard, whether fixed or manual, requires a footing, so your installers will have to survey the location to avoid interference with utility and other underground lines. The positioning of your bollards will also have to comply with fire department codes for emergency exiting, local building codes, as well as accessibility codes to accommodate disabled visitors. Placement standards follow the Americans with Disabilities Act, which requires bollards placed in areas with pedestrian traffic to be spaced a minimum of three feet apart to allow safe passage for wheelchairs and motorized chairs. Bollards should never be placed more than five feet apart, however, to protect against vehicle traffic.
How Do I Maintain a Secure, Yet Welcoming Environment?
Heavy-duty security barriers work well for high-risk government facilities (think FBI Headquarters), but many businesses, municipalities and other organizations want a more aesthetically pleasing solution.
In fact, many local and city governments across the country have turned to alternative means, using CPTED (crime prevention through environmental design) principles as their guide, according to Dr. Erroll Southers, managing director for counter-terrorism and infrastructure protection at TAL Global. They create more welcoming environments by using large planters, berms and trees as secure barriers.
The good news is bollards aren't a one-style-fits-all product. Manufacturers offer a variety of colors, finishes and shapes – even lighted models – to blend in with and even enhance your surrounding architecture.
Consider how bollards transformed a once intimidating stretch of Pennsylvania Avenue near the White House from a militarized barricade following 9/11 to a now popular public space. "What they indirectly did was create a people street," explained Gabe Klein, former D.C. Transportation Commissioner. "…I find it to be a nice, peaceful place to hang out…"
Company: Total Security Solutions Inc
Source: http://tssbulletproof.com/security-bollards-barriers-protect-property-pedestrians/
Tags: Landscape Design | Security
---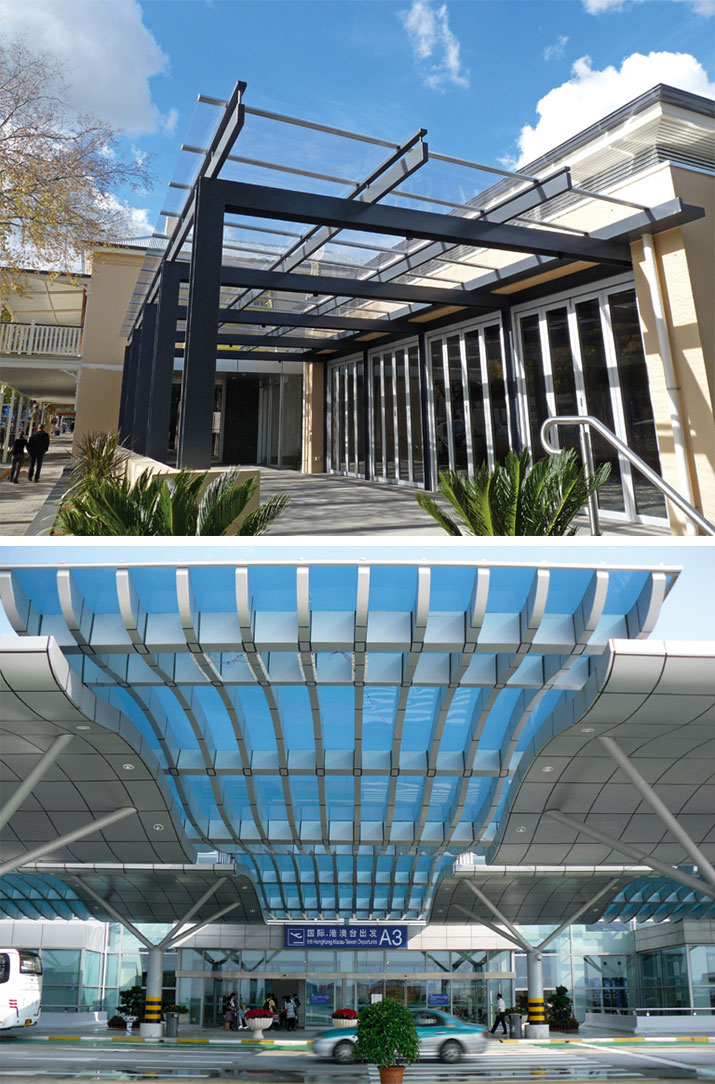 EXTECH is proud to offer SUNGLAZE™, a canopy system that offers smart design, elegant appearance, versatility and low maintenance. SUNGLAZE™ utilizes monolithic standing seam polycarbonate sheets to provide a sleek, modern canopy aesthetic.
SUNGLAZE™ incorporates proprietary standing-seam profiling and glazing that enable wide spans and high loading capacity. It can be specified in various lengths to match different structures, including flat and curved designs.
SUNGLAZE™ panels are available in clear or opal translucency, and can be provided up to 40 in length.
Further benefits and details Typical Applications
Glass-like clear appearance
Standing seam leak-proof performance
Free thermal expansion
Caulking and silicone free
Withstands high loads
Easy, fast and safe installation
Minimal maintenance
Typical Applications
Architectural projects
Commercial and retail
Sports venues roofing
Covered walkways
Open markets
Service stations
Entrances
Pool covers
Company: EXTECH/Exterior Technologies, Inc.
Product: Canopies
Source: https://extechinc.com/sunglaze-sleek-canopy/
Tags: Canopy | Exterior Design
---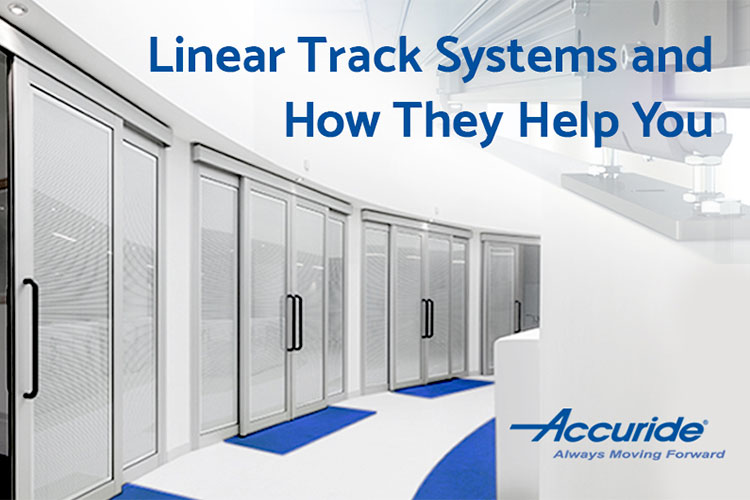 Linear Motion Track Systems: 115RC & 116RC
Linear track systems are making a big splash in residential and commercial applications. That's because linear tracks bring movement to a bevy of creative applications, making environments more space-efficient and easier to handle.
What is a Linear Track System?
A linear motion track system allows you to move an application, like a panel or even a sliding door, back-and-forth along a rail. There are two main components:
A carriage, also known as a cartridge or cassette
A track, also known as a rail
In systems like the 115RC, the cartridge uses an innovative design—recirculating ball bearings that offset the weight of an application. This allows a user to slide an application (in the 115RC's case, one up to 265 lbs.) with ease.
In more dramatic instances, as with the heavy-duty 116RC, a user can pull heavy-duty applications of nearly 800 lbs. almost effortlessly. This was the case with a British Children's Hospital.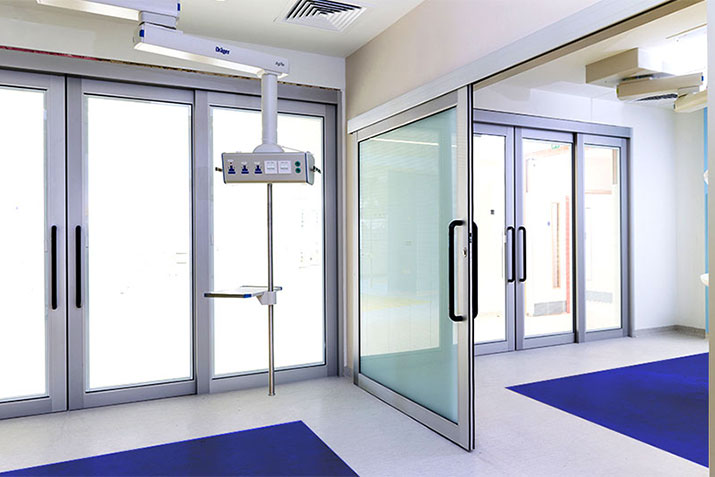 An image of an Accuride 116RC used on a large sliding door inside a hospital. The 116RC linear track system supports such heavy-duty applications thanks to a 793 lb. load rating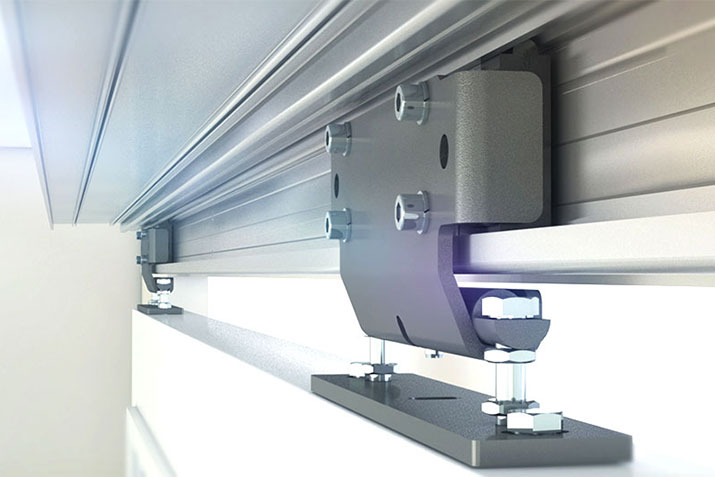 A close-up of a 116RC mounted onto a large sliding inside of a children's hospital. The 116RC requires less than 5 lbs. of pull-force, making it compliant with the Americans with Disabilities Act.
Usually, both parts are made from light-weight materials, often aluminum with some use of polymers. These materials are also corrosion-resistant, making them useful for outdoor, moist, and other tough environments. This corrosion-resistance also means there's little need for maintenance.
Linear track systems also support multiple mounting arrangements, including side-, flat-, and vertical-mounting.
Linear Movement Solutions in Action
Thanks to their lightness, load capacity, corrosion-resistance, and precision movement, you can find linear motion track systems in many industries: aviation, medical, logistical, and commercial transportation are just a few.
Some specific industrial applications include:
automotive assembly
tool changer system
medical sample machines
food packaging
parts loaders and unloaders
Linear track systems aren't just for commercial and industrial use. There's a burgeoning use for them in homes, especially micro-living spaces. Linear tracks can allow residents to move walls, panels, and certain furniture, creating transformable living spaces.
A Summary of Linear Track Systems' Benefits
Accuride linear track systems give users many benefits:
Easy installation
Low-resistance linear movement
ADA-compliance (116RC)
Corrosion-resistant, low-maintenance, light components
Max load capacities from 265 (115RC) to 793 lbs. (116RC)
For more helpful information on linear motion systems, stay tuned to Accuride.
Company: Accuride International
Source: https://www.accuride.com/blog/products/heavy-duty-linear-track-commercial-advantages/
Tags: Access Control | Interior Design | Slides
---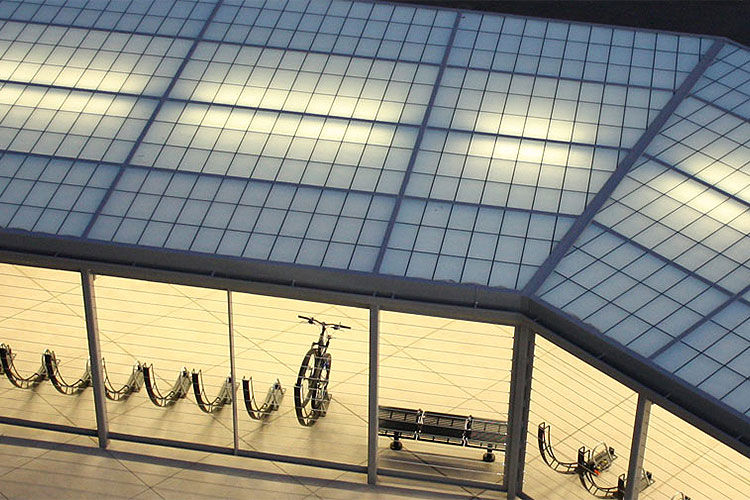 Common areas and entryways are an important element to consider when designing any space. In retail settings, attracting the attention of passers-by is key to maintaining business traffic, while commercial settings demand a space where occupants can gather while remaining sheltered from the elements. Offer them a bright, open and inviting space with a custom canopy from Major Industries.
Major provides a variety of glazing options that can help you make the most out of outdoor spaces.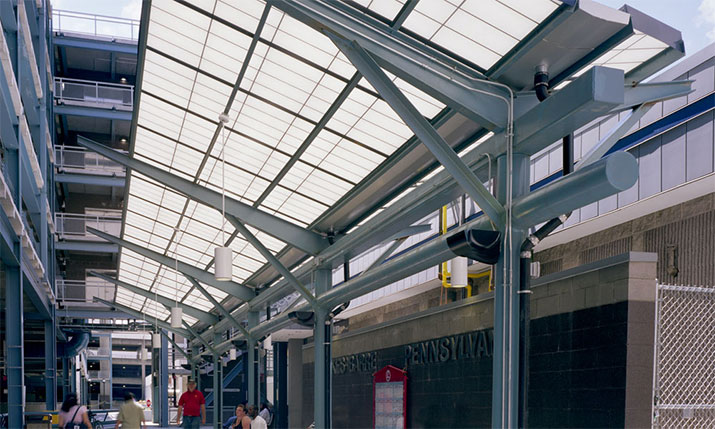 From lightweight and durable Guardian 275® translucent panel systems to more traditional glass systems to eye-catching TransCURVE™ curved panel systems and IlluminPC™ polycarbonate multi-wall options, we have the right canopy solution for your design considerations and budget. Whether you're looking for a simple single-slope solution or a complex and eye-catching polygon, all of our daylighting products feature advanced material technology for enhanced durability, and are backed by industry-long warranties.
Below are just a few examples of how Major's systems can be incorporated into a building's design, as well as their benefits compared to traditional opaque canopies and awnings.
Click here to view our gallery.
Entrances & Walkways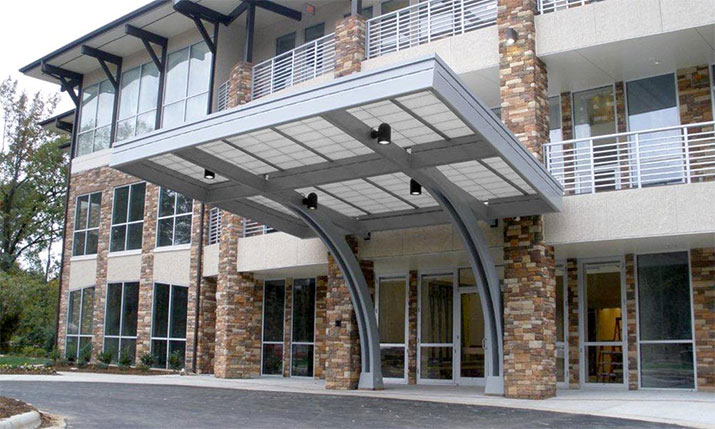 Welcome customers and protect them from the elements with an outdoor canopy or "pass-through" skylight that leads visitors into indoor spaces. Our translucent panel systems can also be utilized as a variety of attention-grabbing design elements, including covered archways and cantilevered awnings, and can be incorporated into your building's signage. Translucent panel canopies, when backlit during nighttime hours, also allow soft, diffuse light to pass through, attracting passers-by with a unique look.
Exterior Courtyards & Gathering Areas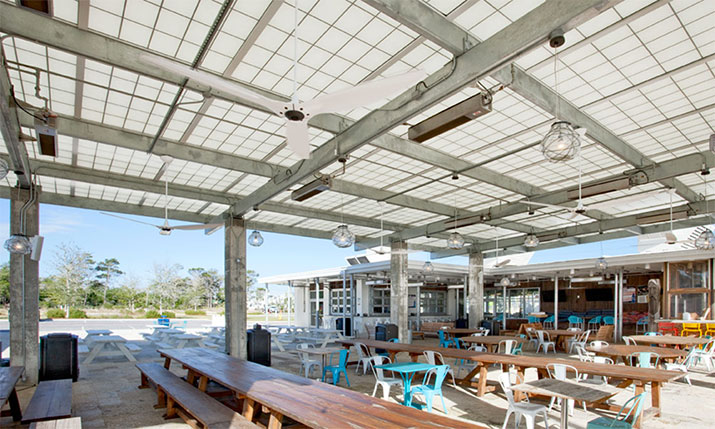 Outdoor common use areas are more welcoming when they're protected from the elements—but don't settle for a standard light-blocking system that forces you to use artificial lighting even during the middle of the day. Translucent panel canopies offer strong protection against the elements while allowing controlled natural light to penetrate the space.
Company: Major Industries Inc.
Product: Guardian 275® - Translucent Panel Skylights & Curtainwall
Source: http://majorskylights.com/products/canopies/
Tags: Canopy | Exterior Design | Skylights
---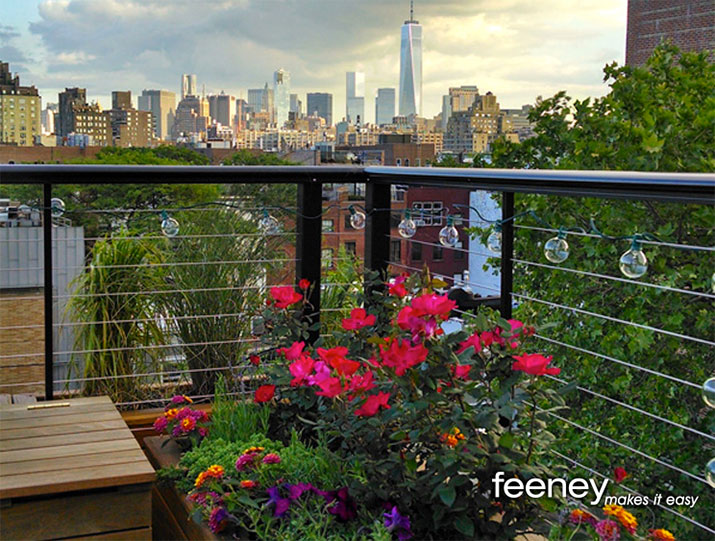 Black railing lets the eye focus on the foliage and the cityscape
In a previous post, we examined the pros and cons of railing infill alternatives. If an unobstructed view is a priority, the railing in-fill is usually glass or cable. Glass has its fans, but frequent cleaning can be a turn-off to some. Cable rail requires much less effort to keep up a fresh appearance.
However, both in-fill systems are identical in one respect: An attractive, durable railing system is required. In most applications, the strength, affordability, and beauty of long-lasting aluminum is the preferred railing choice. Aluminum also works well in interior or exterior applications.
But what about aluminum railing color?
Feeney offers 14 standard colors and over 200 custom colors for its DesignRail® aluminum railing system. To make sure the color holds up, especially in exterior projects, the aluminum railing receives a power-coated finish to the AAMA-2604 standard. That helps ensure color retention, impact resistance, and harsh weather protection.
With so many color choices, is there a one that especially supports an unobstructed view?
Absolutely, say Jason Russell, Tacoma, Wash.-based deck contractor and aka Dr. Decks®. In the doctor's professional opinion, one color stands out for an outstanding viewing prognosis.
"It's black," Russell says. "When you're sitting on your deck, admiring your view of the water, mountains, field, trees, or your neighbor's place, the less obstructed the better.
"You tend to look past darker colors, minimizing visual conflict. Lighter colors, like white, tend to draw the eye and distract. If you're framing glass or cable, all you see is that white aluminum frame." Says the 21-year deck-building veteran, "black helps avoid the distraction."
"I've heard some homeowners say, 'Okay, but won't a black railing look funny with my house?' I know curb appeal is important. But many homeowners become attracted to a railing color without thinking through what they'll really see when they're sitting on their lounge chair or the view from the kitchen. A black railing is better than being penned-in by a white or light-colored railing."
Russell cites another reason for his recommendation: "I live on the West Coast and black and other dark colors are trending hot. Black is my number one, go-to color."
Feeney customers agree. Black and Bronze Matte (another darker shade) top the popular colors list for the DesignRail® aluminum railing line of colors.

Company: Feeney, Inc
Product: DesignRail® Aluminum Railings
Source: http://media.feeneyinc.com/blog/railing-color-a-hidden-choice
Tags: Color | Exterior Design | Landscape Design | Railing System | Safety
---
How colorful stains, dyes, marbling and effects can help you do more with exposed concrete flooring.
Today's commercial interiors are increasingly being defined by organic shapes, playful palettes and inviting contrasts of opposing materials, such as wood accents and exposed concrete flooring. For both commercial and residential design pros, there's an opportunity to expand the way you think about using color underfoot — specifically in the form of concrete stains and finishes.
"Whether you're reclaiming a beautiful old warehouse space for a loft or office, or designing a retail space from scratch, you can do so much more now with concrete flooring than just traditional polished gray," says Sue Wadden, Director of Color Marketing at Sherwin-Williams.
From retail to office environments, interiors today need to be human, engaging, adaptive, durable and high-performing — and that includes flooring. With concrete, new technology is leading the way, as enhanced stains, reactive dyes and protective concrete coatings offer vivid, customizable colors and organic effects.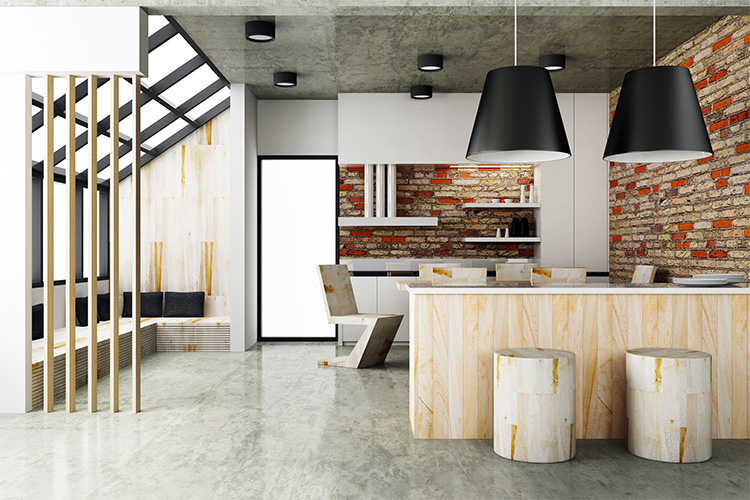 Here's a look at three ways you can expand your design possibilities using exposed concrete flooring:
Solid-color stains
When it comes to adding color to a properly treated and conditioned smooth concrete floor surface, your palette is virtually unlimited. Water-based solutions like H&C®ACRYLA-DECK® Water-Based Solid Color 100% Acrylic Deck Coating or H&C COLORTOP™ Water-Based Solid Color Concrete Stain can be tinted to match any color. ACRYLA-DECK provides resistance to chalking. COLORTOP provides additional durability and color-retention features, including resistance to salts, acids, alkalis, water, UV rays and oil.

Both products offer a natural sheen, but you can also specify a clear coat on top, to add a glossy finish that looks fantastic in spaces where natural light is a key design element.

Marbling and organic effects
For projects where you want to go beyond a solid-color result and provide your client with a more signature design feature, such as swirls, layers of color depth or patterning, you can explore specifying a metallic coating or reactive dyes.

H&C Pro Series Metallic Flooring System allows you and your contractor to build up a bold and beautiful result in layers. The system starts with a durable basecoat, to which you can add a metallic coat, and a vibrant color and finish coat to achieve your final desired look. There are 30 colors to choose from, which you can mix and match, and your final finish can come in either satin or gloss.

For spaces where you want the concrete floor to retain an earthier, organic look that highlights and celebrates its natural imperfections — such as in spaces where the floor needs to complement exposed wood beams — a reactive stain is the best solution.

H&C Infusion® Reactive Concrete Stains creates a translucent, variegated appearance, so small cracks and other imperfections in the concrete take on rich, lustrous character. This solution comes in 12 standard colors that can be intermixed to achieve a custom look.

Texture + color
Finally, in projects where you have a heavy traffic area that requires a texture for slip resistance, you can specify a combination concrete resurfacing solution with a color application.

H&C Dura-Top™ Heavy Traffic Concrete Resurfacer is a low-maintenance, abrasion-resistant polymer that can be stamped or troweled to achieve your desired design or texture. A rich palette of color possibilities comes into play with the addition of a Dura-TopConcrete Resurfacer Color Pack, which can be added to the mixture as a pigment. The Color Packs come in 30 colors, in a spectrum that ranges from Cotton Ball to Pepper Black.
"Concrete has so much design potential," Wadden says, "which is great since it's everywhere now, from commercial spaces to multifamily lofts. A more organic-looking concrete finish can function as a neutral base that allows the rest of the interior's materials and finishes to be the hero. Or you can get really colorful with it and make the floor the star. It's really up to you."
Company: The Sherwin-Williams Company
Product: Interior Stains
Source: https://www.sherwin-williams.com/architects-specifiers-designers/inspiration/styles-and-techniques/sw-art-concrete-floor-designs
Tags: Coating | Color | Concrete | Finishes | Interior Design
---
Security systems have long been in the business of risk mitigation. In addition to controlling potentially perilous situations as they occur and dealing with them safely and efficiently, a security system and its operators need to be able to identify problem areas and use the systems at their disposal to prevent issues, when possible, before they even occur.
A major source of risk for any facility—large or small, new or established—are the entrances and exits. Every facility has at least one entrance and an access control system alone cannot effectively mitigate the risk of unauthorized entry. Many buildings will have a number of different areas in their floorplan that require varying levels of security at the entrances to that area, even if it's as simple as locking an office before the weekend.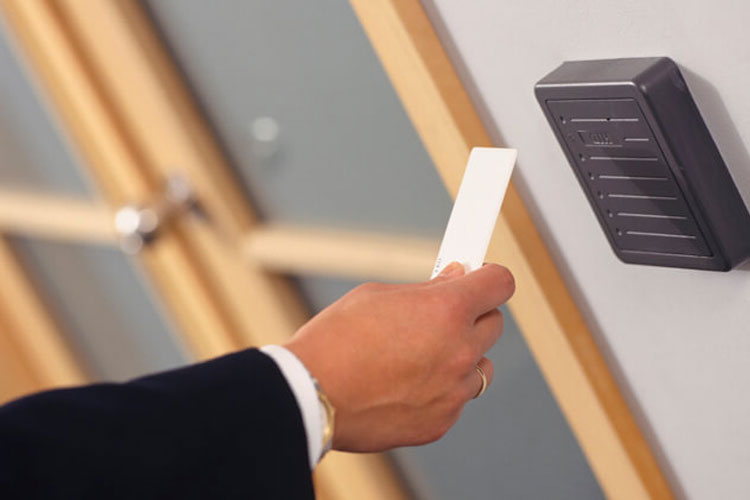 The Risks Present in Today's World
In light of the constant barrage in the news about shootings, data breaches, theft, violence in the workplace, smart mobs, and protests (are we missing anything?), the time of wide open, accessible lobbies and the simple, swinging door paired with an access control reader is coming to an end. The risk of the damage that could occur if the wrong person tailgates (follows an authorized user) into a facility is becoming too great. In fact, a 2014 survey we conducted revealed that 62% of security professionals polled believed one tailgating incident could cost their organization anywhere from $150,000 to "too high to measure." Obvious examples of tailgaters are thieves, shooters, corporate spies, disgruntled former employees, angry domestic partners. However, there's also Joe Q. Public getting into dangerous industrial areas, a journalist into a restricted area (bad PR), a teenager into a local gym or university recreation building (gets hurt and there's liability), a protester into a bank, and the list goes on.
Integrating the right type of security entrance with access control is the best way to prevent tailgating from occurring while reducing the cost of manning entrances. More security managers are realizing that a higher level of access control is a critical need for their security system. While you could deploy a solution using video surveillance integrated with analytics and alarming, without the additional presence of a security guard to respond, this system only can verify that tailgating led to an incident after the fact. It's therefore essential to proactively control who is going in and out of these areas, and ensure that only authorized people can enter.
Security entrances, when paired with access control systems, do exactly that.
Security Entrance Options
There are a number of different types of security entrances available to address differing tailgating mitigation needs. For example, an optical turnstile serves the purpose of verifying credentials while also adding a measure of deterrence against casual attempts to tailgate. However, optical turnstiles don't prevent unauthorized entry; supervision is needed to respond to determined intruders.
For more sensitive areas of a facility, you will want to consider a higher-security solution that actually prevents tailgating. For example, a portal (or mantrap) has two sets of doors; the user's credentials open the first door, but the second door will not open until the first has closed and the system has verified via analytics that only one individual is inside. Security revolving doors also rebuff tailgaters and piggybackers (two people sharing the same compartment) using the same technology, but operate about three times faster.
All security entrances provide a visual deterrent to tailgating and other physical breaches, particularly full height entrances that require significant effort to brute-force entry. The right choice for you depends on the security needs of your organization. Whether you need to deter, detect or prevent tailgating, working with your manufacturer or integrator is the best way to determine which security entrances are the best fit to optimize system costs and effectiveness.
Metrics and an Auditable, Reliable SOP
When integrated with your access control system, security entrances also deliver a variety of business benefits beyond risk mitigation. In addition to preventing tailgating, they can provide a wealth of data, including completed passages, safety rejections, and emergency button usage, to give you more insight into how entrances are being used. They also give your organization an auditable, reliable, and consistent standard operating procedure that can be tailored to support existing or new policies.
Businesses today have more complex facilities, more sensitive and expensive assets, and a greater need to protect themselves from liability. Security entrances that deter access control breaches and prevent tailgating from occurring can help you protect yourself from these threats. Considering security entrances—from turnstiles to biometrically-activated full height revolving doors – as a fundamental part of your security system helps ensure that you not only protect your business today, but mitigate risk in the future.
Company: Boon Edam Inc.
Of: Greg Schreiber
Source: http://blog.boonedam.us/why-access-control-systems-will-never-be-enough-to-protect-your-premises
---
The debate still rages over whether closed or open office floor plans are better for productivity. Glass walls offer a compromise that makes the best of both worlds and provides a balance of collaboration and privacy that is ideal for many office set-ups. However, installing glass walls represents a significant investment, so before you commit to incorporating them into your workspace, check out these seven things to consider.
1. Workplace Aesthetics
Glass walls are typically associated with modern construction, but can be incorporated into older buildings to modernize an interior space and give it the feeling of openness. Glass complements other stylistic aspects of the office, allowing them to come to the forefront and works in both modern interiors as well as more traditional settings.
2. Sound and Acoustics
One of the most commonly heard complaints against open workspaces is how noisy they can be. This is especially apparent in businesses that rely heavily on phone calls. Glass walls offer a solution in that they can be outfitted with noise absorbing materials to help cut down on office noise, without blocking light or making interiors feel enclosed. It's important to hire a contractor specialized in acoustic planning to adequately plan and address acoustic design before building or remodeling a commercial interior, to avoid issues such as echo.
3. Space Requirements
Glass walls can make small spaces look larger because they open up a floor plan. However, in a floor plan that is already open, they can restrict space and make a previously roomy office seem cramped. Make sure that you choose the right space and have adequate room for these types of walls before planning and installing them.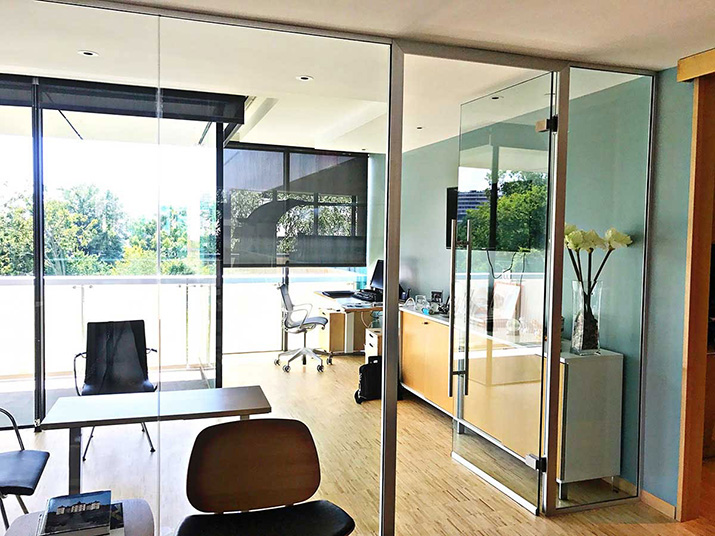 4. Natural Light
Perhaps the biggest benefit of glass walls is the natural light they let in. They allow sunlight to penetrate even into interior rooms. This saves money on energy bills, reducing the need for interior lighting. Exposure to natural light also has an effect on mood. It has been shown to make employees feel more alert and happier in general.
5. Privacy Concerns
One of the major concerns associated with glass walls is that they allow relatively little privacy. People passing by may catch a glimpse of private meetings or even sensitive information on a computer screen. These concerns can be mitigated by installing blinds or by having designated private areas. Companies such as Avanti Systems offer privacy smart glass that will transform from transparent to opaque almost instantly, offering instantaneous privacy when needed.
6. Communication
While glass walls do act as a partition, they are not necessarily an impediment to communication or collaboration. Often, simply being able to look through the wall and see that a colleague is available is enough to open up communication. While walls and doors often impede communication, glass walls take away these barriers and allow employees to collaborate more openly.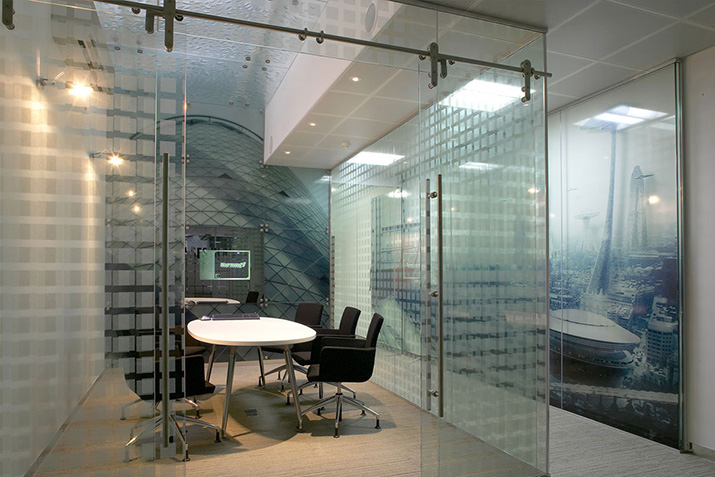 7. Frames vs. Frameless
Frameless glass walls are a popular option in today's modern office, giving a clean and polished look to an interior space. Frameless walls look great, but unfortunately, they can also pose a safety hazard. Workers and visitors can easily walk into them, which can be embarrassing as well as dangerous. If you have a space that tends to echo, glass walls can also be framed with sound-dampening materials to cut down on noise.
Glass walls can offer many benefits when incorporated into a commercial space and companies like Avanti Systems USA are the experts in manufacturing and distributing of interior glazed solutions. For more information, visit www.avantisystemsusa.com.
Company: Avanti Systems USA
Source: http://www.avantisystemsusa.com
Tags: Acoustics | Glass Walls | Interior Design
---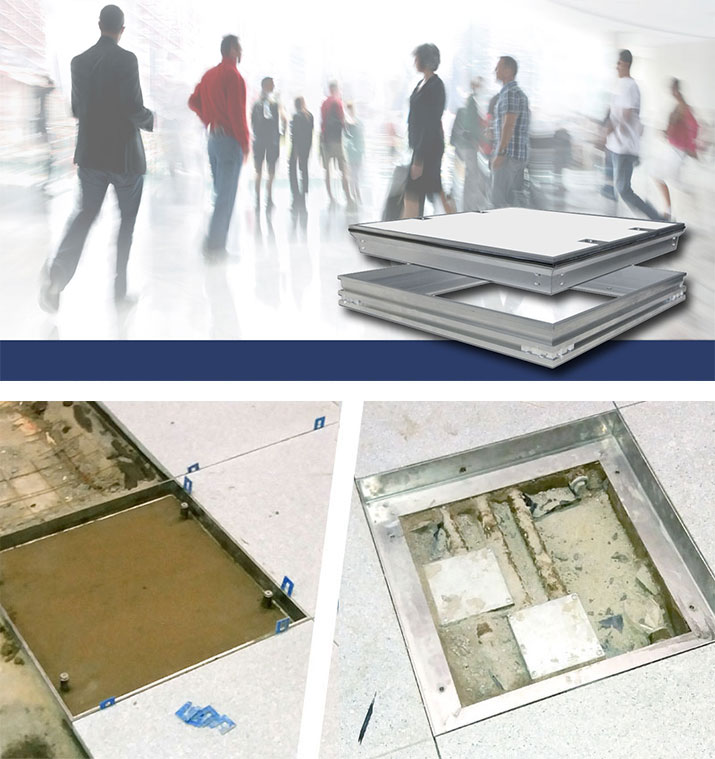 Howe Green has supplied over 400 access covers to Tier 1 contractors working on Europe's largest construction project – Crossrail. The new Elizabeth line will comprise 118 kilometres of track running through London and the South East and is set to reduce average journey times significantly. The Elizabeth line will open in December 2018 when services commence through central London. Tier 1 contractor Laing O' Rourke has specified Howe Green access covers for Canary Wharf, Custom House and Tottenham Court Road stations.
2017 has been a busy year for Howe Green Ltd, the UK's leading manufacturer of fabricated metal floor, wall and ceiling access covers.
Howe Green's access covers have been specified and installed in a diverse range of projects over the last 12 months, from Scottish castles to Swedish museums. The strongest demand has, however, been generated from the infrastructure sector.
Over 60 of Howe Green's 7500 Series Multipart Stainless Steel Floor Access Covers were supplied for Tottenham Court Road station. When completed this will be one of London's busiest stations with over 200,000 passengers a day. All components of the building envelope in such a highly trafficked and challenging environment need to be robust and easy to maintain.
The large 4 part units were precision made to order to ensure that they would be a perfect fit. Installed by specialist stone contractor Vetter UK, the covers have been infilled with granite to match the surrounding area. Supplied with barrel lifting points, with just the securing bolt and barrel edge visible, the covers fit flush with the flooring to reduce the risk of slip and trip hazards.
The 7500 Series can be supplied as a single cover, in duct runs or as a multipart. Standard sizes are available from stock or can be custom made to order if a specific size or loading is necessary. There is the option to have up to a 3 hour fire rating BS 476: Part 20 1987 on stainless steel single covers or 2 hours on duct and multipart covers if required. The covers can also be supplied double-sealed to meet the highest standards of hygiene and security.
The 7500 Series can withstand up to a 5 tonne pneumatic wheel loading and is resistant to rust and corrosion.
If you have a requirement for a safe solution for accessing concealed services in a demanding environment please call 01920 463230
Find out more - 7500 Series Medium Duty Floor Access Covers >
Company: Howe Green US
Product: Medium Duty Floor Access Covers
Source: https://www.howegreen.com/access-covers/projects/crossrail-elizabeth-line.php
Tags: Access Control | Access Covers | Floor | Interior Design
---
If you've decided to build a new home – or remodel an existing one – you're probably motivated by the words of famous TV chef Emeril Lagasse to "kick it up a notch." Out with – boring, old, ugly, stained, chipped countertops, walls, ceiling, showers and enclosures. You want to be in with – fun, functional, low maintenance and cool items to leverage hot style trends. You don't want to bust your budget in the process. What's I'm seeing is hot, hot, hot in progressive remodeling project today are 3D textured products. You may be asking why are 3D textured products sizzling in today's marketplace? Consider the following:
5 reasons why 3D textured designs are hot
We're living in a 3D high-tech world today – 3D printing, 3D televisions, 3D pens and 3D objects of all types are growing at a breakneck pace.
Three dimensional products are easier to get and install – If you're looking to do a bedroom feature wall or a grout free shower system there are simple to install premade panels to make these projects a breeze to do.
Packing more style into smaller spaces – Given the increasing cost of land, permitting fees and a desire for simpler spaces – our homes for the first time in decades are getting smaller (the Mega-Mansions of the 2000's is dead). However, our homes are getting cooler with more function and style per square foot. 3D walls, ceilings, counters and enclosures are part of our desire for more "cool-factor."
Hide scratches – When a countertop or wall is smooth it's easy to see every little scratch. 3D textured building surfaces hide some ills which come from the beating your home "lives through." Not everyone in the family treats your home with TLC (if you've got teenage boys like me you know what I'm talking about).
Creating a focal point – Many people hire interior designers because they not only want colors and textures to work together, but they want to create an impression. You're looking for a wow when entering the room. 3D textured surfaces do this. They are an element which is not like surrounding walls, floors and counters. A featured wall. A backlight glass counter. An interesting ceiling. Something unique – which will cause people to ask you, "Where did you get that?"
Enough about the reasons why 3D walls are getting popular, strap onto your seat and check out these 5 cutting-edge ideas to add cool-factor into your home today:
Cutting edge 3D idea #1 – Glass, leathered and brushed quartzite countertops
The central gathering place in the home is your kitchen (it really is all about the food – isn't it?). Whether you're hosting a big party for family or friends for the holidays – or enjoying a meal around the island with your kids (when you can slow them down for a few minutes) – the kitchen is the hub of the house. While cabinets are obviously a key item in a kitchen remodel– your countertops can also make a big impact.
One idea would be to use a leathered quartzite top. This top has a honed finish which is textured with diamond tipped brushes. It is less likely to show scratches and etches from everyday life.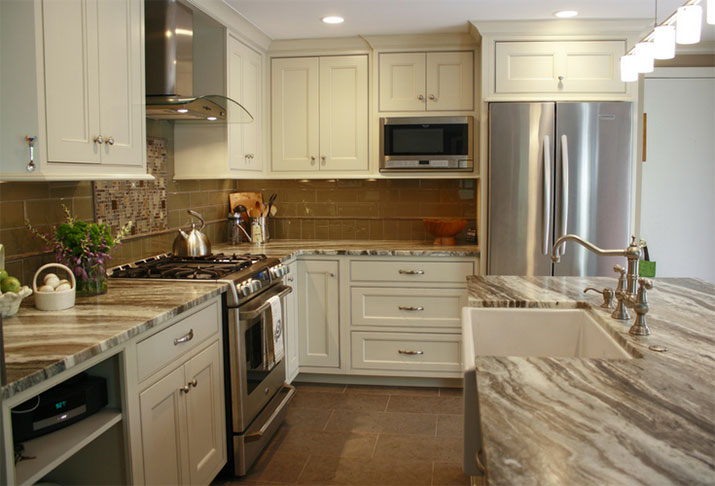 Source: www.stoneshop.com
A second idea is a cast glass countertop with LED lighting. This top not only gives a one of kind style with texture on the bottom surface of the glass – but in the evening, it can glow. How cool is that?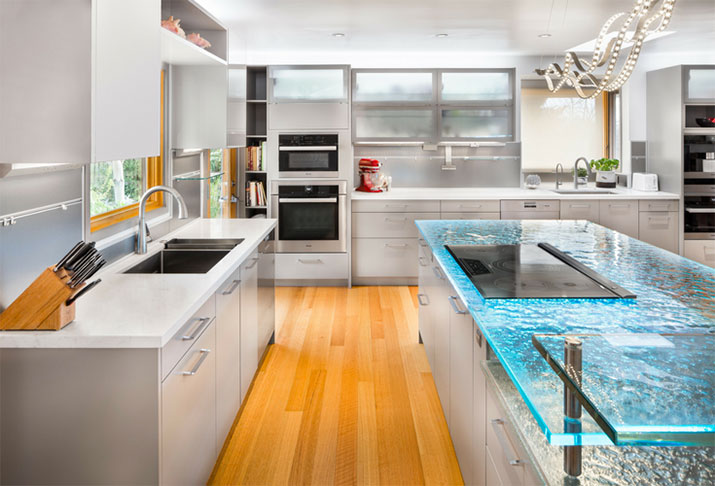 Cutting edge 3D idea #2 – Wood feature walls
There is no material which adds as much warmth to a room as wood. When you combine wood of different depths in the same wall you have an automatic focal point for a room. These feature walls are wonderful in a contemporary bedroom, a lofted seating area or even a rustic basement remodel. Since these wood feature walls are constructed in panels they are simple to install.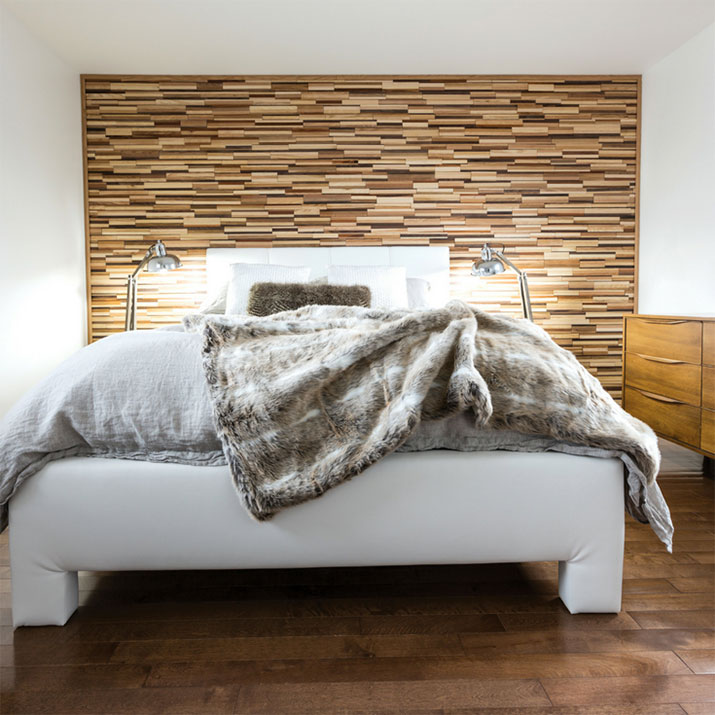 Cutting edge 3D idea #3 – Glass walls
When you think of glass, what do you think of? Windshield, house windows, glass table tops? These products use flat glass pieces (also called float glass in the industry). They can be tempered, laminated and even colored – but what they all have in common is they are flat.
Here's an idea which demands attention. 3D textured glass block walls. These blocks jut out with a pyramid or fluted shape.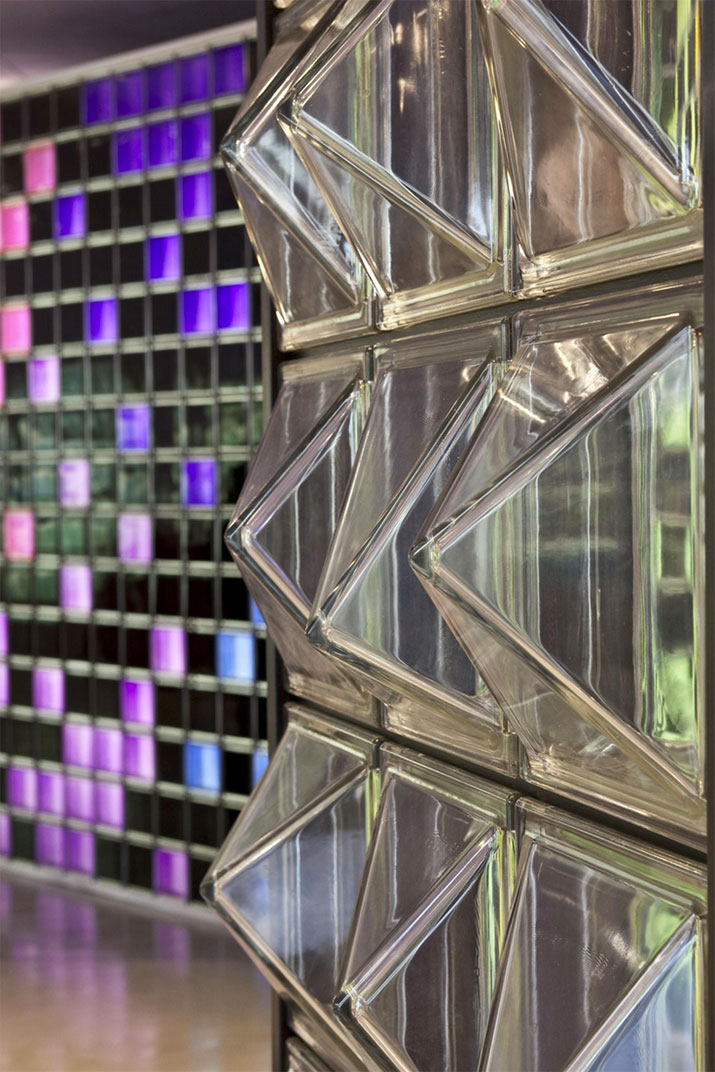 They do an excellent job moving light through interior spaces in a downtown loft or for a light-transmitting privacy wall between a bedroom and a bathroom. One thing you'll be certain of – is they will not look boring or blend into bland drywall walls!
Cutting edge 3D idea #4 – Ceiling tiles and panels
Most ceilings in homes are completely forgettable. Who pays attention to the same old same old popcorn stippled textures in most homes? Ceilings can make a statement and add warmth to a library, den, kitchen or basement remodel. These 2" x 2" panels create the look of a more expensive coffered ceiling at a fraction of the cost. They add an elegant finished touch and draw your eye up.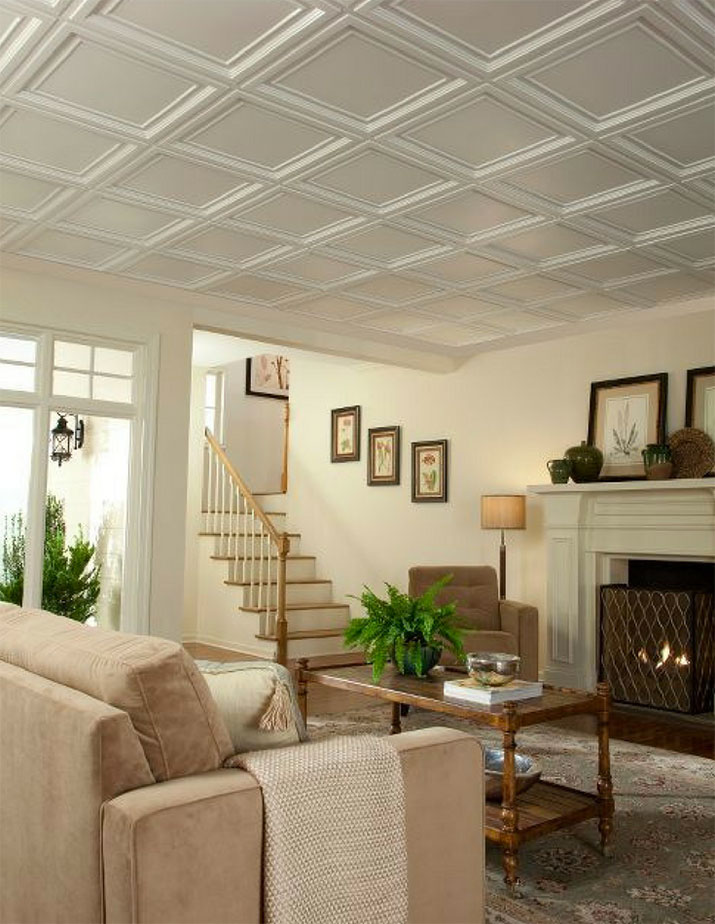 Source: www.armstrongceilings.com
Cutting edge 3D idea #5 – 3D textured shower and tub wall panels
When people think of shower panels the words which come to mind are – cheap, white, smooth and plastic. Not exactly what you're looking for in an upgraded new home or remodel (you might have lived through these cheap panels already because a builder slapped them in your first low-cost production home).
In most cases when people want a stylish shower they will choose tile. However, with tile comes its evil stepsister – grout. With grout comes your scrub brush and a ton of maintenance.
New lines of grout free shower wall panels are stylish and textured. You don't have to be embarrassed by your bathroom or have to deal with maintaining your tiled shower. There are tile patttern and faux stone shower walls which give you the benefit of a textured look – while eliminating maintenance.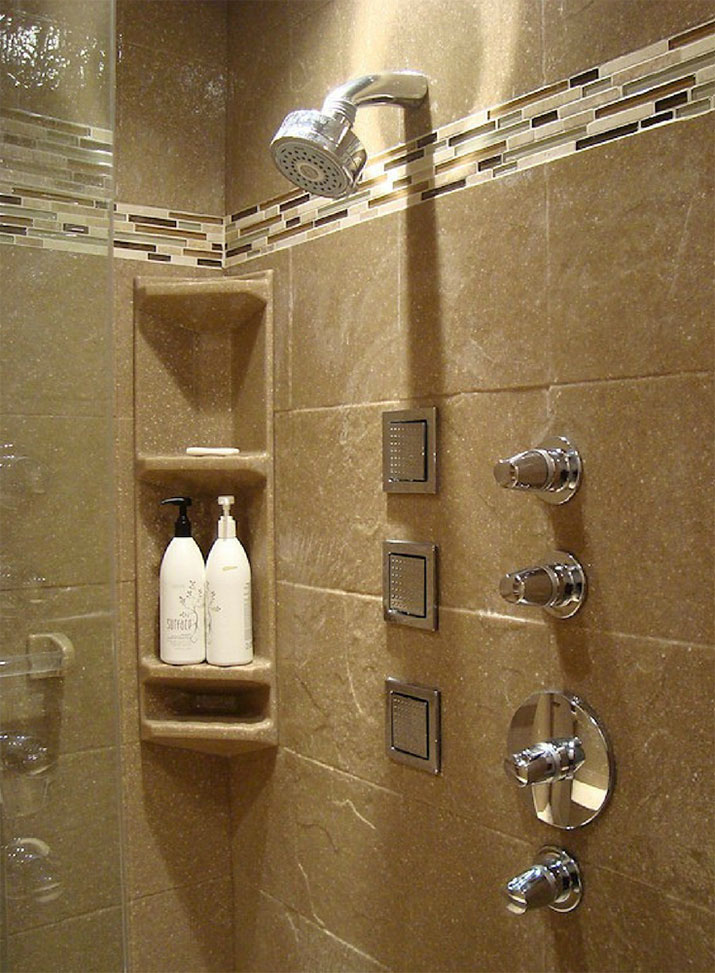 Conclusion
You've worked hard to upgrade your home so why settle for another generic kitchen, bathroom, rec room or living room? 3D textured walls, ceilings and countertops give you the special look you deserve and will have family and friends asking, "You've got to tell me where you got that!"
If you're looking for nationwide supply of 3D shower panels, glass block walls, or wood feature walls call Innovate Building Solutions nationwide at 877-668-5888 or in Columbus at 614-252-3242. For a Cleveland bathroom or kitchen remodeling project call Cleveland Design and Remodeling (216-658-1290).
Company: Innovate Building Solutions
Of: Mike Foti
Source: http://blog.innovatebuildingsolutions.com/2017/12/09/3d-textured-shower-glass-wood-wall-panels-countertops-partitions/
Tags: 3D | Home | Interior Design
---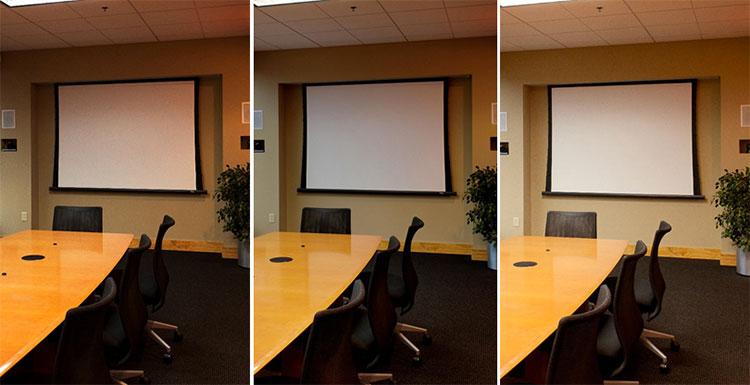 Over the past few years, the science of projection screens has made several major advances. Research and development of new methods and solutions have made the process of choosing a projection screen much different than it was just a few years ago.
To help architects and AV consultants keep up, Draper has released an updated version of our class on projection screen technology. Projection Screens 301: Updated Science of Projection Screens (PS301) contains the latest information on specifying the right screen solution.
The course objective is to provide a clear understanding of the various factors to consider when choosing a projection screen.
Among the factors taken into consideration are:
Content/Use of system
Seating Configuration
Ambient Light Levels
Room Dimensions
One of the biggest updates in screen science has been the ability to deal with ambient light conditions.
In the past, the majority of viewing surfaces had mostly diffuse reflection. These typically matte materials are best for extremely wide off-axis viewing, blending, and short throw projection. They reflect as much projected light as possible out to viewers at all angles. While this is great for spaces with low or no ambient light, if there is ambient light it will also be reflected out to viewers at all angles, "washing out" the image.
For a time, screen companies tackled ambient light with grey screens. While a grey tint can help improve contrast and absorb unwanted stray light scatter, it isn't a true ALR solution. Many grey screens are diffusive, so they are still reflecting ambient light to the viewers.
ALR surfaces are specular reflective. They reflect the projection light back to the viewers, but reflect off-axis ambient light away from the viewers. Most ambient light hits the surface and reflects at an opposite angle of incidence. For example, off-axis light at 65 degrees will mostly bounce 65 degrees in the opposite direction. The amount of light it reflects away from the viewer is dependent on the amount of reflective properties in the surface's formulation. The more specular reflective in performance, the better the ALR properties. However, this typically reduces off axis viewing performance. For instance, Draper offers screen surfaces that reflect 60%, 73%, and 82% of ambient light.
PS301 also covers contrast. Image contrast affects how well you can read, which means it affects detail and resolution. Low contrast reduces image detail and resolution, while high contrast increases detail and resolution. Image contrast is even more critical when the application involves high resolution graphics, medical imaging, control rooms, and CAD applications.
System contrast is an average of measurements of black at different locations on the screen, compared to white at different locations on the screen. This is measured in the existing lighting conditions of the application. Ambient light will affect the measurement of black. When measuring system contrast an ANSI checkerboard pattern is used.
Other subjects covered and updated include gain, hotspotting, throw distance, sizes, formats, and solution design using online calculators.
Updated Science of Projection Screens earns one AIA learning unit for architects, or one learning unit toward CTS renewal for those in the AV industry.
To learn more about all of Draper's continuing education offerings, and to register for in-house presentations, click here.
Company: Draper, Inc.
Product: Projection Screens
Source: http://blog.draperinc.com/2017/12/updated-projection-screen-science/
Tags: Audio Visual | Office
---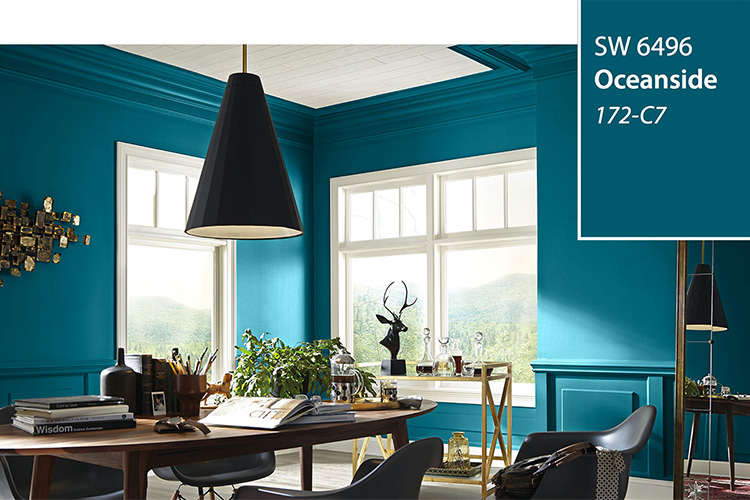 A collision of rich blue with jewel-toned green, a color that is both accessible and elusive, Oceanside SW 6496, is our 2018 Color of the Year. A complex, deep color that offers a sense of the familiar with a hint of the unknown, Oceanside, bridges together a harmonious balance of blues and greens that can be found in what's old and new.
The color blue evokes a multitude of moods and associations depending on hue, shade and application. Despite this variety, blues are universally perceived as intelligent, honest and interesting—making blue the most beloved color worldwide.
Oceanside's multi-dimensional, marine-inspired look can create a welcoming statement as a lively color for a front door. Its green-meets-blue tone can also boost creative thinking and clarity of thought in a home office, or invite meditation and introspection into a bedroom or reading nook.
Oceanside is universal when it comes to design style from mid-century modern to Mediterranean-inspired, traditional to contemporary.
Using the Sherwin-Williams ColorSnap® Visualizer, you can explore the Color of the Year and with the swipe of a finger see it on any wall.
Tag your Oceanside Twitter and Instagram posts with #SWCOLORLOVE or upload a photo.

#SWColorLove Terms of Use
2018 Key color combinations featuring Oceanside
Oceanside's versatility allows it to play well with many colors. It is a bright counterpart to equally eye-catching colors like Exuberant Pink SW 6840 or Honey Bees SW 9018 or it can rest relaxingly alongside other blues like In the Navy SW 9178 or Adrift SW 7608. It is also the ideal companion for corals and copper metallic tones because of its timeless association with nature.

Company: The Sherwin-Williams Company
Product: High Performance Architectural Coatings
Source: https://www.sherwin-williams.com/architects-specifiers-designers/inspiration/color-forecast/2018-color-forecast/2018-color-of-the-year-oceanside
Tags: Color | Design | Finishes
---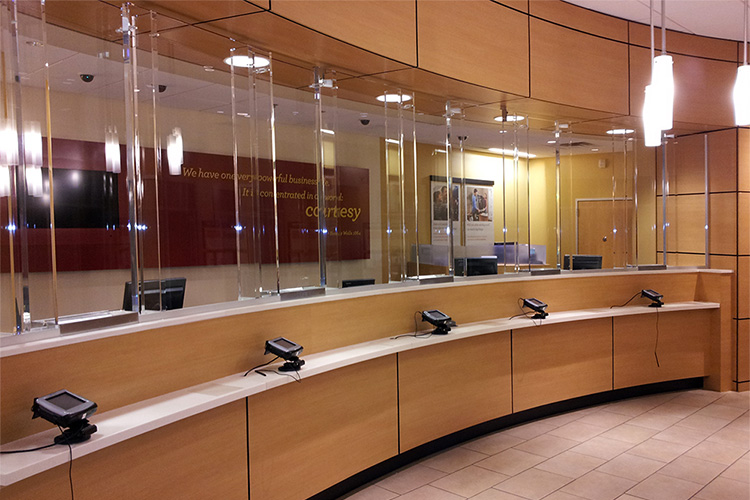 As 2017 draws to a close and we look forward to the promise of a new year, we thought it might be a perfect time to pause and reflect on something very important to us – the do's and don'ts of cleaning your bulletproof glass. While that might not make the top three on most people's list of resolutions for 2018, here's why it should. Bulletproof glass is an investment and at Total Security Solutions, we want to protect that investment. We know that more than bullets, the thing that most often spoils a beautiful, crystal-clear sheet of bullet proof glass is an unlikely culprit: Windex.
When bullet proof polycarbonate or acrylic are cut, drilled, or flame-polish, microscopic fractures form in the plastic. These are not visible to the naked eye, and are structurally inconsequential. "But Windex attacks the edges of those fractures," Jim Richards, CEO of Total Security Solutions explains, "and it will look like there's cracks going into the glass. It's what's called crazing, and it makes the material look terrible," even though it has no impact on the material's bullet resistance.
With proper maintenance, bulletproof glass will look great for years, but crazing creates a haze that penetrates the surface and according to Jim, "when it's done, it's done."
Another important tip, skip the paper towel! One downside of polycarbonates is that they are prone to scratches. This scratch potential is why you'll get a cleaning cloth with eyeglasses or sunglasses you purchase, and why computer and TV screens have special cleaning products as well. Should a scratch occur on your bulletproof glass, it can often be buffed out, but it's best to avoid them all together and stick to a soft cloth for cleaning.
Proper Care and Cleaning of Bullet Proof Glass
Gently dust with a soft lint-free cloth (like an old t-shirt).
Wash with a solution of warm water and mild soap or detergent, using a soft cloth or natural sponge. Keep the sponge sopping wet. Blot dry with clean soft cloth.
Remove grease and oil using hexane, kerosene, or naphtha, not aromatic compounds like benzene.
Surface scratches can be buffed out of acrylic by hand.
Polish acrylic or polycarbonate with quality commercial wax. This fills minor scratches, restoring the original smooth surface.
Never use paper towels on bullet proof glass.
Never use scouring compounds or abrasive cloth.
NEVER USE WINDEX®!
Company: Total Security Solutions Inc
Product: Bullet Resistant Barriers
Source: http://www.tssbulletproof.com/securing-bulletproof-glass-investment-2017/
Tags: Bullet Resistant | Security | Windows
---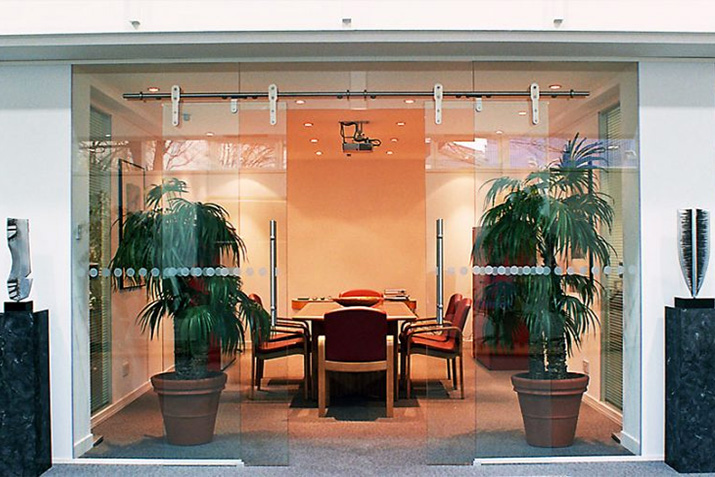 The typical point of entry into an interior environment tends to be simple, boring, and often mediocre. The primary purpose is to allow access, paying no attention to any crucial design attributes Avanti Eclipse sliding glass doors are a collection of quality Sliding Glass Door Systems that provide a contemporary solution to applying design and seamless flexibility.
Integrated Sliding Glass System
The Eclipse Sliding Glass Door incorporates a series of functional components, creating a unique system that fuses stainless steel hardware and single pane glass. This creates a simple sliding system that may be integrated with corresponding glass wall systems such as Elite or Solare Single Glazed. We also now carry the Eclipse Plus Sliding Glass Doors that functions with our Double Glazed Wall Systems. Eclipse utilizes a series of module and glass panel mounted stainless steel hardware components.
The Eclipse Sliding Glass Door system can be fixed on glass partitions and even solid walls. This provides a high degree of flexibility, creating practical solutions which satisfy specific requirements. This system provides a unique "floating" look, as the rollers glide on a track. Each Eclipse Sliding Glass Door System comes standard with a 4 Foot Stainless Steel Handle and includes other locking and pull options.
Single Elevation – Integrated with Solare Single Glazed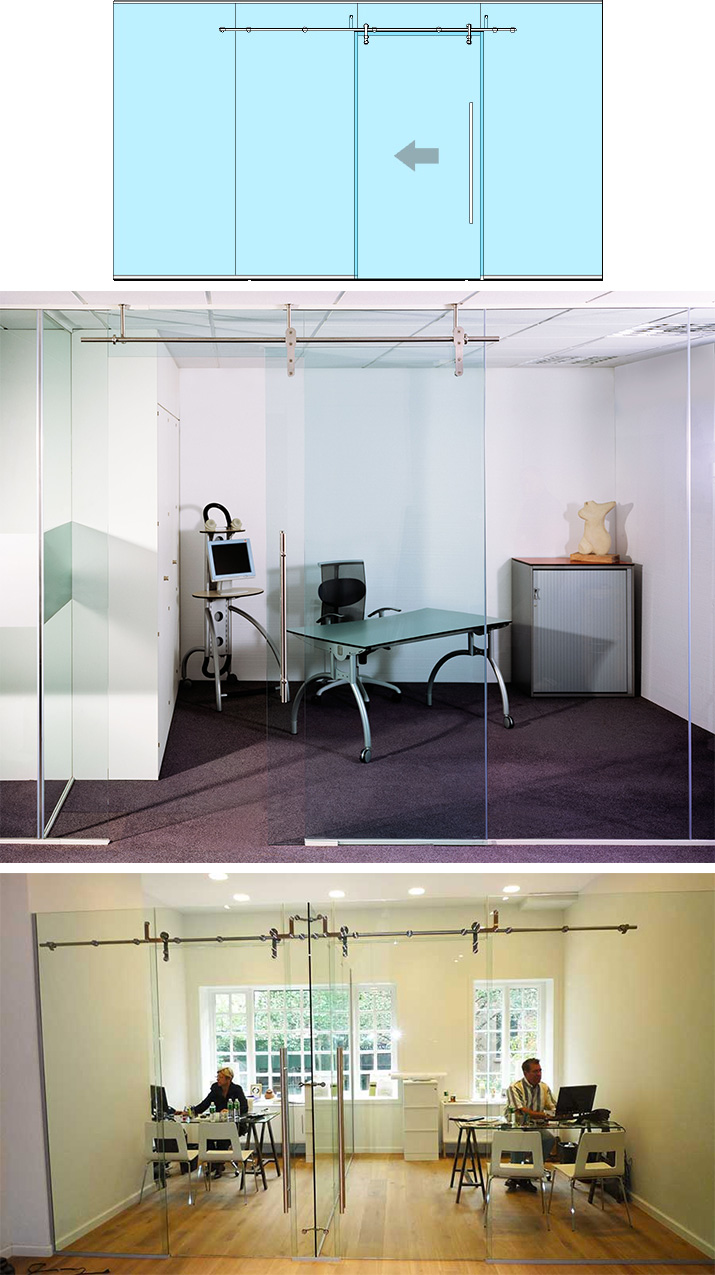 Pair Elevation (Barn Doors) – Integrated with Solare Single Glazed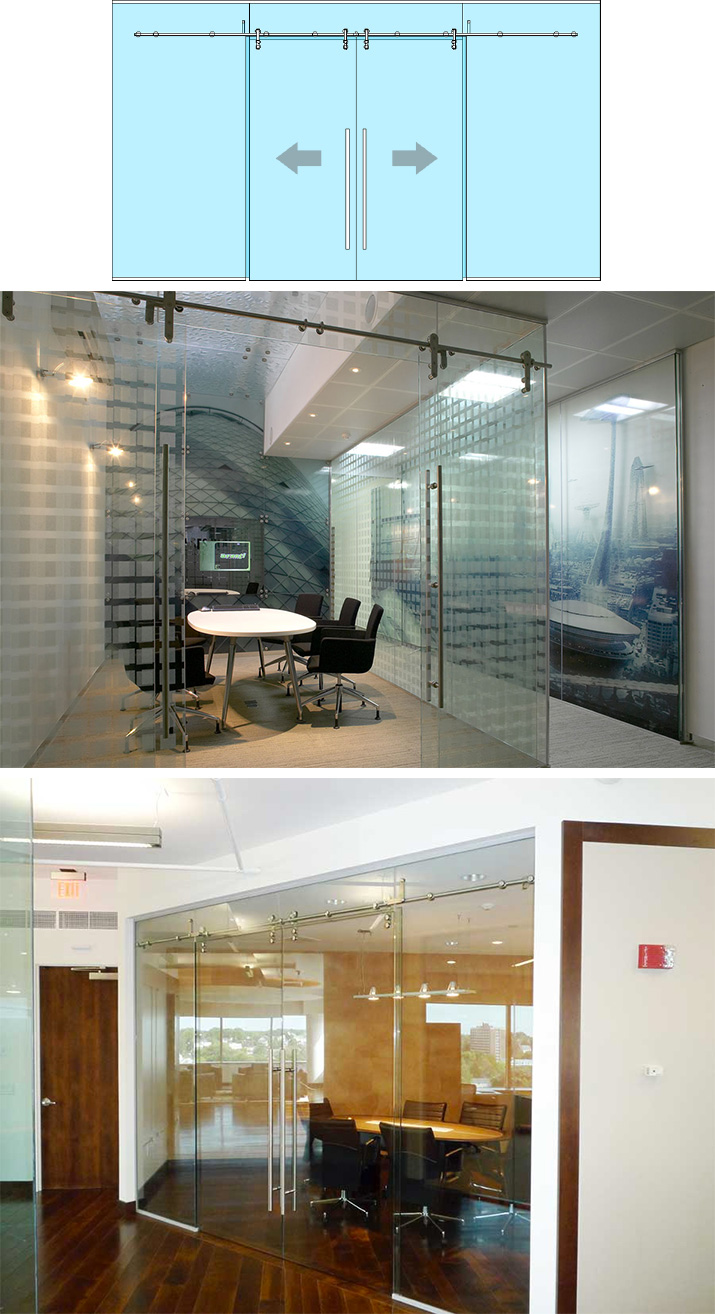 Assisted Close Glass Systems
Glide the Eclipse Sliding Glass Door System to the closed position and you will see a halo right before your eyes. This halo consists of a 1 1/2'' overlap at the top, left, and right of the system. The Eclipse Sliding Glass Door is a gateway to a translucent space, and is also a gateway to promoting a sustainable environment. Eclipse is compliant with LEED sections including recycled content, daylight and views, acoustic performance, and regional material.
Company: Avanti Systems USA
Product: Eclipse Standard Doors
Source: https://www.avantisystemsusa.com/sliding-glass-doors/
Tags: Acoustics | Doors | Glass | Interior Design | LEED Certification | Office
---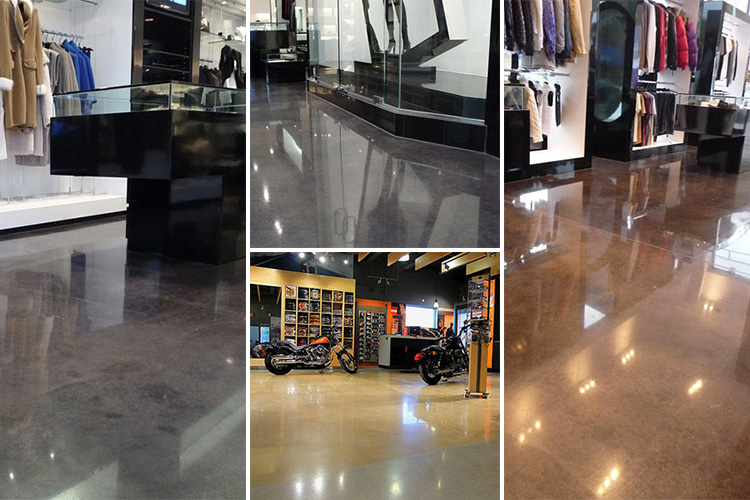 Polished concrete flooring is one of the hottest trends for homeowners and business owners alike. Thanks to recent advancements in equipment and technology, the process of polishing concrete is more efficient and economical than ever. Concrete surfaces, both old and new, can be polished to a high-luster finish. When compared to other types of flooring: marble, tile, linoleum, wood and coated concrete, polished concrete is more durable and better performing. Polished concrete never needs waxing and is therefore low maintenance as well.
Aesthetically pleasing, polished concrete flooring has a striking high-luster appearance. The exposure of aggregate in the substrate reveals beautiful textures and natural looking patterns. It can also be stained or colorized in some other way to achieve a one-of-a-kind look that resembles natural stone.
One of the keys to achieving a beautiful high-luster polished concrete floor is to obtain a less porous concrete substrate. This is the job of a product known as a concrete densifier or colloidal silica densifier. Concrete densifiers have been around for nearly 100 years and are specifically designed for this task.
Modern concrete densifiers contain microscopic colloidal silica particles suspended in a low-tension liquid. When the densifier is applied to concrete, it is immediately absorbed into the concrete's pores. The colloidal silica reacts with the soft calcium in the concrete. This reaction creates a new hard material that is not water-soluble and expands to fills the pores in the concrete. The newly hardened concrete will take a better polish and is more durable providing better abrasion resistance.
Hermetix Densifier is Duraamen's high performance concrete densifier product. It penetrates more deeply and reacts faster than other brands. Once applied, it starts working in 1-2 minutes. After the application there is nothing to broom off and nothing to dispose of. Hermetix is non-hazardous as well.
To obtain an ultra-high luster, it is recommended that a colloidal silica finishing conditioner is also applied to the finished floor. Hermetix Shield is Duraamen's protective finishing conditioner that further hardens the polished concrete by adding additional colloidal silica while helping to protect the finished floor with specifically engineered polymers.
Company: Duraamen Engineered Products Inc.
Product: Concrete Flooring: Concrete Densifier
Source: https://www.duraamen.com/p/polished-concrete/
Tags: Color | Concrete | Design | Finishes | Floor
---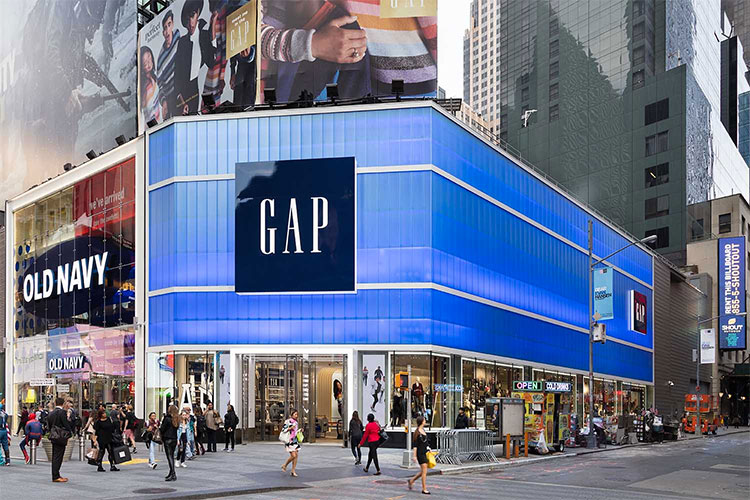 The Gap store in Times Square, NYC. The blue facade is EXTECH's LIGHTWALL 3440 translucent wall system coupled with custom-colored polycarbonate. Image by Vanni Archive Architectural Photography
The new Gap store in Times Square, NYC is clad in EXTECH's LIGHTWALL 3440. Nearly 5,000 square feet, the blue polycarbonate panels are a custom hue that matches Gap's color palette and was chosen based on polycarbonate samples provided by EXTECH. To ensure even light transmission, the facade utilizes specialized mounting clips that EXTECH developed and the panels are treated with an anti-glare coating that promotes balanced light filtration.
The LIGHTWALL 3440 polycarbonate wall panel system offers beauty, durability, and economy with vertical panels that can extend up to 54 feet long and eliminate leak-prone horizontal joints.
Translucent polycarbonate wall panels offer a host of benefits including energy savings via daylighting, outstanding insulating value, and elimination of leak-prone horizontal joints. LEED credits are also available for 100% recyclable polycarbonate and aluminum framing. The LIGHTWALL 3440 has provided façade solutions for a wide range of structures in a wide range of industries, and has been subjected to a complete battery of air, water, and structural testing to ensure it offers superior insulation, durability, and weather-tight performance.
Company: EXTECH/Exterior Technologies, Inc.
Product: Translucent Walls
Source: https://extechinc.com/lightwall-3440-gap-times-square-nyc/
Tags: Architecture | Color | Lighting | Wall Panels