architecture - engineering - construction

Tectum Panel Art has become wildly popular in the past year. Interested in seeing a sample? We'd be happy to send you one.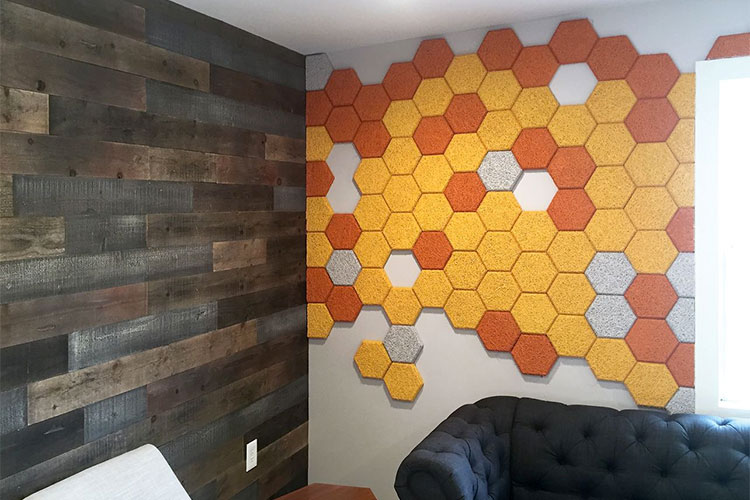 Tectum wall & ceiling panels: a perfect fit of durability, acoustics, and unique visuals
From a natural factory finish or white, to integration with Colorations colors (that's 13 standard colors) or made-to-order Sherwin-Williams® colors, TECTUM panels can coordinate or complement your color palette with the sizes, shapes, and forms that make your designs happen.
Toughness and acoustics are at the heart of TECTUM interior products, ideally suited to open spaces and high traffic, high impact areas. Panels can be attached directly to walls and ceilings in forms of panels, clouds, and square or curved. TECTUM linear hanging baffles give you even more design options.
Create a signature element in a space to complement your interior design. The possibilities are endless, the look is one-of-a-kind, and the acoustic properties of TECTUM panels can help quiet the space.
Key features
Durable for heavy-use interiors
Sound absorption (NRC) values up to 1.0
Great acoustical retrofit solution
Color options include standard, Colorations colors, and custom Sherwin-Williams colors
Contributes to LEED credit areas including FSC certified wood
Attach to a variety of ceiling substrates
Easy to install
Special applications
Gymnasiums
Auditoriums
Multi-purpose Spaces
Acoustical Retrofits
Exposed Structures
Education Spaces
Company: Tectum Inc.
Product: Interior Wall Panels
Source: https://www.armstrongceilings.com/commercial/en-us/articles/tectum-part-of-armstrong-portfolio.html
Tags: Acoustics | Color | Interior Design | Wall Panels
---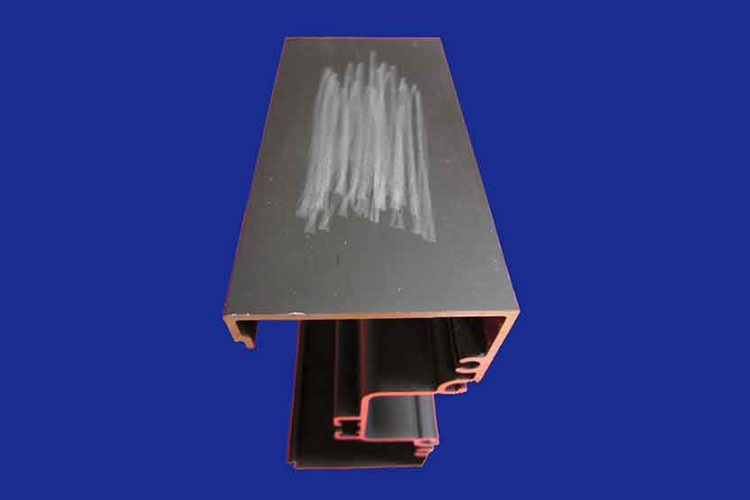 When extreme hardness is required for aluminum building components, such as in high-traffic areas, like entranceways and railings, an AAMA 611-14 anodized aluminum finish should be specified.
The hardness of anodized aluminum rivals that of the diamond.
This "Nickel Test" demonstrates why a Class I high-performance anodize coating is the perfect choice for exterior architectural applications.
LINETEC'S ANODIZE
Architectural Class I Anodize
Class I anodize is used on the exterior of architectural projects. It has a higher mil thickness than Class II anodize; it is more resistant to salt spray and the sea coast; and it is more durable in high traffic areas.
Class I anodize, with a minimum mill thickness of 0.7 (18 microns), can be a suitable choice for coastal climates as it possesses exceptional resistance to corrosion, discoloration and wear; however, its natural beauty can be marred by harsh chemicals, rough conditions or neglect. These conditions may only affect the surface finish and not reduce the service life of the aluminum, but mortar, cement, and other alkaline materials will quickly corrode an anodize finish if allowed to dry on the metal surface.
Class I anodize meets or exceeds all requirement of AAMA 611 "Voluntary Specification for Anodized Architectural Aluminum.
Linetec utilizes a more eco-friendly etching method within the anodizing process. Eco friendly anodize improves the finishes ability to hide small defects in the the aluminum and works exceptionally well with recycled billet. ;
Read more
Copper anodize offers the look of rich, real copper without such shortcomings as salt run-off stains, galvanic corrosion and patina. This unique and consistent process involves using actual copper to color the aluminum while isolating the copper in the coating.
Read more
Company: Linetec
Product: Anodizing
Source: https://linetec-blog.com/2017/08/16/anodize-nickel-test/
Tags: Aluminum | Coating | Exterior Design | Metal
---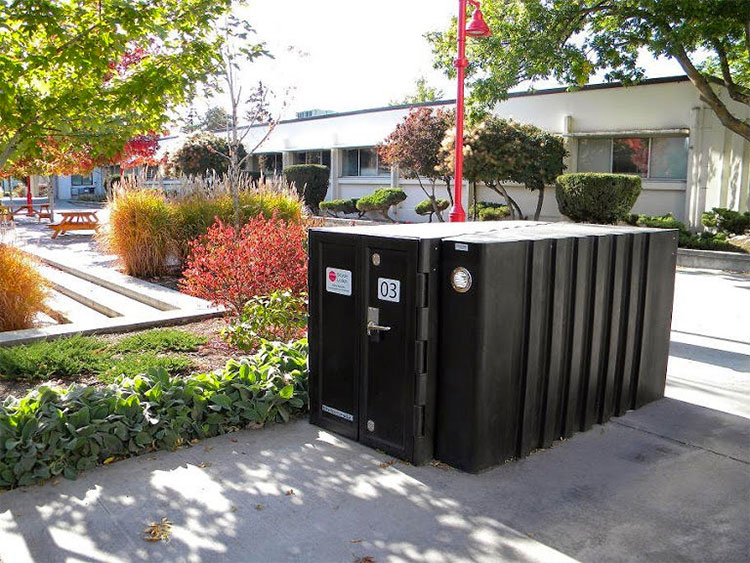 Bicycle lockers offer ideal protection against weathering and thieves
Keep your bicycles safe from thieves—and other threats you may not have considered
Because of the health benefits and cost savings it provides, cycling continues to grow as a form of transportation. But as the number commuters who cycle increases, so too does the demand for secure bike parking. Providing safe options will increase traffic to your location, but there are a lot of considerations to make when choosing what form is right for your building. Whether you are managing a business park, apartment complex, or office tower, you must recognize the vulnerabilities present at your site. There are more threats than just thieves out there, and in many situations, providing the optimal level of security will require more than a traditional bike rack can offer.
When deciding on the appropriate level of bike security required, the first questions that should be asked are how long the bikes need to be stored for and how frequently they will have eyes on them. These two questions address the two potential threats to bicycle security most commonly forgotten when deciding what type of bike storage unit to install: the elements and vandalism.
Damp weather can quickly wear at a bike's mechanisms and finish, and bikes stored in areas not regularly frequented are not only more likely stolen but also defaced. This means in high-traffic areas where bicycles are only secured for a few minutes at a time, like a store front, a traditional bike rack will provide an adequate level of security. But in isolated areas where bicycles are stored for long periods of time out of public view, such as schools, gyms, transit terminals, and theatres, a higher level of protection is recommended.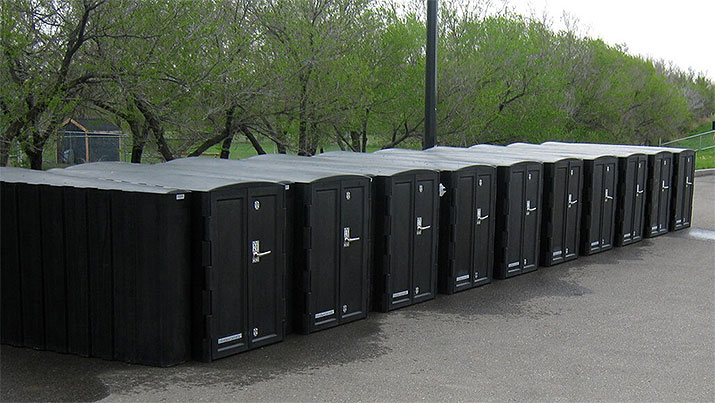 The wedge-shaped design allows individual bike locker units to fit together easily.
A fully enclosed bike parking infrastructure is best for these settings; bike lockers offer the optimal level of security. A bike locker is a compact and durable storage unit with box-like construction that prohibits contact from would-be thieves and vandals. Bike lockers can be considered "mini garages" for bicycles and they providepeace of mind in ways a standard bike rack cannot. Many models are also designed to prevent moisture entering. Most models feature a solid door-locking mechanism and feature enough room to protect additional equipment such as helmets, lights, water bottles, and pannier bags.
While bike lockers have been popular in urban cities across Europe and parts of Asia for some time, the market has just started to grow in North America. Bike lockers are now available in many designs, ranging from the rectangular box-type, to the triangle-shaped type, where the widest part accommodates the bicycle's handlebars. Many designs also feature components that allow multiple lockers to be formed into a modular arrangement.
Installation requires very little in terms of mechanical ability, and if a concrete base or footing is available, it can usually be completed within minutes. Bike lockers are generally held in place with washers and bolts that pass through the locker's floor and into a concrete anchor that sits in a hole drilled into the concrete base or footing. In most cases, all that is required to secure a bike locker is a drill with masonry bit and a wrench to tighten the lug bolts. Bike locker maintenance is also very easy. Polyethylene units can endure any weather nature throws their way with minimal wear-and-tear to the bike locker. Both plastic and powder-coated metal units can usually be cleaned with only warm soap and water.
Bike lockers are not only good for people and the environment, but they are good for business. They do require a more substantial initial investment than traditional bike racks, but the peace-of-mind security they provide also attracts the business cyclists. Some facility managers have even offset the initial purchase cost of bike lockers by renting the units.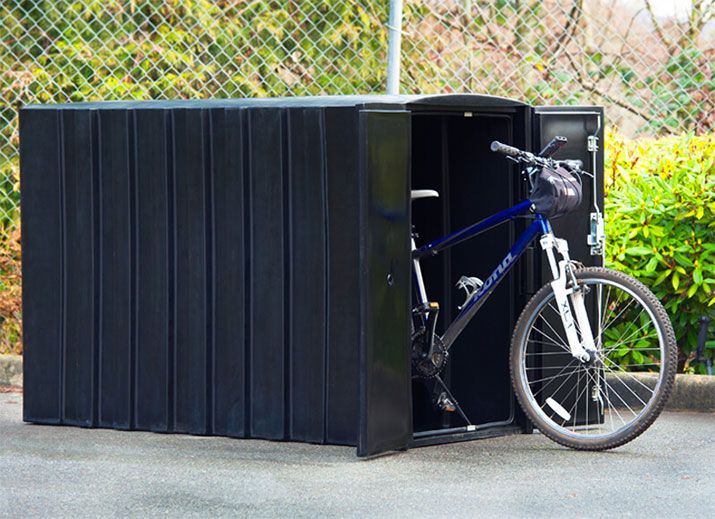 These low-maintenance bicycle lockers are made with low-density durable polyethylene.
As the urban landscape changes and an increasing number of urbanites eschew driving a vehicle in favour of a bicycle, the demand for storage solutions that are both weather and vandal proof will continue to grow. Traditional racks may be the right solution for many applications but many vulnerable areas require the increased level of protection that can only be provided by bike lockers. Keeping building occupants happy, easing vehicle parking demand, and preventing property damage will require the correct decision by facility managers.
Company: Reliance Foundry Co. Ltd.
Product: Bike Lockers
Source: http://www.reliance-foundry.com/
Tags: Exterior Design | Furniture | Landscape Design | Safety
---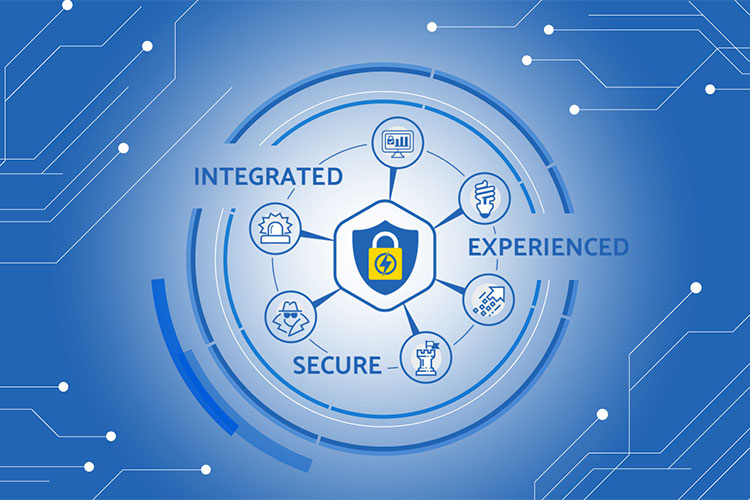 Accuride Integrated Access Solutions: The New Frontier of Access Control
While known for premium drawer slides, Accuride is also a major leader in access control solutions. Our electronic locking systems are found in many cabinet-level applications, from medical carts to inventory systems, and in countless industries, from automotive to healthcare.
Accuride Integrated Access Solutions (AIAS) feature "Intelligent Subversion Protection": multi-sensor systems that utilize onboard logic and two-way communication. These advanced systems verify that an application, such as a parcel locker or a CSA schedule drug cart, is truly secure.
Better still: Accuride access solutions are energy-efficient, silent, and emit little heat.
An Adaptable Solution

Another great aspect of Accuride Integrated Access Solutions is their adaptability. Each solution is tailored to fit a customer's needs, fitting all sorts of ancillary systems: RFID, biometric, keypad, retinal scanning, etc.
We've found our customers often need their solutions to comply with strict standards and certifications, such as those from the FDA, FAA, and HIPPA. Luckily, Accuride's global team of specialists are thoroughly experienced in compliance.
A Compact Wonder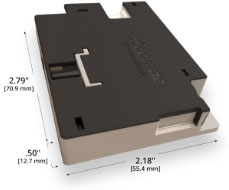 Cutting-edge electronic locks are a key component of Accuride Integrated Access Solutions. Each e-lock is the embodiment of efficiency, utilizing a lean, compact, low-profile design and consuming no more than 50mA per 200mS on 12v of power.
Don't let their size fool you: Accuride e-locks can resist hundreds of pounds of break-force.
Subtlety is Key
Another key aspect of Accuride Integrated Access Solutions is their subtlety. Each solution is meant to become part of the application, not an addition to it. Whether that application is a DNA analysis machine or a tool checking system, each Accuride solution works as part of the core design.
Download FREE Case Study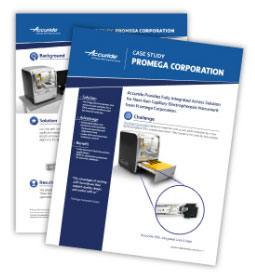 Learn how Accuride brought a new measure of access control and efficiency to a Next-Gen medical system
That's because Accuride engineers work closely with partners to achieve that seamless integration. From the conceptual stage to final production, Accuride technicians are there to make sure everything works flawlessly.
For more on Accuride Integrated Access Solutions, visit our dedicated page and speak to one of our experts today.
Company: Accuride International
Source: https://www.accuride.com/blog/access-control/accuride-integrated-access-solutions-the-new-frontier-of-access-control/
Tags: Access Control | Furniture | Interior Design | Management | Office | Safety
---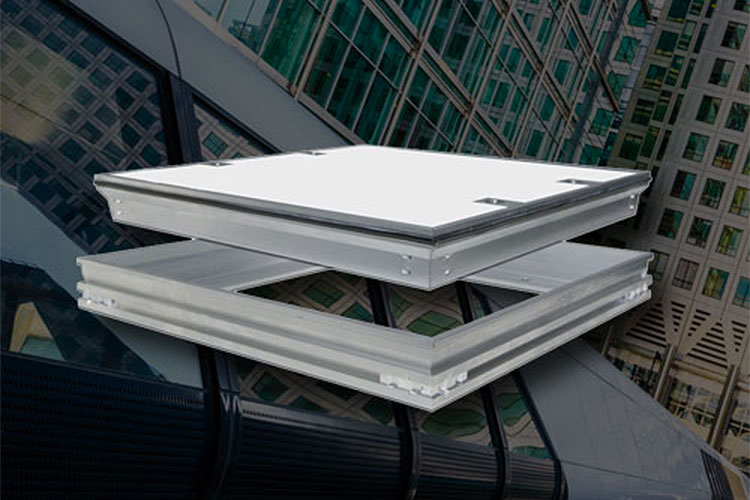 When it comes to solving the problem of accessing concealed services under floors, behind walls or above ceilings there are an abundance of products on the market that could do the job. However, if your requirement is for a quality access cover or panel that will provide quick and easy access to concealed services safely then those 'cheap' foreign imports are unlikely to make the grade!
In the world of construction the old adage, 'You get what you pay for' definitely rings true. Of course the majority of building services professionals involved in the specification process clearly understand that principle. A building component, such as an access cover, is just one of hundreds of constituent parts that make up a building. However insignificant the component to the overall structure it still has to possess certain attributes, satisfy stringent criteria and integrate positively with the other products being used.
As a busy architect or specifier how do you determine the best solution to the access scenario in your particular project?
PERFORMANCE
The level of performance required from an access cover is generally dictated by the type of environment where the concealed services are to be located.
Is it internal or external?
Loading requirement - will it be used by pedestrian traffic only or vehicular traffic?
Is access required frequently or just occasionally?
What size of aperture is needed to access the concealed services?
What type of material will cover the services?
How important is security?
At Howe Green we offer a wide range of floor, wall and ceiling access solutions designed to satisfy all of these performance criteria.
Need a single access panel for emergency access to a stopcock in a ceramic tiled bathroom wall? Or a duct run of floor access covers for regular maintenance of underfloor drainage systems beneath vinyl flooring in a hospital?
Whatever your performance specification Howe Green can provide the solution.
AESTHETICS
Whether you are working on a new build or refurbishment project the impact that an access solution has on the overall look and feel of the building is a consideration for the vast majority of projects.
By using the latest CNC and CAD technology access covers can be precision engineered to your exact specification. A perfectly sized access cover removes any hassle from the installation process and ensures that the cover fits seamlessly into the flooring, reducing the risk of slips and trips.
With options available for all types of hard floor finishes and the Visedge flexible floor access cover, Howe Green can be specified whatever the flooring finish.
STANDARD OR BESPOKE?
Many of the projects that cross your desk may well require a standard size access solution. At Howe Green standard size floor, wall and ceiling covers are available to order from stock, ensuring a speedy delivery to site when required.
Other projects may require a bespoke solution. This is where over 35 years of experience combined with continual investment in equipment, technology and processes ensures that whatever bespoke solution is required it can be supplied. If you need to specify a custom size, loading or finish Howe Green can accommodate your requirements without cost or time penalty.
MAKING THE DECISION
Whether you have most of the knowledge and information you need to prepare your specification or you are looking at our product ranges from scratch, the team at Howe Green are available to help.
The quality and performance of our products, flexibility of our service and the expertise of the team is what sets Howe Green access covers apart from our competition. Architects, specifiers, building engineers, flooring and tiling specialists and contractors have put their trust in Howe Green to deliver a tried and tested access solution since 1983.
If you are looking for an access solution to concealed services look no further than the industry standard and you will soon discover that "Not all Access Covers are created equal".
For more information about any of our products or for assistance with your specification please call 01920 463 230, we are always happy to help.
Company: Howe Green US
Source: https://www.howegreen.com/howe-green/news/not-all-access-covers-created-equal.php
Tags: Access Covers | Design | Safety | Security
---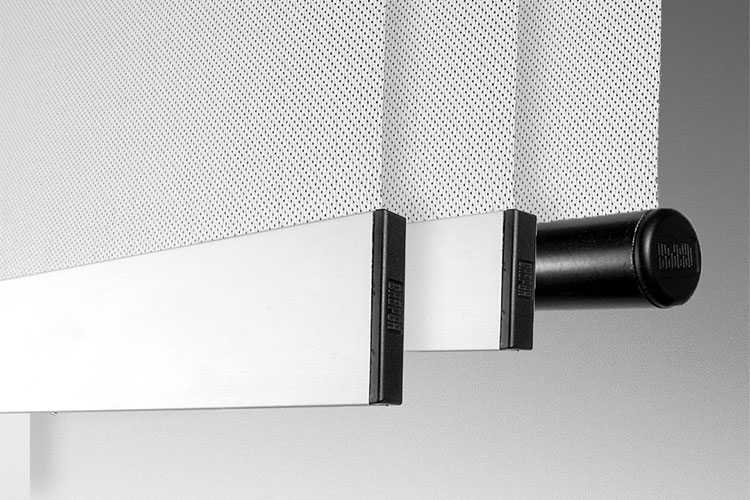 Draper's exposed hem bar options
Sometimes the smallest detail can make a huge difference in our perception of interior design—even something as small as the pocket and hem bar on window shades. That's why we have a hem bar solution for every design need.
Since introducing Draper's shade line at the 2016 CEDIA Expo, reaction has been overwhelmingly positive. But one comment we've noticed on occasion is that our standard hem bar option has too much of an "industrial" look.
Truth be told, we have several options to choose from. Yes, we have some options that have a more industrial look, but whatever your personal design preference, Draper has a hem bar solution for you.
Our standard hem bar is low profile, and designed to blend in with the shade. We'll provide it with a 1″ elliptical slat inside the 1-5/8″ heat seamed pocket, with heat sealed ends, or with open pocket ends and decorative end caps on the hem bar. These options do look more "industrial" to some of our dealers—especially on the residential side. These are often found in commercial settings.
If you want the hem bar to be a more visible and elegant part of your design, we also have three options for exposed hem bars:
A 1-1/2 inch x 5/16 inch rectangular hem bar with end caps. A
A 7/8 x 5/16 inch version that brings the same clean look in a smaller package to residential and well-designed commercial applications.
A ¾ inch round hem bar with end caps for another elegant alternative.
All three of these options are available in our five standard colors. For an upgrade, we can provide custom powder coat.
These hem bar options give our dealers a wider variety of cosmetic choices, so our shades can better compliment many various room styles. There is also a functional benefit when using a shade with side channels. With the open hem pocket or flat hem bar, the fabric and hem bars are the same width, allowing more bar to travel in the side channel.
These hem bar options are available on Draper Motorized, Clutch, Clutch XD, and Techmatic FlexShades. They are not available on Spring Roller or Bottom-Up FlexShades.
Click here for more information on our shades, and all the various options to give them that special look you want..
Company: Draper, Inc.
Product: Window Shades
Of: Amy Madden
Source: http://blog.draperinc.com/2017/08/little-things-make-a-big-difference/
Tags: Design | Window Shades
---
Simple tips to help you improve your understanding of color performance in the paint — ultimately allowing you to deliver more accurate, consistent hues to your clients' projects.
When creating a specification, how can you ensure the color sample you're using will ultimately match the final tinted paint?
How can you be confident the color in the first gallon of paint applied on a job site matches the final gallon applied?
How can you get custom color matches to be as true as possible to the swatch or sample you're working from?
The answers to all of these questions come down to two things: color accuracy and color consistency. They're two sides of the same coin, and knowing the right things to look for from your paint and coatings provider is the best way to ensure you can deliver color excellence to your clients.
"First of all, you want to be sure you're working with paint products, colors and color formulas that are all designed to work as an integrated system," says Sue Wadden, director of color marketing at Sherwin-Williams.
For example, color formulas should be programmed to flex subtly and precisely depending on the product and finish combination you specify, ensuring the most accurate color result in the final tinted paint.
Another tip: Avoid working with paint providers that use third-party manufacturing.
"The paint manufacturer should control its own manufacturing and quality," says Steve Revnew, senior vice president of product innovation at Sherwin-Williams. "That includes the colorant it uses to tint its paint."
When paint providers turn to third parties to manufacture base products or colorants, the color results in the final tinted paint can show wider variances.
Ultimately, color accuracy and consistency are a lot like cooking: Success depends on trained experts and repeatable systems. When you work with a paint and coatings provider that has the human and technical expertise to manage color accuracy and consistency at every stage — product design, quality manufacturing, color formula management, final tinting — you radically reduce the possibility of color issues on the job site.
"Ask a contractor," Revnew says. "They're the ones who have experience with gallon-to-gallon color consistency and reliable color touchups."
ColorSnap Precision
When you specify Sherwin-Williams, your designs are powered by ColorSnap® Precision, our exclusive system for ensuring exceptional color accuracy and consistency in the paint.
ColorSnap provides you with:
Color samples engineered to match the final tinted paint
Paints and colorants designed as an interlocked system
Consistent gallon-to-gallon color delivery via our 4,000-plus locations
State-of-the-art technology to precision match custom colors
Real-time color formula updates
To learn more, contact your local Designer or Architectural Account Executive, or call our Information Line at 800-321-8194.
ColorSnap color selection tools are available both online and in-store. Visit swcolorsnap.com to learn more.
Company: The Sherwin-Williams Company
Source: https://www.sherwin-williams.com/architects-specifiers-designers/inspiration/stir/sw-art-stir-cs-precision
Tags: Coating | Color | Design | Finishes
---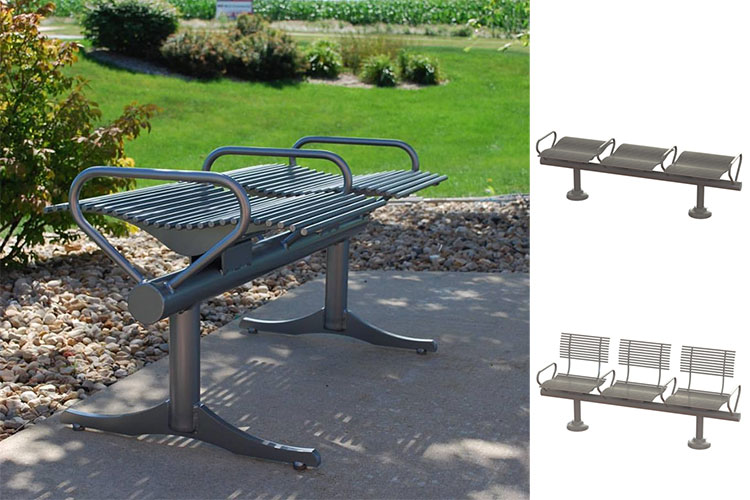 If you're looking for comfortable, durable, and beautiful seating, look to Thomas Steele for a wide selection of handcrafted outdoor benches. Pick the perfect piece for your project from a variety of styles, finishes, and customization options. Browse our current selection of commercial and outdoor park benches, or contact a Thomas Steele site furnishings expert at 608-849-1080 or at sales@thomas-steele.com with your questions and unique design needs.
Volare modular benches in addition with the modular tables will create several unique seating arrangements. The modular benches are available with 1, 2, 3, or 4 seats. Volare is constructed of 5/8" round steel rod. The frame is made with 3" Steel Tube with all welded construction. The bench is available with three installation methods: free standing, in-ground, and surface mount.
Volare flat benches in addition with the modular tables will create several unique seating arrangements. The benches are available with 1, 2, 3, or 4 seats. Volare is constructed of 5/8" round steel rod. The frame is made with 3" Steel Tube with all welded construction. The bench is available with three installation methods: free standing, in-ground, and surface mount.
Company: Thomas Steele
Product: Benches
Source: http://www.thomas-steele.com/ShopSiteFurnishings/Benches/tabid/212/ProductID/77/Default.aspx
Tags: Furniture | Landscape Design | Metal
---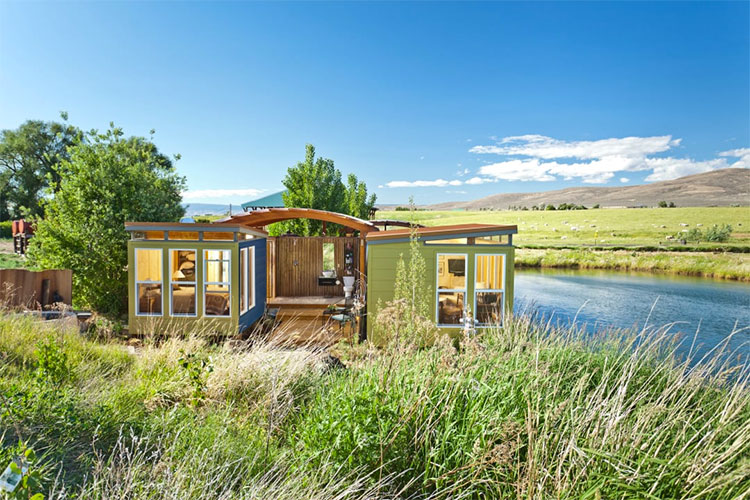 These two sheds showcase the outdoor beauty of ellensburg, washington. The shed on the left serves as a bedroom and the one on the right is a living room, both designed by modern shed.
As the trend to downsize picks up speed, vertical and lap siding from AIA partner James Hardie has the look, efficiency, and durability to fit right into a tiny design
After years of buying bigger homes, the trend to downsize is picking up speed. You can see it in the tiny house communities across the United States, the slew of reality TV shows on the subject, and an increase in the number of architects specializing in tiny living spaces.
In 2013, the average new house size was 2,598 square feet, 41 percent larger than the average new house size in 1973—and those homes were filled with more family members. Just four years later, the zeitgeist steers toward scaling down on square footage, which includes benefits such as reduced cost and environmental impact. Tiny homes, which typically range from 100-400 square feet, produce about 2,000 pounds of CO2 emissions each year as compared to the 28,000 pounds produced by an average-sized home.
Architects designing for small living spaces, including Ryan Smith of Modern Shed, focus on creating a mixed-use space with a stripped back aesthetic that relates to its surroundings in a big way.
"We design to solve needs for space," Smith says. "Sometimes singular use, sometimes a full home." Smith has designed hundreds of customizable sheds that have served as summer homes, winter cabins, offices, meditation rooms, a Seattle Seahawks-colored man-cave, even a sound-resistant recording studio and a sauna.
His structures are panelized and completely adaptable for the client's needs. All components—the doors, windows and roofing—are all designed and made under one roof, as part of a streamlined and efficient system. Any leftover materials roll into the next shed, which means hardly any scraps, Smith says. Everything else is used as firewood to heat the space.
"There's a wonderful modularity and flexibility around the structure itself," Smith says.
The panels can be carried into and around tight spaces, like between your house and your fence, for fast backyard assembly, or can be completely dismantled and reassembled in a new location.
"You can literally take it apart. So if you wanted to make modifications to it, you can pull the puzzle pieces off," Smith says.
Smith uses HardiePanel vertical siding and HardiePlank lap siding because they feels right for the design of the structure, and they're durable and energy conscious, he says.
When it comes to designing sustainably, modular construction is an interesting way to save it and use it again, Smith says. Small structures like these can have a different lifespan than a larger home.
One project in Central Washington [pictured above] combined two Modern Sheds to create one summer compound for working farmers. The space on the left side—tucked into the hillside with a wall of windows—is the bedroom, and the structure on the right—with a standout water view—is a living space with an office and a living/dining room. The center of the home is the outdoor kitchen, connected and covered by a pergola with a sky-view polycarbonate protection but wall-less and open to interact with the outdoors. Because the spaces are so small, the windows help to heat and light the indoor rooms, which makes having a tiny footprint simple.
"Living small doesn't mean you have to sacrifice," Smith adds. "Quite the opposite, if you do it right. Living small could mean what's left is the most important part of the experience."
The AIA does not sponsor or endorse any enterprise, whether public or private, operated for profit. Further, no AIA officer, director, committee member, or employee, or any of its component organizations in his or her official capacity, is permitted to approve, sponsor, endorse, or do anything that may be deemed or construed to be an approval, sponsorship, or endorsement of any material of construction or any method or manner of handling, using, distributing, or dealing in any material or product.
Company: AIA (American Institute of Architects)
Of: James Hardie Building Products
Source: https://www.aia.org/articles/141631-sustainable-and-small-the-tiny-house-moveme
Tags: Architecture | Building | Design
---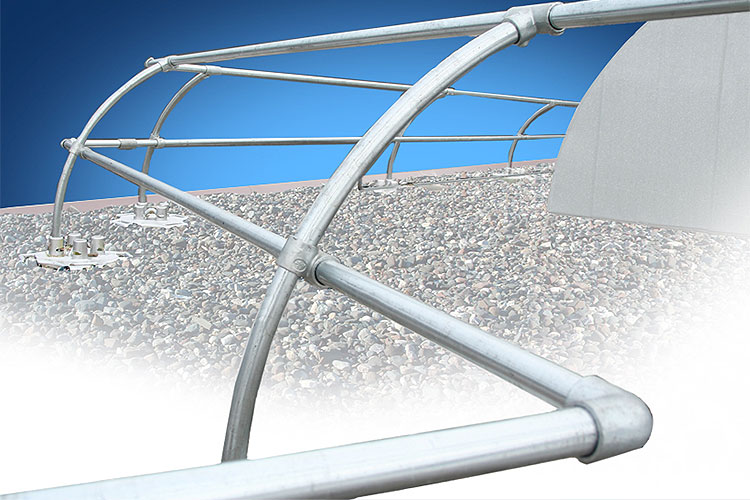 The BlueWater Architectural Series combines our OSHA compliant non-penetrating guardrail system with an aesthetically pleasing architectural appeal. Full protection with visual appeal. Optional Straight and Incline Stanchions available.
The Architectural Series combines our non-penetrating guardrail system with an architectural appeal for those applications where appearance of the railing is important. The Architectural Series has a pleasing sightline and can enhance the overall appearance of your building while maintaining a fall protection barrier around the roof edge that meets OSHA Regulations. Since the Architectural Series utilizes the same patented, non-penetrating base as the SafetyRail 2000, your roof system will maintain its integrity and not be compromised by having to penetrate the roof surface for installation. The Architectural Series is ideal for new building construction, adding passive fall protection to an existing building or as an addition to existing guardrails.
More pleasing sightlines
No holes need to be drilled
Three uprights available: Curved, Incline or Straight
Meets and exceeds OSHA Regulations for Fall Protection
No intermediate counterweights required
Up to 10 foot spacing between uprights
Special orders for powder coated rail sections
Custom engineering / manufacturing available for special applications
Architectural Series has been tested by a nationally-known engineering firm and found to be in accordance with OSHA regulations
These regulations are in fall protection for guardrail; sections 1910.23 and sections 1926.500 -1926.503
Company: BlueWater Mfg
Product: SafetyRail 2000 Architectural Series
Source: http://bluewater-mfg.com/product/safetyrail-2000-architectural-series/
Tags: Design | Railing System | Roof | Safety
---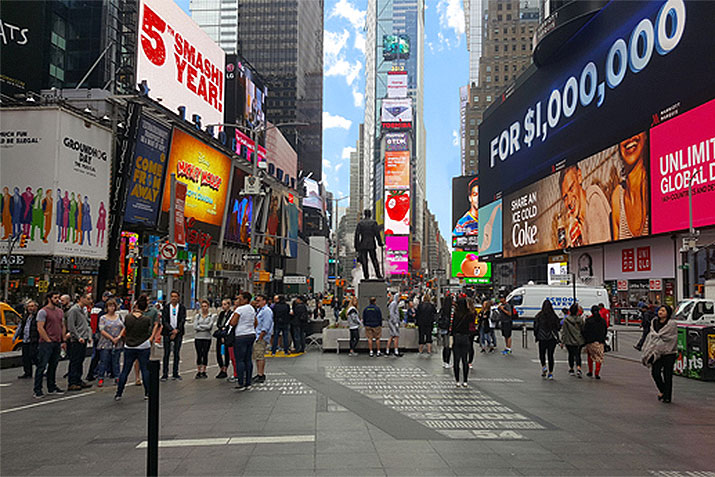 The situation
The presence of Broadway began in 1750, and has since shaped the essential character of New York City. Spotlight on Broadway is a multimedia project of NYC's Mayor's Office of Media & Entertainment located in the heart of Times Square. The project celebrates the unique charm and incredible legacy of Broadway and its forty theaters. It displays an in-ground map, made out of steel and granite, allowing visitors to engage and visualize the density of the world's largest and most recognized theater district.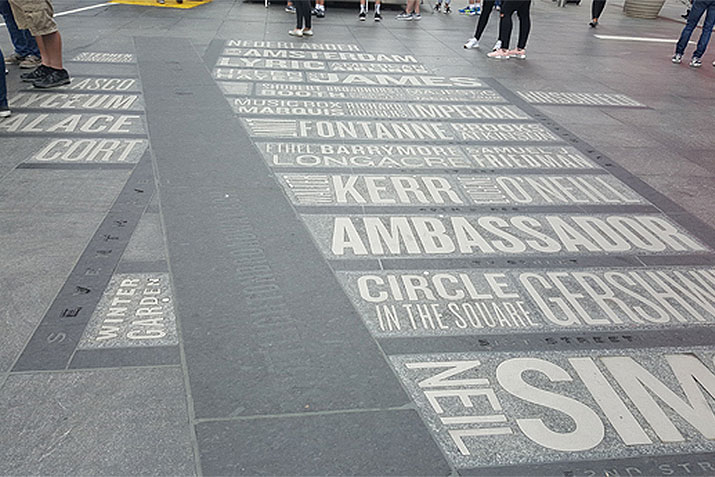 The solution
The designers at Creative Edge Master Shop contacted SlipNOT® for a solution to the bare steel lettering that presented a safety hazard when made slippery due to wet weather or other outdoor elements. The fabricating company sent in custom cut 3/8" thick letters which were blasted for imperfections, then coated with SlipNOT®'s Grade 2 stainless steel. Stainless steel is easy to clean and offers corrosion resistant properties that are exceptionally functional in wet environments both indoors and outdoors. The gripped surface of the coating not only provided higher traction for pedestrians, but also added another dimension to the piece, exhibiting a sleek and modern aesthetic.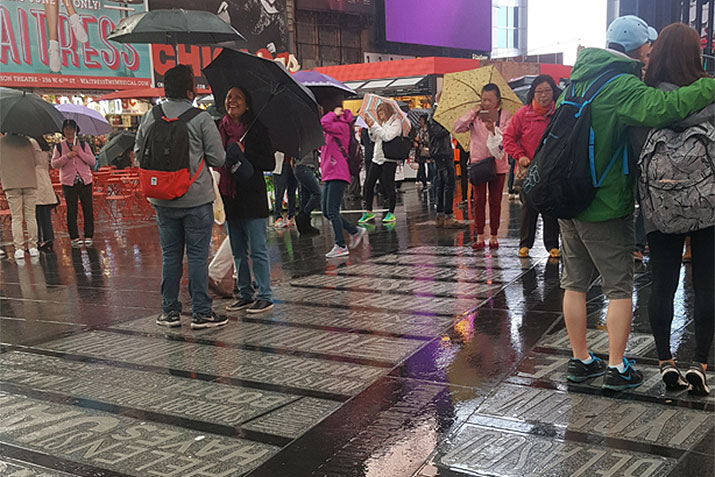 The impact
Creative Edge is a world leader in creative architectural water jet fabrication and has been in business for over 27 years. The Spotlight on Broadway project won a Pinnacle Award, which honors companies for a job that "stands above the rest." The Award Institute declared the project a "Clever design that pays homage to timeless Times Square," which was ultimately awarded merit for "Commercial Exterior".
Due to the slip resistant surface provided by SlipNOT®, tourists from all over the world can enjoy the innovative and engaging map of Broadway and its 40 theaters without having to worry about possible injuries due to slip, trips, and falls.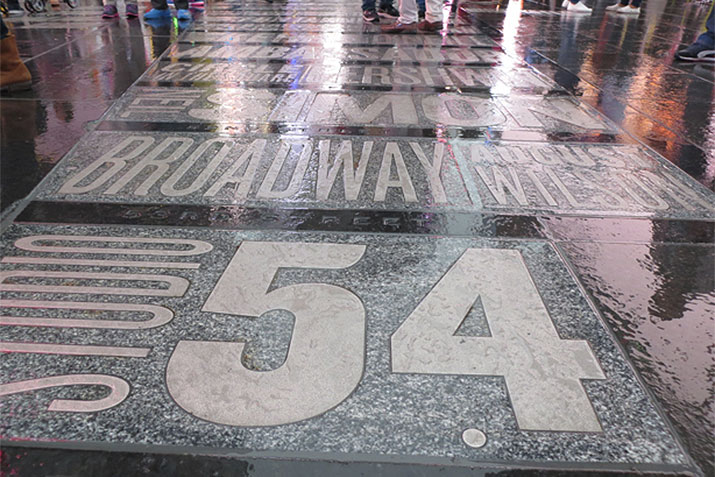 Award Recognition:
http://www.marble-institute.com/default/assets/File/awards/2014_MIA_pinnacle_brochure_FINAL_lo.pdf
Company: SlipNOT® Metal Safety Flooring Div.
Product: Slip Resistant Metal Safety Flooring
Source: http://www.slipnot.com/case-studies/slip-resistant-stainless-steel-letters-for-times-square-spotlight-on-broadway/
Tags: Award | Design | Floor | Metal | Safety
---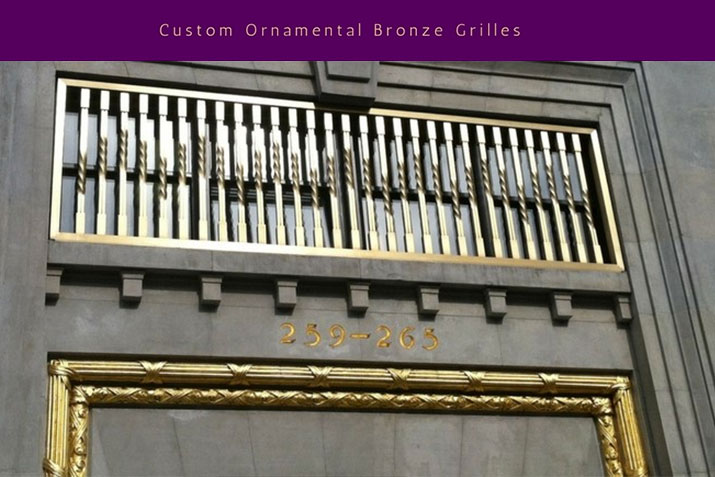 Coco Architectural offers custom fabrications for ornamental grilles and other products. In a recent project located at 80 8th Ave, in New York City, we created several custom pieces for the client, including a custom ornamental bronze grille over the entrance, a bronze header and jamb assembly for the Newsstand, and a custom bronze radiator enclosure with bronze bar grilles in the lobby.
Here at Coco Architectural, we offer upscale custom metal fabrications for a variety of different industries. In the 80 8th Ave project, our craftsmen created a custom ornamental bronze grille to protect the windows over the entrance of the business (shown above). The unique decorative twist on the custom bronze bars added a grand entrance feel to the business.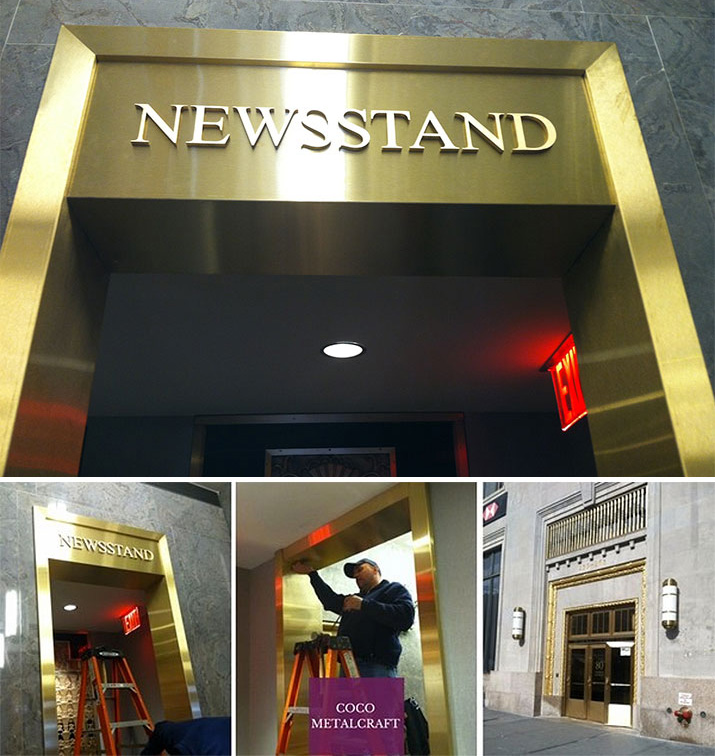 Our specialized CNC Waterjet services allow us to offer unlimited possibilities for any metal work on custom orders. Waterjet cutting is often used during fabrication of machine parts but can also be used for custom-perforated metal sheets and other architectural metalwork. In this project, we created custom waterjet lettering for the newsstand area and cut the brake formed bronze header and jamb assembly to complete the look.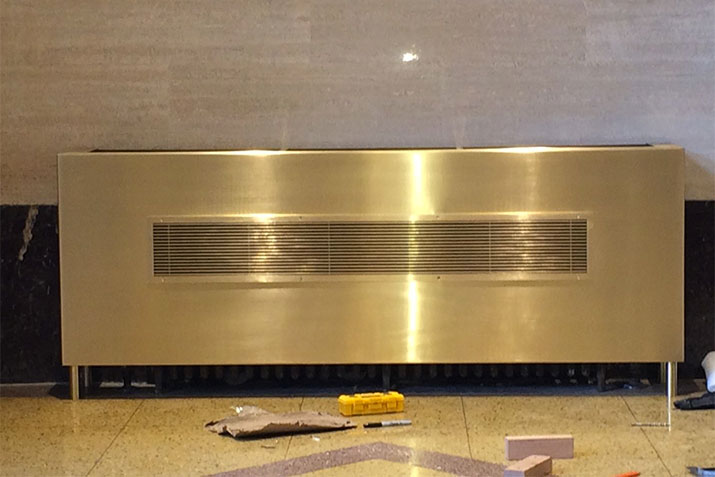 Finally, as all of our work is custom for each project, we provided a satin bronze radiator enclosure with custom linear bar grilles in the main lobby, rather than your basic cookie cutter HVAC products. The aesthetic impact on the space and functional performance of the grille is very important to us, so we leave no detail untouched to provide our clients with a flawless, functional piece.
If you're interested in custom ornamental grilles for your project, we can help your ideas come to life. From choosing metals for your project to matching unique designs with our waterjet and laser technology, we can add unique details to your commercial business or home to make your space feel complete.
Company: Coco Architectural Grilles & Metalcraft
Product: Custom Metal Fabrication Products
Source: http://www.cocometalcraft.com/custom-ornamental-bronze-grilles
Tags: Access Covers | Grilles | HVAC | Ventilation
---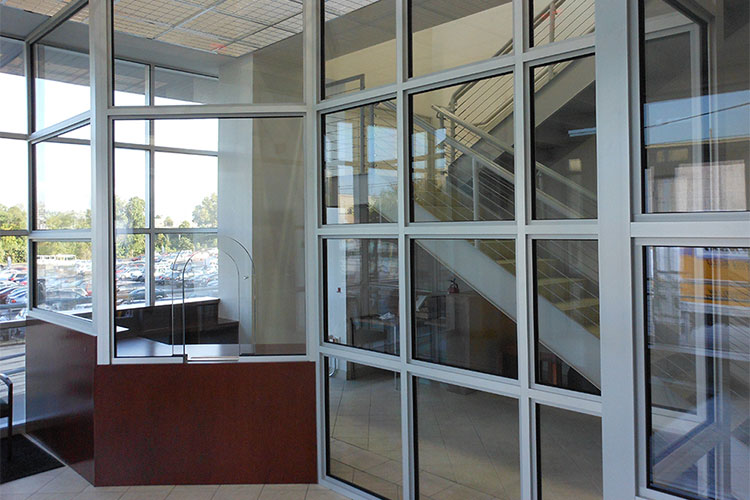 Today Total Security Solutions is a major nationwide bullet resistant barrier component manufacturer—but that wasn't always the case. TSS started out exclusively sub-contracting, supplying contractors and glaziers. Although TSS does a great deal of "tier 1" direct client work now, roughly 60 percent of their business is still in subcontracting. "We really value keeping that balance," TSS CEO Jim Richards says. "We can be as hands-on as the contractor needs, without getting between them and their client."
Designing and Implementing the Right Bullet Resistant Barrier for the Project
In contrast to many bullet resistant component suppliers, even as they've grown TSS has avoided punching out cookie-cutter mix-n-match pieces. They specialize in complete, end-to-end bullet resistant barrier systems, each of which is custom designed, engineered, and fabricated to meet a specific client's needs.
"Every barrier," Jim notes, "Is a specific solution for a specific situation. And because we have a lot of experience handling the full client experience—not just sub-contracting—we're sensitive to all the places something can start to go off the rails: A mismatch in hardware when the client needs discreet security, tolerance stack-ups creating installation issues, miscommunications that can drive up costs or slow down delivery."
Framing is a perfect example. Most bullet proof companies are still using un-rated frames. This helps keep their quote low, but it is a big security trade off. It's troubling to imagine a bullet resistant barrier with a UL-rated window held in place with framing someone ran out and grabbed at Home Depot.
"We can help you with clients who are having trouble coming to grips with the gap between what they want, what they need, and what they can afford."
Helping Contractors Through the Hard Conversations
TSS has a lot of experience helping manage sticker shock. As TSS Sales Manager Bob George explains, "Many clients come in saying 'We want Level 8, we want the highest.' Yes, Level 8 is going to protect your from some pretty heavy-duty stuff, but the windows will be 2.5" thick—double the thickness of Level 3, and almost triple the weight, nearly 30 pounds per square foot. It's a very difficult material to work with. The material itself is more expensive, and much more difficult to fabricate. The added weight means you need to beef up walls and counters, and make special arrangements to bring the material in and position it. Two guys aren't going to put a thousand pound window in place on their own. Going up to Level 8 drives up labor costs significantly. Do you need that extremely high level of protection?"
Jim adds, "They often can't fathom that this material is at least double what normal glass costs. Depending on the scope of work, it can climb from there to three times, even five times more. Talking someone down in this situation, that might not be comfortable for you—after all, we're talking about people's safety here. But these are conversations we have every day. We're ready to drill down and figure out what they really need and how we can get that to them within their budget."
Giving Contractors No-Drama Installations
Jim and his team pride themselves on "silent installations"—an installation that's so hassle-free it's almost like magic. For TSS, the proof is in the testimonials:
"They were here when they said they were going to be, with the estimates and the drawings, they showed up when they were supposed to, and everything was just as neat as a pin. We were really, really tickled with their work."—Holly Eades, Clark Energy vice president of finance
"It was very easy for us, very easy to deal with TSS. We just had no issues at all. … They did all their work at night. I made sure they were set up, they came and talked to me beforehand, told me what they needed, and made sure the alarms were good and gave them time frames, and they were in and out, totally cleaned up when the left—it was seamless. … It looks great. We love it."—Gina Mims, facilities supervisor for the Health Plan of San Joaquin
"Sure, we like the 'wow factor,'" Jim says. "We're really pleased when a client walks in and says, 'Wow! This looks so good, so much better than we'd hoped!' But I've gotta say, that silence—when something went so smoothly they don't even think to remark on it until you ask—that's when we know we really made a contractor look good."
Company: Total Security Solutions Inc
Product: Bullet Resistant Barriers
Source: http://www.tssbulletproof.com/getting-contractors-right-bullet-resistant-barrier/
Tags: Glass | Security | Windows
---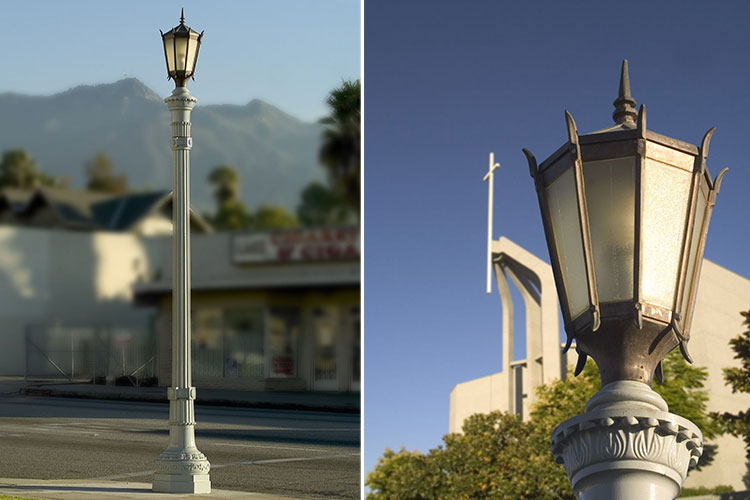 Niland's in-house pattern and machine shop recreated the cast iron foundry tooling needed for an exact replication
This light pole was originally installed in the City of Pasadena in the early 1920s. Its design consists of intricately detailed cast iron sections. After 85 years of service the need for additional light poles down Pasadena's famous Lake Avenue Drive became apparent. Representatives with the city expressed a desire to duplicate this early design and provide a period luminaire cast in solid bronze. Our in-house pattern and machine shop recreated the cast iron foundry tooling needed for an exact replication. Each section of the iron casting was sand blasted and several layers of paint removed revealed the raw iron casting.
Secrets of the early artisans that created the original tooling began to surface. The master journeyman of that era indeed had a story to tell and their work and creative ingenuity came to light. We estimated the original carvings in the original all wood tooling to be just over 4,000 man-hours back in 1920. Each individual section of detail had to be individually hand carved back then. The use of pillow blocks and triple radii shrink ratios allowed for a tight level uniform fit with an "as cast" casting. We came to discover this "trick of the trade" through careful analyzing the core prints after the old paint layers had been completely removed. We pulled sections of original detail out of the castings with a high performance non-shrinking reproduction polymer resin. The shrink ratios were added back to the wood turnings and the detail added back to the top of the pattern to bring the castings back into original tolerance. With the use of reproduction polymer resins and fine dental tools we were able to complete all the tooling on this job in less than 1,000 man-hours, allowing us the luxury of winning this work and learning from the master craftsmen of a bygone era.
Innovations in the casting process have come along way in the last century. One hundred years ago, wet "green sand" was the standard method of production. Erratic shrinks and tooling pulls would justify the use of triple radii shrink and pillow blocks. Today modern chemistry has given the age old foundry process the ability to control shrink more accurately. The use of chemically bonded "dry sand" to cast the individual parts allowed us to tighten up the tolerances and ensured a crisp detail throughout every pour. Very little machine time was spent preparing these castings for their final end use, yet the rich grain texture of fine iron castings gives each pole an individuality unique to itself. High performance acrylic primers and finish coatings completed this pole which will provide a maintenance free finish for at least 20 years.
The luminaire itself was also duplicated, only Niland was able to cast this tool in bronze, keeping with the original design from 85 years ago. Over the years most of the luminaires had been replaced with cast aluminum recreations. Our ability to cast this luminaire in bronze got the design back to its original historical intention. The light source recommended to the city utilizes electronic ballasts fully enclosed and potted in resin. This ballast allows increased life of the lamp and increased performance due to the decreased light loss factor associated with these high performance products.
Company: Niland Co.
Source: http://www.nilandco.com/project-gallery/lake-avenue-restoration
Tags: Design | Landscape Design | Lighting
---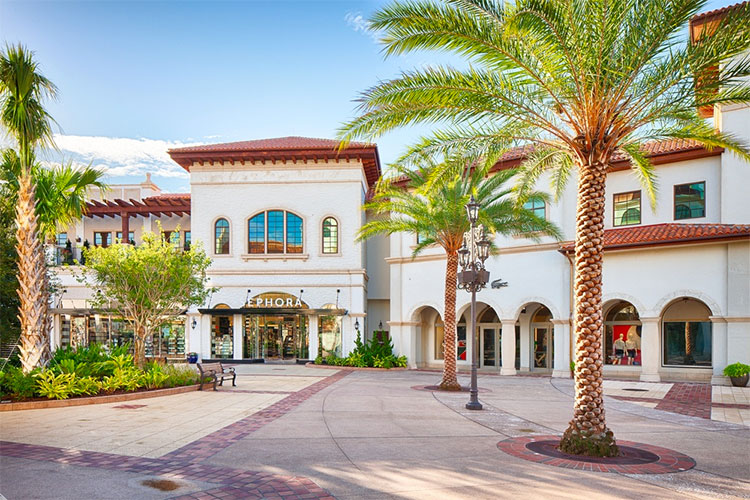 Disney Springs won an award for its contractor and kudos for a key vendor on the project: Sto. Photo: Chad Baumer
KHS&S is an international design-assist specialty contractor with a portfolio that includes more than 5,000 casino resorts, hospitals, hotels, entertainment venues, retail facilities, theme parks, attractions and public works projects around the country and overseas. Founded in 1984, the firm is now the second largest specialty wall and ceiling contractor in the USA.
At the recent Florida Wall and Ceiling Contractors Association (FWCCA) convention and trade show in Orlando, the company picked up the award for Project of the Year for the work they did on Disney Springs, an elegant shopping, dining and entertainment complex at Florida's Walt Disney World. A key partner in the KHS&S supply chain? Sto Corp, who provided wall components for two stucco buildings, that included products from its leading air and moisture barrier system:Sto Gold Fill® and StoGuard Mesh, Sto VaporSeal®, Sto TurboStick™ and Sto DrainScreen.
Sto worked with Disney's architects on the specification details. Now that the work is done, the results speak for themselves.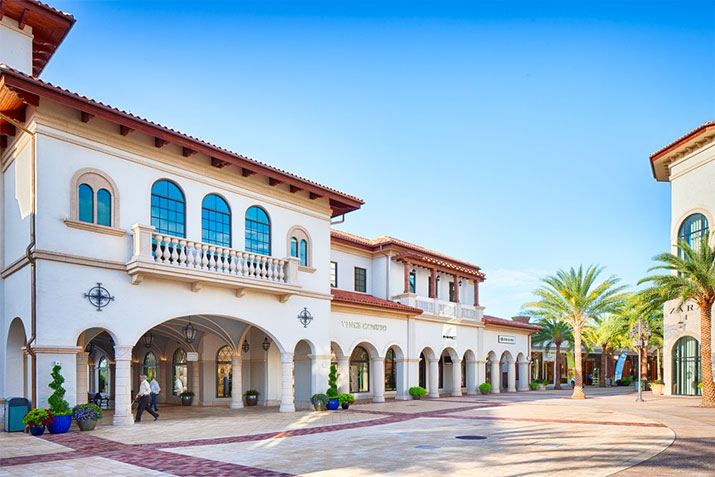 The Disney Springs design team specified StoGuard for the KHS&S project. Photo: Chad Baumer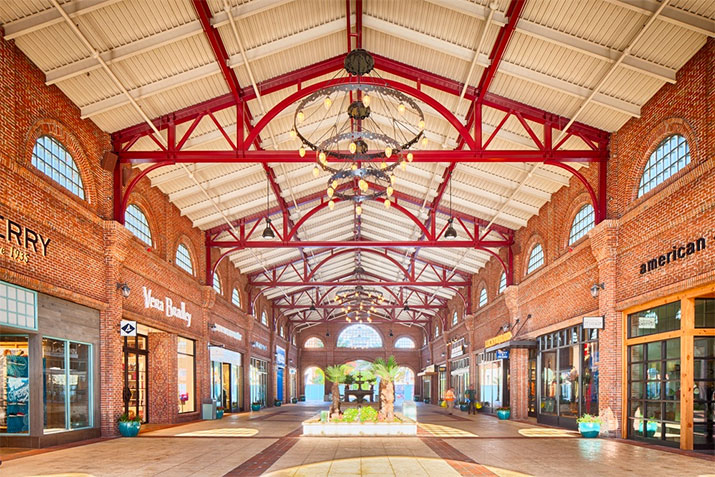 The handsome brick facing was constructed using StoGuard Vaporseal for protection. Photo: Chad Baumer
Company: Sto Corp.
Product: Air and Moisture Barriers
Of: Tony Cook
Source: http://blog.stocorp.com/2017/07/award-winning-project-includes-stoguard/
Tags: Architecture | Building | Coating | Waterproofing
---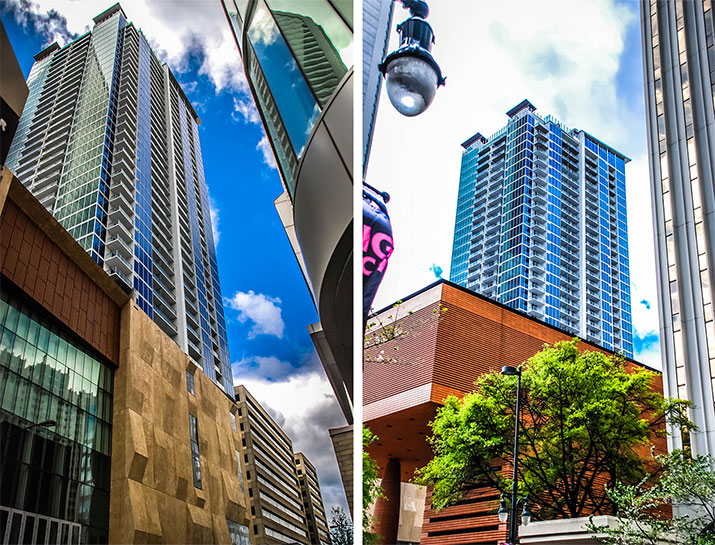 This 40+ story tower sitting atop the Mint Museum utilized 2-Line aluminum and glass balcony railing offering incredible city views, and double-sided acid etched dividers adding privacy between residences
Though the structural support for Museum Tower apartments was already in place by 2009, the recession and a stalled residential sales market indefinitely halted construction. Then, in late 2015, the tower began to rise – at a pace of one floor every four days, in fact! In just a year-and-a-half, we have witnessed Museum Tower come to life in Charlotte, North Carolina. [1]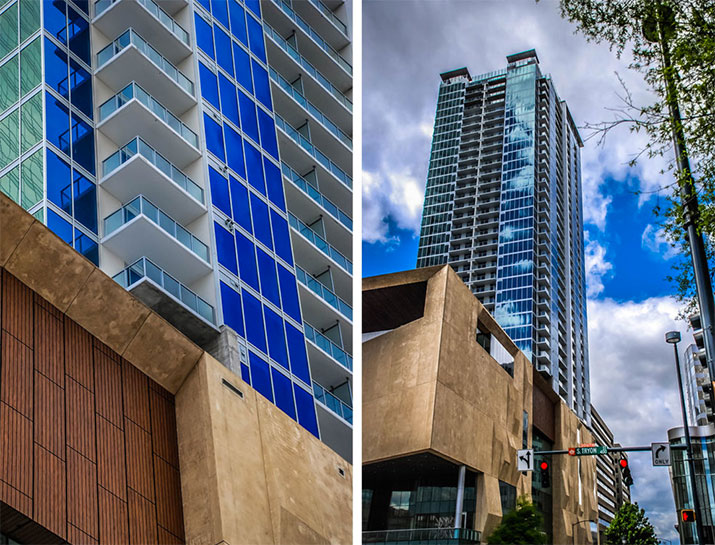 SC Railing provided over 8,000 combined lf of railing, windscreen and balcony dividers to this LEED Silver project
Owner/Developer, Childress Klein, had long planned for this 394-unit apartment tower to be constructed some 43 stories above the existing Mint Museum Uptown Charlotte. Juxtaposed with the luminous Duke Energy Center, Museum Tower apartments inherited a hefty responsibility; as any building sharing space with the Duke Energy skyscraper had better be worthy of the real estate it occupies. We believe Museum Tower earns that appointment, and then some!
SC Railing Company provided more than 8,000 combined linear feet of 2-line aluminum and glass balcony railing, along with balcony dividers and custom rooftop windscreen. Museum Tower marries a refined interior design aesthetic and floor-to-ceiling windows with glass balcony railings, for sweeping city views. Balcony railings were constructed using 3/8" clear tempered glass, and 1/4" tempered, double-sided acid etched balcony dividers for added privacy between residences.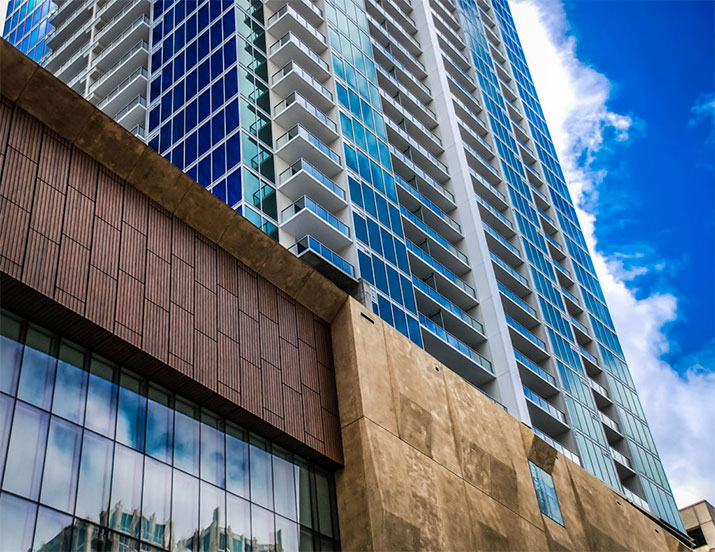 Mint Museum features 2-Line Glass and aluminum balcony railing with glass dividers
Museum Tower's rooftop lounge includes a heated saltwater pool with cabanas, indoor and outdoor fireplaces, and a game room. The amenity area's perimeter is wrapped with 8' high, 1/2" clear tempered glass panels, for which SC Railing Company provided custom aluminum segmented base shoe mounts. Transporting these panels, weighing upwards of 125 pounds, was one of the challenges of this high-rise project. Getting glass to the project safely became an issue early on, as one of our glass delivery trucks was struck by another vehicle on I-77, a mere couple of miles from the jobsite. Fortunately, there were no injuries, but we lost nearly an entire shipment of glass in the collision. For an already fast-tracked project, this threw us into high gear. We worked very hard to adhere to rigid timelines, replacing damaged glass, and getting all materials to the Museum Tower safely. Hurdle by hurdle, we endured!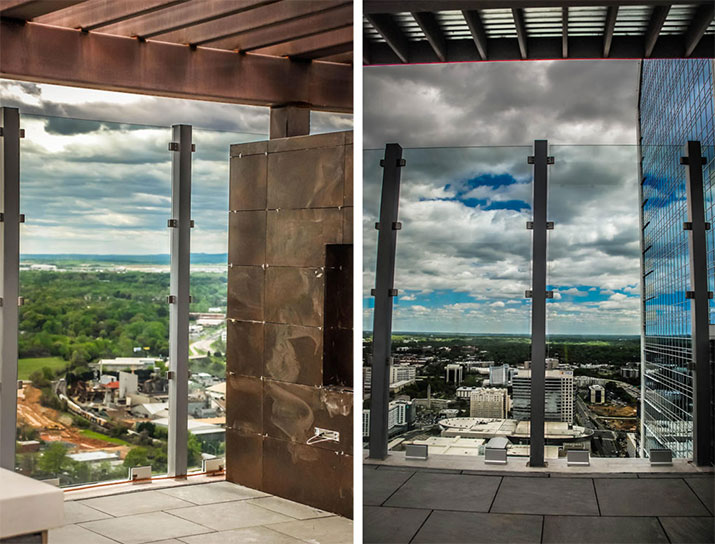 A post supported windscreen with custom aluminum segmented base shoe mounts secures 125-pound, 8-foot tall glass panels surrounding the pool and amenity area located on the 42nd floor
Bringing the Museum Tower project to a close has us coming full-circle, as this was the final phase of construction of the Mint Museum Uptown Charlotte project, which we provided railings for in 2010. This builiding's completion has been more than seven years in the making! SC Railing Company is pleased to have partnered with General Contractor, Batson-Cook, in providing our glass railing products for this LEED Silver project, a veritable crowning jewel of the Queen City skyline.
Architect: Rule Joy Trammell + Rubio
Owner/Developer: Childress Klein
General Contractor: Batson-Cook
---
[1] How is the Mint Museum apartment tower going up so fast?!?
Click Here for Project Information!
Company: Architectural Railings & Grilles, Inc.
Product: Civic 2-Line
Source: http://www.sc-railing.com/news/sc-railing-company-offering-view-top/
Tags: Architecture | Design | Glass | LEED Certification | Railing System | Safety
---

Step Planters NYC
TerraCast Products dazzle reclaimed public spaces with installations of planter pots across various pedestrian plazas in New York City. Following in the wake of the NYC Department of Transportation's success, other municipalities have taken to tactical urbanism utilizing the loose guidelines which help their citizens safely hang outside more.
The New York Department of Transportation (DOT) in collaboration with the NYC Plaza Program, along with Baruch College in NYC, and the Los Angeles City Planning Commission launched independent projects to transform community spaces utilizing innovative resin based planters. Designed by Florida-based TerraCast Products, an American owned and operated company; the planters are manufactured in the United States from a durable resin blend that resists sun and salt as well as the abuses of both vehicular and pedestrian traffic. The lightweight material allows for easy relocation during events or with seasonal changes.
"Areas all over the country are utilizing tactical urbanism for emerging public spaces, such as pedestrian plazas, streetscapes and parklets," said Brad Goldring, TerraCast Products' CEO. "We are incredibly excited to have worked with NYDOT, many colleges, business improvement districts and the LA City Planning Commission to help design these new sites. We hope they highlight distinct approaches to public space management, and that these projects initiate other entities to succeed in creating thriving public spaces in their communities."
Successful public spaces require modernization, acceptance and maintenance: These projects implement all three. Under NYDOT and the NYC Plaza Program, Union Square, Madison Square and Times Square all feature TerraCast planters, which adhere to New York City's exacting design requirements while ensuring the areas to be energetic centers of activity.
Baruch College introduced TerraCast commercial planters to convert a road located between two of their campus buildings into a student plaza. The planters were chosen as decorative barriers which best met the needs of the college because they are maintenance free and durable. The LA City Planning Commission accomplished something similar at Sunset Triangle Plaza when they renovated a street in Silver Lake into a pedestrian plaza utilizing TerraCast Products step planters. These planters separated Sunset Boulevard from people walking and dining outside.
"In the last decade, these initiatives have breathed new life into the spaces within these cities," stated Lou Blondin, TerraCast Products' CMO. "In collaboration with these organizations, we are reimagining public spaces in a more pioneering and comprehensive way, and our products align with these concepts."
TerraCast Products' modern resin planters contribute to this new approach to city building that integrates the reinforcing benefits of vibrant public spaces with tactical urbanism. TerraCast Planters last longer than products made from other materials, and they are cost-effective for project budgets. Constructed to not require any maintenance, TerraCast planters can withstand a variety of weather, including intense heat and harsh winter climates. The lightweight planters can be moved and loaded by hand, which allow for easy shipping and transporting on the job site.
Community organizations and cities are invited to find more information about TerraCast Products at http://www.terracastproducts.com.
Company: TerraCast Products LLC
Product: Planters
Source: http://www.terracastproducts.com/terracast-products-featured-in-innovative-city-redevelopment-projects/
Tags: Design | Furniture | Landscape Design
---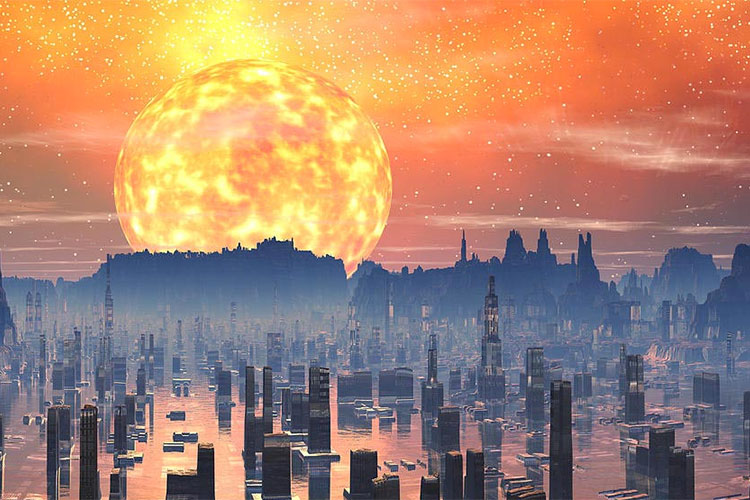 With the effects of global warming upon us, architects and building owners need to mitigate its impact in the built environment. This is not a new idea, but the necessity for design that protects against volatile weather, rising temperatures, and insect-borne diseases is now more pressing than ever. Last year, the U.S. Army Corps of Engineers created the Building Resilience website, a tool that connects community planners, home builders, architects, and engineers with building science, climate data, and community resilience resources. This is crucial information designers and building owners need if they want to confront the effects of climate change.
As daylighting manufacturers, we have some thoughts on how daylighting can be used to reduce the impact of global warming on the built environment.
Daylighting that can withstand Severe Weather
Because of global warming, weather events like hurricanes, flooding, and tornadoes have become more powerful (Superstorm Sandy in 2012 and Supertyphoon Haiyan in 2013 have both been partly attributed to global warming).
But just because nature has become more dangerous doesn't mean we should barricade behind steel walls. Instead, robust daylighting systems should be utilized. By incorporating daylighting into architecture, occupants remain connected to the outdoors, and the structure reduces its carbon footprint.
It's important to use daylighting systems and materials that possess excellent water weepage and can withstand high wind loads. These attributes will be determined by the system's glazing and framing.
Polycarbonate is one of the best forms of glazing when it comes to strength and durability, and it by far outperforms glass (polycarbonate is 250 times more resistant to impact than safety glass), as well as fiberglass reinforced panels, or FRP (polycarbonate is 4 times more resistant to impact than FRP).
Additionally, the system framing must have elements that facilitate excellent water control and leak resistance, like properly placed weep holes and water stops. An example of a highly resilient daylighting system is EXTECH's LIGHTWALL 3100LSpolycarbonate wall system, which meets ASTM E-1886 and E-1996 tests for hurricane impact / windborne debris at clear spans of 8 feet. It is an excellent daylighting product in the face of torrential weather.
Protection Against Intense Heat
With global warming comes rising temperatures. Data has uncovered a long-term warming trend, and at this rate, temperatures could rise as much as 8 degrees by the end of this century (though that does not sound like much, a global increase in this scale would have dire outcomes). Even if carbon emissions worldwide are drastically cut, escalating temperatures are a factor humans must face.
With warmer temperatures comes the threat of increased solar heat gain (the temperature inside a structure that results from solar radiation). If precautions are not taken when choosing the daylighting glazing, people will either bake in a convection oven, or the cooling system will have to run at non-stop full capacity – neither choice is ideal. To protect against these scenarios, glazing that blocks infrared rays is recommended for daylighting structures. Polycarbonate is one of the few materials that can effectively and economically block infrared radiation.
Though humans can take many actions to reduce global warming, its effects will never be completely vanquished; mitigation is the only way forward. By accepting this, architects and building owners can be a leading force in climate change preparation – if they have the foresight now to build structures that deal with global warming's impact, humankind will be safer, happier, and quite possibly, live to one day stop climate change for good.
Company: EXTECH/Exterior Technologies, Inc.
Product: Translucent Walls
Source: https://extechinc.com/global-warming-how-architects-building-owners-can-prepare-the-world/
Tags: Energy | Exterior Design | Lighting | Louvers | Wall Panels
---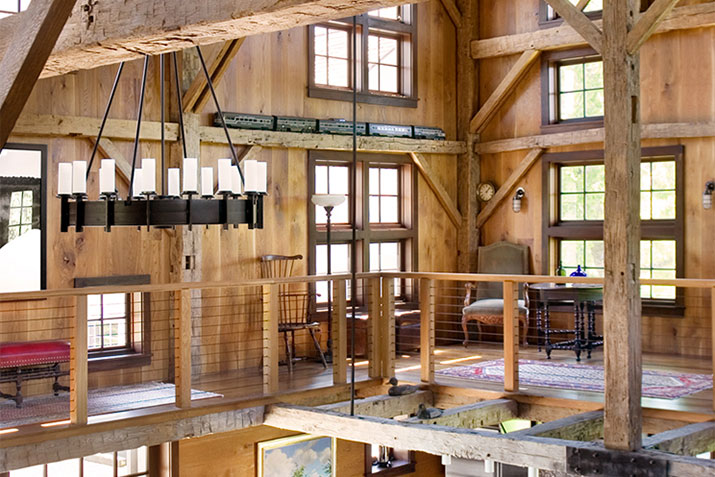 Paul Gleicher, acclaimed architect and published author, is a man of exceptional taste. Owners of high-end residential properties, including townhouses, penthouses, apartments, and houses seek out the New York City-based architect for his sophisticated, award-winning design sense. There are even Gleicher-designed barns.
"I think there's a growing interest in barns," Gleicher says. "There's a real sense of history when you step into these structures. They're large, open spaces that favor today's lifestyle."
Four Barns Farm Project
Take Gleicher's Four Barns Farm project in rural Millbrook, N.Y., about a 90-minute drive outside of New York City. A prominent investment industry executive and his family took Gleicher's advice to look at Millbrook for their weekend retreat. Within short order, the executive purchased a 40-acre estate formerly owned by composer Marvin Hamlisch. The property included a cluster of four dilapidated barns from the mid-1800s.
Gleicher remembers the initial chat with the new owner well. "'Paul, let's turn these barns into a family compound.' It was my first barn project," says the recipient of The Franklin Report's top five-star rating.
Architectural Counterpoint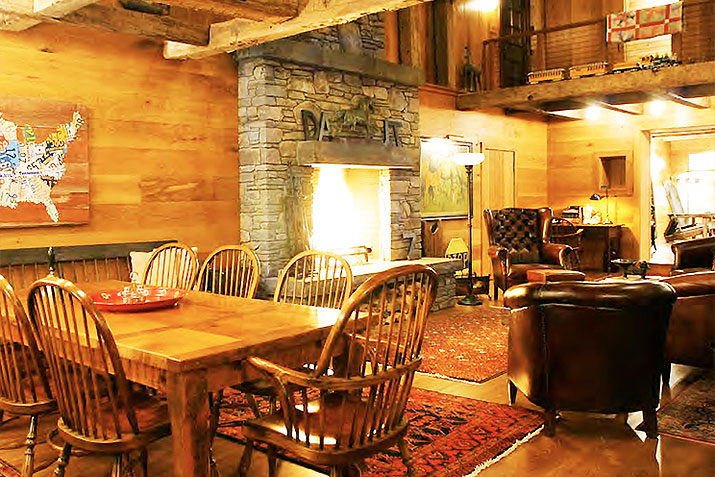 The interior scale offered Gleicher a rich palette to showcase beautifully-restored oak and pine floors, ceilings, and walls. To help dramatize the interior, Gleicher turned to CableRail by Feeney after considering traditional wood balustrades.
"CableRail is a really nice counterpoint to all the wood. Wood has warmth, but timber also has a certain heaviness to it. CableRail became a natural component. It made a lot of sense," Gleicher says.
Gleicher liked the idea of setting off the balcony spaces with a light, open look. "CableRail afforded that visual connection from the upper stories to the lower stories and vice-versa. It's really important to maintain that if you have a lot of people in the space. It helps communication," he observes.
Uparalleled Support
Gleicher notes this was his "first go-around with CableRail" and the experience didn't disappoint him in any respect. Feeney proved to be exceptionally helpful and easy to work with. In fact, Gleicher is quick to contrast his Feeney experience with another buildings products manufacturer. He was researching ceiling fans for another project and had a couple technical questions. He was told by the manufacturer 'That's up to you. It's your responsibility.' In contrast, Feeney's friendly technical staff were on call to answer all of his CableRail questions.
Installation proved to be a snap. "We just had the general contractor install the in-fill system. It's not complicated at all," says Gleicher.
Dream Come True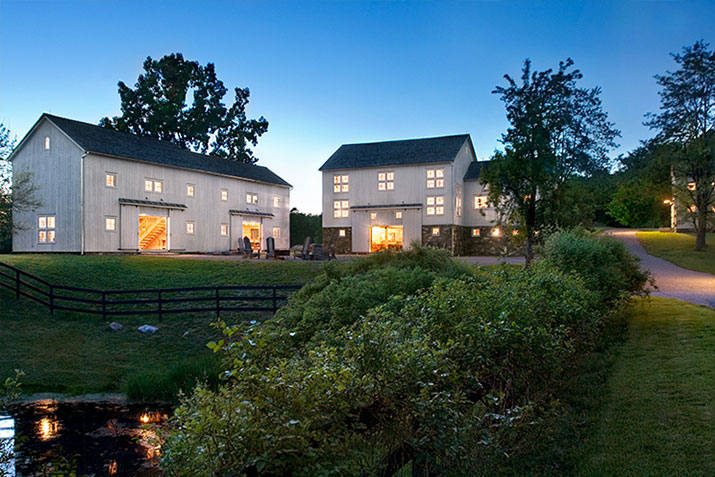 The owner "absolutely loves" the Four Barns Farm project Gleicher delivered. "They take every opportunity to talk about the project, invite people over. For the family, it's a dream come true," he reports.
It has also won its share of fans on Houzz. Gleicher states that the Four Barns Farm is one of the firm's most popular projects on the renovation website, generating over 30,000 views and added to more than 250 Ideabooks.
The idea of blending the open lightness of CableRail in stylish interior settings is now a top consideration for the award-winning architect. "I'm very happy with the product and will always keep it in mind." Who says you can't mix classy urban sophistication with friendly down-home charm? Just ask Paul Gleicher.
To Learn More:
Company: Feeney, Inc
Product: CableRail Stainless Steel Standard Assemblies
Source: http://media.feeneyinc.com/blog/top-nyc-architect-selects-feeney-for-notable-barn-project
Tags: Architecture | Interior Design | Railing System
---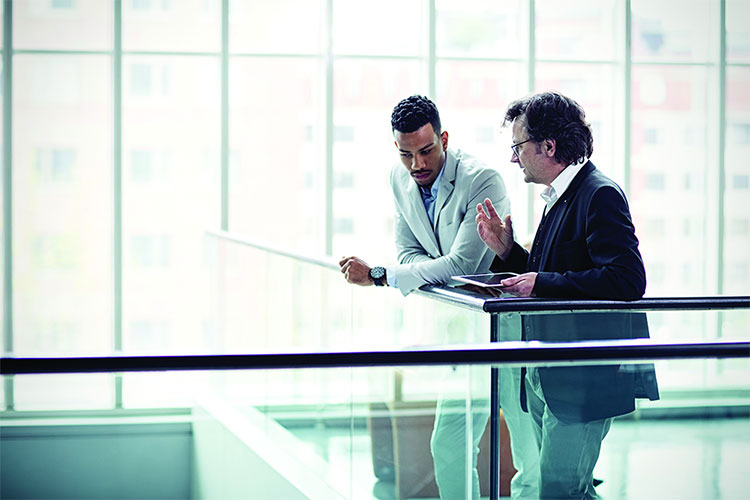 Today's security entrances can last 10 years or more, so your organization can go years without installing a single new entrance. This fact alone intensifies your need for a great experience during the buying process and beyond, so that you are assured the right entrance to meet your needs for years to come. How do you better your chances for such a great experience? Here are 10 factors a manufacturer should offer to create a stellar 360-degree customer experience.
Going global
Can the manufacturer deliver a premium service experience and quality entrance solutions on a global scale? Such a company will have manufacturing facilities around the world in strategic locations as well as subsidiaries and partners. Is there only one factory in China? How long does product delivery take compared to a regional/local manufacturing plant and how much of a premium is there on shipping everything from overseas?
Who you gonna call?
Most manufacturers have regional sales managers and that person is your initial main point of contact. Look for a manufacturer that has a large number of direct employees (not manufacturer's reps) in this role that have small territories so you get the attention you deserve. They can help you determine the right entrance for your specific security needs and even conduct a site walk in person.
Working like machines behind the scenes
The best firms have an inside sales/customer service team to manage your entire order from PO to shipment directly within the manufacturing facility. Ask if you will be assigned a dedicated representative that will communicate with you proactively, check your order for accuracy, liaise on your behalf internally about customizations, and keep you updated on production lead times and shipping timelines.
It's all about location, location, location
A manufacturer with a factory that shares the same continent with you has several advantages. They employ highly trained assembly technicians and source materials locally (lower costs than importing and lower carbon footprint). They also can conduct quality assurance in-house and will have better control over the finished product. Finally, you get faster lead times and lower freight costs.
Expect no surprises
Is there an in-house installation management team that works to ensure no surprises come up during the product installation? The best such teams will walk you through the scope of work so you are aware of exactly what the installation process entails. They also prepare the onsite contractors and installers to receive and properly install the entrance solution.
A second pair of eyes
The best companies will have a team of field service technicians around the country who are available, upon request, to check each entrance after installation for proper operation. The technician can also verify the entrance integrates properly with other components of the building, e.g., fire alarms and access control systems.
Back up and running in no time
How quickly can you get your issue resolved while potentially hundreds of people are being diverted to another entrance? Ask for an organizational chart for the Technical Support department: it should be robust, indicating investment in expertise and customer satisfaction. Ask if they measure their same-day call resolution percentage and parts fulfillment percentage.
Technical training for tuned-in teammates
The last thing you want is the repair call where, upon arrival you hear, "I've never seen this type of turnstile/door before." Where is the nearest service partner located? What kind of technical training resources does the manufacturer provide to educate and certify its service partners? Is there a dedicated full-time role or staff that educates and certifies the installer on the solution you've selected? The goal of the best training programs must be to prepare local partners for flawless installation.
Regular assessment of your investment
Look for some kind of preventive maintenance plan (PPM's). It's an optional service that brings in-house factory expertise to your site to perform annual and bi-annual maintenance checks on your entrance. PPM's ensure the longevity of your asset for maximum ROI.
Same experience, every time
With top, global manufacturers, you can save money, decrease time spent on training, and improve efficiency by planning and executing the same, high quality product line to all your building locations around the world. Being able to standardize on one manufacturer across your entire organization is a huge advantage in cost and time savings.
Company: Boon Edam Inc.
Product: Security Doors & Portals
Source: http://blog.boonedam.us/you-deserve-to-be-delighted-10-essential-elements-to-look-for-in-a-security-entrance-manufacturer
Tags: Entrances | Exterior Design | Interior Design | Security