architecture - engineering - construction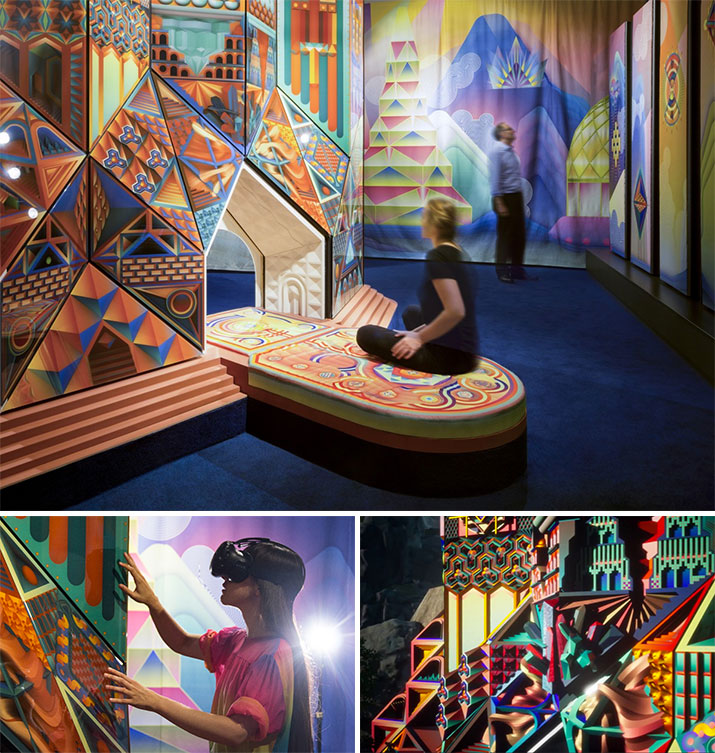 Werkstatt – which means workshop in German – is a showcase and test center in London for Sto's innovative facade and interior materials. In addition to the workshop's extensive resource library, the center offers technical consultations, exhibitions, speakers and seminars.
The current exhibit, "The Glass Chain", is by Space Popular, a Bangkok-based multidisciplinary design and research practice led by Lara Lesmes & Fredrik Hellberg. The exhibit, which will run until December 14, features StoVentec Glass that can be used as an external rain screen cladding system, and as an interior decorative option. In their UK debut at Werkstatt, Space Popular has redefined the potential of the material with its colorful and energizing installation, which encourages the imaginative use of glass in building design.
The title "The Glass Chain" is a reference to the infamous exchange of letters by a group of German architects from 1919-1920 initiated by Bruno Taut, who fantasized about the vast possibilities of an incredible new construction material: glass. He believed that all architecture, and even furniture, could be made of glass. His vision of the material was never realized, and glass simply became a solution for windows and walls.
Now, almost 100 years later, Space Popular – inspired by Taut's vision — is taking glass applications to a new level. Working with Sto technical experts, they have created a kaleidoscopic glass construction that explores different ranges of scale, playing with our visual perception of glass doorways as grand arches and small steps as giant pediments.
Curated exhibitions such as this at Sto Werkstatt are an opportunity to explore the changing nature of collaboration, between architects, materials manufacturers and applicators.
Materials on display include glass and rendered rain screen cladding, seamless acoustics, facade elements and intelligent interior and exterior paint coatings.
Company: Sto Corp.
Product: Specialty Systems
Source: http://blog.stocorp.com/2017/10/sto-werskstatt-features-alternative-glass-architecture-by-space-popular/
Tags: Architecture | Design | Glass
---
Vegas is all about the wow factor, especially in well-known casinos like Caesar's Palace. Stromberg was commissioned to produce themed elements on both the exterior and interior of the hotel.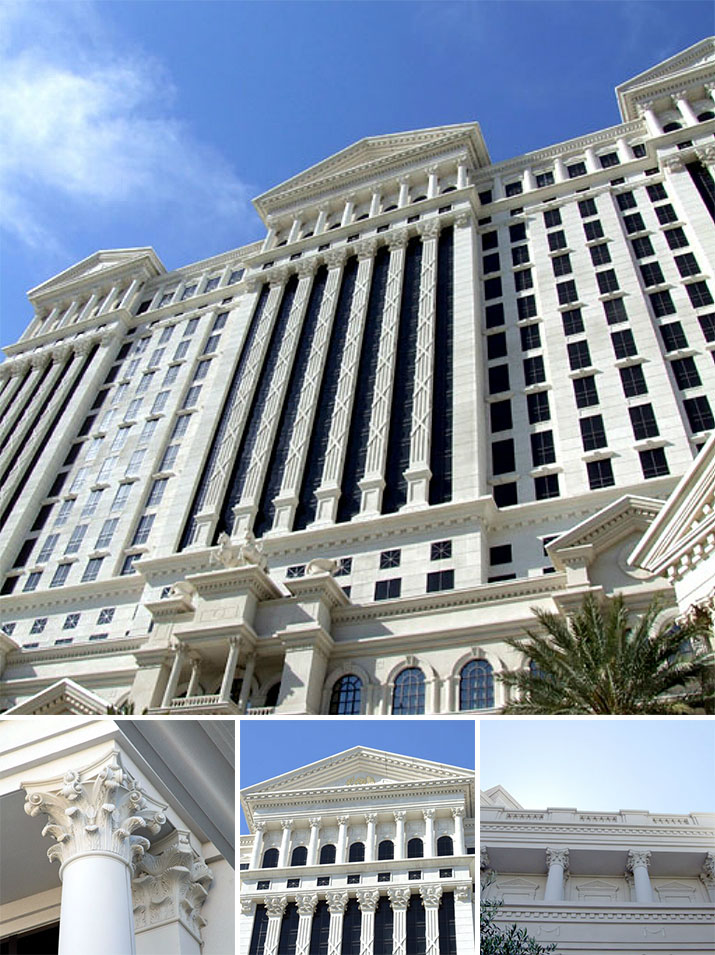 Some elements of note include:
Exterior Themed Elements
The world's largest columns and pilasters
Custom sculpted Roman statuary and bas relief panels
Fountains of GFRC (glass fiber reinforced concrete) and FRP (fiberglass)
Hundreds of assorted roman themed elements including massive brackets, trim, moldings, medallions, panels, etc, each elaborately detailed and skillfully molded
Custom cast finishes, including limestone, travertine, bronze, copper, wood and marble
Interior Themed Elements
In addition to the exterior GFRC and FRP, we produced artistically sculpted and molded interior cast elements including
Ceilings. GRG ceiling panels and intricately detailed ornamentation
Columns. Roman Corinthian, Tuscan and ionic columns in GRG
Domes. Beautifully crafted GRG domes and coffers
Sculptures in GFRG (glass fiber reinforced gypsum) and FRP, in keeping with the intricately detailed Roman style
About Casinos and Gaming
Stromberg has work featured in some of the world's best known casinos. Caesars Palace, MGM, the Mirage, the Venetian, Twin Rivers, Hollywood, Atlantis, Ameristar, etc. Over 80% of our business is with repeat clients who have come to depend on us for fast service, quality products and fair pricing. If you are an owner, architect, contractor or anyone involved in the design or construction of a gaming facility, we are here to help. We can provide preconstruction assistance with costing, design details, value engineering, art direction, mock ups, simplified attachment and custom finishing methods to make your job easier.
About Themed Construction
Doing themed construction the right way requires good design, quality materials and professional execution. While the designer creates the general scope and design, a quality themed contractor and fabricator ensures that all the little details work with the architects design intent. With 30 years of themed construction experience, we know that no matter how massive the project, the small details matter. From original concept to completion, our team will work with you to make the vision a reality. Whether your needs are a single themed element, or a massive themed project, we are here to help. Themed construction and themed elements are provided for casinos, themed resorts, museums, aquariums, zoos, themed exhibits, buildings, water parks, restaurants, etc.
Themed Services
Preconstruction Services
Budget estimates
Design development
Samples and mock ups
Scale models and maquettes
Value engineering
Art direction and design assistance
Themed Production and Construction Services
Shop drawings and engineering
Custom Sculpting
Models
Molds
Casting
Custom finishes. Stone, metal, stucco, wood, etc.
Installation
Project profile
| | |
| --- | --- |
| Name | Caesar's Palace |
| Location | Las Vegas, NV |
| Dates | 1997 |
| Materials | Glass Fiber Reinforced Polymer (GFRP) |
| Products | Exterior theming elements, including Fiberglass (GFRP) and glass fiber reinforced concrete (GFRC) Corinthian capitals, columns |
| Type | New construction |