architecture - engineering - construction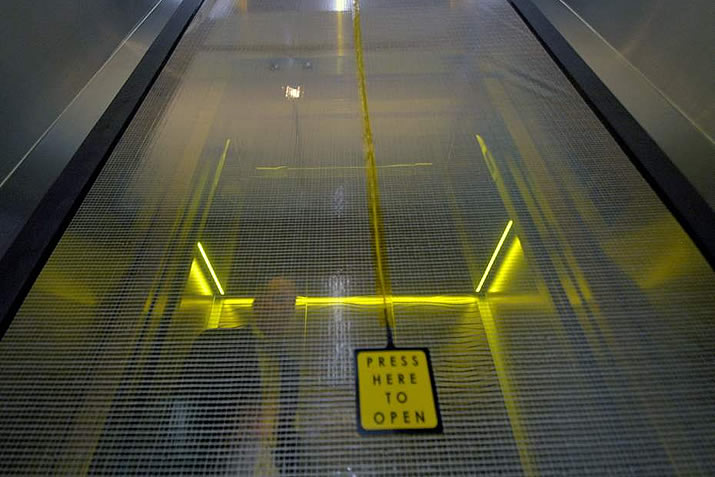 When it comes to elevator protectives, Smoke Guard is the "original orange smoke curtain". With over 20 years of installed product, our transparent orange colored polyimide film is iconic. Our orange transparent fabric is unparalleled when it comes to providing the smoke protection you require with the ease of install that you have come to expect.
Available in a variety of dimensions to fit various applications, Smoke Guard Systems for elevators are made from a translucent orange smoke resistant material that provides a line of sight for anyone caught in an elevator during an emergency or for emergency personnel. In addition to the screen mounted retract button, the magnetic side guides allow these smoke curtains to be easily pushed aside when access to or from the elevator is required.
When it comes to elevator safety, don't substitute for anything other than the original orange elevator curtain. Smoke Guard started with this product for a reason and continues to innovate to provide the best possible solution for your smoke safety needs.
Company: Smoke Guard, Inc.
Product: Model 4000 Smoke Curtain
Source: http://www.smokeguard.com/blog/2017/january/08/the-original-orange-elevator-smoke-curtain
Tags: Doors | LEED Certification | Safety
---
Background: Since 1932, GECU has been one of the largest and strongest locally-owned financial institutions in the City of El Paso. With more than 340,000 members, the credit union experiences a significant amount of foot traffic within its branch, and the flooring was starting to show it. The GECU branch knew it needed to polish up its look as it prepared to deliver the same exceptional service for decades to come.
Contractors:
CON-TEX Construction, LLC is a General Contractor specializing in commercial concrete projects in El Paso, TX.
Vincent Villegas, Owner of Creative Colors Dye, YouTube instructional video guru, consultant, and creative concrete design expert.
Challenge: Half of the floor inside the bank was delaminating. It needed a full removal and replacement. Because of the nature of the credit union's business, it had only a 72-hour window of time to upgrade its look as not disturb business banking hours.
The Solution: With the help of Vincent Villegas, CON-TEX Construction completely removed the delaminating underlayment and surface layer of the floor and installed the following Super-Krete Smooth Finish & Art Deco Resurfacing System while exceeding the client's demand for time and aesthetics.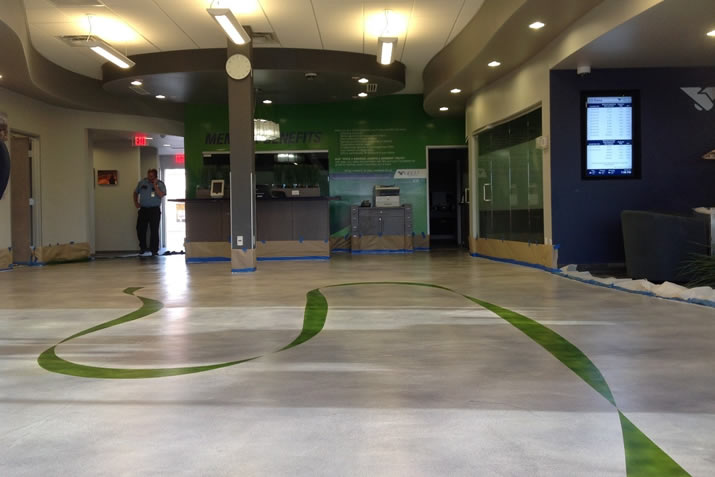 The Solution
With the help of Vincent Villegas, CON-TEX Construction completely removed the delaminating underlayment and surface layer of the floor and installed the following Super-Krete Smooth Finish & Art Deco Resurfacing System while exceeding the client's demand for time and aesthetics.
The existing surface area floor was completely stripped using grinders, sweeping and vacuuming. Because the original material failed, S-100 S.B.A. Superior Bonding Agent™ was applied as a precaution for additional bond strength. Once the primer dried, S-9300 Bond-Kote® was mixed and applied, followed by two coats of S-9304 Micro-Bond™ for an ultra-smooth finish. After the finish had dried, tape was artistically placed to create the designs sought and acetone dye was applied, with custom colors created by Vincent Villegas. As an added bit of functionality, an intricate design was cut into the floor to guide banking patrons through the line. The rest of the floor was dyed to match the bank's color scheme, after which the floor was then sealed with two coats of S-8600 Clear Seal™ Plus and waxed with multiple coats of Industrial Floor Finish Wax.
"Super-Krete to the rescue! Among the many great attributes of the Super-Krete products, the time it takes for the products to completely set is incredibly fast and simply put, worked amazingly! In an incredibly short period of time, we had gone from a delaminating floor, to a torn-up floor, to now a floor that quite literally looks like a work of art. A bright, shiny green ribbon dashed along the floor indicating where patrons of the credit union should stand in line, while the rest of the floor was covered in an elegant marbleized blue-grey, both colors exactly matching the color schemes throughout the bank! We had done it and with not a minute to spare! Thanks to the high-quality materials available through Super-Krete, the knowledge and expertise of colors and overlays of Vince Villegas, and the sheer determination to succeed of CON-TEX Construction, the job was not only fixed, but completed above expectations!"
Juan Martinez
Chief Managing Officer
CON-TEX Construction, LLC.
Company: Super-Krete Products
Product: Custom Interior Flooring
Source: http://super-krete.com/case-study-1016-gecu-case-study
Tags: Color | Concrete | Floor | Interior Design
---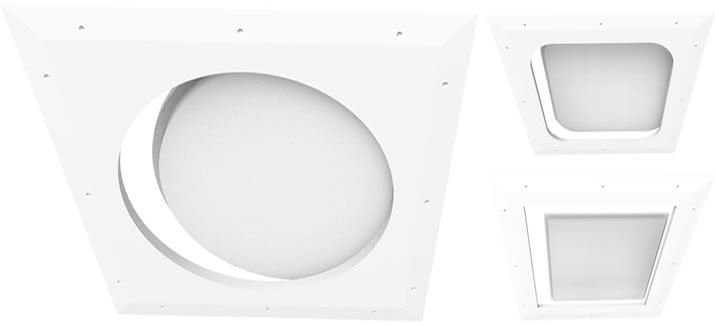 Concealed Drop In Access Door - Circular/Radius/Square Corner
Nystrom Inc announces the release of the Concealed Access Doors, a high-end architectural panel. The addition of the glass fiber reinforced (GFR) access panels adds another option for architectural applications, such as hotel lobbies, casinos, multi-tenant housing and government buildings.
The Concealed Access Doors are available in either a drop-in or hinged design with a square or radius corner or a circle for drop-in applications. The hinged design can be installed in ceiling and wall applications and is available with a cam latch or keyed lock.
Features:
Blends seamless into surrounding drywall
Eco Friendly
Reduced labor costs
Optional concealed hinge and lock options
Tapered edge for joint tape
Paint and texture ready
No shrinking, cracking, sagging or rusting
Mold and moisture resistant
For specialty applications, more information or to request a quote, please visit https://www.nystrom.com/products/access-doors.
Company: Nystrom Building Products
Product: Access Doors
Source: https://news.nystrom.com/2017/03/20/new-upscale-gfr-access-doors/
Tags: Access Covers | Interior Design | Wall Panels
---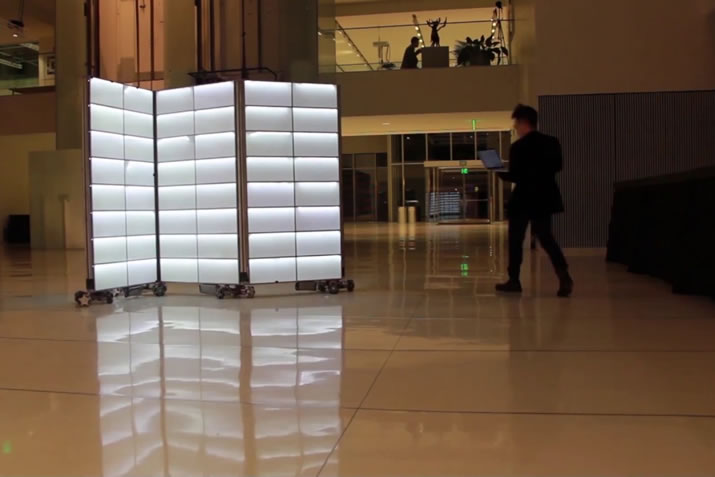 The Tomorrow's Workplace 2016 design competition challenged teams of designers to define "how will offices enable workers to be the best they can be?" For one team from the Massachusetts Institute of Technology (MIT), Kalwall® translucent sandwich panels offered the solution.
The competition was presented by Metropolis Magazine and Staples Business Advantage, a division of Staples Inc. Design
teams were tasked with creating an original piece of architecture that accommodated the needs of workers in terms of privacy, light, noise reduction and health.
Kalwall panels were an essential component of the design from MIT's Changing Places group, giving it structural integrity and aesthetic appeal. The design received an honorable mention.
The transformable wall employs robotics technology to create a hyper-efficient, dynamically reconfigurable structure. The innovative robotics and unmatched quality of Kalwall panels combine to create a flexible piece of architecture that accommodates a wide range of activities in a small space.
Kalwall has become the go-to option for translucent building systems, providing museum-quality daylighting™
with superior thermal packages.
Company: Kalwall Corporation
Product: Wall Systems
Source: https://www.kalwall.com/2017/03/03/kalwall-panels-featured-in-amoeba-wall-mit-design-teams-award-winning-project/
Tags: Interior Design | Lighting | Wall Panels
---
According to the Hazard Communication Standard from OSHA, organizations must post safety signs that comply with standards from the American National Standard Institute from either 1967-1968 (ANSI Z53.1, Z35.1 and Z35.2) or 2011 (ANSI Z535.1, Z535.2 and Z535.5). The most effective way to communicate warnings and other important safety messages to employees and visitors alike is through the use of safety signs.
For details regarding the specific signs you should hang at your facilities, visit OSHA.com. In the meantime, hang these 10 types of signs throughout your facilities to remain compliant: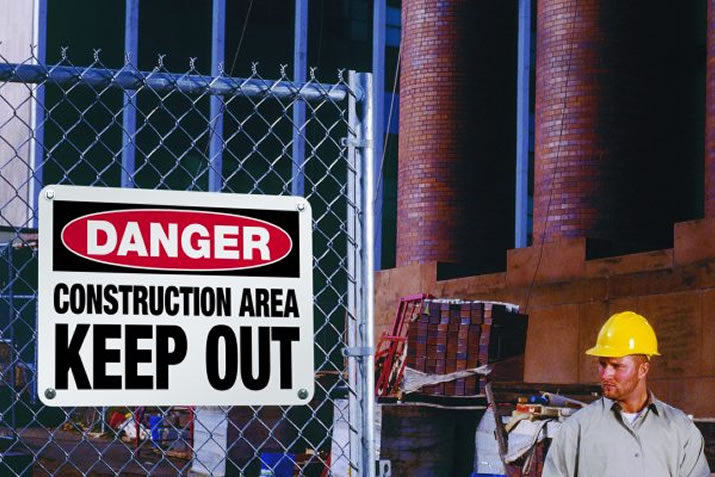 1. EXIT and Evacuation
According to OSHA, emergency exits and evacuation pathways must be clearly marked at all times. If you have doorways or other passages that could be mistaken for exits, make sure they're identified as well. All authorized EXIT signs must be visible and illuminated (by a light source or self-illuminating feature), and use distinct colors. Signs must clearly read "EXIT" in letters no less than 6"(H) x ¾" (W).
2. Fire
Identify areas that house fire extinguishers and fire hose cabinets. Doing so will ensure fast action by emergency personnel and properly trained employees during an emergency scenario. Plus, hanging the right signs is essential for compliance with OSHA.
3. Electrical Arc Flash Hazard
Arc flash accidents can be extremely hazardous or deadly in some cases. Because of that, OSHA requires organizations to designate high-voltage areas in their facilities and mark them accordingly using proper signage. According to NFPA 70E-2012, switchboards, meter socket enclosures, panelboards and motor control centers need to be marked with arc flash labels during maintenance.
4. First Aid
Make sure First Aid supplies are easy to locate and available to workers at all times in case of an emergency.
5. Flammable / Combustible
All the areas – and containers – around your workplace that hold combustible or flammable liquids, vapors and other materials, should be properly labeled with visible warnings.
6. Personal Protection
Remind employees and visitors to wear required Personal Protective Equipment (PPE) when they're around hazards that can cause physical injury or impairment.
7. Hazardous Area
Keep your employees informed about potential hazards, unsafe practices and area protocol instructions
8. Confined Space
Warn employees about areas that require authorized permits or specific instructions to enter safely.
9. Machine and Equipment
Help employees stay alert when working around heavy machinery or other equipment that could result in personal injury.
10. Slips, Trips and Falls
Are there areas around your facilities that are more dangerous than others? Put up signs in places like staircases, balconies, aisles and narrow passageways to remind workers to be careful.
In addition to our high-quality, OSHA-compliant safety signs, Seton is proud to offer businesses Workplace Sign Reviews to help ensure they have the signs they need to safe and in compliance. With this on-site service, organizations receive:
A facility inspection based on your safety concerns
A customized report on improvements needed
Assurance that you're keeping workers safe
For only $1,500, you can check to make sure you have all the signs you need to stay in compliance with OSHA. Keeping in mind the minimum fine from OSHA is currently $12,675 (as of Jan. 13, 2017) per violation, Seton's Workplace Sign Review should be a no-brainer!
Company: Seton
Product: Signs
Source: http://www.seton.com/blog/2017/02/10-must-safety-signs-osha-compliance
---
A Howe Green 7500 Series Medium Duty Aluminum Floor Access Cover was recently installed at the Lennox Addington County General Hospital in Napanee, Ontario.
The hospital, which first opened in 1966, provides General Medicine and General Surgery, a 24 hour emergency service and an increasing number of outpatient clinics to the population of Lennox and Addington and the surrounding towns.
Over 270 people are employed at the busy hospital and they provide high quality health care for around 24,000 patients a year. The safety and comfort of patients is paramount.
Howe Green is one of the world's leading manufacturers of fabricated metal floor, wall and ceiling access covers, panels and hatches. Established in 1983 the company has a long pedigree when it comes to supplying access solutions for the healthcare sector.
Notable healthcare projects include the supply of over 100 Visedge Series Flexible Floor Access Covers for the state of the art Southmead Hospital in Bristol and 200 Visedge floor covers for the Queen's Hospital in Romford.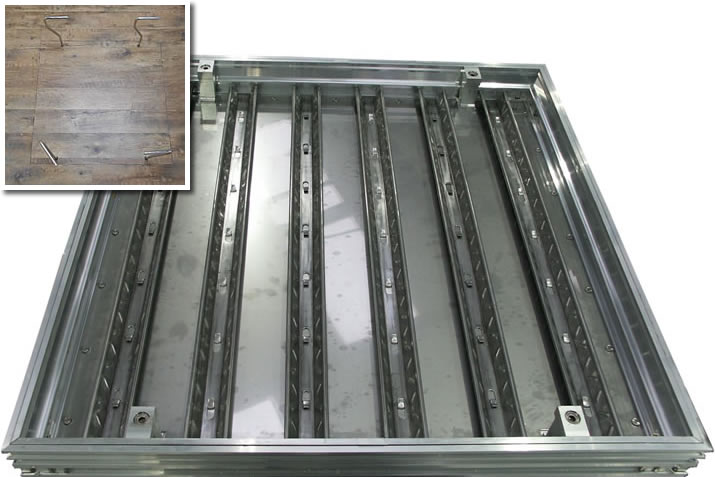 The access challenge:
Ensuring the smooth operation of mechanical and electrical services 24/7 is a challenge in any environment. Within a hospital the demands on providing an ambient temperature for patients, reducing the risk of infections and ensuring that systems are energy efficient adds greater complexity to daily maintenance schedules.
The Building Trades Coordinator Lennox and Addington County General Hospital required easy access to a shaft that concealed mechanical and electrical services running through the underfloor void of the building. With heavy footfall of patients, visitors and staff it was imperative that the access solution was secure but could be easily and quickly removed when required.
After direct discussions with Howe Green's Canadian distributor - FF Systems in Ontario - it was agreed that the 7500 Series was the perfect solution for the challenge in hand.
Why the 7500 Series Medium Duty Access Cover was ideal for this project:
Suitable for heavily trafficked pedestrian areas, cars and light delivery vehicles as it will accept up to a 5 ton pneumatic wheel load
Can be used with all types of hard flooring including terrazzo, ceramic tiles, marble, resin, concrete, wood and parquet floors. In this case the access cover was filled with concrete ready for a wood floor to be laid over the top.
Available in a range of standard size access covers from stock. Where a non-standard size is required this can be manufactured to order to meet the exact specification
The cover provides easy access to the mechanical and electrical services located underneath the floor. It can be safely removed, with the minimum of disruption, using a set of lifting keys
Option for a double seal to provide a tamper proof solution with enhanced levels of security
The cover fits flush into the surrounding wooden floor removing the risk of slips and trips.
Over to the customer for the last word…
"I chose to work with FF Systems because they were able to supply a product that met our specific requirements. The Access Panels are of superior quality and easy to install. I look forward to working with FF Systems in the future." - Bill Harrison, Building Trades Coordinator, Lennox and Addington County General Hospital, Napanee, Ontario
Find out more:
Visit the Howe Green US website or call Howe Green's distributor - FF Systems Inc in the US on 239 689 5334 or for Canada 519 896 0888.
Company: Howe Green US
Product: Medium Duty Floor Access Covers
Source: http://howegreen.us/
Tags: Access Covers | Aluminum | Floor
---
Moorgate Exchange is one of the first buildings in the UK to achieve both BREEAM Excellent and LEED Platinum ratings, and is an excellent example of how Xypex Admix can be used to simplify the production process of waterproofing and concreting.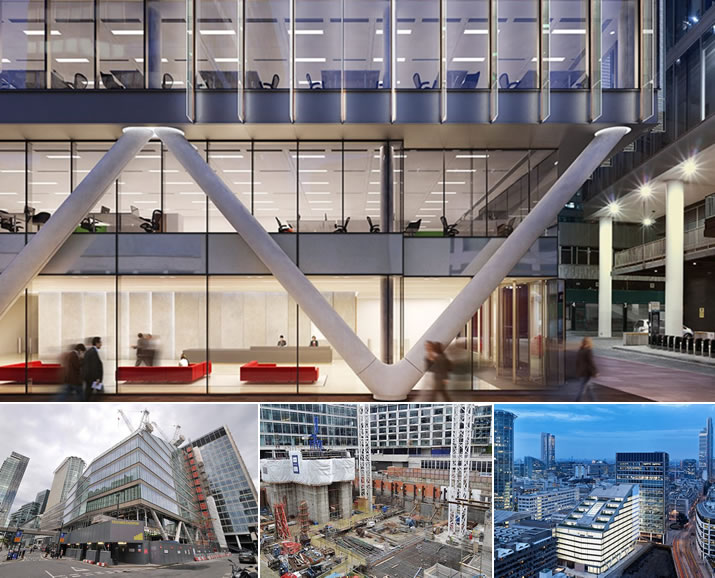 Moorgate Exchange is a striking 344,000 sq ft building in the City of London. This commercial development has a green roof, strategic views of St. Paul's and a two-story basement. Designed for large City occupiers, the building creates open plan floor plates and six green-terraced stepped back roof garden tiers. Floating on V columns, it is designed to cantilever the floors over the Crossrail tunnel beneath. Materials with sustainable properties, such as recycled aggregates in the concrete, were used in the construction process. Recycled rainwater and grey water storage systems have been installed to reduce the amount of potable water used in the toilets and the irrigation system for the 'living' walls on the terraces. The building is one of the first in the UK to achieve both BREEAM Excellent and LEED Platinum ratings.
This Skanska project is an excellent example of how Xypex Admix can be used to simplify the production process of waterproofing and concreting—both to be achieved simultaneously. One of the key influences for the decision making process of adopting the Xypex system as the waterproofing strategy was the total cost saving that was achieved through the whole package. Site attendance and quality assurance procedures were implemented to ensure a trouble-free installation of the waterproofing. The entire basement is cast utilising Xypex Admix and Xypex Concentrate for sealing the joints.
Company: Xypex Chemical Corporation
Source: http://xypex.com/projects/project-search/Detail?projectid=6303
Tags: Building | Concrete | Waterproofing
---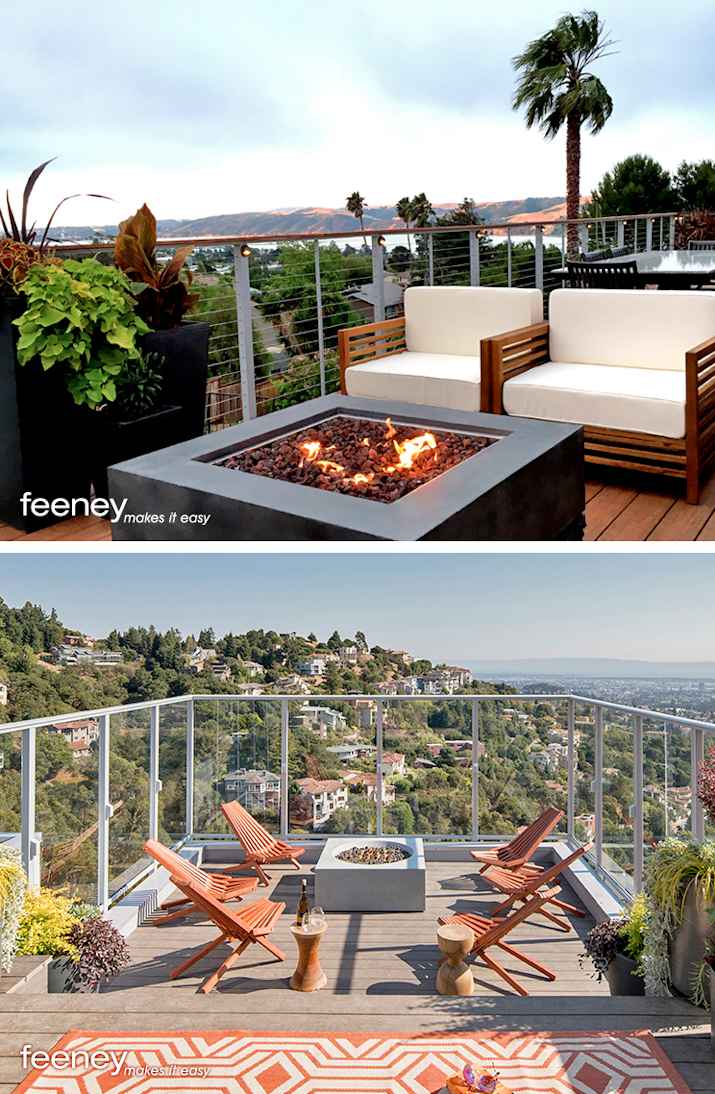 With all the direct work we do with residential and commercial architects, we know meeting your design vision is at the heart of our business. That's why we offer a premium palette of posts, top rails, frame colors, and infill options for your specification needs.
When that interior or exterior aesthetic calls for maximum transparency, as it often does, the usual railing infill defaults are a cable or a tempered glass system. It may come as a mild surprise to some to learn our DesignRail® system offers designers both view-friendly systems. Yes, we're a single-source, infill agnostic when it comes to meeting your project goals and budget.
Both glass and cable railing systems offer style, proven performance, and unfettered sight lines for interior or exterior applications. As you consider the best infill solution for your project, keep this in mind:
Cable Infill
Wind
Allows full air flow across the deck or balcony area.
Installation
CableRail is easy to install with patented automatic locking jaw Quick-Connect® fittings. No crimp tools or wedge-type compression fittings required.
Sustainability
Stainless steel cables contain 70% pre-consumer content and 0% post-consumer content.
Safety
Compliant with the International Building Code and International Residential Code when vertical or horizontal cable spacing is 3 inches or less.
Maintenance
Minimal. Periodic treatment with a stainless steel cleaner and protectant is recommended. Occasional cable tightening is a routine procedure.
Tempered Glass Infill
Wind
Offers a full or partial wind break, which can be a consideration in coastal projects.
Transparency
Can be modulated from clear to custom tinted, helping manage light flow and privacy.
Environmental impact
Clear tempered exterior glass panels can prove to be a hazard to birds.
Durability
Tempered laminated glass can be specified for varying safety and security levels.
Maintenance
Requires periodic cleaning, though higher quality glass can help reduce cleaning time and frequency.
Tempered glass or cable... both infill msystems offer important design advantages. Feeney is at your service with winning solutions for both.
Company: Feeney, Inc
Source: http://media.feeneyinc.com/blog/railing-infill-face-off-cable-vs.-glass
Tags: Exterior Design | Glass | Metal | Railing System | Safety
---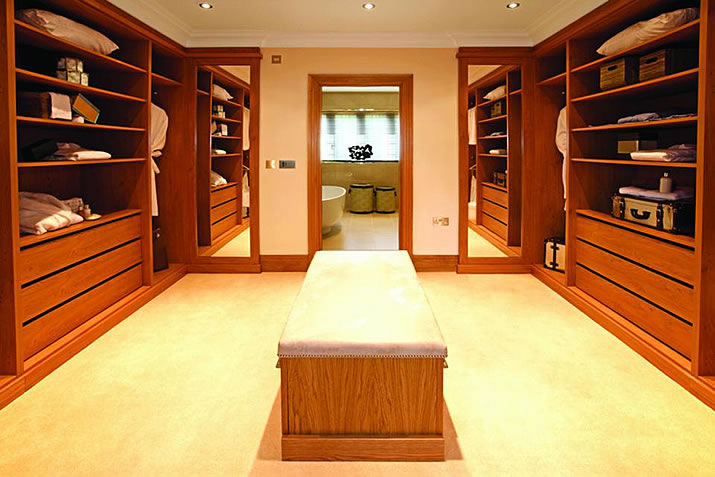 Beautiful cabinetry in high-end closets no longer has to be marred by ugly, burglar-enticing locks. Thanks to an innovative smart-locking system invented for cabinetry in upscale commercial environments, luxury homeowners can attractively protect their valuables in closets and cabinets.
Jerry Wilson, president of Florida-based Bespoke Design & Consulting, was seeking an effective but unobtrusive locking system to integrate into custom furnishings in walk-in closets in an addition to the master wing of a high-end South Florida home.
"The homeowners needed commercial-strength security to protect the husband's watch collection and the wife's jewelry, but wanted to avoid keyholes because they alert thieves to valuable items, are unsightly, and require finding the right key," Wilson says.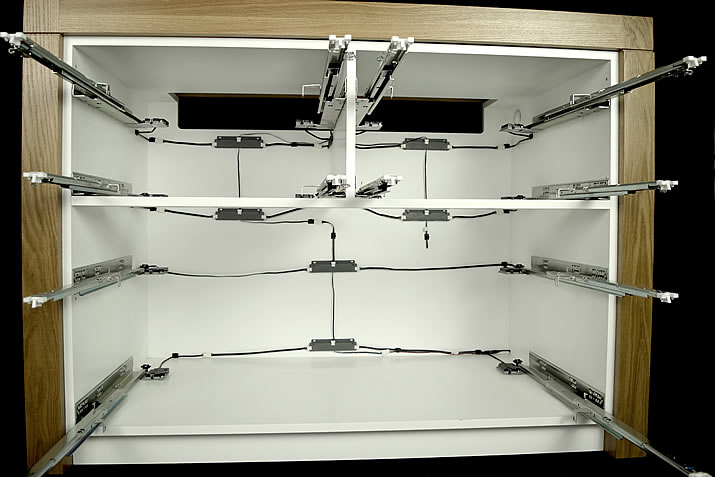 Inside the installation of the Senseon RFID-powered system
The Senseon Secure Access Control System, an RFID-powered system that Wilson had seen demonstrated at a trade show, proved to be the perfect solution. "Senseon enhances the safety of luxury goods and gives homeowners peace of mind," he says. "In addition, the plug-and-play system was easy to install, and Senseon customer support was great in helping me coordinate with the cabinetmaker, electrician and installer."
"Everything is completely invisible," Wilson notes. E-locks were installed on the side of a cabinet in the husband's closet, as well as under the top of a velvet-lined, multi-drawered jewelry case in the wife's closet.
"They love the new system," Wilson adds. "It's state-of-the-art, they know their valuables are safe, and they don't have to fumble around for a key or hide a key. They use a smart card for access."
Wilson, whose firm provides upscale residential interior design and general contracting, said he is incorporating Senseon into all projects requiring locks in closets or cabinets.
Editor's Note: Sean Jordan is a Business Development Specialist for Senseon.
Company: Accuride International
Of: Sean Jordan
Source: http://www.woodworkingnetwork.com/closets/how-create-thief-proof-closets
Tags: Furniture | Interior Design | Security
---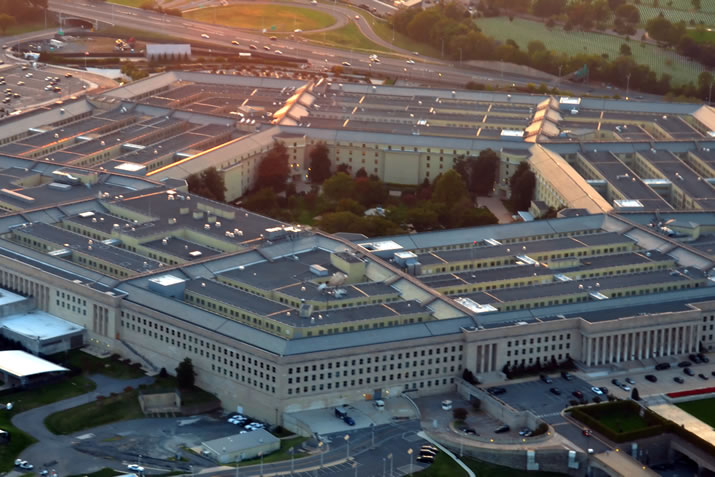 The Role of Commercial Steel Doors in Resilient Design
AMBICO now offers a new AIA certified course currently available for architects online through AEC Daily. The Role of Commercial Steel Doors in Resilient Design is our first course to qualify for 1.5 CEU credits. In addition, it qualifies for LU, HSW, GBCI, and more. You can view the course here.
Why Resilient Design?
Resiliency is a growing necessity. It's important to understand the impacts natural and man-made disasters have on the built environment and to design for those impacts now. This course will provide an overview of the benefits of using steel doors in resilient design strategy. This includes applications requiring resistance to blasts, tornadoes, and ballistics.
Company: Ambico
Source: https://www.ambico.com/blog/
---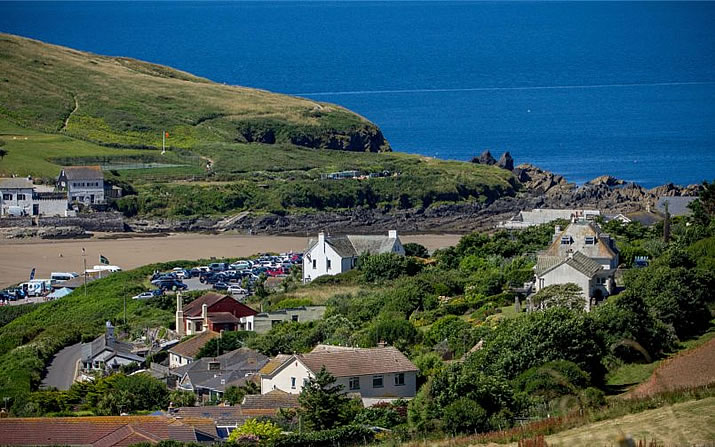 Coastal landscapes face additional pressures from things like high winds, floods, salty air and so forth. In order to overcome coastal landscape challenges, certain precautions must be taken during the installation process.
Super storms are bigger than ever before. Recent super storms have caused a shift of attention towards building structures near hazardous coastal environments that can actually withstand these challenges. Even on a good day, coastal properties face a variety of challenges from the salty air and intense sun. Add assaulting winds, hurricanes, floods, tropical storms and storm surges on top of daily wear and tear.
Failing to use the appropriate landscaping materials will result in quick degradation of landscaping and costly repairs and replacement. It's so important for architects and landscape designers to pick the right types of plants and installation techniques in order to ensure the long-term survival of coastal landscaping.
#1. Use Native Coastal Plants
First and foremost, you want to select native coastal plants that are naturally capable of surviving harsh winds, salty air and all of the other extremes faced by coastal plants. Native vegetation lowers the cost of maintenance and irrigation, plus native plants are more likely to bounce back following a storm or even a hurricane. Utilizing native plants also encourages local wildlife to flourish.
An LAF Case Study Investigation included site analysis of several coastal properties in South Florida, all of which were found to incur big time benefits from native plants. One of the properties included in the study was 1100 Block Streetscape of Lincoln Road Mall. This property faced coastal issues as well as challenges associated with heavy urban environments. The redesign involved adding 30-40 foot native canopy trees that were transplanted directly on site. The trees provided immediate shade to the public plaza because they were full-grown at the time they were transplanted. The fact that they are a native species (live oaks and bald cypresses) continues to help ensure their survival no matter what Florida's wild coastal weather throws their way.
Beach sand is not the most fertile soil and doesn't retain moisture very well, making it rather undesirable for most plant types. The goal is to find plants with multiple tolerances. According to Meg Whitmer, CEO of Meg Whitmer Landscape Architecture located in Tampa, Florida, "I use hardy plants that can withstand high winds, salt spray (if applicable), flooding, drought, sandy alkaline soil and cold tolerant." She adds, "Most of these plants are native, but several ornamentals are also hardy enough for coastal location if planted in the right place."
Depending on where you are located, different plants do better than others. For instance, in the Pacific Northwest, succulents and grasses such as Miscanthus and Mexican Feather Grass do very well in coastal environments. While red mother of thyme makes a hardy ground covering. If you aren't a huge fan of how hardy plants look, use them as a protective barrier surrounding more ornamental plants closer to the home or building.
#2. Be Familiar With Coastal Lighting Regulations
Coastal lighting is regulated in regards to the creatures we share the land with. Bright lights that shine all night can distract coastal marine animals and even jeopardize their survival. For instance, in the Hamptons local regulations against lighting prevent home owners and business owners from putting lights too far from their home or building, and never near the dunes. While in Florida, there are similar regulations in place, largely revolving around sea turtles.
Lighting fixtures should be strategically placed close to the structure to prevent interference with nature as much as possible.
#3. Use Hardy Hardscapes
If waves repeatedly crash down on your property, it will wash away your hardscapes within a relatively short amount of time. 2-inch gravel walkways are a great solution because they are not easily displaced. Plus, since they are not set into place it's much easier to make repairs and replace as needed. Try using large stones with an aggregate to help hold everything together.
#4. Make The Switch To Resin-Based Materials
Avoid metals because they are quick to rust and corrode from the salty moist air. Our resin-based materials are incredibly durable and non-permeable, which means no salt or water is able to seep within materials and cause damage. Everything from planters to site furnishings to lampposts lasts a lot longer when made from our unique resin-based material.
Learn more about the benefits of our resin-based products: http://www.terracastproducts.com/why-resin/
#5. Invest In Structures That Can Survive High Powered Winds
One of the biggest challenges is creating structures capable of standing up to the dramatic winds that pick up during hurricanes and other large-scale storms. When winds can easily reach over 100 miles per hour, sheds, buildings and any other structures must be reinforced with a steel moment frame.
High forced winds come with high-flying debris capable of shattering windows and letting the storm inside. Windows should be equipped with easy to use storm shutters, or other approved measures, in order to protect against windborne debris. An impact-rated glazing may be suitable to windows that are less prone to damage, while motorized roll-down shutters are a great way to protect windows at greater risk for damage.
It's important that all of your structures, site furnishings and landscaping materials are able to withstand getting pummeled by sand, chairs or anything else that gets caught up in the wind. The majority of commercial and residential lighting fixtures, planters and site furnishings are not capable of withstanding these types of forces. TerraCast Products are highly durable, making them ideal in some of the toughest environments.
#6. Work With The Breeze For Unexpected Benefits
While wind can be viewed as a negative factor, you can actually use it to your advantage. Incorporate plants that flow with the wind, such as long grasses and other loosely textured plants. As a result, your landscape will flow with the wind and create a lot of natural movement.
Should You Build On The Coast?
Some argue that homes and other buildings shouldn't be built in risky coastal areas. Others argue the key is to position structures so that they respect the native landscape and ensure structural resilience and longevity.
TerraCast Products are built to withstand just about anything, including extreme coastal weather. Let us help you create winning coastal landscapes that last for many years to come, no matter how many storms blow onto shore.
Company: TerraCast Products LLC
Source: http://www.terracastproducts.com/6-ways-overcome-coastal-landscape-installation-challenges/
Tags: Landscape Design | Safety
---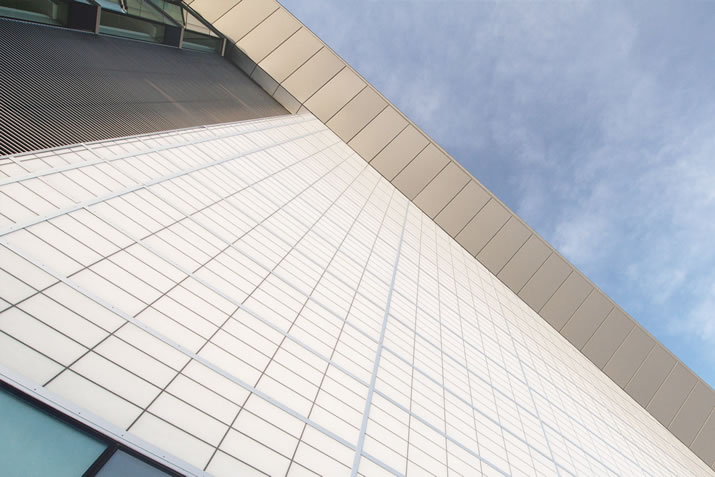 What happens when you bring together 250,000 people from around the world for six days in Munich, Germany?
Ideas are exchanged.
Best practices are shared.
Deeper levels of understanding are reached.
That was, in a nutshell, BAU 2017, the world's leading trade fair for architecture, materials and systems with the 2,210 exhibitors from 45 countries. More than 80,000 people had, like us, travelled overseas.
From our vantage point at the Kalwall® exhibit – our first time exhibiting at BAU (German for `construction') – we could see how much the world beyond the borders of the United States is changing and this was a chance to see how architects, owners, contractors and other business people are responding to those changes.
Here are three key takeaways from BAU 2017 affecting daylighting and fenestration globally.
1. Safety and security is no longer just about airports and government buildings
The safety, security and privacy of guests at hotels, students at schools and employees at banks and high finance institutions are becoming harder to ensure. While airport administrators and government facilities have been working with Kalwall for years to find solutions to similar problems, it was interesting to see the volume of private business owners looking for similar answers.Kalwall's specialty systems meet UFC 4-010-01 blast requirements and can, for example, provide an extra level of safety for guests in a hotel lobby from a car bombing in the street outside. The translucent panels also afford more privacy while providing museum-quality daylighting™ for interior spaces.
2. Canopies need to be rugged and resistant to pollution
Pollution and heat in certain regions of the world take their toll on canopies meant to provide shelter and shade, leaving architects and construction managers searching for alternatives to less durable polycarbonates.The ruggedness and capacity to resist fading in intense heat, along with its ability keep clean where pollution is a concern made Kalwall canopies an appealing option to business people in desert climates as well as industrial cities.
3. Energy is expensive and daylighting solutions are more important than ever
Technology was a dominant part of the conversation at BAU and a major reason why the world is seeking better ways to produce and store energy. I think my grandfather, Kalwall founder Robert R. Keller, would have been smiling. After all, energy efficiency was one of the reasons he developed his translucent sandwich panel in 1955.
Our technology, with its best in industry thermal and solar heat gain performance, was a conversation starter for business people concerned with the high cost of energy and the ways to be efficient. Renovations, in particular, present cladders the challenge of finding energy efficient solutions.
BAU 2017 was an opportunity to expose more people globally to the benefits of Kalwall. They came looking for the latest advancements, but some technology stands the test of time. This was re-affirmation of a technology we developed 62 years ago.
Company: Kalwall Corporation
Of: Amelia Keller
Source: https://www.kalwall.com/2017/02/13/a-kellers-bau-insights/
Tags: Building | Construction | Design | Energy | Lighting | Safety | Security
---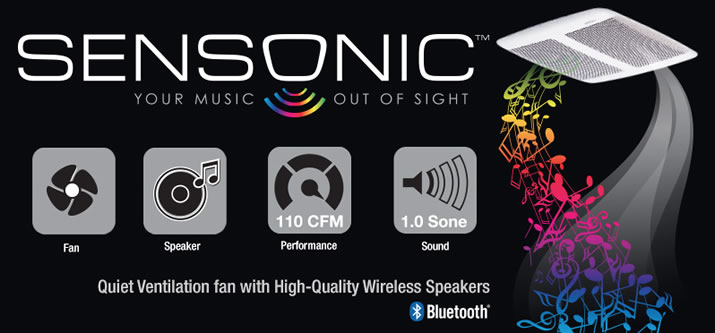 It's your music-out of sight. Unlike wireless speakers that require counter space, Sensonic™ speakers with Bluetooth® wireless technology fill your room with rich sound from above. From hard rock to news talk, play any audio through the dual high-fidelity speakers and enjoy entertainment and privacy at the touch of a button.
Enjoy entertainment and privacy at the touch of a button
Dual High-Fidelity Sensonic™ Speakers
Bluetooth® wireless technology
Brilliant audio performance concealed behind your fan grille
Play any audio through most Bluetooth®-enabled devices
Quiet, powerful QT ventilation fan
Effective, extremely quiet ventilation clears humidity and odors quickly
ENERGY STAR® qualified
Motor engineered for continuous operation
UL Listed for use over bathtub or shower when installed with a GFCI protected branch circuit
Type IC for use in direct contact with thermal insulation
Fits 2"x 8" ceiling construction
Includes unique spacer for easy I-joist mounting
Mounts between joists with optional QTHB1 Hanger Bar Kit (sold separately)
Features + Benefits | Videos | Models + Specs
Company: Broan-NuTone LLC
Product: Bath and Ventilation Fans
Source: http://www.broan.com/sensonic
Tags: Audio Visual | Design | HVAC
---
Seaside and coastal areas are beautiful locations for commercial and residential buildings, but also pose the greatest challenges in protecting exterior-facing architectural aluminum products from corrosion. Without proper precautions and finishes, corrosion to these aluminum components can damage the building envelope's structural integrity, leading to systemic failure.
One of the most aggressive outdoor environments for aluminum is the seacoast. Of the seacoasts, Florida's coastal regions represent the most corrosive in the continental United States, with Cape Canaveral cited as the most corrosive atmospheric environment.
Corrosion rates vary from place to place and during different times at the same location. Such wide variability makes definitive conclusions difficult.
The primary variables affecting corrosion rates near the coast are the salt content in the air, the time of wetness of the metal surface, the temperature and the level of other atmospheric pollutants. Several environmental factors control these variables, including distance to the ocean, elevation, wind direction, wave action, rainfall, humidity, the degree of shelter and the level of industrial air pollution.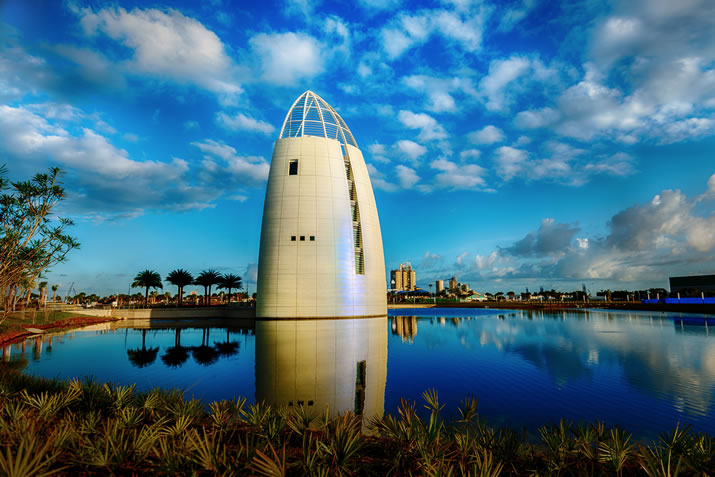 Exploration Tower at Port Canaveral (courtesy of Valspar. Photo by Rip Noel, Noel Studios Inc.)
Durable Finishes
Painted coatings and anodized finishes are among the most durable finishes for exterior-facing architectural aluminum products.
As a prominent part of the building's exterior, the coated aluminum adds color and design to the project. This coating also protects the building from unsympathetic surroundings. When selecting a coating to withstand harsh corrosive environments, one should specify either:
the highest-performing organic paint coating that meets AAMA 2605-13, Voluntary Specification, Performance Requirements and Test Procedures for Superior Performing Organic Coatings on Aluminum Extrusions and Panels; or
a Class I anodize coating that meets AAMA 611-14, Voluntary Specification for Anodized Architectural Aluminum.
These two options continue to set the highest standard for architectural coatings, especially in a coastal or highly corrosive environment.
Paint
High-performance 70 percent PVDF coatings offer the capability to select nearly any conceivable color or combination of colors, while shielding the building against weathering, pollution and aging.
The carbon-fluorine bond used in 70 percent PVDF coating is one of the strongest kn own. These paint coatings can withstand enduring and intense UV radiation, which supports their long-term color- and gloss-retention, and chalk-resistance.
The first, and one of the most important, defenses against a paint failure is proper pretreatment of the aluminum. Without proper pretreatment, premature failure of the finish is almost guaranteed. Paint systems are designed to be applied over clean metal that has been properly pretreated.
Pretreatment of the aluminum building components to be used in severely corrosive or coastal environments is crucial.
The most time-tested, proven pretreatment system for architectural aluminum products is a chrome phosphate conversion coating. This process conforms to Type B, Method 5 of ASTM D1730-09 (Reapproved 2014), Standard Practices for Preparation of Aluminum and Aluminum-Alloy Surfaces for Painting, as required by AAMA 2605-13.
Offering the longest lifecycle and true sustainability, chrome phosphate conversion coatings continue to be recognized by the world-class coating manufacturers, Akzo-Nobel, PPG, and Valspar, as the most effective, robust pretreatments for aluminum. As a result, products installed along the seacoast and in other harsh industrial environments may not be warranted-or the warranty length and coverage could be compromised-when a chrome pretreatment system is not employed.
These highest-performing 70 percent PVDF are required to perform to rigorous testing performance standards, including more than 4,000 hours of salt spray, and heat- and humidity-resistance to meet the AAMA 2605-13 specification.
Special Considerations
The shape and machining of the architectural aluminum products also may facilitate or deter corrosion. As examples:
Machined holes and cut ends of factory-finished aluminum components are protected by thin, naturally forming aluminum oxide. This oxide, while tenacious in its bond to the underlying aluminum substrate, may be susceptible to attack from strong cleaners or heavy salt deposits.
Hems and seams on aluminum components may be formed in a way that will collect sand. With movement, over time, this sand can erode away the painted coating or anodized finish.
Components may be shaped with areas that are left holding pooling or ponding water. This often can become a major issue for corrosion.
Specific to curtainwall and window systems' aluminum framing, ensure the weeps are large enough to avoid becoming plugged by salt deposits.
Anodize
When extreme hardness is required for the aluminum building components, such as in high-traffic areas like entranceways and railings, an anodized aluminum finish should be specified to meet AAMA 611-14. The hardness of anodized aluminum rivals that of the diamond. (On the Moh scale of hardness, a diamond is 10 and anodized aluminum is 9.)
Architectural anodize is specified for its natural beauty, but also for its long life and low maintenance. It provides excellent wear and abrasion resistance with minimal maintenance in most environments. It resists the ravages of time, temperature, corrosion, humidity and warping.
Anodized aluminum should meet the strict guidelines of Class I specifications of AAMA 611-14, including a minimum oxide coating thickness of 0.018 mm (0.7 mil); minimum of 10 years color retention on the South Florida on-fence testing site; and 3,000 hours corrosion resistance.
Cleaning and Maintenance
Studies have shown increasing levels of atmospheric pollution can have a negative effect on finish longevity in the absence of periodic maintenance. Runoff from adjacent site materials must be considered in a corrosion prevention plan. For example, mortar, cement and even gypsum dust can accumulate as alkaline deposits on aluminum surfaces and must be promptly rinsed. This is especially true of mill finish or anodized surfaces. While somewhat more resistant to alkaline attack than anodized surfaces, high-performance paint finishes can be managed by rough attempts to remove such buildup.
AAMA 609 and 610-15, Cleaning and Maintenance Guide for Architecturally Finished Aluminum, and AAMA CW 10-15, Care and Handling of Architectural Aluminum from Shop to Site, are general guides for these precautions and cleaning activities.
Corrosion of architectural aluminum materials is a fact that must be recognized; proper steps must be taken to minimize the potential for its occurrence. With these building considerations and preventive measures in place, finished architectural aluminum retains its intended look and long life, while providing the desired performance in the harshest environments, including the highly-corrosive seacoast. These qualities reduce the need to replace materials and components, conserve resources, optimize labor and save money.
Company: Linetec
Product: Anodizing
Source: http://www.linetec.com/Finishing_Facts/The-right-finish-for-coastal-projects.pdf
Tags: Aluminum | Building | Coating | Color | Design
---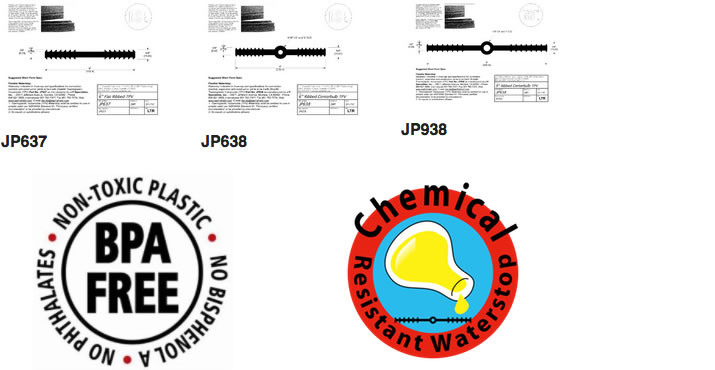 Earth Shield Waterstop is proud to announce three new waterstop profiles designed especially for environmental engineered concrete structures, such as waste and water treatment plants. All three profiles are ⅜" thick and have many interlocking ribs to grab into freshly poured concrete. Highlights of the new profiles include:
The new profiles can be downloaded in our CAD Library located here.
Company: JP Specialties, Inc.
Product: TPV waterstop
Source: http://us1.campaign-archive1.com/?u=d5aa96521259bc7506dadcfb4&id=0274b47a69
---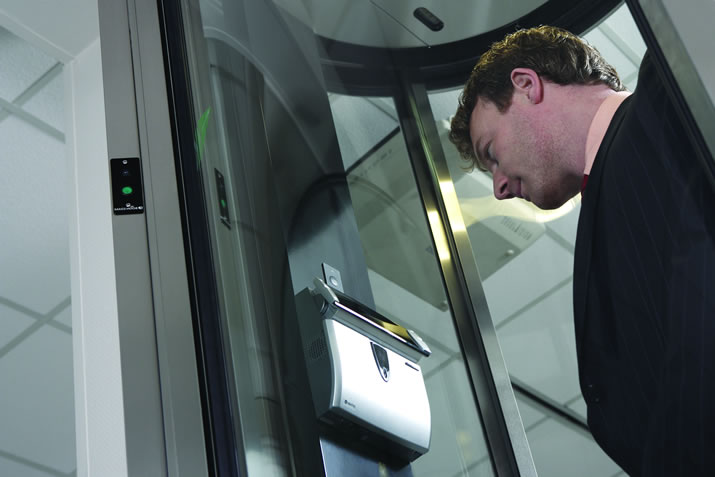 According to a study completed by the FBI, in 2014 and 2015 alone, there were 231 casualties as a result of mass shootings. Let's examine 4 enhancements you can make to security revolving doors or mantrap portals to thwart an active shooter's attempt at gaining access to your building, or worse, doing physical harm to people.
1) Anti-Piggybacking Technology
An active shooter with an agenda will be determined to infiltrate your building. He sees an innocent employee approaching the security revolving door or portal. His first thought? Hold them at gunpoint and force them, and himself, through the entrance.
This scenario describes a "piggybacking" event. When it comes to security revolving doors, the term "piggybacking" refers to an attempt to gain access to a secured area by jumping into the same compartment as an authorized user. For portals, piggybacking involves two users attempting to enter the door at the same time.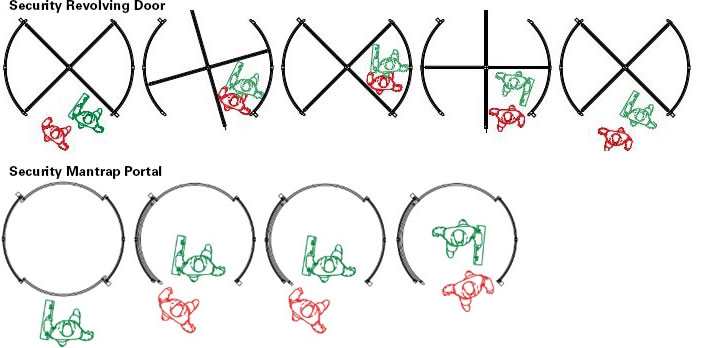 StereoVision 2 is a sophisticated technology from Boon Edam that puts a stop to piggybacking attempts. Using a combination of an optical camera and active, near-infrared sensors, StereoVision 2 technology can recognize shapes, sizes and volume in three dimensions. Simply put, the system is looking into the door's compartment and searching for a set of head and shoulders, as well as body shape. Based on a sampling algorithm, unusual shapes are rejected and the culprit(s) are required to exit the door.
2) Biometric Devices
But what if the active shooter doesn't stop there? If the shooter were to steal an employee's access card and attempt to proceed through the door - alone - he could gain access UNLESS you utilize one or more biometric devices.
Biometric devices identify unique physiological characteristics, such as fingerprints, hand geometry, facial features, and iris patterns. They also comply with two-factor authentication (2FA) regulations. These devices alone will not stop an active shooter from gaining access to a building, though (think about a swinging door opened by a registered user, and then held open for numerous people to pass through). But, when coupled with an anti-piggybacking technology, biometric devices provide a solid defense against unauthorized entry.
Security revolving doors can be equipped with an external biometric post placed immediately outside of the door, or as one of many leading up to the door. Security mantrap portals are available with an interior post, ideal for mounting the latest biometric technology directly inside the door. Both options provide a layered method of access and meet 2FA compliance. Keep in mind, though, that your throughput will be impacted by the type of biometric device you choose to incorporate.
3) Bullet-Resistant Glass
The common denominator between all mass shootings is a weapon. And it comes as no surprise that most active shooters choose the light, inexpensive and easy to conceal 9mm semiautomatic handgun to carry out their schemes, according to data compiled by The Washington Post. Bullet-resistant glass can safeguard the integrity of your door up to a certain point, and possibly save lives.
Bullet-resistant (BR) glass is the layer of armor your security door needs for protection against an active shooter attack. BR glass is made from layers of polycarbonate (tough plastic) sandwiched between pieces of toughened glass. And not all BR glass is created equal; there are different BR-rated protection levels.
Security revolving doors and mantrap portals can be outfitted in BR glass with protection Level 3. As mentioned, the weapon most commonly used by an active shooter is a 9mm handgun. According to Total Security Solutions, BR glass with a Level 3 rating is capable of stopping three .44 magnum bullets, or a bullet that is twice as heavy and moves significantly faster than the bullet of a 9mm handgun.
Level 3 BR glass is 1.04" thick, over 4 times the thickness of standard security door glass. The glass can be used on the outer drum glass and also, the moving door wings or panels. It's important to note that using thicker glass on moving door wings or panels will slow the movement significantly due to the extra weight and impact throughput levels.
4) Bullet-Resistant Curtain Wall or Storefront
Active shooter safety extends beyond your security door to include the adjacent walls or storefront area. To be prepared for a direct attack, and especially if people are constantly present on the inside of the storefront, you should consider replacing your curtain wall or storefront with BR glass.
Because they are flat and stationary, curtain walls and storefronts can accommodate a much higher level of BR glass than a security door (which has curved glass or moving glass in the door wings). BR glass for the curtain wall or storefront is available in up to a Level 8 rating which, according to Total Security Solutions, is capable of stopping 5 shots from a .308 caliber 7.62mm rifle.
Unfortunately, active shooter incidents are occurring at company locations across the nation, and the globe. The impact of such an event can be catastrophic to an organization if lives are lost. If you believe your organization could be at risk, these 4 enhancements for your security revolving door or mantrap portal can thwart an active shooter's attempt at infiltrating your building and wreaking havoc.
Company: Boon Edam Inc.
Product: Security Doors & Portals
Of: Amy Coulter
Source: http://blog.boonedam.us/active-shooter-safety-4-things-your-high-security-entrances-must-have
---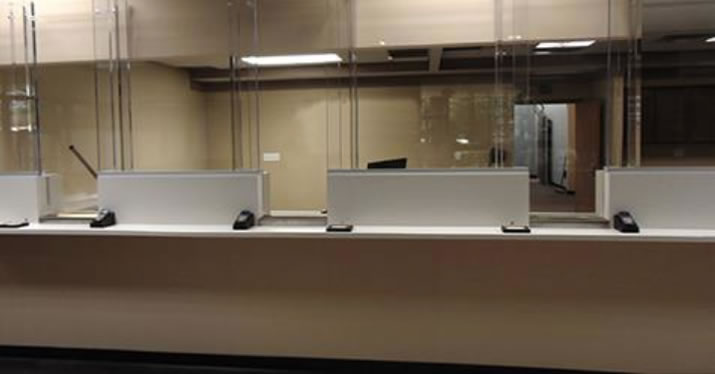 Because most banks have similar needs—a secured teller line with bullet resistant windows, secured ballistic doors, and bulletproof fiberglass to reinforce counters—many security companies try and push a one-size-fits-all solution.
With decades of experience designing, engineering, fabricating, and installing custom bandit barriers in banks and credit unions, Total Security Solutions knows how rarely this turns out well.
Bullet Proof Barriers Attuned to the Banker's Needs
"Banks can be pretty ornate, so were used to having to adjust what we do to match a given location." Total Security Solutions CEO Jim Richards explains, "That's our speciality, that sort of customization. Even when we're doing many locations for the same chain, in different parts of the country each office looks a little bit different. It's like housing, in that it has this regional component. So we don't try to come up with a single one-size solution we can just keep punching out."
Total Security Solutions isn't limited to just shuffling around pre-fabricated pieces. They can customize down to the individual component level: curved ballistic transparency, special communication and ventilation solutions, all-glass and completely custom high-security doors, and so on.
In contrast to many security companies—especially local glazers—Total Security Solutions is sensitive to how important relationships are in banking. Jim puts special emphasis on clear sight lines and communication in such settings. Gina Mims, a facilities manager, recently coordinated with Total Security Solutions to secure several offices for the Health Plan of San Joaquin: "I love the fact that … it doesn't look like the old school [barrier] with that metal plate [and talk hole]. It all looks very nice. Our buildings, both of them, are very modern, so I wanted to make sure that they stayed along those lines."
ATMs: An Evolving Security Challenge
ATMs pose obvious risks to customers, both in terms of their physical safety and fraud exposure. They are also proving to be a significant and unpredictable liability to financial institutions. For example, within the last several years European banks have been increasingly plagued by teams of thieves who attack ATMs in the night, flood the machines with a mixture of oxygen and acetylene (gases usually used to fuel welding torches), and then ignite the volatile mixture, blowing the machines open. These attacks don't just result in significant monetary losses (both in damage to the unit and building, as well as money stolen)—they're also incredibly dangerous, as you can see here (the ATM is at the far right edge of the frame, in a mostly blue enclosure with a red top half):
This could easily result in injuries not just to the thieves, but also to passersby, staff, and even people in adjacent buildings. Although there have been no reported ATM "gas bombings" in the United States as of yet, the US currently leads the world in losses resulting from insecure ATM locations.
According to Jim Richards, "There are a lot of different ways that ATMs are deployed, but we have yet to see one we couldn't secure." In many cases Total Security Solutions favors a design similar to their bulletproof vestibule system used in schools, replacing the outer glass and doors of the ATM vestibule with bullet-resistant transparency and framing, and securing access to the ATM with a ballistic door outfitted with a card swipe-actuated computer-controlled electric strike. "Customers swipe their ATM card to gain access, and then the door latches behind them–just like any other security door. These are really easy retrofits for situations where the ATM is installed in the bank vestibule or outer lobby, but the same idea works with exterior-wall ATMs: You build a bulletproof glass curtain wall around an exterior wall-mounted ATM, with the same sort of card-swipe entry system. What's key is that this solves both the skimmer/fraud/vandalism problem, as well as protecting customers."
Painless Bandit Barrier Installation
Most importantly, owing to their decades of experience, Total Security Solutions has optimized their prep, design, fabrication, and installation processes. "It can be two teller stations or 15; we're able to move on the project as quickly as the operations or facilities manager are ready."
Bullet resistant barrier system installations are designed to absolutely minimize any business interruptions. Most installations can be completed overnight, with even the most challenging retrofits installed in under a weekend.
"I just returned from see[ing] the install and boy what nice work!" Holly Eades, vice-president of finance for Clark Energy wrote after having several payment offices secured by TSS. "They were here when they said they were going to be, … showed up when they were supposed to, and everything was just as neat as a pin. We were really, really tickled with their work."
Company: Total Security Solutions Inc
Product: Bullet Resistant Barriers
Source: http://www.tssbulletproof.com/high-function-custom-bullet-resistant-solutions-banks/
Tags: Glass | Safety | Security | Windows
---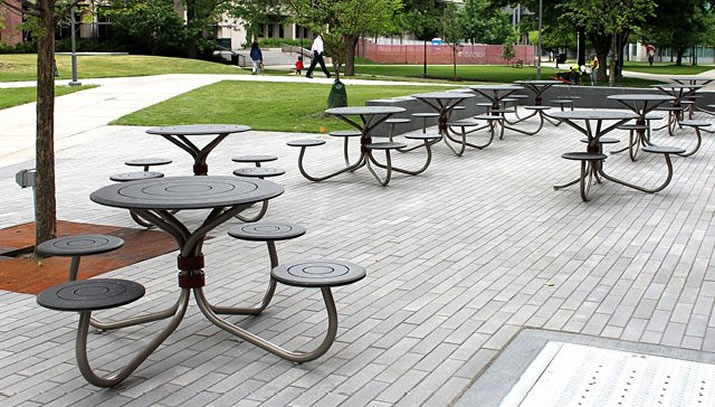 Photo credit: Maglin Site Furniture
From the first formal lectures held in medieval universities, to the online mobile classrooms of today, learning spaces are always growing to meet the needs of society; a study lounge can be a classroom; a cafeteria can become a library. Students can work from almost any location, on or off campus. Educational facilities strive to keep students engaged with their campus, and are embracing the notion of flexible learning environments. Single purpose spaces are becoming obsolete, and many facilities have moved closer to building comfortable and versatile environments that foster collaboration for their students.
An example of a school that has taken student requirements to heart is the University of Chicago. "They recognized the need to redesign their learning environments to meet the needs of today's students by creating learning spaces outside the walls of the lecture hall, library cubicles, and classrooms."i The flexible and customizable products that Maglin Site Furniture provides have played a part in helping the University reach this goal. "We needed specially designed cluster seating for a project, and I just wasn't finding what I wanted in the market, so I called (Maglin Sales Manager) Jill Roberts and we began working on the design," said Richard Bumstead, Associate Director for Campus Environment at the University of Chicago. "The final product ended up being a home run! It's fun, innovative, and works so well in the location."
Maglin provided custom versions of their MLPT1100B-W cluster seating to "jazz up" a prominent location in the heart of the University of Chicago campus. "We did a twist on the standard model and literally twisted the frame and used HDPC (high density paper composite) to create circular table tops and seats," explains Jill Roberts. ADA compliance was also required, so a matching 3-seat cluster unit was created. When asked why he wanted to work with Maglin on this project, Bumstead said, "The Maglin team is great fun to work with — the entire group is engaged in the work they do and more than willing to take a look at all requests for special orders or customization of products."
"The Maglin team is great fun to work with"
With regard to working on school campuses, Roberts stated, "Maglin loves to be involved in education projects! They give us the opportunity to assist in the creation of spaces and overall environments. Campuses have changed over time. Students and learning facilities don't just demand seating and trash collection anymore — they look for innovative spaces that promote collaboration, engagement, and community."
In order to keep up in today's mobile world, learning spaces must be able to adapt quickly and easily. The flexibility of Maglin Site Furniture's products, as well as their readiness to take on special projects, makes Maglin the right partner for your education plans.
Company: Maglin Site Furniture
Product: Tables and Seating
Of: Article originally written for and distributed by Maglin Site Furniture
Source: https://www.linkedin.com/pulse/evolution-educational-landscape-camilla-hansen
Tags: Exterior Design | Furniture | Landscape Design
---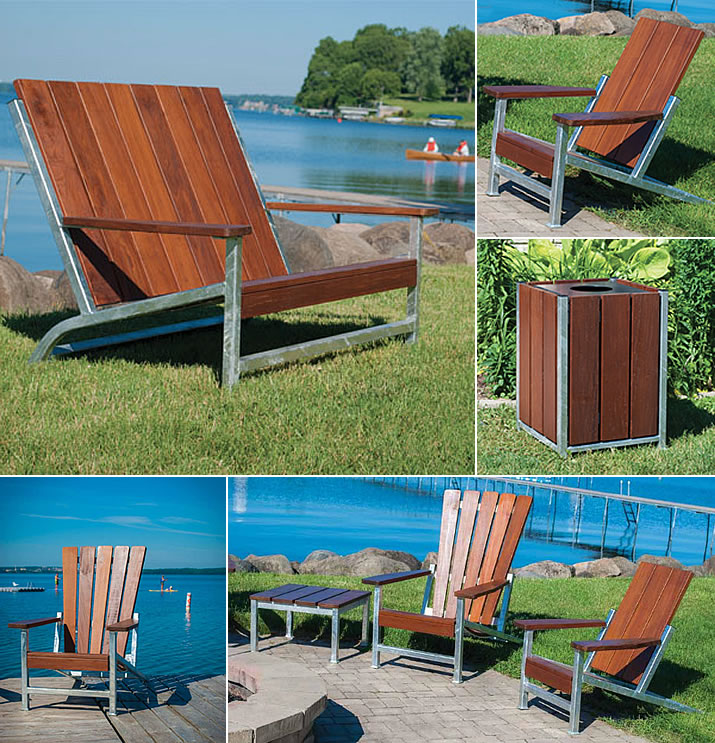 The Monona bench is perfect for any relaxed outdoor space. It features top-notch materials and has a fully welded steel tubular frame. The Monona™ bench seating materials features Accoya, Ipe Wood, and Recycled Plastic profiles. The Steel frame can be finished with powder coat paint or hot dip galvanize.
The new Monona chair is perfect for any relaxed outdoor space. It features top-notch materials and has a fully welded steel tubular frame. The Monona™ chair seating materials features Accoya, Ipe Wood, and Recycled Plastic profiles. The Steel frame can be finished with powder coat paint or hot dip galvanize.
The Monona youth chair is perfect for any relaxed outdoor space. It features top-notch materials and has a fully welded steel tubular frame. The Monona™ youth chair seating materials features Accoya, Ipe Wood, and Recycled Plastic profiles. The Steel frame can be finished with powder coat paint or hot dip galvanize.
The Monona™ litter receptacles are durable with a fresh clean design. Relax and let Monona™ receptacles do your dirty work. Monona receptacles are constructed with the following materials; 1 X 6" wood profiles and a steel plate all welded frame.
Architects/Engineers
Whether your area of expertise is residential, commercial, industrial, or landscape architecture or engineering, Thomas Steele products offer you creative, innovative, site furnishing solutions to meet your clients' needs. Our six different family styles are the perfect complement to any setting. We can help you provide the best possible combinations to suit your and your clients' requirements. Spending a few minutes on our web site can save you hours of research. Cut your specification time while getting site amenities that set the standard for craftsmanship, durability, and aesthetics. Partner with Thomas Steele for site furnishings that reflect your vision.
Company: Thomas Steele
Product: Monona Series
Source: http://www.thomas-steele.com/
Tags: Exterior Design | Furniture | Landscape Design
---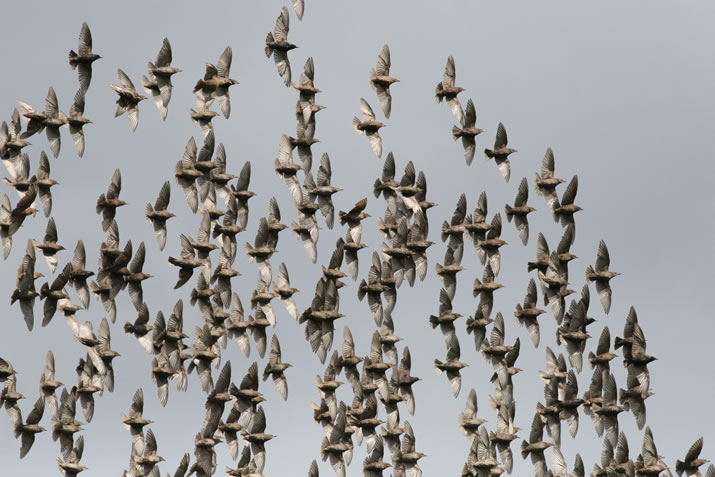 Birds cause millions of dollars in damage to homes across the U.S. each year. Because of the acidity levels in bird droppings, large accumulations of them can actually eat through roofing materials, which could cause leaks if bird populations are not deterred from the property. Bird nests can ruin gutters, cause electrical fires, and block ventilation systems. Gardens aren't safe either. Birds can destroy young seedlings and fresh fruit, and contaminate food plants with their droppings.
There are a variety of effective ways to control the bird populations around a home and garden. At Bird B Gone, we've developed a variety of environmentally friendly bird deterrents that will not harm birds or other wildlife, yet will effectively deter them in most cases.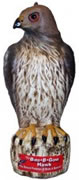 One of the most popular methods of bird deterrents are decoys such as the Bird-B-Gone Hawk Decoy, designed to scare off birds without the use of loud noises, lights, or other such equipment. Decoys such as the Hawk are low-maintenance options for bird control and usually made of a durable plastic that holds up to a variety of environmental factors. Decoys are commonly created in the shape of a hawk or an owl, predators that hunt the birds visiting a property.
By strategically placing these decoys on a roof, over the patio, on a boat, or in a garden, birds are unable to tell that the decoy is not a live bird—at least for a while. In sunlight, the decoy produces a silhouette or shadow that is equally menacing, but the success of decoy birds relies on human interaction. Moving the decoy to different places on the property is suggested to create a more realistic visual deterrent.
Which Decoy is Most Effective, The Hawk or The Owl?
Owls: The Night Hunters
Birds know that owls are night hunters, so seeing an owl while the sun is shining may not be an effective way to discourage birds from visiting your property. An owl guarding a garden or perched on a wall day by day will eventually lose its effectiveness, and, while birds may have been deterred in the beginning, they will soon learn this owl is not a real threat. With that being said the Red Tailed Hawk may be the more effective visual deterrent.
The Red Tailed Hawk: The Day Predators
The Bird B Gone Red Tailed Hawk decoy is chosen by consumers as the more realistic option for a decoy to use as a visual bird deterrent. Not only do the red-tailed hawks hunt in the daylight hours in a natural habitat, they are readily identified by birds as a predator. The mock predator eye and shiny reflective surface work together appealing to birds' visual sense. The red-tailed hawk decoy presents a visual warning to the birds, day or night, that danger is near.
While decoys can be effective for small areas or minimal bird concentrations, they are not recommended for larger infestations. The type of bird population, the amount of space affected, and the location of the infestation should also be considered. A combination of bird control methods may be required, including bird netting, repellents, electric tracks or laser deterrents.
For additional information, contact the professionals at Bird B Gone, who can recommend the right type of product to address your bird control problem.
Company: Bird-B-Gone, Inc.
Source: https://www.birdbgone.com/blog/bird-decoys-hawk-vs-owl/