architecture - engineering - construction
News
35 Collection by Landscape Forms Adds 3 New Designs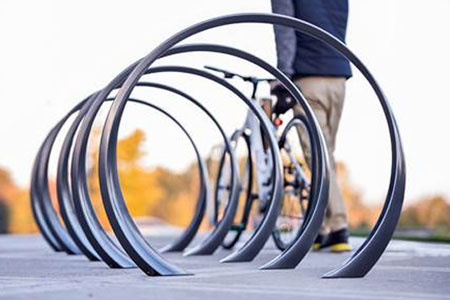 This January, Landscape Forms is adding three new designs to its popular 35 Collection, which is celebrating its 10th anniversary. Created in partnership with Frog Design, the team behind SONY Walkman and the Apple computer, these product additions maintain the original style of the collection "while ramping up the energy and edge." Signal LED light, Guide illuminated bollard, and Loop bike rack "carry on the family lineage" of the 35 Collection with their convex and concave forms.

LED Luminaries and Aluminum Bike Rack Feature Curvilinear Forms

Made of cast aluminum, Signal holds multiple arrays of LEDs in tri-board formations, each covered by its own lens "for economy of replacement and repair." Available in streetscape and pedestrian versions, with single or double luminaries, Signal minimizes weight and dissipates heat. The curvy shape has an avian look that increases Signal's sense of lightness.

Guide bollard also evinces the curvilinear style of the 35 Collection. Constructed of three cast aluminum panels of different heights around a "large glowing optical element," Guide disperses light seductively through vertical slits between panels. Line up a row of Guide bollards to illuminate a path or use Guide as a dimmable light for less glow.

Obviously functional, Loop bike rack advertises its use through its "simple, sweeping circle with a twist" that echoes a bicycle's wheels. One or two bicycles can be locked around Loop's cast aluminum frame. As with all 35 Collection products, Loop is finished with Landscape Forms' proprietary Pangard® Powdercoat in rich, current colors like cranberry and stromcloud, bold bright hues like flambé orange and peeptoe pink, and modern metallics like mercury and titanium.

About Landscape Forms

For more than 40 years Landscape Forms has been producing site furniture and accessories that help designers and other clients create a sense of place in outdoor environments. We do it through integrated product collections, leading edge technology and great design. We partner with international designers to create exceptional products, we nurture our own people to high achievement, and we operate our business at a standard that has earned customer loyalty and leadership in our industry.

Our secret is simple: Design, Culture, Craft drive everything we do.
For other relevant searches, you might want to try: