architecture - engineering - construction
4B+ USPS Approved Vertical Replacement Mailboxes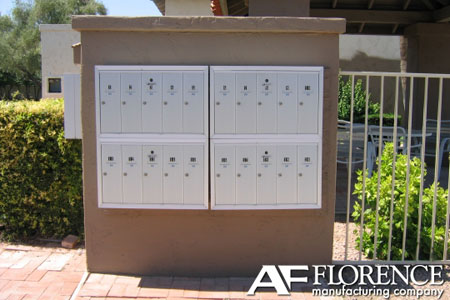 Florence vertical 1250 series mailboxes have been a staple for mail delivery in small apartment communities for many years. Available in fully-recessed models, semi-recessed mount or surface mount, these small profile mailboxes are designed to fit into smaller areas with minimal wall-space.

Vertical mailboxes are USPS Approved for one-to-one replacement purposes only - they are not approved for new construction. If you are renovating your apartment community and updating your mail center, you will need to move to the STD-4C mailbox platform - check with local postal officials to ensure requirements.
1250 Series Vertical Mailbox
Florence 1250 vertical series mailboxes are designed for use in small, multifamily buildings. They are constructed of durable, heavy-gauge extruded aluminum. Doors and trim are striated to resist scratching. Mailboxes feature a fully-recessed mount, semi-recessed mount, or surface mount option to complement any installation.
Designed to meet USPS STD-4B+, the Florence 1250 series has stronger compartment locks and master doors that better resist the more common methods of tampering. These boxes are ideal replacement options to ensure your residents continue to have safe and secure mail delivery options.
Standard Features:
Top Load (tilt out)
Recessed- or surface-mounted
Prepared for USPS installed Master Lock
Anodized aluminum finish
5-pin cylinder cam locks with two keys (1,000 key changes)
Name and number ID card holders
Additional Features:
Private master lock
Eight architectural powder coat finishes
Product Notes:
As of October 6, 2006, USPS STD-4C compliant mailbox systems are mandatory on all NEW CONSTRUCTION and MAJOR RENOVATIONS. Mailboxes that are 4B+ compliant will only be considered USPS Approved if they are replacing existing mailboxes.
Download the Product Brochure
View All Models
@FlorenceCorp #FlorenceCorp #mailboxes

For other relevant searches, you might want to try: