architecture - engineering - construction
Accuride Brings Movement Solutions to the Table for Food & Beverage Industries
Today, there are a plethora of tools and apps such as Amazon Prime, DoorDash, Postmates, Grubhub, and Caviar (just to name a few) at our fingertips, specially designed to bring us meals, ingredients, or other goods straight to our doorsteps. For food and beverage suppliers, this has meant adapting technology and warehousing techniques to improve quality control, restock items more efficiently, and increase the rate of product sorting and staging.

As outlined in a Modern Materials Handling article from earlier this year, the following trends in technology and operations require solutions that are practical, labor-saving, and cost-effective in order to stay in stride with the ever-forward trajectory of meal-planning, eating, and drinking for the modern masses.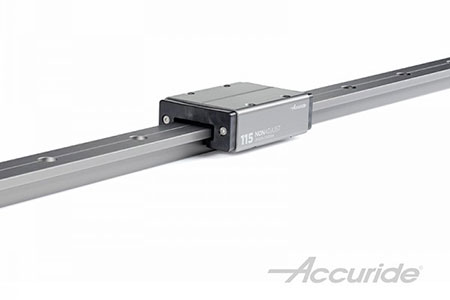 Using flow-through sortation systems to manage inventory promptly and accurately.
This approach utilizes automation and robotics to store and retrieve products in a timely, efficient manner–making the processes of packing, receiving, and breaking down inventory in totes and pallets a breeze. Automated production in moist environments will call for durable, resilient hardware. Moisture-resistant sliding systems, such as the FG115 Friction Guide, are crucial to meeting this challenging time and again.
Fulfilling diverse order profiles with adaptable equipment to exceed customer expectations.
Due to the higher demand produced by the latest mobile and tech trends, companies now need to fill smaller, direct e-commerce orders while putting large retail orders together simultaneously. To support this type of production, flexibility and adaptability in equipment is key, and movement solutions like the 115RC Linear Track System can provide highly customizable lengths and motion for overall production lines.
Optimizing outbound loads with the use of automatic guided vehicles (AGVs).
In the food and beverage industry, large outgoing orders mostly remain the same from week to week, and suppliers and distributors are finding that AGVs can streamline the execution of these outbound loads with precision and speed. The 0363 Two-Way Travel System, for example, is backed by engineering that can take the functionality of an AGV to the next level, allowing for either side of the warehouse aisle to be accessed from the vehicle with ease using a double extension.
From Warehouse Management Systems (WMS) to voice technology, the food and beverage industries have started to experience a new era of nuance and innovation behind the scenes in their warehouses. Even the smallest alteration in approach or hardware can enhance the efficiency of a production line or improve inventory management on shipping and receiving ends.
With 60 years of engineering experience, we at Accuride pride ourselves in crafting and delivering movement solutions for automated vehicles and fixtures as well as machinery at large. If you'd like to know more about the applications, or how Accuride can help with your projects, reach us on Facebook, Twitter, LinkedIn or Tag us on Instagram! . Until next time, stay tuned to Accuride!"

For other relevant searches, you might want to try: