architecture - engineering - construction
Announcing UL Certification on Newest Revolving Door
As part of an ongoing policy to certify products to North American standards, Boon Edam Inc., a global leader in security entrances and architectural revolving doors, today announced that the BoonAssist TQ manual revolving door has been tested and certified to confirm with UL Standard 325 and CSA 22.2, a standard established by UL (United Laboratories) for door, drapery, gate, louver, and window operators and systems. This certification assures Boon Edam customers that the product has been rigorously tested by a 3rd party and found to operate in a safe and predictable manner at any installed location.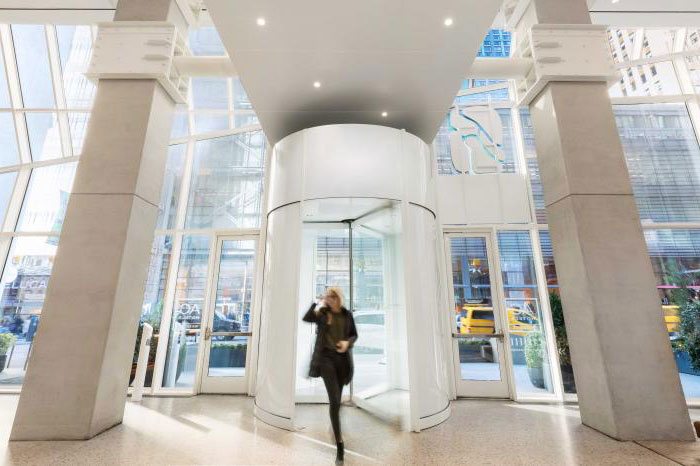 UL Standard 325 and CSA 22.2 (the harmonized standard in Canada) are the prevalent industry standards for ensuring the safe operation of revolving doors in the United States and Canada. While all of Boon Edam's products currently conform to CE (the European Union standard of safety and operation), the company continues to invest in UL certification for all door and turnstile products sold in the Americas to align with North American standards and ultimately streamline installation for their customers.

BoonAssist TQ - The Modern Revolving Door with Power Assist
When you consider that manual revolving doors were invented in the 1870's, the BoonAssist TQ is a completely modern solution due to its three unique features: it offers a low-energy, power assistance motor that reduces the force needed to push the door by up to 50%, it has speed control to ensure the rotation speed is always safe, and, the door wings always come to a stop with the wings pointed to the end posts of the throat opening (a.k.a., "quarter pointing").
As a result of these three features, the BoonAssist TQ is specified for many projects where user comfort and safety are considered essential. In addition, the BoonAssist TQ can be upgraded with extra security options: a remote locking capability, an instantaneous panic-locking capability (in case of a threat trying to enter the building) and integration with access control systems to restrict access into public buildings during afterhours.
"Boon Edam is driven to provide safe and secure entrances around the globe and we're continuously investing to ensure our products exceed operational standards," says Valerie Anderson, President and Managing Director at Boon Edam Inc. "When our entrances conform with UL standards, our North American customers gain peace of mind knowing that a reputable 3rd-party has rigorously tested and confirmed they will operate safely at any location."
UL was founded in 1894 and today helps companies demonstrate safety and confirm compliance. Services offered by UL include: inspection, advisory services, education and training, testing, auditing and analytics, certification software solutions, and marketing claim verification.
@BoonEdamUSA #BoonEdamUSA #security #revolvingdoors #turnstiles

For other relevant searches, you might want to try: