architecture - engineering - construction
About Wood Wall Panels
Wood Wall Panels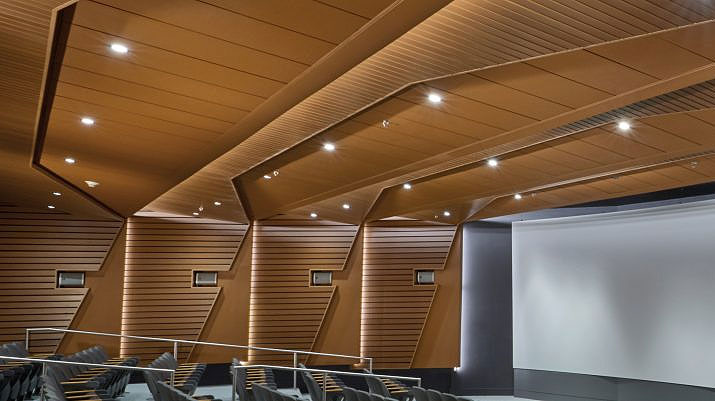 Wood wall panels choices include FSC chain of custody (CoC) certified WoodWorks panels, representing responsible production and consumption practices from the forest to the consumer, California Air Resources Board (CARB) compliant choices, and a variety of standard and custom wood species, stains, panel sizes, and perforation options.
Perforated panels with acoustical backing can improve sound quality and reduce reverberation time within a space. Some panels may be installed horizontally or vertically using clips or splines.
WoodWorks Ekos panels offer a real wood veneer over a mineral fiber substrate to create a lightweight, acoustical perforated panels that provide excellent sound absorption. Ekos panels can also help contribute to LEED® credits with no-added formaldehyde, no detectable formaldehyde emissions and high recycled content. A variety of decorative wood and aluminum accessories complete the system.
View Ceiling Maintenance.

Brochures | 3-Part CSI specifications | CAD details
07 42 00 - Wall Panels
07 42 23 - Wood Wall Panels
09 83 00 - Acoustic Finishes
09 84 00 - Acoustic Room Components