architecture - engineering - construction
Bath & Shower Screens from Bath Doctor
If you're looking to eliminate the mold and mildew problems associated with shower curtains and provide a stylish and functional entrance to a bathtub or shower a screen pivoting door or walk in shower system may be the answer.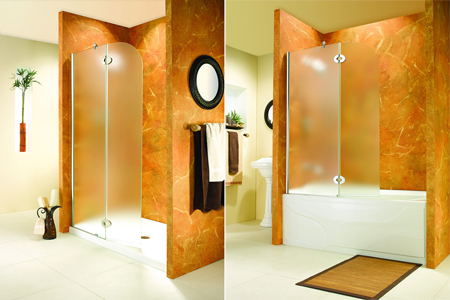 Benefits of Bath/Shower Screens & Walk-in Systems

Easy to clean because there is no bottom track like a traditional sliding door.
Clean, contemporary European walk in design.
Screen doors swing 20 degree to the inside to minimize water getting out and swing 180 degrees to the outside to make it easy to get in/out.
Easy to install.
Adds safety since they provide more light into a wet space vs. a curtain.
Easier to get into tub due to wider opening spaces.
Creates a more open environment and eliminates the need for curtains.
High-End Line – Evolution
Frameless Euro design inspired line with fixed and movable panel systems.
Features
– Frameless design, available in 3/8" (clear and obscure) glass, walk in systems for 4', 5' and 6' spaces, opens inward with deflector technology.
Bases
– Arc, Round, Half Round, Corner, NEO.
Premium Line – Banyo Siena
Semi-frameless design is more cost effective than Evolution series.
Features
– Semi-frameless design, 1/4" clear glass, 40 degree outward opening and 50 degree inward opening, hinged doors.
Bases
– Rectangular (Quad).

For other relevant searches, you might want to try: