architecture - engineering - construction
Belden Brick Adds New Brick Paver Colors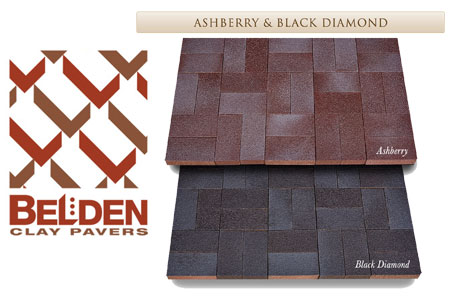 Belden Brick announces two new additions to its City Line Paver collection: Ashberry and Black Diamond

These two new brick pavers are crafted with the same quality and character you have come to know from Belden Brick. Both of these pavers are manufactured with chamfered edge or straight edge with no lugs. Two different size options are available. Standard size 2-1/4" thickness x 4" width x 8" length to meet ASTM C 902-11 pedestrian and light traffic paving brick specifications. 2-1/4" x 8' x 8" pavers available as a custom option in limited quantities.

View Ashberry Pavers

View Black Diamond Pavers

About Belden Brick

The Belden Brick Company traces its roots to the Diebold Fire Brick Company organized in Canton, Ohio in 1885 by Henry S. Belden and four associates. The Belden Brick Company owns and operates six plants in Tuscarawas County, employs approximately 500 people and has an annual production capacity of nearly 250 million standard brick equivalent (sbe). Plant 3 and one line at Plant 8 produce soft mud (machine-molded) brick while the other facilities all produce extruded brick products.

The Belden Brick Company also owns and operates two brick distributorships, The Belden Brick Sales Co. in Fraser, Michigan and Belden Brick Sales & Service, Inc. in New York, New York and Saddle Brook, New Jersey. In the fall of 1996, The Belden Brick Company bought Redland Brick Inc., which consisted of three brick plants, Harmar Brick near Pittsburgh, Cushwa Brick in Williamsport, Maryland, and KF Brick near Hartford, Connecticut. In the spring of 2000, Redland Brick Inc. purchased the Rocky Ridge (MD) plant. Redland Brick Inc. continues to operate its four plants under its own management as a wholly owned subsidiary of Belden Holding & Acquisition, Inc., the parent company of The Belden Brick Company.

In the US brick industry, The Belden Brick Company is the sixth largest (by production volume) manufacturer. Belden Brick is the largest family owned and managed brick company in the United States.

The Belden Brick Company is a member of the Brick Industry Association and The Brick Institute of America, Mid East region. The Company is currently managed by the fourth generation of the Belden family.

For other relevant searches, you might want to try: