architecture - engineering - construction
News
Broan Releases Under-Cabinet Range Hood Product Line with New Designs and Unsurpassed Performance
The range hood is one of the most important appliances in the kitchen. Not only is it vital to enhancing the design of the kitchen, but it also protects you, your family and dinner guests from the hazards of cooking byproducts like carbon monoxide, dangerous fumes, and bad odors. In fact, indoor air quality is two to five times more toxic than outdoor, according to the EPA

Broan® 's new under-cabinet range hoods, featuring the Broan Captur System, allow consumers to enjoy new stylish, modern designs, advanced features all while benefiting from the most effective capture of smoke and odors of any range hood or over-the-range microwave in its class.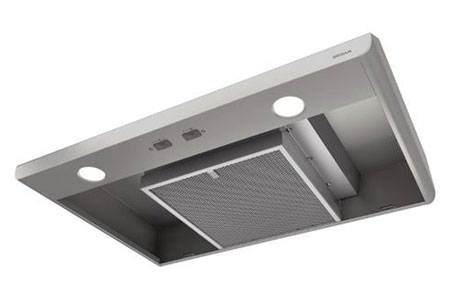 BKSA130SS: Sahale 30" 250 CFM 1.5 Sones Stainless Steel Range Hood
The new Broan under-cabinet range hoods provide consumers with a product line that blends perfectly with contemporary design appliances and adds to the kitchen aesthetic. Designed with consumer input, the new line meets homeowners' every range hood need, including design, convenience and performance.

"Our new under-cabinet range hood line allows Broan to provide customers with the performance and the features they expect, all while keeping homeowner's style needs in mind," said Brian Wellnitz, marketing manager, kitchen ventilation, for Broan-NuTone. "We created a whole new range hood line with better overall performance, quiet operation and great long-lasting LED lighting. The main reason consumers buy a range hood is to remove smoke and odors. The new Broan range hoods, with the Captur™ System, deliver an average of 98.5% capture efficiency making them the best-in-class at quietly removing smoke and odors."

The new range hood series is available in six fresh new shapes, pushing the design envelope of typical under-cabinet range hoods, yet complementing today's kitchen style needs. The seven shapes include the Alta, Sahale, Glacier, Spire, Antero and Corteo models. The sculpted lines of Alta, Antero and Corteo offer a sophisticated, sleek look different than any typical range hood shape. The slim and refined lines of Sahale bring a refreshing change to kitchens, without detracting from kitchen design. The clean, contemporary shape of Glacier complements any kitchen aesthetic, modern or traditional. And Spire offers an exciting new pro-style shape with the option of ENERGY STAR rated efficiency.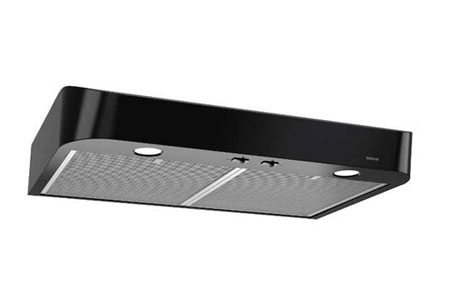 CLSC130BL: Antero 30" 250 CFM 1.5 Sones Black Range Hood

Each range hood is designed to be quiet, while still providing the best capture efficiency in its class. And with performance up to 600 CFM, even the most serious cooks will appreciate the superior ventilation the series offers. Additionally, the high-flow filtration design enhances grease capture, improves airflow and reduces noise. Several styles of filters are offered including a unique hybrid baffle style filter providing greater filtering efficiency than standard baffle filters.

The EZ1 Installation system, which includes an exclusive bracket system designed specifically for the new range line, makes single-person installation easier than ever before because it eliminates the need to constantly hold onto the hood. Homeowners simply mount two brackets with no measuring or cutting slide the hood on and make the connections and secure the hood with four screws. Installation takes less than half the time when compared to traditional methods.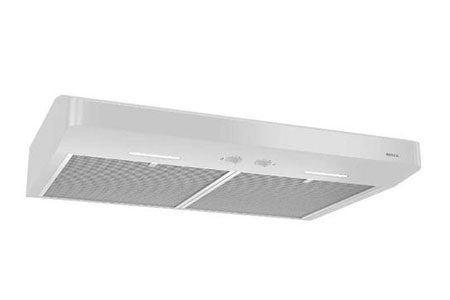 CRSF130WW: Corteo 30" 250 CFM 1.5 Sones White Range Hood

State of the art LED lighting system provides bright, full-surface cooktop lighting. Designed and tested to operate in the heat of cooking environments, the LED lighting lasts longer without dimming than off the shelf LED lights*. Broan's new line also offers models with the control options consumers demand, from simple switches to sophisticated touch and infrared solutions.

Once cooking is done, maintenance is simple. The hood includes easy-to-clean, dishwasher-safe grease filters. The aluminum filters, with quick-release latches, capture air-borne particles and are easily removed for cleanup, meaning homeowners can put them in the dishwasher at the end of a long day and wake up to a clean and particle free filter.
URL:
http://www.broan.com/products/filter/intermediate-under-cabinet-a31f13fb-9df0-410e-ab3f-46463c9f4897
For other relevant searches, you might want to try: