architecture - engineering - construction
Bullet-Resistant Doors for Government Buildings
We are living through politically turbulent times, both domestically and around the world. Regrettably, the polarization of Americans has forced many to reconsider how they protect themselves and their property. This stems from the individual level right up to the federal scale.

The Urgent Need for Greater Governmental Security
Recent events in the U.S. capital, though shocking, have underlined the inescapable need for more stable and soundly constructed security barriers and stronger entryways. Whether in a senate building, a municipal government setting, or the office of a local representative, the doorway is the most common point of intrusion. As such, a bullet-resistant door that can withstand an assault from a solitary insurgent, as well as a mob of intruders has sadly become a necessity.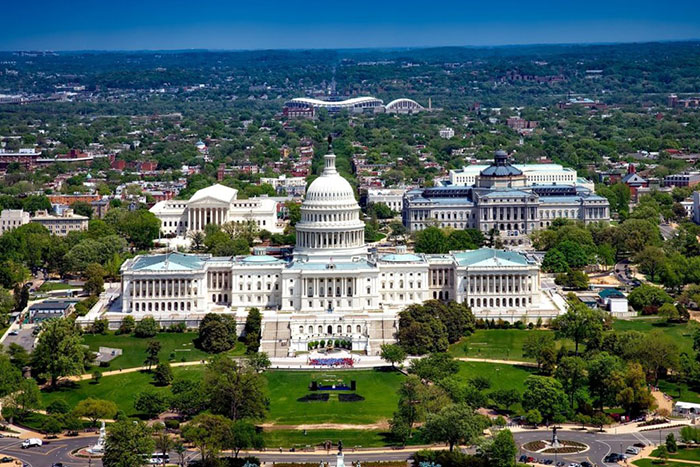 At Armortex, we know that our tried and trusted bullet-resistant doors have to be produced to the highest grade because workplace protection and the preservation of our nation's political leaders is the highest priority of any functioning and flourishing democracy.
Armortex's Bullet-Resistant Door Characteristics
Our experts have developed a range of advanced security solutions suitable for the most safety-critical applications in the U.S. Held to the highest global standards, all our doors and doorframes are put through the most rigorous testing procedures in the research and development phases of production. Every bullet-resistant door we send out is certified to UL levels 1—8 and above, offering substantial security against blasts, impacts, and physical assaults.

A high-spec door without a solid and sturdy doorframe would be practically useless. Our assemblies are supported by resilient doorframes connected to the doors by robust gear hinges of heavy-duty clear anodized aluminum.

These ballistic-grade solutions can be custom-made to custom specifications without appearing any more intimidating than a standard office door. It has always been important to us that our bullet-resistant doors preserve the true atmosphere of the building they are installed in, without imposing an overly militaristic aesthetic.
With that in mind, we offer bullet-resistant doors in two materials: veneered wood or cold-rolled steel. Both the wood and metal models cannot be beaten in their robust ability to rebuff any attack, whether from an active shooter or a polarized mob.
Armortex: A Cut Above
Our diverse range of bullet-resistant doors is designed to offer security solutions that align with your ideal level of security, without impacting a sense of normalcy in the workplace. From the initial design phase right through to the fitting, we are well-versed in the manufacture and repeated modification of our bullet-resistant door models so that the concept our customer has in mind can be made into a reality. To find out more about our bullet-resistant doors, as well as the multitude of other security measures we can offer, contact a member of the Armortex team today.
@armortex #armortex #safety #security #bulletresistant #architect #remodel #windows

For other relevant searches, you might want to try: