architecture - engineering - construction
News
Carmanah R920 Rectangular Rapid Flashing Beacon
Flashing beacons provide a solution for crosswalks where signs and markings have been insufficient in increasing driver compliance to pedestrian and cyclists at crossings. They can also complement additional treatments including pedestrian refuge islands and curb extensions.

Rectangular Rapid Flashing Beacons (RRFBs) are gaining attention as a high-intensity crosswalk light, due to the technology's proven performance in federal and state research. The RRFB has been granted interim approval by FWHA as a recommended solution for use at uncontrolled, marked crosswalks. As a result, Rectangular Rapid Flashing Beacons are an important part of the toolkit and are quickly becoming a top choice for engineers looking to improve vehicle yield rates, pedestrian service levels and multi-modal transportation access at uncontrolled, marked crossings.

Rectangular Rapid Flashing Crosswalk Beacons are the ideal solution for uncontrolled (no stop light or stop sign) crosswalks, such as intersections, mid-block crossings, university/college campus crosswalks, development complex crosswalks, and school zone crosswalks.

RRFBs are proven to improve driver compliance at pedestrian crossings.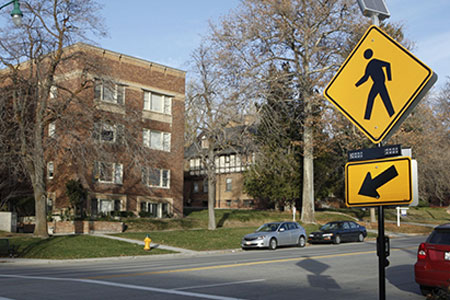 The Carmanah R920 Rectangular Rapid Flashing Beacon (RRFB) is a stand out solution for those seeking to improve driver yield rates and pedestrian saftey at crossings. Backed by significant federal and state research, RRFBs are the leading product choice for engineers looking to enhance marked, uncontrolled crosswalks (crosswalks without stop signs, yield signs, or signals). The Carmanah R920 is a slim form factor solar-powered RRFB that fits easily onto existing signposts to make retrofitting quick and easy. Hardware can be installed in a matter of minutes by city crews to lower install costs and minimize traffic disruptions.

R920 Specifications and Details

About Carmanah Traffic

Carmanah Traffic is a leader in the Flashing Beacon industry. We combine the latest in Solar LED Technology with our proprietary energy management system to ensure efficient power and maximum performance of our solar flashing beacons. Our solutions are the leading choice due to our integrated solar engines, efficient on-board user interface, premium operating capacity, pre-wired assembly and easy system installation.
For other relevant searches, you might want to try: