architecture - engineering - construction
Case Study: Kingstowne Mailbox Replacement Project Alexandria, VA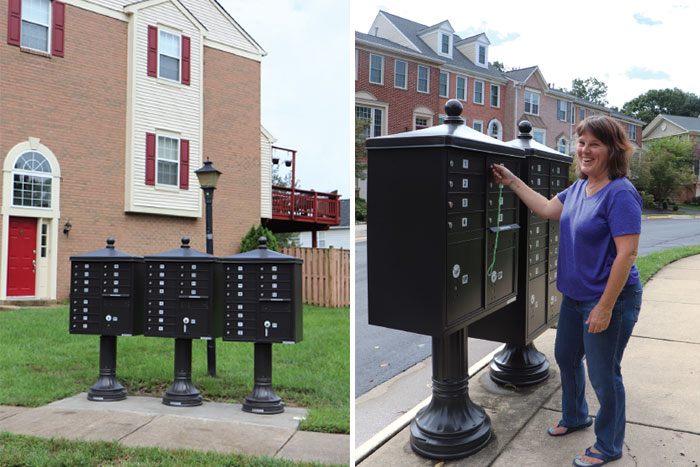 PROBLEM
The Kingstowne Residential Owners Corporation (KROC) and its Board of Trustees concurred the centralized mail delivery equipment in 30 of its communities installed 25 or more years ago needed to be replaced. The U.S. Postal Service (USPS) would replace the units but it would take 20+ years to complete. Another solution was needed.
Concerns:
Mailbox styles varied depending on the year the community was developed. All were worn out and not compliant with current mail delivery standards.
In many areas, residents accessed mailboxes on uneven and broken concrete pads with grass approaches or by standing in the street. Safety was a concern.
Most units were obsolete with limited capacity and didn't include parcel lockers. Packages had to be placed on doorsteps with exposure to weather and possible theft.
SOLUTION
Working with the U.S. Postal Service, Kingstowne Residential Owners Corporation (KROC) determines replacing old centralized mail delivery equipment with new Cluster Box Units (CBUs) will address resident concerns and bring Kingstowne into alignment with postal delivery standards. By adding a Florence Authorized Dealer to the team, KROC leadership gained valuable insight on mail and package delivery product solutions and installation.
Installing new Cluster Box Units Solves Concerns:
Replacing old mail delivery equipment with new CBUs brings the property's mail delivery up to current USPS service standards.
Broken pads are replaced with new concrete and new mailboxes are installed in locations with appropriate approaches.
CBUs offer mail compartments with larger capacity and flat storage.
Each unit provides parcel lockers for secure, convenient USPS package delivery.
Adding accessories such as designer caps and pedestal covers enhances aesthetics - improving property value.
@FlorenceCorp #FlorenceCorp #mailboxes

For other relevant searches, you might want to try: