architecture - engineering - construction
Case Study: Radiation Shielding Storage Unit for X-Ray Equipment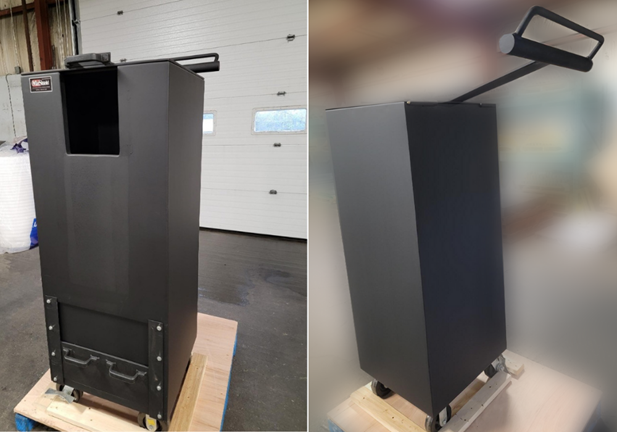 MarShield was approached by a global leader in consumer, healthcare, and business products, requiring a radiation shielding storage unit for their offices in Canada. The client needed to pre-stage and test some of the "demo" mobile x-ray equipment at their warehouse. This equipment required a radiation storage solution that would house an x-ray tube of a mobile unit at the top section and a digital detector at the bottom.

The client required a cost-effective solution due to budgetary constraints. We explored multiple options with the client, including mobile x-ray screens, and the 1/8″ lead lined low carbon steel unit was selected with black paint to be applied in-house to reduce cost.

During an in-process inspection, our team discovered that the lid was too heavy for an average height operator to lift (at 65″), which could be a safety hazard during operations. Our team immediately came up with a solution to this challenge and contacted the client for approval. Upon the client's approval, a counterbalance weight with a lever and handle was added at the back of the lid to improve agronomics and operations.
Product Specifications & Construction Details
The inside of the radiation shielding storage unit had dimensions of 23 -5/8″ W x 23 -5/8″ D X 57 -3/32″ H, with outside dimensions of 24 -3/8″ W x 24-3/8″ D x 65-17/32″ H. The weight of the unit was 1,200 lbs.

The unit was constructed with low-carbon steel A36-1/8″ ASTM B749 lead. The top lid could open fully, and there was a lead lined sliding door at the lower level with a rectangular access slot right below the lid. The unit was painted flat black.
Outcomes
Despite some challenges, the unit was built and delivered on time. Upon receiving, the client immediately tested the storage unit, and they expressed high satisfaction with the quality of workmanship and performance. The client said the unit greatly exceeded their expectations.

MarShield designs and manufactures radiation shielding storage units that are utilized across a wide range of industries including hospitals, nuclear medicine, and nuclear power.

Contact us it you have any questions on how a shielded storage unit can be designed for your purposes.
@MarShield_TM #MarShield_TM #radiationshielding #neutron #shielding

For other relevant searches, you might want to try: