architecture - engineering - construction
Centralized Delivery Cluster Mailboxes
Centralized mail delivery equipment can be in the form of any "clustered" style of mailboxes, but the most popular is the free-standing, pedestal-mounted USPS Approved Cluster Box Unit (CBU). Most often used in outdoor new construction installations, cluster boxes are widely used across the nation for safe, secure access to mail and package delivery 24 hours. The first to manufacture the new "F" series CBU, Florence was also the first USPS licensed manufacturer and is also honored to be the sole supplier of Outdoor Delivery Equipment to the U.S. Postal Service.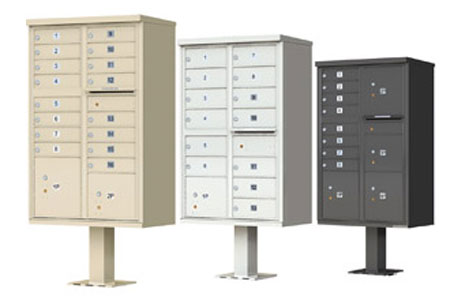 Be sure to provide enough secure package locker space for business offices and residents by adding an Outdoor Parcel Locker (OPL) or two to your new or existing mailbox installation. With the continued growth in online shopping, providing ample parcel locker space for package delivery is more important than ever. And Florence is the only USPS Approved manufacturer of Outdoor Parcel Lockers - the perfect complement to your cluster box installation.

vital 1570 Cluster Box Unit
Whether you plan to serve four or 2,000 residents, cluster box units (CBU) provide a flexible solution to accommodate your building project needs. Simply select the pre-configured unit(s) that has the best options for your residents. These standard stock units can be used individually or in larger group installations - all providing a convenient, secure method of mail and package delivery to residents.
Standard Features:
Robotically welded cabinet and hood seams
Rugged, weather resistant powder coat finish resists scratching and vandalism
Constructed of 300 series stainless steel and aircraft aluminum, including aluminum pedestal
Master front loading door designed to prevent prying with interlocking overlap seams
Solid aluminum mail slot frame protects adjacent customer compartment and collection compartment
Silver adhesive metal placards with black numbers 1-16 and 1P-2P
vogue CBU accessories
Florence Manufacturing is pleased to offer USPS Approved designer caps and pedestal covers. These fashionable snap-together accessories place the final decorative touches on your centralized neighborhood mailbox while adding extra protection to your investment.
Standard Features:
vogue™ CBU accessories designed exclusively for Florence vital™ 1570 CBU
Rugged, corrosion and weather resistant powdercoat finish resists scratching and vandalism
All aluminum, corrosion resistant construction
Easy, snap-together installation with minimal hardware
valiant 1590 Series Outdoor Parcel Locker
This industry unique package delivery system with key trapping locks can be used alone or with CBU installations to increase convenience for your residents. Florence is the only manufacturer authorized to provide outdoor parcel lockers.
Standard Features:
Robotically welded cabinet and hood seams
Rugged, weather resistant powder coat finish resists scratching and vandalism
Constructed of 300 series stainless steel and aircraft aluminum, including aluminum pedestal
Master front-loading door designed to prevent prying with interlocking overlap seams
Silver adhesive metal placards with black numbers 1P-2P
Overall dimensions: 16" W x 62" H x 18" D
Compartment dimensions: 12" W x 19-3/4" H x 15" D
Patent pending parcel locking mechanism
K91910 double cam lock
Cluster Box Units Brochure

For other relevant searches, you might want to try: