architecture - engineering - construction
Chimney Caps from Stromberg Architectural Products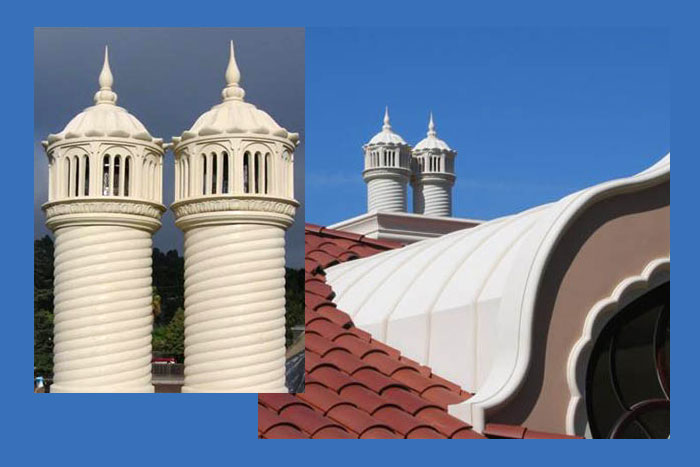 Chimney caps are an absolute must if your hotel, resort, or casino has one or more chimneys. Chimney caps serve several very important functions. They protect the flue from damage and deterioration, and chimney caps also prevent birds and other animals from entering the chimney opening.

Those looking for chimney caps will soon find that many of the products available on the market are quite plain, and some are downright unattractive. Many chimney caps are made of metals like stainless steel and copper, materials that may rust or corrode down the road. Chimney caps by Stromberg are different. We can cast chimney caps into shapes and textures that will complement the design of your building and enhance its beauty.

Our chimney caps can be finished to match any color you'd like, and they can also incorporate other elements like finials and bas relief. Our fiberglass chimney caps will never rot, rust, or corrode, and they're virtually maintenance free. Forget those ugly, flimsy metal chimney caps. Make the roof of your hotel or casino as grand as its interior with chimney caps by Stromberg.
#strombergarchitectural #caststone #gfrp #gfrc #gfrg

For other relevant searches, you might want to try: