architecture - engineering - construction
News
Collaboration creates success in APAC
Da-Lite recently collaborated with Epson in Thailand to showcase various applications available by combining solutions.

The event was well received by local dealers and end users. To highlight the various uses for Da-Lite screens and surfaces, the event created vignettes for education, conference rooms and home applications.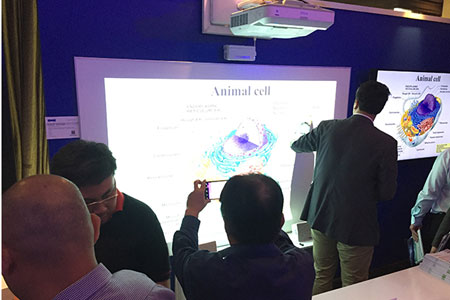 An IDEA screen with Epson interactive projector for Education application.
For education, the Da-Lite IDEA Screen was combined with the EB-696ui and Extron Control System. The interactive projector's capabilities are enhanced by Da-Lite's IDEA screen – a projection screen and whiteboard. IDEA features no hot spots, an erasable and magnetic surface and thin bezel for great aesthetics. The rigid, even surface also makes it perform well with interactive and short-throw projectors in the classroom.

In the residential environment, Da-Lite showcased the Parallax Screen, an ambient light-rejecting technology. Each layer of Parallax plays a role in preserving the image that is reflected back to the viewer in high ambient light environments. Some layers absorb light while one special layer is shaped like a microscopic saw-tooth that blocks light from above resulting in the preservation of high-contrast, bright images in brightly lit environments. This technology mimics the look of a television, but without the glare from windows or lighting fixtures. The screen was shown with the Epson EH-TW8300.

"Together with the wide viewing angle at 170 degrees, the big Parallax Screen created the most eye-catching booth at the event with HD projection from the Epson Home Projector," said William Ng, Marketing Manager.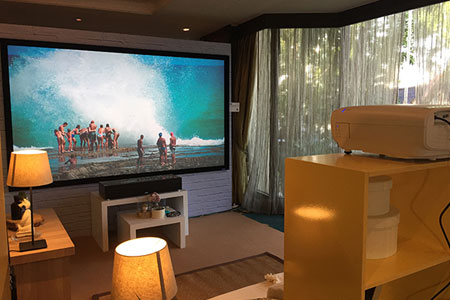 A Parallax screen demonstration for home application.

In the conference room, the Da-Lite UTB Contour Screen looks like a flat panel, but bigger. This allows for better presentations in large rooms where details can be hard to see from the back of the room. The small frame and low profile design enhances HD progressive surfaces designed for 1080p, 4K and Ultra HD. The screen was shown with the Epson EB-1460ui and Extron Teamwork System.

"Da-Lite and other Milestone AV Technologies Brands are always open to creating collaborative events to showcase how technologies work together to create exciting new opportunities for dealers and end users," Ng said. "We recently had a similar event with Vaddio and Shure in Hong Kong and enjoyed combining these brands to show how they work in huddle, medium and large corporate rooms."
URL:
https://www.milestone.com/products/da-lite/screens/interactive_products/idea_screens/idea_screen
For other relevant searches, you might want to try: