architecture - engineering - construction
Colored and Frosted Glass Blocks
Using colored and frosted glass blocks adds a unique style and freshness to your design. Whether you want your space Minimalist, Mid-Century Modern, Scandanavian, Boho-Chic and eclectic there are frosted and colored blocks to complete the look. Put random colors in a wall, or stripe or the entire wall.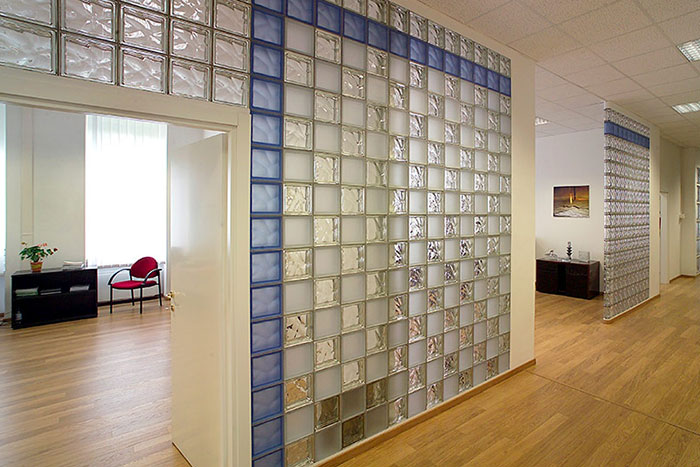 If you'd like bold colors – you got it. If more muted pastel shades are your thing – you'll find them here also. High privacy frosted blocks are blocks with a shiny metalized finish are also here to dazzle you. Eclectic patterns for a beveled glass look – yes, you'll find them here also. Here's benefits you'll get with the unique lines of colored, frosted and patterned glass and fabrication services though Innovate Building Solutions:

Colors and styles to fit your design look and theme – If you like a Minimalist or Mid-Century modern vibe you'll want to dig into the selection in the Euro series 'soft shade line." If bold colors or a fun Boho chic interior style are your thing the Designer series "Fashionista line" is a can't miss. If you love eclectic patterns and designs the Designer series 'diversity line' is inventive and wild.

Light reflecting blocks for to brighten up any room – If your bathroom, kitchen or commercial building is darker than you'd like, add the brilliance of increased light transmission with our distinctive metalized glass blocks in the Designer series 'reflective line.' Truly nothing like this has been available in the United States before now. A wall which shines back at you like a mirror!

Easy to clean glass blocks – Frameless glass shower and wall partitions are a pain to clean. Glass blocks with their smooth faces (and patterns on the inside) are simple to clean with any window products or soap and water and the wavy patterns don't show spotting.

Wide range of sizes and shapes to do whatever project you'd like – Would you like a curved glass block wall to convert a tub space into a walk-in shower? How about an L shaped 90-degree angle wall to make a space-age bar in your basement? Bring in colored light with a multi-colored colored glass block window. These options are all possible since there are different block sizes and shapes to get the job done.

Home privacy never looked so good – It's getting harder to feel safe in your home. However, by using frosted glass blocks you'll feel secure with the strength of a glass block window – but won't sacrifice natural light and privacy.

Easy to assemble and install wall and window units makes it a breeze for a DIY or first-time contractor to install – Don't worry about trying to find a mason (who really doesn't want to work with glass blocks anyway) to install your wall or window. With prefabricated shower wall sections and pre-assembled windows, it's as simple to install your colored or frosted block sections as it is to assemble LEGO's (check out the fabrication tab of this page to learn more).

Innovate Building Solutions, a glass block designer, fabricator, nationwide supplier and installer – Innovate Building Solutions has served over 190,000 customers since 1977 with products, advice, prefabrication and installation service. We are steeped in the ins and outs of what can be done with glass blocks since we've been doing it for over 41 years. Let one of our glass block designers help you design your glass block shower wall and pan, or determine the right rough openings for the colored glass block window you'd like. Don't search around and only find people who dabble in glass blocks. Make your life simple. Let us help guide you through your project.

@innovatebuild #innovatebuild #shower #remodeling #bathroom #glassblocks

For other relevant searches, you might want to try: