architecture - engineering - construction
News
Cover Skate makes light work of moving heavy access covers!
Looking for an easy and safe way to lift heavy manhole covers and floor access hatches? Howe Green, the leading manufacturer of floor, wall and ceiling access covers, hatches and panels has developed an innovative access cover lifting device – the Access Cover Skate. The ingenuous manhole cover lifter enables manhole covers, floor access covers and floor access hatches to be removed easily and safely by a single operative. The product is available through Howe Green's distributors in the US and Canada - FF Systems Inc.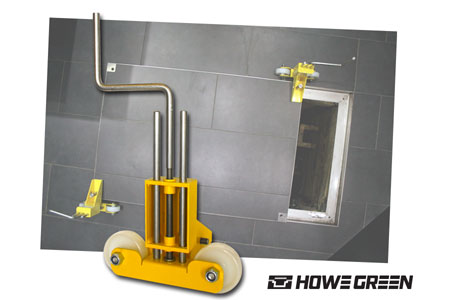 Why use a Howe Green Access Cover Skate?
Quite simply – the Cover Skate makes light work of moving heavy access covers!
Offers a safer option
Health and safety is a major consideration for all building owners, facilities managers and contractors. The Access Cover Skate removes the need for operatives to manually move heavy manhole covers, access covers and hatches when accessing concealed services. By reducing the requirement to handle heavy objects the risk of injury is greatly diminished. With up to a 300 kilo lift from each Cover Skate it is powerful manhole cover lifter.
Easy to use
Howe Green has over 30 years of experience in the architectural building services sector. Product development at the company is driven by the needs of the customer. Solutions to complex challenges are designed and manufactured to be easy and simple to use. The manhole cover lifter is no exception to this philosophy.
Watch the Access Cover Skate video
to see just how easy it really is to lift an access cover with the Cover Skate.
Ready for action
Unlike other manhole cover lifting devices the Cover Skate is supplied ready to use. There are no parts to assemble and complex diagrams and instructions to follow!
Portable
The Cover Skate is compact and lightweight. Each Cover Skate weighs just 3 kilos and they are very easy to carry around in a workbag or tool box. The convenience of being able to transport the Cover Skate makes it the perfect choice for large sites and organizations with multiple sites.
Versatile
The Cover Skate has been designed to be used with the whole range of manhole covers, floor access covers and access hatches available from Howe Green. However it is highly versatile and by using different lifting keys can accommodate manhole covers from other manufacturers. By specifying the name of the manufacturer you require when you place your order the correct lifting keys will be supplied with your manhole cover lifter.
Robust
The Cover Skate is manufactured from 1.4003 stainless steel and is corrosion resistant. As it does not rely on hydraulics it is also very low maintenance.
Will save you time and money
Lifting manhole covers, access covers and access hatches with the Access Cover Skate will require just one operative as opposed to the two operatives needed with more traditional lifting devices. A reduction in manpower equals a reduction in cost. The time taken to generate a return on investment for the Cover Skate is very short.
Richard Centa, Sales and Marketing Director for Howe Green comments,
"Our manhole cover lifter has proved a valuable asset for our customers as it saves a lot of time and hassle. It is also a much safer way to lift heavy manhole covers and floor access hatches. The Access Cover Skate is especially beneficial in locations where regular access is required to the concealed services and is ideal for airports, schools, hospitals, offices and factories."
Find out more
Call FF Systems Inc in the US on
239 689 5334
or for Canada
519 896 0888
Download the Access Cover Skate brochure
For other relevant searches, you might want to try: