architecture - engineering - construction
News
Da-Lite Tech Team Wins SCN's Stellar Service Awards for Best Tech Support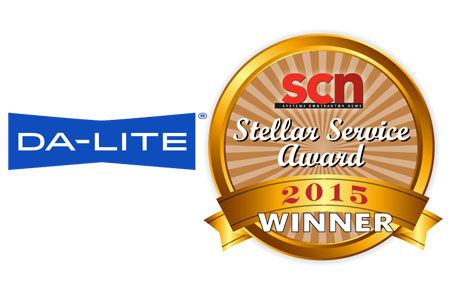 Da-Lite's Tech Support Team is a team of four people with the combined experience of 43 years at Da-Lite, and they recently won the SCN Stellar Service Award for Best Tech support. The Da-Lite Tech Team works with many customers in various situations and challenges. They are expert at visualizing a problem that is being described over the phone when working with a customer, which is invaluable to someone that needs to be walked through the necessary steps to resolve an issue.

"We are proud of the knowledge, support and confidence that the Tech Team brings to our customers, said Wendy Cox, Director of Product Development. "Customer care is a cornerstone of our business, and we strive to improve the experience for the men and women we have the pleasure of doing business."

Congratulations to the Da-Lite Tech Team on the Best Tech Support Award.

For technical questions regarding historical Da-Lite products, new products or other install concerns call 1-800-622-3737 or email to info@da-lite.com.

About Da-Lite

Founded in 1909 by Adele De Berri, the inventor of the Silver Screen, Da-Lite is the leading producer of high quality commercial and residential projection screens globally. With headquarters in Warsaw, Indiana and additional operations in the U.S. and Europe, Da-Lite manufactures and provides projection surfaces, screens and accessories to organizations and venues around the world. Today Da-Lite's proprietary screen technologies are specified for the most demanding installations from military training simulators to boardrooms and classrooms to home theaters. For more information visit Da-lite.com.
For other relevant searches, you might want to try: