architecture - engineering - construction
News
Discover Designer Jean Stoffer's Secrets for Creating a Fresh, Elegant Look
Balance is a big part of what makes most designs work. And for interior designer Jean Stoffer, the idea comes through in the way she brings furnishings, fixtures and colors together. For a 1902 home in Grand Rapids, Michigan, in particular, balance helps create a comfortable sense of sophistication. "I wanted the home's moment in history to be honored while elevating it to a modern elegance that feels timeless," Stoffer says.

She started her work on the home — named The Madison because of its location on Madison Avenue in the city's historic Heritage Hill district — by picking one unifying color that would extend to several spaces: Greek Villa SW 7551 (254-C1). "Wherever there is white, it is Greek Villa," she says. Stoffer then moved on to rooms that would be in full view of each other to ensure a comfortable flow and balance of color. "I considered the use of the room, the amount of natural light it received, and what type of decorative and task lighting I would bring in," she says.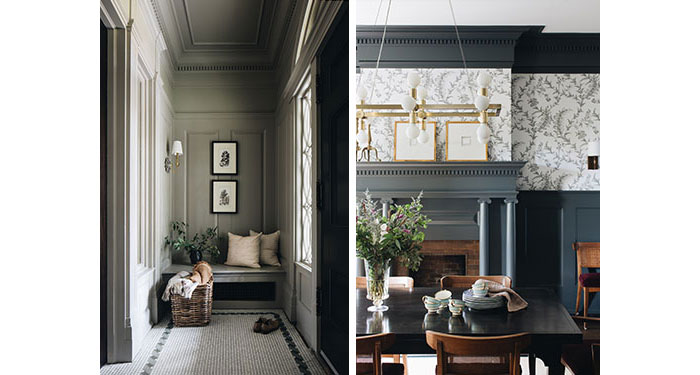 Rich color greets guests in the entry (left), where walls are painted Pewter Tankard SW 0023 and the door is painted Tricorn Black SW 6258 (251-C1). In the dining room (right), the color shifts to Grizzle Gray SW 7068 (236-C6), which covers the millwork.

To aid in decision-making, Stoffer laid color chips right onto a copy of the floor plan. "When the process was complete, it was an absolutely beautiful picture, and I knew it would work very well," she says.

Her palette balances pale neutrals such as Greek Villa with rich grays, blues and greens. "I picked a few rooms for drama and kept the rest very light and neutral," Stoffer says. For the dining room, drama takes shape with trim and millwork painted Grizzle Gray SW 7068 (236-C6). And in the powder room and office, it's Evergreen Fog SW 9130 (215-C4), the 2022 Sherwin-Williams Color of the Year. "Evergreen Fog is just this perfect green, with a hint of blue," she says. "It can be moody in low light and moderately saturated when sun fills the space."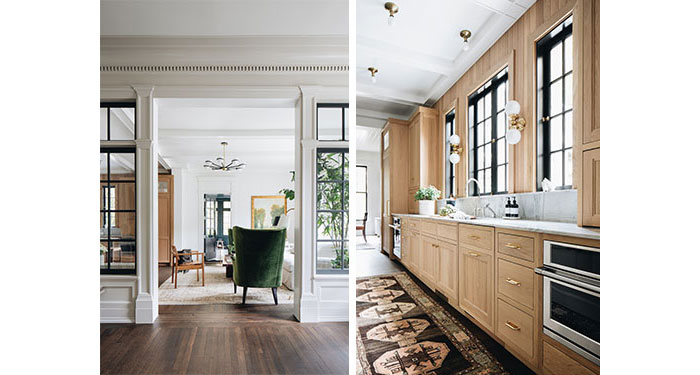 Millwork painted Symmetry SW 9601 from the Emerald® Designer Edition™ collection frames the view from the living room to the family room (left). Greek Villa SW 7551 (254-C1) covers walls in the family room and all other spaces painted white. In the kitchen (right), cabinets and millwork around the windows are built from light oak treated to a natural finish, and Iron Ore SW 7069 (251-C7) brings depth to the windows.

Besides Greek Villa in spaces such as the family room and hallways, Stoffer opted primarily for pale taupes. In the living room (shown at the top of the page), those are Emerald® Designer Edition™ colors Limewash SW 9589 for the walls, Symmetry SW 9601 for the millwork and trim, and Sunbleached SW 9585 for the ceiling. "The combination is sophisticated, rich and elegant," Stoffer says. "It creates a beautiful background for art and furnishings. It has a warm glow in the evening and is vibrant during the day."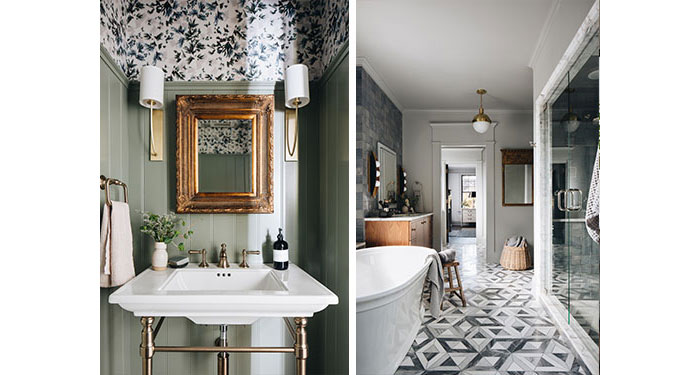 Evergreen Fog SW 9130 (215-C4) — the 2022 Sherwin-Williams Color of the Year — brings calm to the powder room (left). "Green has always been a favorite color", designer Jean Stoffer says. "It evokes nature in all its shades." The hue switches to Argos SW 7065 (236-C2) in the main bath (right), where it complements natural stone on the floor and walls.

Thinking of rooms' colors in those terms — from how they balance with one another to the way they feel day and at night — serves Stoffer well every time. "Paint is the single most transformative element in a room's design," she says. "With paint, a room can take on an entirely different mood, serve a completely different function and go from uninspiring to dramatically beautiful."

Want to see Stoffer's favorite Emerald Designer Edition colors and why she uses them? Explore her palette.
@SWDesignPros #SWDesignPros @SWPaintPros #SWPaintPros
URL:
https://www.sherwin-williams.com/architects-specifiers-designers/inspiration/stir/striking-the-perfect-balance
For other relevant searches, you might want to try: