architecture - engineering - construction
Dura-Cap, The Economical Alternative to Self-Leveling Underlayments
When concrete or steel decking needs topping, no product outperforms Dura-Cap® Floor Underlayment. With a compressive strength of up to 4,000 psi (27.6 MPa), Dura-Cap is one of the strongest underlayments in the construction industry. It pours smoother, dries with greater abrasion resistance, and has all the fire and sound control advantages of original Gyp-Crete® Floor Underlayment.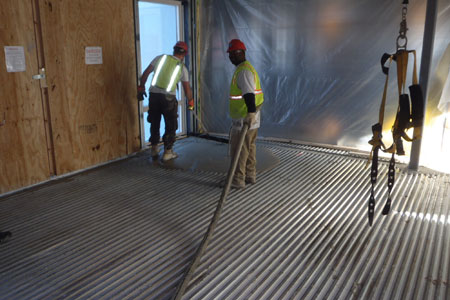 Maxxon Dura-Cap underlayment was the clear choice for Bowling Green State University when a strong, quiet, fire safe surface was needed in the Northwest and South Central residence halls. Dura-Cap accepts virtually all floor coverings, making it an adaptable choice where a variety of floor coverings will be installed.
Batch mixed on the job and pumped into place by authorized applicators, Dura-Cap is the perfect topping for precast, cast-in-place concrete, or steel decking. Dura-Cap also smooths old or uneven concrete floors.

Dura-Cap takes foot traffic in 90 minutes. With proper ventilation, virtually any floor covering can be installed just 5–7 days later — hardwood floors, ceramic tile, or vinyl plank. Glue-direct, thin-pile carpeting will look better, too, thanks to Dura-Cap's remarkably smooth surface.

Dura-Cap is an eco-friendly building product and meets the stringent VOC requirements of GREENGUARD and GREENGUARD Gold Certification.

THE VERSATILE SOLUTION

Cap uneven, rough, spalled concrete floors
Repair damage to new concrete due to rain and/or freezing temperatures
Fill "birdbaths" in concrete floors
Top precast plank
Top corrugated steel deck over light-gauge steel framing
Cover old floor coverings, including vinyl asbestos tile
Provide fire and sound control over wood frame construction
Can be featheredged
Accepts virtually all floor coverings
QUALITY ON EVERY POUR
With more than 4 billion square feet of installation experience, Dura-Cap applicators know how to deliver quality. Each job is tested on site for flow and mix consistency, and in our lab for compressive strength to meet specification.
See Bowling Green State University Case Study

For other relevant searches, you might want to try: