architecture - engineering - construction
About MMA Resins
MMA Resins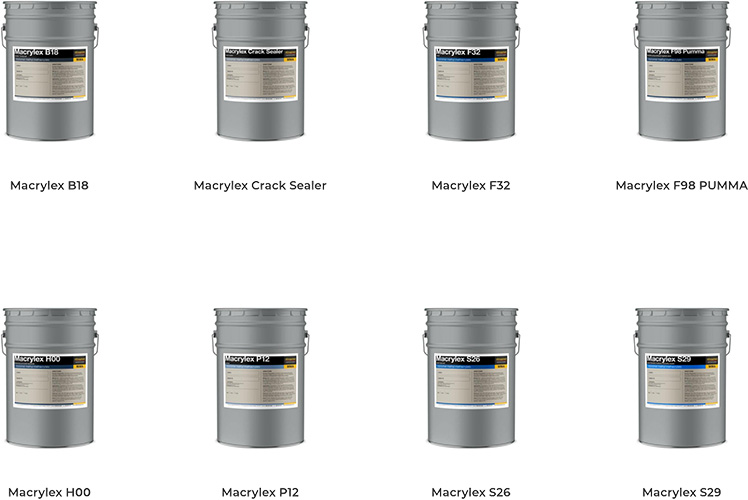 For completing new industrial floor coating projects and refurbishments on a tight deadline, reactive resins are the product of choice. Reactive resins differ from other floor resurfacing and repair materials because they contain the monomer Methyl methacrylate (MMA).
MMA provides allows an ultra-fast cure time and super-tough physical characteristics. In fact, Düraamen's Macrylex floor coating system is ready to use in as little as two hours after its application. Additionally, MMA floor coatings can cure in temperatures as low as 40°F.
The Macrylex Floor System provides maximum protection against abrasions, wear, stains, thermal shock, and impacts. Macrylex also provides maximum versatility as it can be finished as a solid color, have resin chips added, or in decorative quartz which provides anti-slip properties. Its seamless finish is easy to clean and maintain.
Because the Macrylex reactive resin floor system was engineered to withstand the harshest industrial and manufacturing environments, It can be used anywhere that a tough floor needs to be installed with minimal downtime. Light manufacturing facilities, hospitals, hospitality, commercial, retail, labs, and chemical plants are just a few applications where Macrylex is an effective flooring solution.
Our Macrylex line of products consists of:
Macrylex B18: methyl methacrylate binder / bodycoat Macrylex S26: methyl methacrylate resin topcoatMacrylex S29: methyl methacrylate semi-flexible medium viscosity sealer Macrylex P12: methyl methacrylate primer Macrylex F32: methyl methacrylate resin used for waterproofing and leveling the substrateMacrylex F98 Pumma: methyl methacrylate flexible polyurethane-hybrid resin Macrylex H00: dibenzoyl peroxide hardener—when mixed with reactive resin it promotes the hardening of the flooring system. Macrylex Crack Sealer: methyl methacrylate resin sealer used for filling cracks and fortifying porous concrete.

03 35 33 - Stamped Concrete Finishing
03 54 16 - Hydraulic Cement Underlayment
09 60 00 - Flooring
09 61 00 - Flooring Treatment
09 65 00 - Resilient Flooring
09 66 00 - Terrazzo Flooring
09 66 13 - Portland Cement Terrazzo Flooring
09 66 23 - Resinous Matrix Terrazzo Flooring
09 67 00 - Fluid-Applied Flooring
09 67 13 - Elastomeric Liquid Flooring
09 67 16 - Epoxy-Marble Chip Flooring
09 67 23 - Resinous Flooring
09 67 26 - Quartz Flooring
09 97 00 - Special Coatings
09 97 23 - Concrete and Masonry Coatings
09 97 26 - Cementitious Coatings