architecture - engineering - construction
News
DVG Series Dual Vertical Lift Gate from FabEnCo
The Dual Vertical Lift Gate provides wide coverage against falls while maintaining a height clearance. Gas struts make for easy operation and the gate is perfect for loading docks, mezzanines, or any large coverage areas. Locking feature provides safety from any push or pull resistance while exceeding 200lb of protection.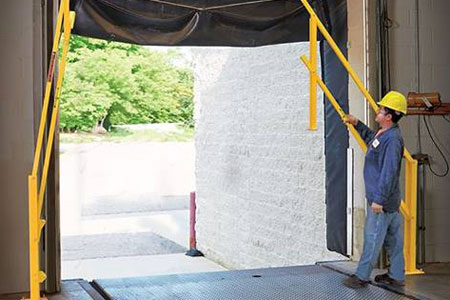 The Dual Vertical Lift gate is available in 8' and 10' width coverage.

Features:
Easy to Install


Available in safety yellow powder coating and custom orders. Takes up minimal space and is easy to install using basic tools.


Meets or exceeds OSHA 1910.23 (c) standards
Models:
DVG15 - 120PC
Fits Clear Opening* = 8'
Estimated Weight = 90 lbs.
DVG15 - 144PC
Fits Clear Opening* = 10'
Estimated Weight = 98 lbs.
The standard sizes listed above are stock items. FabEnCo also manufactures custom safety gates for wider openings or unusual handrail configurations.
DVG Series Mounting Tips
DVG Series Product Overview
Order your DVG Series Now!
About FabEnCo, Inc.
Over the past four decades, FabEnCo, The Safety Gate Company, has been the "one-stop shop" for high-quality, American-made safety gates. Our full range of gates helps companies eliminate the time and expense of fabricating their own gates while providing fall protection, access control, machine guarding, pedestrian traffic management and security at ladder, platform and stair openings, as well as catwalks and mezzanines.
URL:
http://www.safetygate.com
For other relevant searches, you might want to try: