architecture - engineering - construction
News
El Rey Premium Stucco Finish
El Rey Premium Stucco Finish provides a lasting, durable finish over Fiber-47 Scratch & Brown, Fastwall Stucco Base, a portland cement plaster "brown coat or Parex USA Stucco Level Coat." It is integrally colored with fade-resistant pigments, and is economical with low maintenance. Product is available in 16/20 aggregates.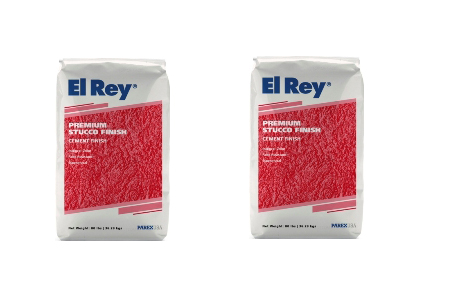 USES:
Exterior color coat for portland cement brown coat
COLORS:
30 Standard colors are available. Color Packs are specifically designed for use with El Rey Premium Stucco Finish. Special colors are available upon request. Meets SCAQMD Rule 1113 when using Parex USA Non-VOC Colorants.
COVERAGE:
Coverage will vary depending on substrate, thickness and texture of the application.
Approximate coverage per 80 lb. (36.3 kg) bag:
Float Finish 80 ft2 (7.4 m2).
COMPOSITION:
Binder: Portland cement and hydrated lime
Aggregates
Proprietary additives
MATERIAL STANDARDS:
Type-S Hydrated Lime: ASTM C206
Portland Cement: ASTM C150 Type I
El Rey Premium Stucco Finish: Conforms to ASTM C926 recommendations.
CONTAINER:
80 lb. (36.3 kg) net weight in a multiwall bag.
STORAGE:
Storage: Store off ground and protect from rain and moisture.
Shelf Life: Reference Parex USA Expiration Date of Products Technical Bulletin.
SURFACE PREPARATION:
The surface of the plaster "brown coat" base or concrete partially determines the texture, color and final result of the finish.
After application of the brown coat rod, darby or trowel it to produce the specified level.
Next, hard float the brown coat to eliminate "slick spots" and open the surface to enable a good mechanical bond for the finish coat.
Hand application over portland cement plaster: Prior to application of exterior stucco finish, the portland cement base coat shall be dampened with clean water to control and equalize suction. Allow surface moisture to dissipate prior to application of the Premium Stucco Finish. For application over any surface other than a portland cement plaster brown coat, contact Parex USA Technical Support for proper preparation
Download the Specification Sheet
URL:
http://www.elrey.com/products.pl
For other relevant searches, you might want to try: