architecture - engineering - construction
Existing building space represents both a challenge and an opportunity.
At Salo, an energetic, forward looking company wanted to create a hip, inviting breakroom and informal meeting space for their hardworking staff. The existing building represented the opportunity for wide open spaces while featuring the architectural touches that would be cost-prohibitive in new construction. The goal was to honor the industrial heritage of the building while making it function for a thoroughly modern company. The strong structural elements and visual interest created by exposed brick, 6" wood trim and an open plenum were all important parts of the project.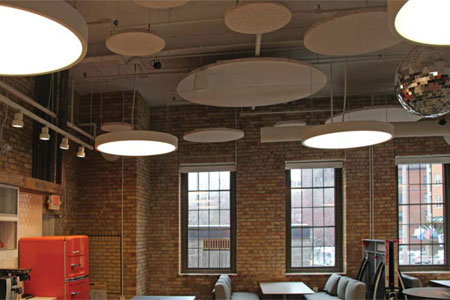 Salo, Minneapolis, MN, Breakroom/Party Room/Meeting Space
Of course, the wide open space, high ceilings and hard surfaces presented a considerable acoustical challenge. To add to the acoustic concerns, the meeting space included some much-needed distraction for a staff that works long hours. Foosball and ping pong tables, large screen TVs for sporting events, a disco ball and a beer tap were a few of the amenities that encouraged loud celebrations in a company that values fun. Other workspaces nearby meant that managing excess noise would also be key to this project.

Decorative, acoustical clouds were selected as the best solution to the sound issues that also satisfied all of the client directives. A circle is used as an important icon in the company logo, so circles were used as a key design element. The lighting fixtures were circular, the company icon was used on one of the windows for public visibility and the disco ball added both dimension and a bit of attitude. To carry the shape throughout the space, the architect created 2', 4', 6' and 8' cloud circles that were strategically placed for optimum acoustic performance and aesthetic effect. They were hung at varying heights to create dimensional interest.

The reflected ceiling plan intentionally used the clouds with very little regard to other obstructions, duct work, plumbing or electrical wiring paths. The clouds were drilled, trimmed where needed and placed on-site to create the fun and functional space desired.

Product: Tectum Panel Art Clouds – Custom Cut

Architect: Alliance, Minneapolis, MN

Distributor: Golden Valley Supply Co. Minneapolis, MN

Contractor: Architectural Sales of MN Brooklyn Center, MN

Sales Agency: Rose-Fleischaker Assoc., Minneapolis, MN

For other relevant searches, you might want to try: