architecture - engineering - construction
Exterior Cladding for Delnor Hospital
THE CHALLENGE
Efficient and Affordable -Delnor Hospital had a specific budget and construction demands. They needed an affordable alternative to solid stone that could be installed while part of the hospital was still operating.


Future Expansion -The hospital wanted to make sure that future plans to expand would not be obstructed by the existing building.`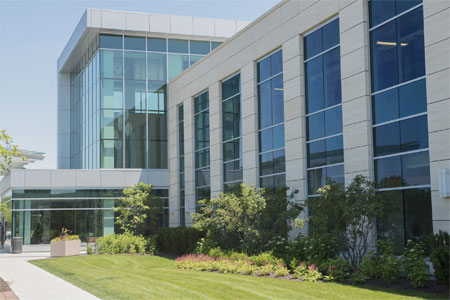 THE SOLUTION
StonePly Exterior Cladding was Delnor Hospital's solution to all the challenges they faced. StonePly panels are simple to install, affordable, and can accommodate for future expansions.

EFFICIENT AND AFFORDABLE
StonePly saves money on construction cost. Installation of typical solid stone slabs require professional masons and much more time and money than the setting up of StonePly panels. StonePly panels weigh only 3.5 pounds per square foot and can be installed by carpenters, mill workers, stone setters, glaziers, and handymen. The light weight of the panels means that the building will not be weighed down by the facade, so there is no need to worry about bowing or other building complications. StonePly can be installed over existing building exterior meaning minimal disruption to the build and surrounding area.

APPEARANCE
StonePly's limestone panels add an aesthetic appeal that fit in perfectly with the Delnor Hospital. StonePly was able to create stone facade that perfectly fit the designer's vision and the xisting building.

StonePly panels comes from quarries all over the world and can provide almost any look.
StonePly offers many different textures and finishes for StonePly panels.
StonePly's stone cladding can be easily covered with a graffiti resistant sealant which provides for quick and easy cleaning of graffiti.
WEATHER RESISTANCE
StonePly panels have been extensively tested for hurricane resistance and other severe weather conditions. StonePly panels have survived actual hurricanes in the Bahamas and emerged unscathed. All our testing and results can be viewed on our website at
www.StonePly.com.

For other relevant searches, you might want to try: