architecture - engineering - construction
News
FabRail, the versatile, adaptable, modular safety rail solution.
Fabenco lets you build the perfect OSHA-compliant guardrail.

The FabEnCo FabRail safety rail system is a component, highly versatile and effective safety solution engineered to install quickly and easily in virtually any kind of environment. Constructed of long-lasting 1-1/2" (1.90 OD) Flo-Coat,® FabRail is built to serve your needs. With nothing more than a hex key needed to install, FabRail enables you to create a permanent, durable OSHA-compliant barrier in no time.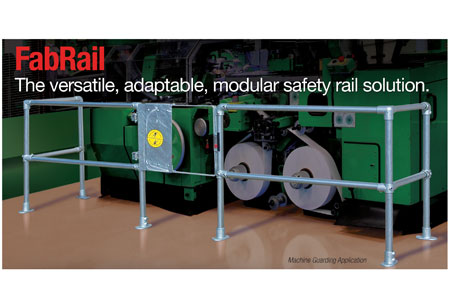 Applications
FabRail is the perfect solution for

Balconies and mezzanines
Machine Guarding
Truck bays
Crowd Control
Elevated Docks/ Pits
Stairway Landings
Features
Ships with fittings pre-assembled to uprights for quick and easy installation
100% customizable with no welding
Modular solution allows for countless configurations
Installs with supplied hex key and anchor bolts
42" toprail and 21" midrail heights are BOCA and OSHA compliant
Constructed of durable Flo-Coat tubing
Easily accommodates a variety of FabEnCo safety gates
Options
1-1/4" (1.66 OD) tubing
Various powder coated colors available
Available in systems and customizable kits
FabRail's modular kits make it easy to create the OSHA-compliant safety rail system for any application.
14' Straight
Contains: 2 end posts, 1 Mid-rail Post, 3 Base Fittings (4pc 1-1/2" at 7')
7' x 7' Corner
Contains: 2 end posts, 1 Corner Post, 3 Base Fittings (4pc 1-1/2" at 7')
Extensions
Contains: 1 Mid Post (2pc 1-1/2" at 7'), 1 Base Fitting
URL:
http://www.safetygate.com/fabrail.html
For other relevant searches, you might want to try: