architecture - engineering - construction
News
Finding the Right Size for the Space
Challenge:
Sullivan Higdon and Sink, an advertising agency in Kansas City, Missouri, was remodeling the building they moved over four years ago. Part of that update was a room that originally had a 60-inch LCD display for video conferencing and huddle style meetings. The architect was planning to upgrade to a 75-inch display and brought in CCS engineering manager, Stan Nice.
"I've been making the resolution argument,"
said Nice.
"They needed an image a lot bigger than you can get with an LCD."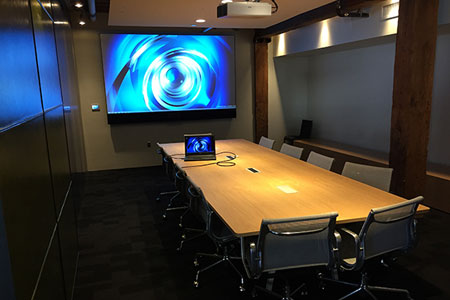 Solution:
Nice recommended switching out the system with a 119-inch Da-Lite UTB Contour Fixed Frame screen with HD Progressive fabric. The larger image made all the difference.
"The narrow bezel is as close to an LCD that you can get,"
Nice said.
CCS had a custom sound bar created to fit the screen with a camera pocket for a complete solution that met all the requirements. The thin bezel and high contrast surface were well received by the end users.
Nice said it made a huge difference to get in on the project early with the architect's help, and he believes it's his job to make the architect's dream a reality. After finishing one conference room, they were asked to go in and do the other ahead of the construction schedule.
Results:
"They love both of these rooms,"
Nice said.
Having partners like Stan Nice out in the field doing the right thing for the end user makes a huge difference, said Seth Baker, Da-Lite National Sales Manager, Midwest/West.
"It's so important to give them the look and feel they want, but in the end if the room user can't read the content the system fails."
For other relevant searches, you might want to try: