architecture - engineering - construction
Fixed Ladders, Crossover Stairs and Stair Access from Safety Rail Company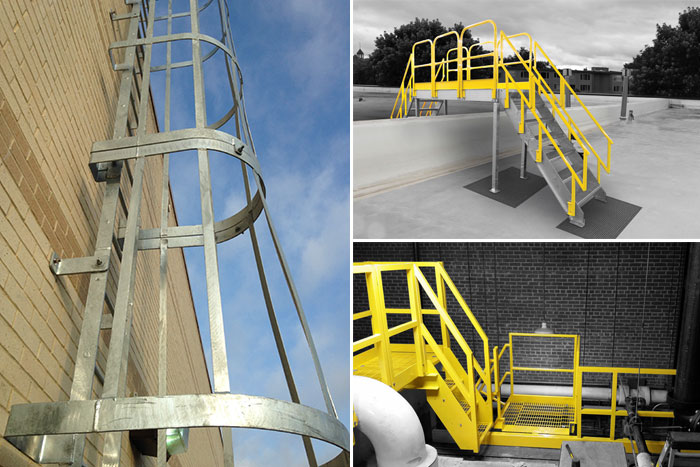 Fixed Ladders
Fixed ladders are considered to be permanently mounted ladders affixed to a structure. On buildings, they are an effective way to get personnel up to rooftops or elevated platforms. Building and platform designs come in an endless array of size, shape, heights and construction.
The ladders used to access these structures must be equally flexible in their design to make personnel access safe and secure. At Safety Rail Company, we take pride in our ability to meet the challenging design requirements encountered in many industrial applications. From simple to complex, Safety Rail Company can deliver the innovative designs you need.
Fixed ladders come in a variety of configurations and are generally categorized into one of three primary classes.
SRC Crossover Ladders
SRC Crossover Ladders are an essential means of moving personnel over and across barriers on rooftops and inside industrial plants. Our crossover ladders come in a variety of sizes and configurations custom designed to meet the precise needs of the facility.
SRC Crossover Ladders are available in a modular bolt together configuration or as a fully welded structure. All models are hot-dipped galvanized finish with optional powder coated topcoat in a variety of colors.
Send us your plans or photos of the area you need to traverse and we will send you a model of the crossover ladder required.
Crossover ladders can take on many shapes and sizes. From simple bridges to complex structures utilizing highly customized attachment and access points. All SRC Crossovers can come with a PE stamp ensuring structural integrity of the system. There is no limit to the types of crossover structures industry requires and almost no limit to the types of structures we can build.
Send us your plans or request our simple dimensional worksheet to fill out. With just a few pieces of information we can get started on your SRC Crossover ladder.
@safetyrailco #safetyrailco #safetyrail #fallprotection #guardrail #safetyladders

For other relevant searches, you might want to try: