architecture - engineering - construction
Fixed Rooftop Ladder Guards
Fixed rooftop ladders extending up to the side of buildings represent a serious fall hazard if left unguarded. As workers ascend these ladders and step onto the roof, they are exposed to the leading edge of the roof on either side of the ladder.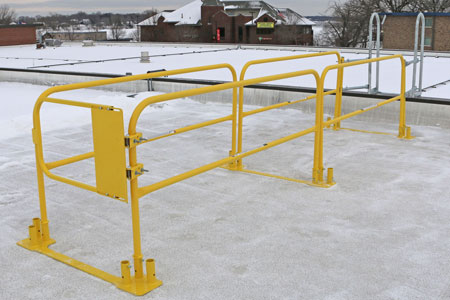 The LadderGuard Lite 15 Fixed Ladder Guarding System is the most comprehensive way to provide lightweight, OSHA compliant fall protection for fixed ladder installations on buildings.
OSHA requires that all ladders have fall protection devices protecting personnel as they access the roof. Our LadderGuard Systems clamp onto the rails of the ladder and extend onto the roof thereby acting as a controlled access zone and protecting the worker from the fall hazard.

With three options to choose from, all of these OSHA compliant ladder guarding systems are completely non-penetrating which means there are no holes in your roof. We also offer optional self-closing gates integrate perfectly with our Ladder Guard systems to control access into the ladder access area.

For other relevant searches, you might want to try: