architecture - engineering - construction
Glass Block Walls and Partitions for Businesses
Add style by using a glass block wall or partition in your office or commercial space. Using a wide range of designs these building blocks can also add light, improve security, lower energy costs and increase fire resistance.
Benefits
Commercial and new construction glass block walls and office partitions can provide the following benefits:
Increased light transmission & improve productivity – Using this material in a commercial or architectural setting provides a modular building system that also moves light through interior or exterior spaces. Well lit spaces in offices and factories have been shown to improve productivity.
Design flexibility – These units are available in a wide variety of decorative patterns, designs, colors, sizes, shapes and thicknesses and can be used in many places including partition walls, stairwells, bars, decorative columns or even floor systems.
Improve building security – Since the blocks are generally mortared together in glass block walls and have very thick glass faces they are hard to break in through or vandalize. This makes them an excellent choice for an industrial, factory, commercial or office building with security concerns.
Noise reduction and soundproofing – Office productivity and high noise levels do not go well together. Glass block walls can provide a STC (sound transmission class) rating up to 53 to help minimize outside distractions.
Lower heating & cooling costs – Many old office and factory windows have single pane metal and aluminum frames which cause high heating and cooling costs. Glass block walls can cut these costs by 10 times.
Increased fire resistance – These blocks come in 45, 60 and 90 minute fire ratings which make them excellent products for stairwells, hallways and windows in schools, hospitals, parking garages and transit authorities.
Cut maintenance costs – repairing or replacing broken window sashes and drywall walls can be time consuming and expensive – glass blocks can greatly reduce repair costs.
Prefabricated systems to cut installation costs – This product can be built into sections to reduce the installation time and cut field labor costs.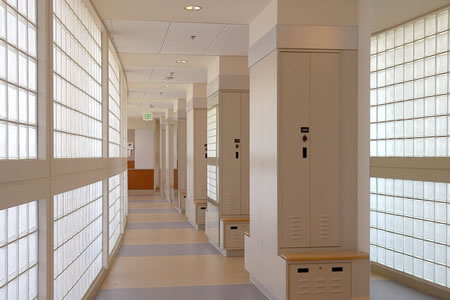 Products & Uses
If you're replacing a wall consider the following product lines and design options: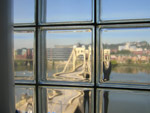 Solid security & fire rated glass blocks
Vistabrik solid and thicker faced Thickset blocks can be used for glass block windows & walls to maximize security and reduce maintenance costs.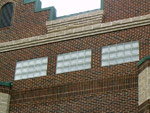 Frameless commercial glass block windows in 3 1/8" and 3 7/8" thicknesses
Used mostly in masonry openings these blocks can be preassembled into sections and installed in small and large openings alike.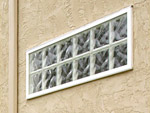 Vinyl framed glass block windows
These blocks are built into a vinyl frame for installation into framed openings. A key advantage of this system is it does not require masonry expertise.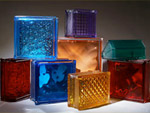 Colored, Frosted & Etched Glass Block Walls
Add a unique design flair by adding glass blocks with over 104 different colored & frosted combinations and even custom designed or etched murals.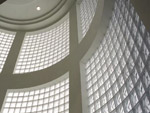 Shaped blocks
Turn corners, add curves, step down a wall with a design flair not possible with many other products.

For other relevant searches, you might want to try: