architecture - engineering - construction
Harris Teeter Store Project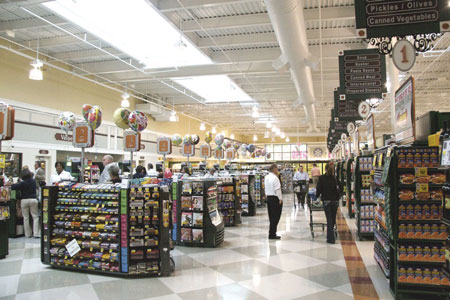 Project: Harris Teeter Store, Charlottesville, VA

Owner: Ruddick Corporation

Architect: Ron Kirkpatrick

LEED: Harris Teeter is the first supermarket to receive LEED certification


Project Description:
Grocery supermarket, part of a 181-chain located in the southeast. This newest store is 25 percent more energy efficient than the industry average and uses 85% less refrigerant load. It also has earned GreenChill's Gold Level certification. GreenChill is awarded by the U.S. Environmental Protection Agency and recognizes environmentally friendlier commercial refrigeration systems
Harris Teeter Store
Harris Teeter, a wholly-owned subsidiary of The Kroger Co. (NYSE: KR), was co-founded in 1960 by North Carolina grocers W.T. Harris and Willis Teeter. Harris Teeter operates over 230 stores and one fuel center in eight states and the District of Columbia.
In addition to its retail stores, Harris Teeter also owns grocery, frozen food, and perishable distribution centers in Greensboro, NC and Indian Trail, NC, as well as a dairy in High Point, NC.
Harris Teeter is headquartered in Matthews, NC and has approximately 28,000 associates.
Sustainability
Harris Teeter's success is closely linked to its willingness to balance business practices with its environmental responsibilities, and the company pledges to provide shoppers with the highest level of customer service while implementing sound environmental practices in its stores, corporate office and community.
The company strives to minimize its impact on the environment and promote sustainability in all aspects of its business including products & sourcing, design, logistics & distribution, and post-consumer and post-industrial recycling & packaging.
Harris Teeter is part of the Environmental Protection Agency's
GreenChill program
to promote the use of environmentally friendly refrigerants. Harris Teeter also encourages its suppliers to incorporate green practices into their day to day operations and will continue to be a leader in environmental stewardship.
GreenChill Program
GreenChill is an EPA partnership with food retailers to reduce refrigerant emissions and decrease their impact on the ozone layer and climate change.
GreenChill works to help food retailers:
Transition to environmentally friendlier refrigerants;
Lower refrigerant charge sizes and eliminate leaks; and
Adopt green refrigeration technologies and best environmental practices.
The GreenChill Partnership has three main programs that help food retailers reduce their refrigerant emissions:
The Food Retailer Corporate Emissions Reduction Program
The Store Certification Program for Advanced Refrigeration
The Advanced Refrigeration Promotion Program
About National Gypsum
National Gypsum is one of the largest gypsum board producers in the world. Headquartered in Charlotte, NC, the company is a full-line supplier, recognized in the industry for customer service and product quality.
Gypsum board is the company's primary product, and National Gypsum is the second largest producer in the United States. The company has 17 operating gypsum board plant locations strategically located near metropolitan areas. National Gypsum's gypsum board is marketed under the Gold Bond® BRAND.

For other relevant searches, you might want to try: