architecture - engineering - construction
HERMETIC Flake Floors Make Great Color Flake Epoxy Systems
For a durable cost effective floor finish many clients are turning to color flake epoxy. The choice leaves their floor protected from impact, abrasion and provides a slip resistant surface. Elite Crete Systems is happy to offer HERMETIC™ Flake Floors for use on just about any type of concrete floor. Whether you are decorating a showroom, a laboratory, a supermarket or the most popular use of a garage floor, color flake epoxy systems come in just about any color combination you could possibly think of.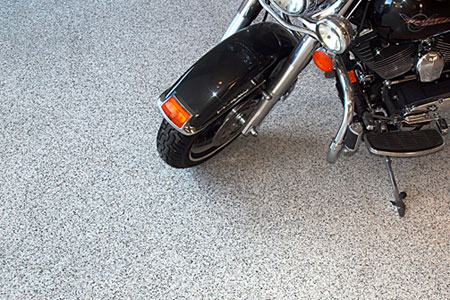 Color flake systems are just that, flakes of color that are bonded between layers of epoxy and polyurethane to provide a system thickness from 1/16th inch to 1/8th inch combined thickness. This thickness is what is needed to provide impact resistance from dropped tools or equipment and provide a rubbery consistency rather than a rigid brittle surface that might otherwise chip easily.

The color flakes come is a wide range of standard colors as well as sizes and can be mixed and blended in different percentages to create many custom colors and effects.

HERMETIC™ Flake Floor Systems from Elite Crete Systems can be installed on many types and conditions of concrete slabs. You can use Hermetic Flake Floors on freshly laid concrete or floors that have been installed for years and need some help in the form of a makeover or simply for getting a more functional floor.

Of course, one of the main reasons HERMETIC™ Flake Floors are so popular is because it takes such good care of the concrete below it. Elite Crete Systems will be happy to walk you through a number of different options for getting the greatest abrasion resistance and overall durability from this system.

Despite all these benefits, color flake epoxy doesn't come with a complicated installation process. In fact, you might be surprised how easy it is to put into place and how little time it takes to set. Customers love that they don't have to give up their floor for as long as other floor systems and large areas can be installed relatively easily and efficiently for a trained and experienced installer.

Lastly, we're proud of the fact that our HERMETIC™ Flake Floors comes with very low levels of VOCs or even none at all. This product also meets or exceeds the standards set forth by the USDA, FDA and OSHA guidelines.

So the next time you want a color flake epoxy for your concrete floor, consider a HERMETIC™ Flake Floor. It has too many advantages to ignore and you won't break the bank putting them to use. Plus, you get all the help that comes from Elite Crete Systems and our 25 years of experience in the industry.

For other relevant searches, you might want to try: