architecture - engineering - construction
About Decorative leaded glass windows
Decorative leaded glass windows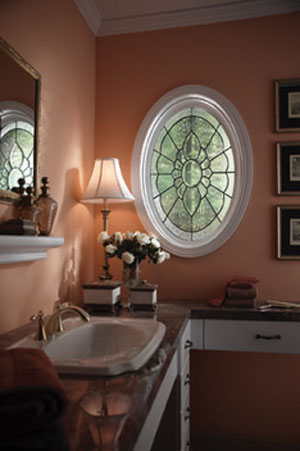 You no longer have to settle for a generic clear glass window. Add a distinctive decorative touch with a leaded glass window.
Increased privacy – Whether you choose an operable or fixed acrylic block window or decorative glass window you'll be able to improve privacy in a bathroom, kitchen, bedroom or any room in the house. Acrylic block windows and decorative shutters can help to save on the cost of blinds as well.
Easy to operate for improved air ventilation - Select between casement, awning, hopper, single hung or slider windows to provide the ventilation you need. Improved air flow provides a safer home and minimizes problems with mold.
Increase light transmission – Low profile framed acrylic block windows provide improved levels of light transmission.
Easy to install – Complete with a finished frame (with or without nailing fins) these windows are easy to install in remodeling or new construction projects.
Lightweight design increases safety – Acrylic block windows are 1/3 of the weight of a glass block window making it a safer and easier installation.
Eliminate rotten or rusted frames – Block windows come with no maintenance vinyl and aluminum frames.
Purchase from a company you can trust – We are accredited by the Better Business Bureau and have won service awards through Consumer Choice.
Free design and technical installation assistance – Take the guess-work out of your project. Our team is familiar with the sales and installation of these windows.
Free Nationwide Shipping – No hidden shipping fees or costs. We ship anywhere in the United States– from Washington to Texas to New York to Florida.

Brochures | 3-Part CSI specifications | CAD details | Decorative leaded glass windows
News archive:
Project From Innovate Building Solutions: Turning A Storm Door Into A Patio Door. (Oct 10, 2012)
The 2011-2012 Cost to Value Report From Columbus Glass Block (May 31, 2012)
04270 - Glass Masonry Unit
08500 - Window
08570 - Composite Window
08580 - Special Function Window
08810 - Glass
12170 - Art Glass
04 23 00 - Glass Unit Masonry
04 23 13 - Vertical Glass Unit Masonry
04 23 16 - Glass Unit Masonry Floors
08 50 00 - Windows
08 54 00 - Composite Windows
08 56 00 - Special Function Windows
08 81 00 - Glass Glazing
08 81 13 - Decorative Glass Glazing
12 17 00 - Art Glass
12 17 13 - Etched Glass
12 17 16 - Stained Glass