architecture - engineering - construction
Interior Acoustical Panels: Hanging Baffles
The use of Tectum acoustical panels as hanging sound baffles is growing in popularity as the paintability and ease of application in numerous situations and the need for their sound absorbing qualities is recognized by architects and acoustical engineers. Standard Tectum Hanging Baffles are available 1", 1½" or 2" thick, with square edges or beveled edges (bottom only).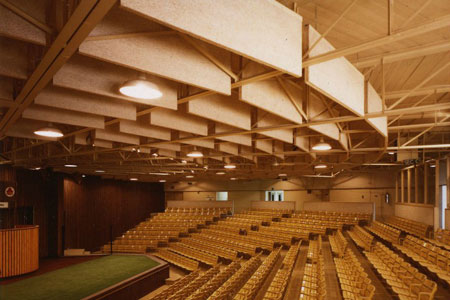 Widths are 2' and they are 4' long. Finish is natural, painted white or custom colors (both sides). Various methods are appropriate for hanging. See Marketing Bulletin M-8 on our website for more details.javascript:void(0);

Sizes, Finishes
Tectum Hanging Baffles are available in 1", 1½" and 2" thicknesses with 11¾" and 23¾" widths and a 48" length. Tectum Hanging Baffles are available in natural, painted white or custom colors, and can easily be field painted without losing their acoustical efficiency.

Weights

1" - 1.65 lbs./square foot
1½" - 2.55 lbs./square foot
2" - 3.50 lbs./square foot
Light Reflectance
ASTM C523 - Average Reflectance: .75
Tolerances
Tectum ceiling and wall panel measurements are plus or minus .
1/8 - 1/4". Thicknesses are nominal. Panels that are to be butted must be beveled and will require field fitting or molding can be used to cover edges.
Limitations
Tectum Acoustical Panels can be used over swimming pools and in open construction such as breezeways and open garages. They should not be installed where they will come in direct contact with water or condensation. Reveal edge panels (Tonico) should not be used for this purpose.
1" panels should not be used where the relative humidity will exceed 85%. Panels 1½" or thicker are not restricted by humidity conditions.
In all cases, the plenum must provide cross-ventilation to prevent condensation.

For other relevant searches, you might want to try: