architecture - engineering - construction
Interior Stone Panels
StoneLite® interior stone panels showcase the natural beauty of stone but eliminate its fragile, brittle, and variable properties. StoneLite® interior stone panels are ideal for overhead applications. Weighing only 3.3 lbs. per sq. ft. StoneLite® panels are easily supported by common ceiling framing and can be quickly installed with no special lifting equipment required. StoneLite® panels also provide a quick return on investment for the building owner as the natural stone finish upgrades their image, increasing occupancy and tenant satisfaction.

In renovation, using StoneLite® panels for over-cladding is usually the most cost effective solution and can quickly convert a dated interior into a modern space. Covering existing walls saves the expense of removing and disposing of the existing cladding. When over-cladding with Stone Panels, building occupants can remain with minimal disturbance, and the location continues to produce income.

Below are several examples highlighting unique interior design and installation applications featuring StoneLite® natural stone panels.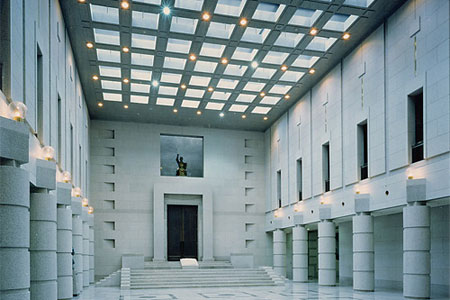 KOREAN SUPREME COURT BUILDING – Seoul, South Korea
In addition to the rotunda StoneLite®Prairie Green granite panels were installed in the lobby. StoneLite® Puchon granite was factory fabricated into rectangular shapes for this beautiful ceiling in the Korean Supreme Court Building in Seoul, Korea. Besides the beautiful StoneLite® Puchon granite, this room also features The Goddess of Justice, which is a piece of Korean artwork that represents law and justice.

For other relevant searches, you might want to try: