architecture - engineering - construction
It's Never Too Late to Build a Better Wall Assembly with Sound Protection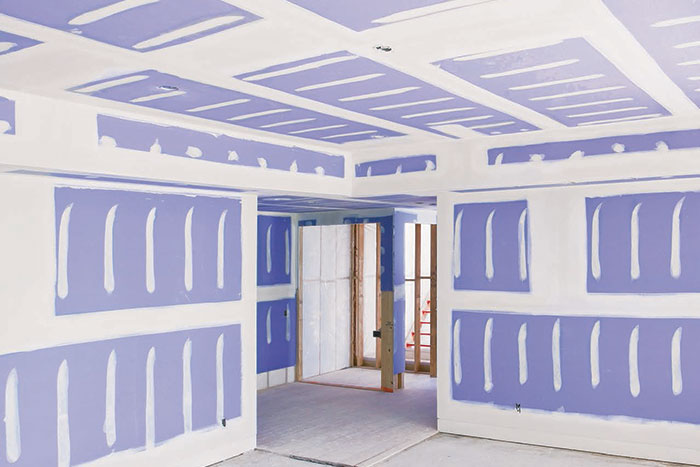 Since the pandemic shutdown, commercial and residential renovations have been on the rise. Spaces originally designed for one use have been transformed into others. Many commercial buildings that were repurposed had different and additional code requirements. For most of these transformations, reducing sound was at the top of the checklist.

As our world has become noisier, a better sound barrier is one of the most important environmental elements. Achieving a higher Sound Transmission Class (STC) rating for wall assemblies has become essential. Because without proper sound protection, that multi-million-dollar project has lost a major selling point.

The good news is there's a solution. Even if your walls have already been constructed, it is never too late to decrease airborne sound between existing walls.
SoundBreak XP Retrofit Works Well for Existing Walls
With Gold Bond® SoundBreak XP Retrofit® Board you can do this without tearing out walls, so enhanced sound protection is always an option. Retrofit installs easily over existing gypsum board with no demolition required. It provides a thinner wall assembly without sacrificing square footage. By adding this board to your wall, you can decrease the transmission of airborne sound and increase your STC rating. For more information, visit the SoundBreak XP Retrofit Frequently Asked Questions.

"A customer recently reached out for help on a wall that needed just a few extra STC points to meet the state-required healthcare rating. He wanted a solution that would provide additional STC points without having to expand the wall width very much. By using SoundBreak XP Retrofit Board, he achieved the extra points required to meet code – without having to redo the door frames."

By Alan Zeedyk, Construction Design Manager, National Gypsum Company
@NationalGypsum #NationalGypsum #construct

For other relevant searches, you might want to try: