architecture - engineering - construction
Kawneer Projects: Hard Rock Rocksino Northfield Park
ARCHITECT
Richard L. Bowen + Associates,
Cleveland, Ohio, USA,
in conjunction with
SOSH Architects,
Atlantic City, New Jersey, USA
New York, New York, USA

GENERAL CONTRACTOR /CONSTRUCTION MANAGEMENT
Gilbane Building Company
Cleveland, Ohio, USA

GLAZING CONTRACTOR
Carroll Glass Company
Euclid, Ohio, USA

FEATURED PRODUCTS

1600 Wall System™1 Curtain Wall
1600 Wall System™2 Curtain Wall
190 Narrow Stile Entrance
Trifab™ VersaGlaze™ 451T
Framing System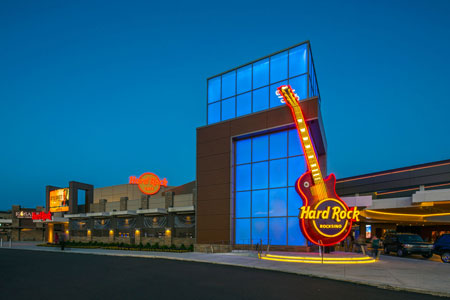 As the first of its kind under the recognized Hard Rock International brand, the Northfield Park, Ohio–based Hard Rock Rocksino features 187,000 square feet of entertainment space designed by Richard L. Bowen + Associates in conjunction with SOSH Architects. The Rocksino sits immediately adjacent to Northfield Park's world-renowned racetrack, and between the Rock and Roll Hall of Fame in Cleveland and the Pro Football Hall of Fame in Canton, Ohio.

With a sleek "arena rock" theme and a design that loosely resembles a sound stage, the animated destination provides an exciting gaming and entertainment experience for visitors to northeast Ohio. Like other Hard Rock properties, memorabilia from the music industry lines the walls throughout the facility. A 2,600-seat Hard Rock Live music venue, premium steakhouse and Hard Rock Café are also incorporated. The Rocksino offers more than 2,200 gaming devices and never-ending entertainment options, including comedians and illusionists performing in its 300-seat venue, The Club.

In front of a sold-out crowd, Joan Jett performed at the launch of the first-ever Hard Rock Rocksino from Hard Rock Live! Since its opening, the Rocksino has continued to bring a brand new vibe to the birthplace of rock 'n' roll, inviting guests to play, dine and be entertained in an exciting and fun atmosphere.

Design Highlights
Important design features include dramatic lighting and glass in both the interior and exterior of the space. The striking aesthetic of the exterior combines glass and stone, using several Kawneer products.

Challenges

The Hard Rock Rocksino is located in a geographic area that faces a tough, extended winter, making the thermal performance of the building a critical component.
Several doors were needed throughout the building – at the north and south vestibules as well as the bus entrances – and the architect had certain parameters for the project and needs for the entrances.
The timeline of the project was tight, requiring quick turnaround from all involved.
Solutions
To create a specialized feature maximizing the nighttime effects of the theatrical exterior lighting, the project's glazing contractor, Carroll Glass Company, custom-manufactured textured glass to form a glittering, crystal illusion for the curtain wall system.
The thermal performance of the 1600 Wall System™1 Curtain Wall and 1600 Wall System™2 Curtain Wall combined with the Trifab™ 451T Framing System provided a cost-effective solution.
The 190 Narrow Stile Entrance provided the narrow sitelines required to complete the streamlined exterior.


A high-performing, economical option, the 190 Narrow Stile Entrance offers bulb neoprene weather stripping, which forms a positive seal around the door frame and provides a substantial reduction in air infiltration.
The results improve comfort and reduce heating and cooling costs.
The north and south entrances include 14 door leaves to accommodate the constant volume of casino traffic. Standard-sized 6' x 8' pairs of entrance doors flank extra-wide 8' x 8' pairs of doors.

The aggressive project timeline benefited from the virtually unlimited selection of Kawneer finishes, along with the versatility of Kawneer products and the ability to seamlessly integrate Kawneer framing, doors and curtain walls.


From groundbreaking to grand opening, the fast-track project took only 11 months to complete.

For other relevant searches, you might want to try: